Britain's most successful female athlete, Dame Laura Kenny, recently exchanged her Hilux pick-up for a new Yaris Cross. Given that our new hybrid electric SUV was developed under the theme Always on the Move, we could immediately see why the Team Toyota GB athlete felt it was the ideal choice for her super-active lifestyle. But we also wanted to hear from Laura herself about how the nippy new Yaris Cross is already fitting into her busy day-to-day life as an Olympian, wife and mother. This is what she had to say…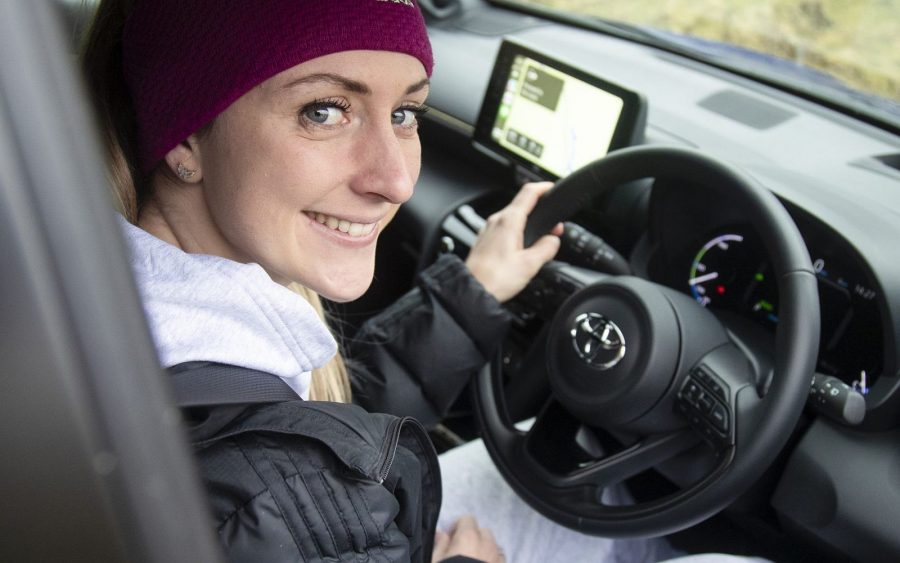 Toyota People: Dame Laura Kenny
What attracted you to the Yaris Cross?
Laura: "We were keen to switch to a hybrid. The journeys we do are often quite short – going over to the velodrome and back, or taking our son Albie to school – so we were keen to have a car that is more environmentally friendly. My husband Jason and I are bike riders, so why wouldn't we want that? And the car is big enough so that when we don't have Albie or the dogs with us, my bike can actually fit in the back with only the front wheel taken off. It's just a really convenient size."
What are your first impressions of the car?
Laura: "I really like the car! It gets good mpg figures, and it feels a lot more electric than I thought it was going to. It's really zippy away from traffic lights and roundabouts… it reacts really well. It's also good because we live on a country road and it's not massive, so I never feel squeezed off the road, yet it's big enough for our family and to carry bits and bobs for Albie. So my first impressions are very good, I'm really enjoying it."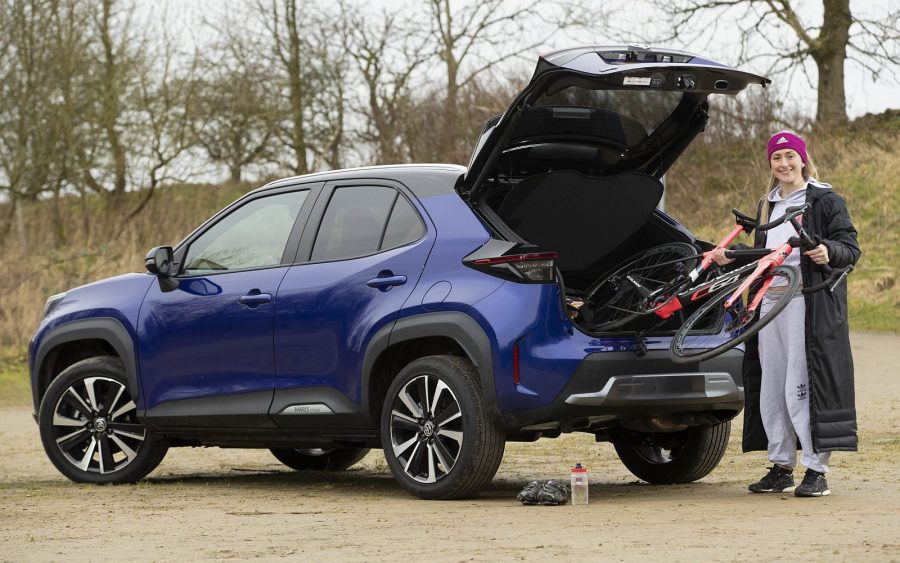 What does your family think of it?
Laura: "I actually share the car with my mum and dad, and they absolutely love it. For us, it's about saving the planet. The trip between my parent's house and our house is about 20 minutes, so a hybrid vehicle that doesn't drink large amounts of petrol is really important. My parents have a little dog, and my mum loves all the mod cons, like the heated seats – the car has everything."
Have you made any longer trips in the car yet?
Laura: "The longest journey we've made so far is to Derby and back, so about an hour and a half, and the Yaris Cross is a really comfortable, nice place to be. It's brilliant that you can connect your phone to Apple CarPlay, and then you've got the maps on there as well, which is just so convenient, and your messages just pop up. Ultimately, I just like having a car that's comfortable – it's got cruise control, it's got everything I could want."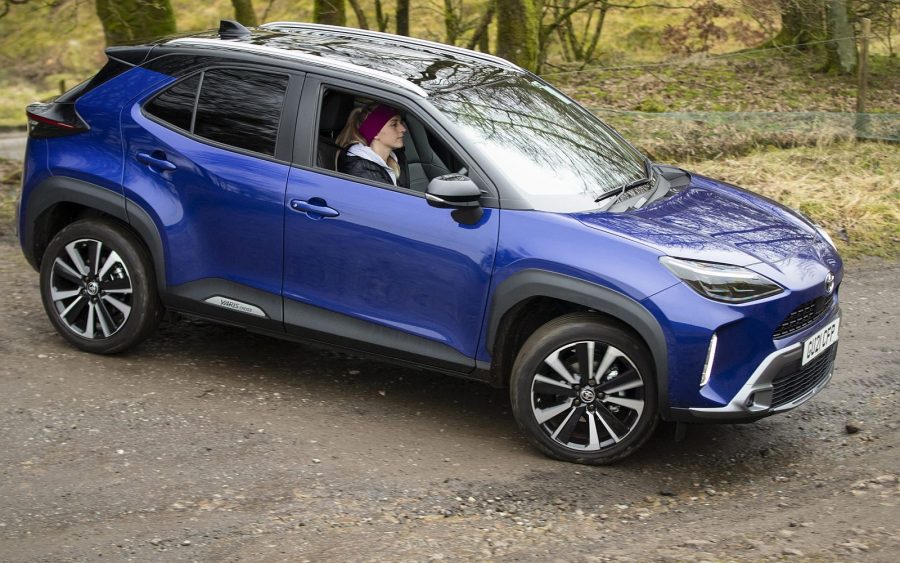 What are some other key features that you've enjoyed using?
Laura: "The different driving modes are great features, and it's so easy to switch between whichever one you need. Living in the country, you never know what conditions you're going to come across if the weather's been bad, so it's a real confidence boost to know you can get in the car and adjust to whatever's in front of you on the day. We haven't encountered snow yet, but I know that setting is there for when I will inevitably need it. The reversing camera for parking is also a very helpful feature, especially on the school run because the parking is so tight."
How are you getting on with the MyToyota app?
Laura: "Having the car's range on the app is so good because you can just look at your phone and know how the car's doing and plan ahead. I also think the Find My Car feature is amazing, and including the Service and Maintenance function on the app makes it so useful. There's no more faffing about with pieces of paper and losing notes of when your last service was – it's all just there on your phone."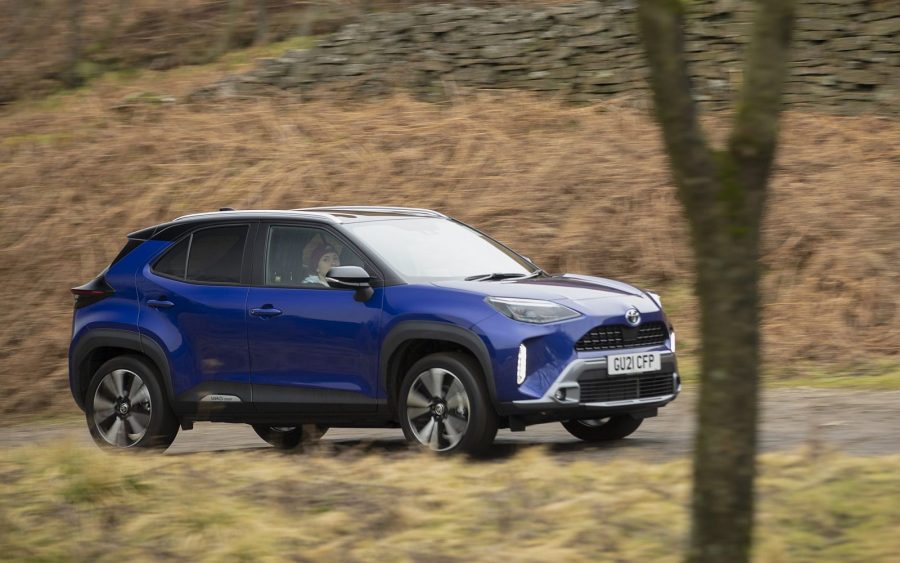 Finally, how did you and Jason feel about receiving your damehood and knighthood on the same day?
Laura: "We were really honoured to receive the news. It's such a nice feeling to be recognised for all the hard work that you've put in over so many years, because once you go to one Olympics you're expected to go to another, and it's just not that easy. And especially for me this time around: not only did I have Albie and had to come back from that, I then had to come back from a broken arm and a broken shoulder. So it was the nicest way to cap off what had been a really hard year."
Thank you for taking the time to speak with us, Dame Laura Kenny. We wish you many happy miles in the car and on the bike!
Photography: Rod Kirkpatrick