Planning long journeys, or journeys with multiple stopovers can be tricky, particularly if you are not familiar with your destinations.
However, with Toyota Touch and Go, you can make a detailed plan of your journey using Google Maps, and then send all the locations straight to your car. It's a really simple way of managing otherwise complicated routes, and gives you greater flexibility over the roads you choose to travel on.
To do this, you'll need to register your device via the MyToyota customer portal. If you are already a member, just SIGN IN……. and find the TOUCH button, shown as a roundel on the right of the page displayed below.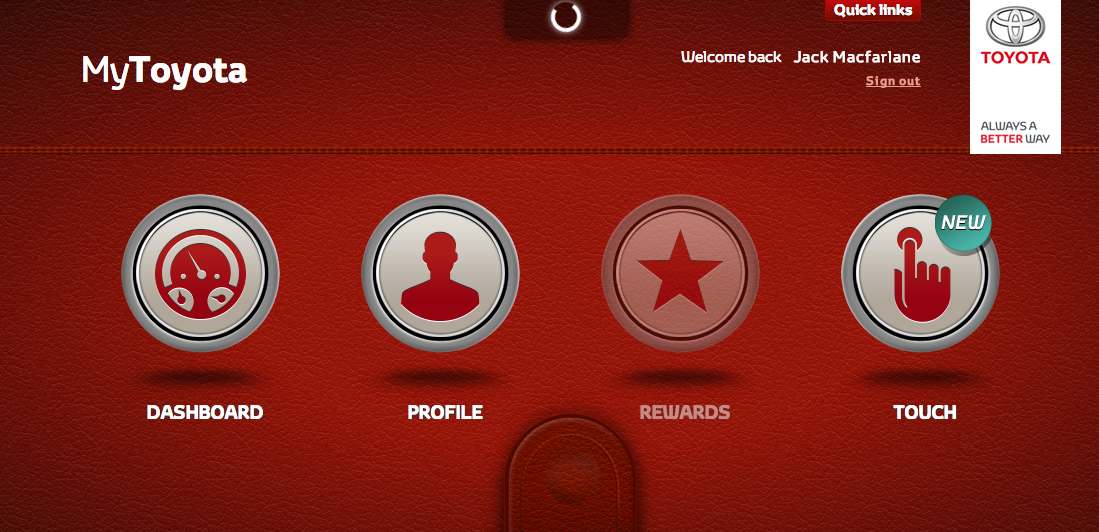 Click TOUCH, and you'll be taken through to the secure section of our website, where you can manage your journeys.
If you haven't joined this yet, click REGISTER, and follow the onscreen instructions to access a host of online services which are available to you.
You'll notice things look quite different compared to way they are presented in our video, which was filmed before a series of improvements were made to our online customer portal.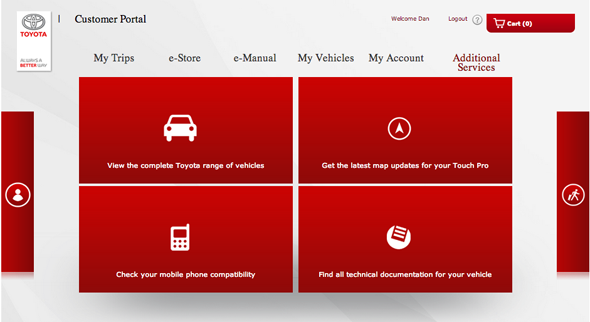 Once you are through to the Touch 2 portal, you'll need to click on MY TRIPS shown at the top left of the home screen (shown above), then click CREATE TRIP, shown on the bottom left hand of the screen shown below.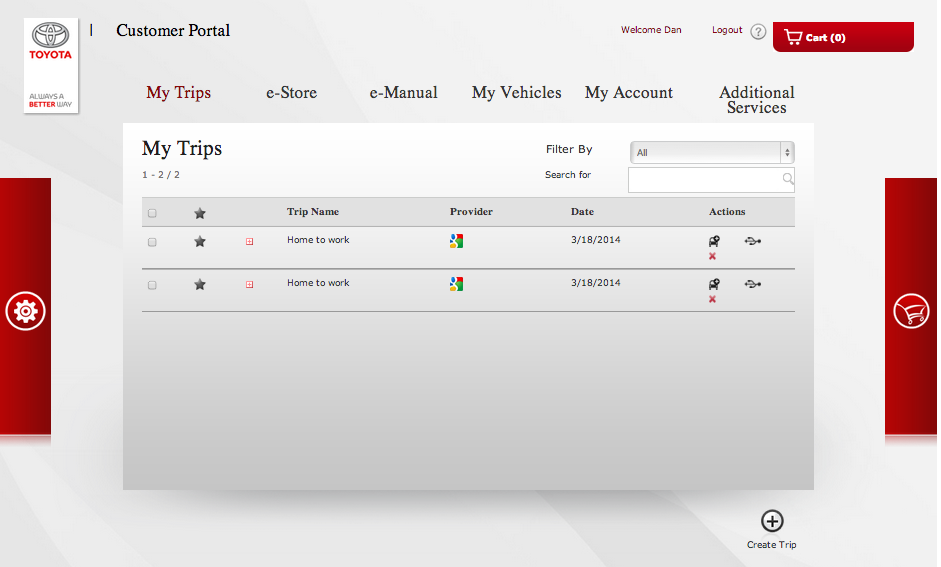 On the next screen, you'll be prompted to give you trip a name, and then be asked to add details of your planned journey. To do this, you can simply use post codes, or street addresses to create a series of destinations. These destinations will then appear on screen, and can be dragged and dropped into any order you wish.
Once you have finished arranging your journey, simply click SAVE TRIP and you'll be returned to the MY TRIPS homepage.
Look along the index bar above your newly created trip to find the heading ACTIONS, and click on any of the icons displayed below this to share your journey with your car. You'll also be given the option to copy the journey to USB, which can be loaded to the car directly.
To load your route to your device, you'll need to press NAV, then choose ENTER DESTINATION and the ADVANCED TAB.
You can then choose to upload your journey from the server, or a USB. Simply touch the relevant button, and follow the onscreen instructions.
After a couple of seconds, you'll see confirmation that addresses have been saved, to set them live, and begin navigating, click on the MY DESTINATIONS icon on the top left of the navigation screen, and under the heading STORED you will see the name you originally gave the trip.
Simply click on this name to make the journey live, and then touch GO – and you'll be on your way.
See also:
How to pair your phone
How to make a call and access your phone book
How to play music via Bluetooth or a USB device
How to carry out an online search