When your maintenance staff are working 24 hours a day, seven days a week, 365 days a year, then you need an ultra-reliable mode of transport. Throw a harsh quarry environment into the mix and vehicle dependability becomes even more important. That's why mineral producer Imerys has selected the rugged and tough Toyota Hilux as its vehicle of choice, delivering incredible reliability, new levels of comfort for the employees and significant savings on day-to-day maintenance.
To find out how the sturdy Hilux has improved Imerys' operations and to provide some further training to help Imerys get even greater benefits from the remarkable abilities of the four-wheel drive Hilux, we headed down to its china clay quarry in Trewoon, Cornwall.
Clive Whittle, Imerys' mobile plant maintenance engineer, explains the main consideration for the company when choosing its vehicles: "Primarily we need something that's reliable and can operate in the quarries. That means four-wheel drive, reasonable ground clearance and the ability to carry men and equipment around the quarry sites."
Historically the company bought Land Rovers, but has decided to look for an alternative. "The key qualities for us from a maintenance perspective is reliability – it's not just the vehicle itself that needs to be reliable, but we've got to be able to get parts quickly, we've got to be able to resolve problems," Clive continues. "The Toyota is the vehicle of choice, partly because of the reliability and the back-up that we get."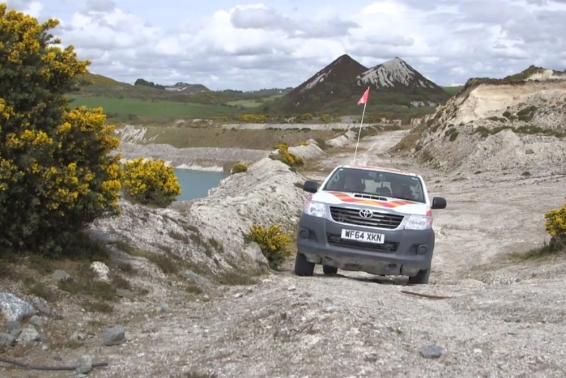 Because Toyota is genuinely interested in owners getting the maximum benefit from their vehicles and experiencing the company's legendary record on reliability, we took advanced driving instructor Steve Treacher to explain how, particularly in this kind of environment, optimal use of the Hilux's features can further reduce servicing costs.
For instance the china clay dust can accelerate the wear of brake components, so Steve taught the Imerys employees how using the Hilux's low-ratio gearbox can actually lengthen the life of the Toyota's brakes. "Most of this quarry has been driven in high-ratio [gears]," Steve relates, "so I've stressed today that low-ratio gears would be the way to go [when descending slopes] so they can use the engine to brake, giving them more control. It'll be less expensive for servicing [and] more confidence-building in inclement weather."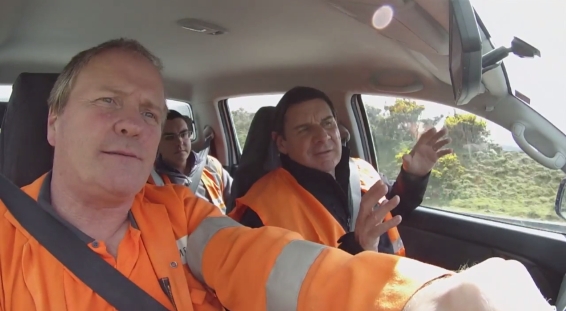 For Imerys, the Hilux is a dependable and tough workhorse that has the added bonus of being far more comfortable for a day's work than the vehicles they've historically used. "What we need is a vehicle that works as hard as us and I think that in the Toyota Hilux, we've got a tough, reliable vehicle that actually does that," says Clive. "Historically, we've had a situation of Land Rover brakes wearing out overnight in our environment. We've just had the Toyota in for a service and it's done 12,000 miles on one set of brakes, so from a cost point of view, it's second to none."
We're confident that the Toyota Hilux can tackle virtually any environment, so to find out for yourself how the Hilux can bring reliability, dependability, comfort and cost-savings to your business, contact us by leaving a message below or requesting a test drive at the official Toyota UK website.
If you've a Toyota Story that you'd like to share with us, get in touch below or by connecting with us on Twitter, Facebook, or any other of our social media channels.
See also:
Toyota Stories – Bob Bacon's 30-year old Toyota Hilux
Toyota Stories – Graeme Calvin's 1977 Toyota Corolla Deluxe
Toyota Stories – Liam Young's 16-year, 410,000-mile Toyota Land Cruiser odyssey
Toyota Stories – Bob Old and Murphy
Toyota Stories – Addison Lee and the Prius