Well, here it is. After many months of part-sourcing, bodyshop surgery and refitting, our early, first-generation Toyota RAV4 GS is now restored and a fully fledged member of Toyota GB's pristine fleet of heritage vehicles.
Click the links to follow the progression of this restoration project:
Part 1        Part 2        Part 3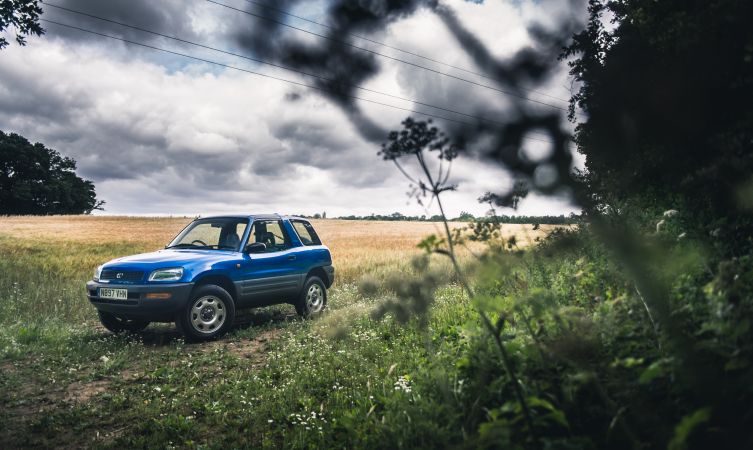 For its official reveal, we decided to try something a little different and match these newly commissioned images with personal comments and quotes from what we understand was the first road test feature published in the UK.
It came from the 14 September 1994 issue of Autocar magazine, where the Toyota's novel take on the four-wheel drive market was compared against the Ford Escort RS2000 4×4, a car it described as "the best-handling Escort this side of the Cossie".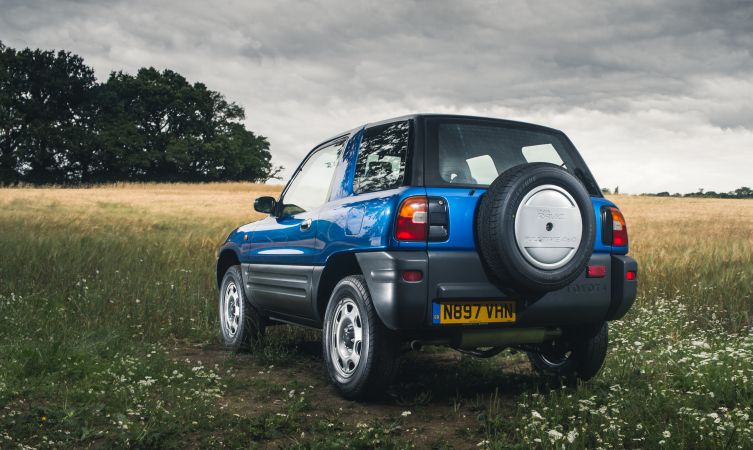 Why were these seemingly different vehicles pitched against each other for this inaugural feature?
Both offered four-wheel drive running gear, of course. But while the Escort was seen as the latest standard-bearer in a traditional hot hatch mould, the brand-new Toyota RAV4 was an intriguing solution that capitalised on two waves of discontent sweeping through the marketplace.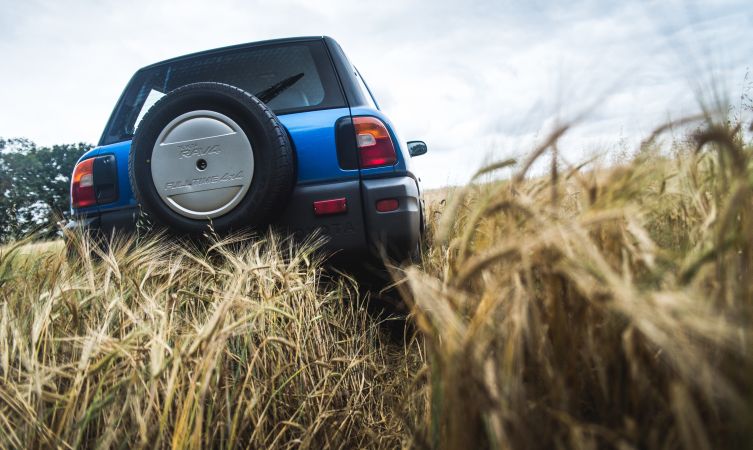 Car-buyers looking for affordable fun had already cooled to hot hatches and begun shifting their attention to off-road vehicles in an attempt to escape soaring insurance premiums. Because of this, sales of off-roaders had gone through the roof.
However, once the novelty of being able to cross a muddy field wore off, these same enthusiasts realised that it didn't matter how many lifestyle accessories you adorned them with, big old off-roaders with ladder frame underpinnings and relatively unsophisticated suspension set-ups were nowhere near as much fun to throw around on country roads as a little hot hatch.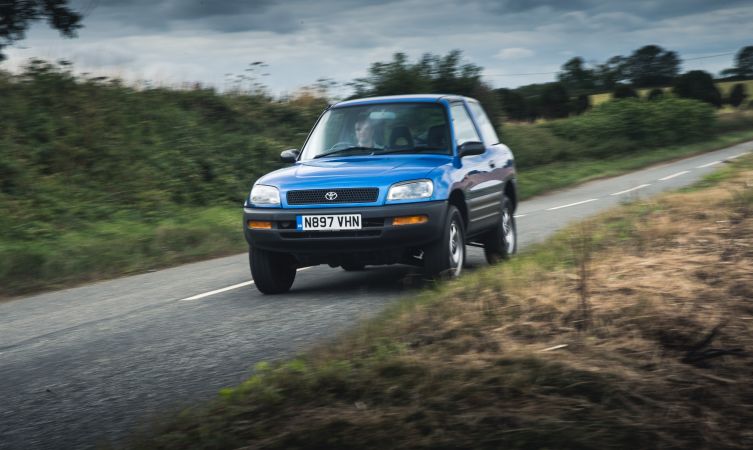 Toyota had been watching the evolving market closely, and produced a new type of vehicle that answered such criticisms. The RAV4 had a monocoque bodyshell, car-like suspension, decent power and a measure of off-road performance.
As Autocar commented:  "[Toyota] heard complaints about lack of refinement and truck-like handling and came up with the RAV4, best of the small leisure off-roader breed by a country mile and shaking a mean stick at the hot hatch brigade".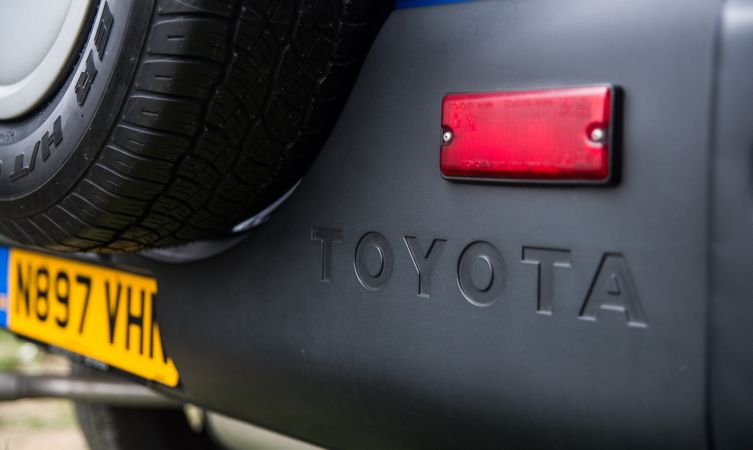 Few of the ingredients within this new 'recipe' were genuinely new. For instance, Autocar pointed out that the RAV4's 2.0-litre 3S-FE four-cylinder engine was "first used in the Camry nearly 10 years ago". Nevertheless, its balanced 129bhp and 129 lb ft outputs provided clues to a flexibility in straight-line performance that was frequently lacking in some all-or-nothing hot hatch powerplants.
So although the RAV4 was not able to match the Escort's power figures on paper, the Toyota tipped the scales at almost 100kg less and, crucially, was equipped with a shorter first gear ratio that made it feel like a whippet off the line. Arguably, the RAV4's eagerness to realistic velocities was deemed more critical in real-world driving.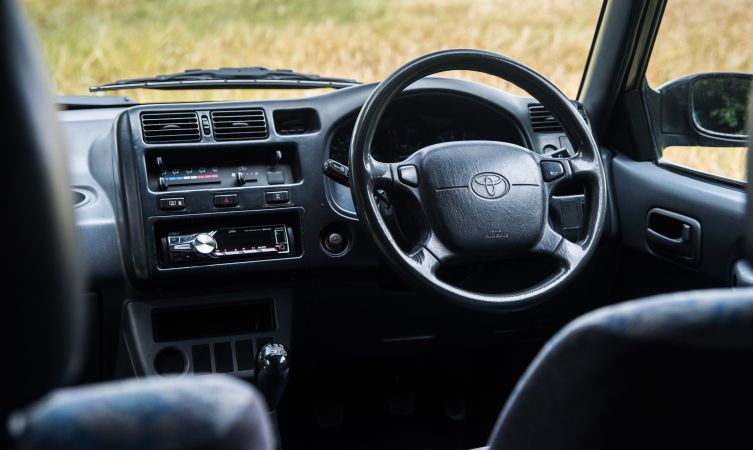 Test figures delivered the hard facts to support this seat-of-the-pants feeling. "Unbelievably," commented Autocar, "the bulbous-looking RAV4 is quicker than the RS2000 to well beyond the legal limit, where the Escort's superior aerodynamics eventually put an end to the blushes".
Timing equipment saw the Toyota hit 60mph from rest in 8.8 seconds, and flex its mid-range muscle from 50-70mph in fifth gear in 11.6 seconds, while the Ford needed 9.4 and 12.0 seconds respectively.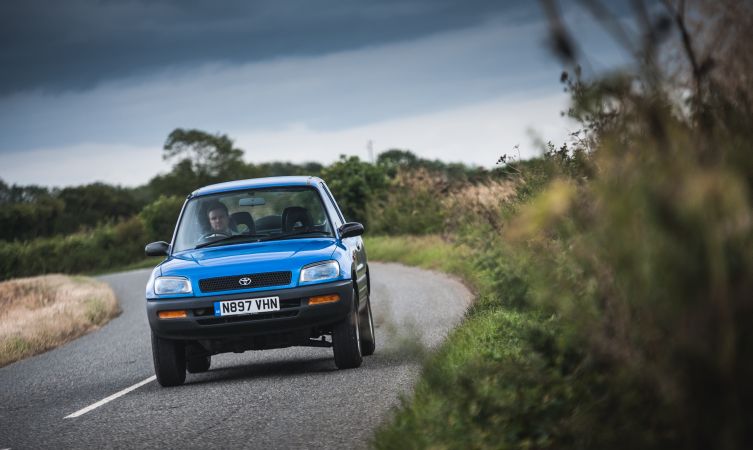 Drivers of heavily soundproofed modern cars will probably find the RAV4's engine rather vocal when pushed to deliver its all in such acceleration tests. Up front there is a breathy induction roar which lets you hear how hard the engine is working as effectively as any rev counter, while the relatively short distance to the back end delivers a tenor-like echo from the exhaust system.
There is some merit to being more intimately acquainted with the performance of your vehicle, but the RAV4 is also able to settle down to a 70mph cruise with a reasonably long-legged 3,200rpm showing on the rev counter.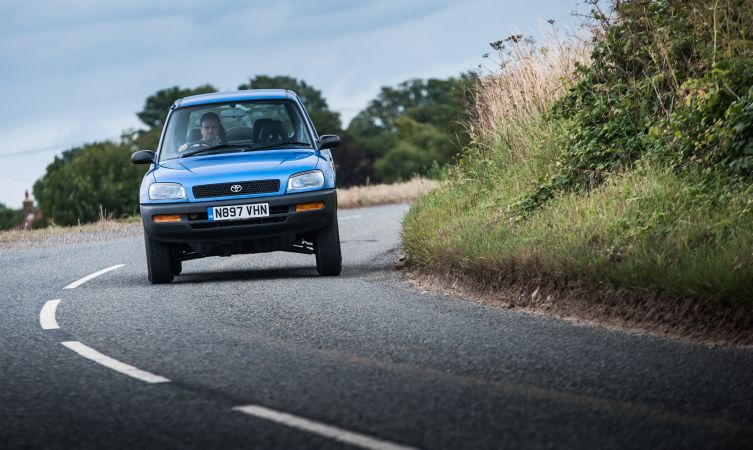 There will be few complaints directed at the RAV4's control systems. On its magazine road test the gearshift action was noted for being "light and positive" and that the steering would be a revelation for those coming from traditional off-roaders.
"There isn't any sloppy vagueness about the straight ahead," commented Autocar, "and turn-in is remarkably sharp". In fact, the power-assisted rack was calculated to be quicker lock-to-lock than the RS2000's, which was already noted for its rapidity.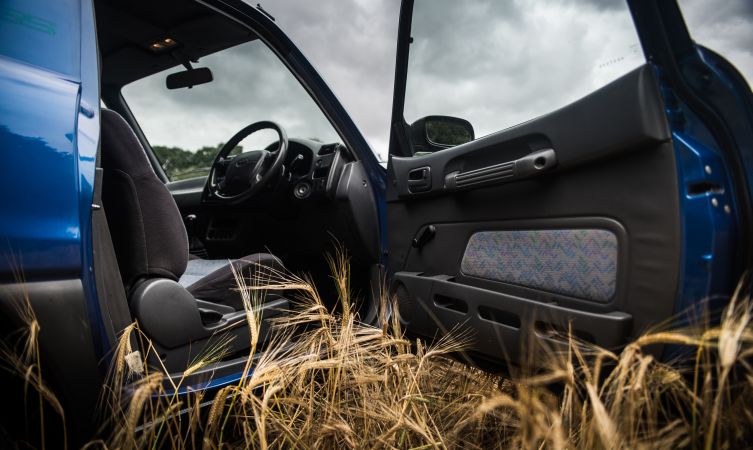 Further assessment of the vehicle's engineering and architecture corroborated this feeling. Autocar commented: "Toyota went for a lower centre of gravity, by tilting the transverse-mounted engine and doing away with the separate housing for the front differential used on more 'serious' off-roaders".
In contrast to the live axle suspension architecture found in most off-roaders, the RAV4 rode independently at all four wheels and offered a cornering composure that drivers would not normally credit for the class. All of which led the writer to the inevitable conclusion that "the RAV4 is the best-handling off-roader I've driven, plain and simple".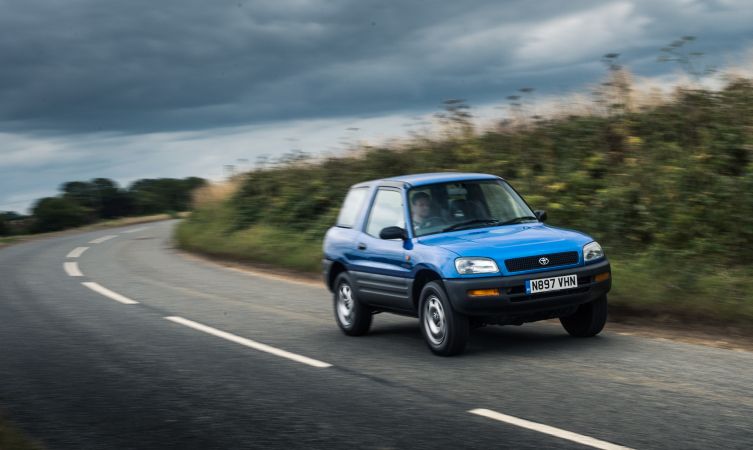 While unusually adept on country lanes, the laws of physics do eventually take over. The chunky 215/70 R16 tyres, Autocar noted, "are a mite too tall for really quick cornering" and there is some body roll.
But then again, that high-riding stance and tall-wall tyre specification comes into its own again around town, offering a commanding view over the roofs of other cars and the ability to roll unflustered over just about any urban obstacle. The RAV4's supermini-size footprint also makes it ideal for the cut and thrust – and parking difficulties – of city environments.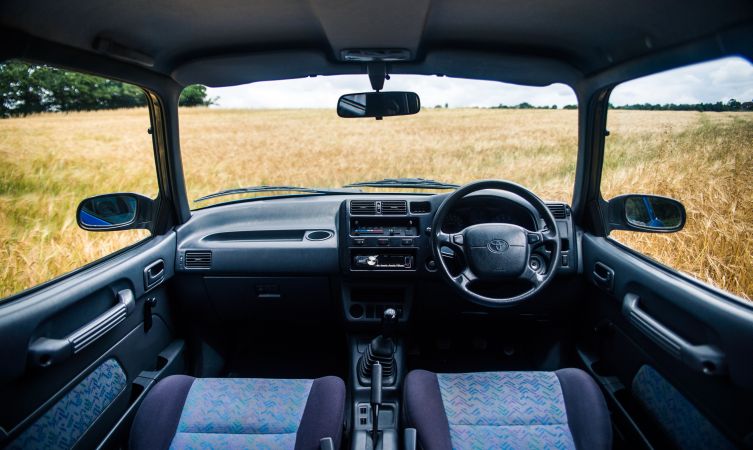 The RAV4's interior is typical of most Toyotas developed and produced in the Nineties. The controls are big and bold and simple to understand, while the dashboard's upright design positions the ventilation ports usefully high for efficient brow cooling. And while the interior plastics may be resolutely monochrome, the colour palette for the upholstery is vibrant and fun, a much better match for the car's outgoing personality.
A comfortable driving position is easy to find thanks to a height adjustable steering wheel but modern drivers may find the seat bolsters lacking in lateral support, especially given the car's appetite for corners. At least the large glass house and elevated position means that outward vision is superb, so changes in direction can be anticipated early on.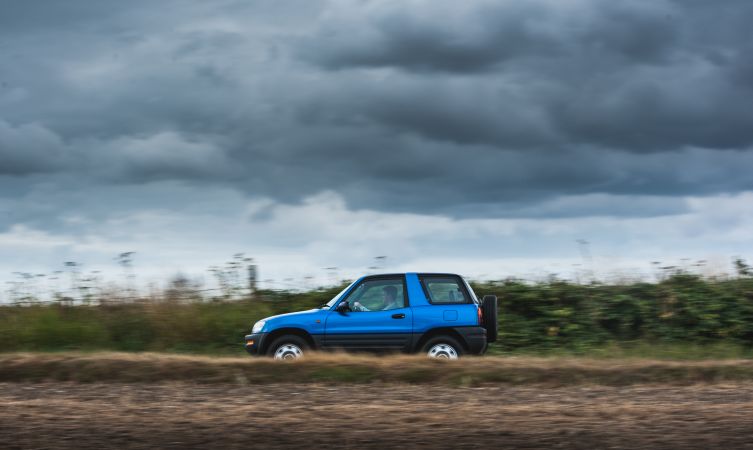 "Being inside the RAV is just good clean fun," discovered Autocar, but advised potential customers with active families to think twice before signing on the dotted line. Luggage space in the boot is not generous, although the rear seats can be folded flat to increase room considerably. Instead, the article reminded readers that a more practical, five-door model was imminent.
Nevertheless, rear seat space was found to be generous with legroom adequate for passengers up to six-foot tall. And being surrounded by such a large glass area meant the overall impression was one of spaciousness: "All in all, a nicer place to be than the relatively cramped RS".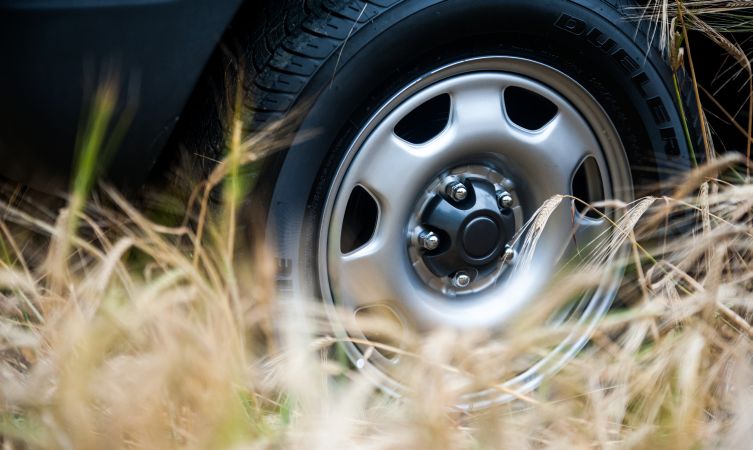 Despite the RAV4's impressive ground clearance and short overhangs, the model was never designed for off-road heroics. There is an electronically-controlled centre locking differential to haul the car out of trickier situations but there is no low-range gearbox for tackling steep ascents and the road-biased formula of the tyres is not ideal for clawing into mud. However, the writer had no hesitation in saying that "I'd rather be in the RAV4 if I found myself on a wet sheep track".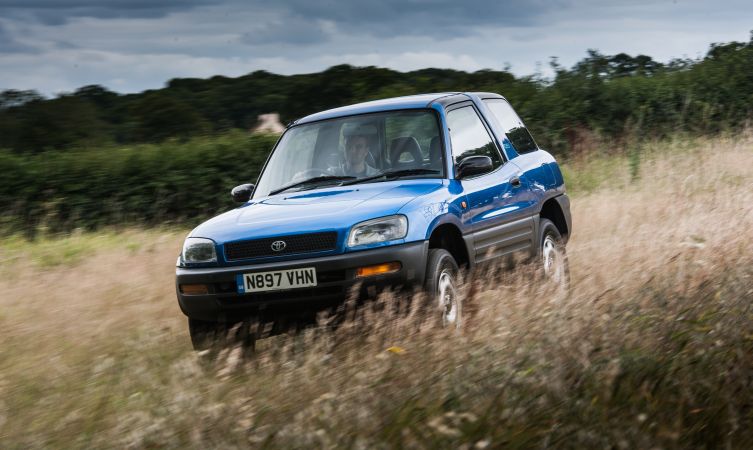 In concluding its comparison of these two four-wheel drive vehicles, Autocar admitted that both the RAV4 and RS2000 had individual charms: "The cute but tough lines of the RAV4 countered the Cossie-esque intent of the RS's bulging skirts. Around town and on wide open A-roads, the RAV's superior acceleration and the novelty of it all made the RS turn a paler shade of red".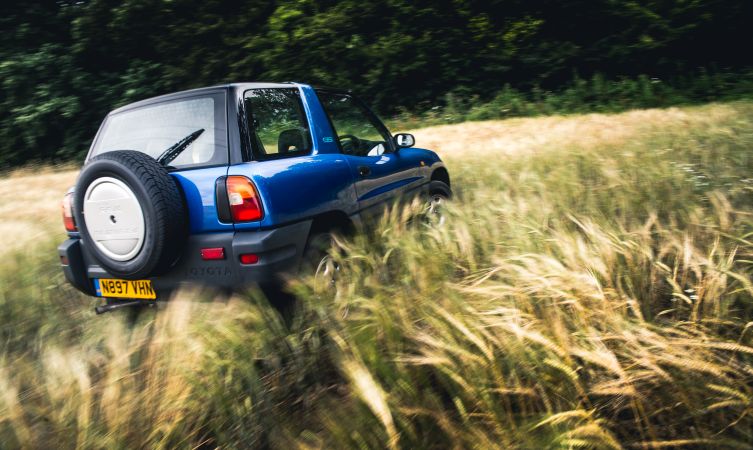 How did the writer think car-buyers would react to the novel Toyota RAV4? "With its performance, refinement, space, low insurance and all that designed-in cuteness, the RAV4 will unquestionably hijack more than a few hot hatch hearts."
More than 20 years on, we are convinced that our fully restored first-generation Toyota RAV4 will begin winning hearts all over again.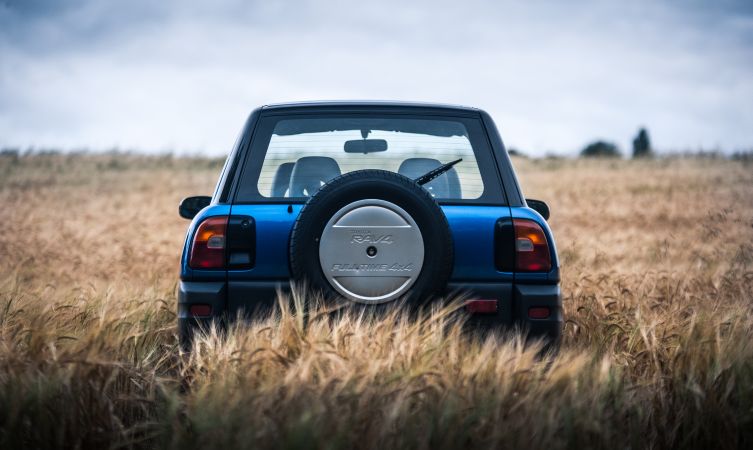 Learn about some of the other vehicles in Toyota GB's heritage fleet: 1966 Toyota Corona, 1993 Toyota Carina E and 1987 Toyota Corolla GT Coupe.