UPDATE 19/4/13: This post was first published ahead of the launch of the current-generation Toyota Prius, which has since been updated. To find out more about the Prius, read our other posts here or go the the Toyota.co.uk website.
—
We've been concentrating on the Next Prius in our recent posts, but it's not the only new and exciting Toyota model to be released this year. 2009 has seen the launch of iQ and the Urban Cruiser, along with new models of the Verso, Yaris, Avensis, Auris and Aygo
– meaning that almost all of Toyota's car range is new or updated.
And, from Monday 18 May, Toyota will be showcasing its renewed range in shopping centres across England – and giving the public a first chance to experience the next Prius.
Toyota will be visiting three of the country's biggest and busiest shopping destinations; The Trafford Centre in Manchester, Birmingham's Bullring and Bluewater in Kent. At each, you'll be able to see the Urban Cruiser, iQ, Yaris, Verso, Avensis and Auris.
All-new Prius
And, though the Prius isn't due on British roads until 1 August, it will be making its first public appearance in the UK as the centre point of Bullring's Green Week. New Prius has a best-in-market petrol CO2 figure of 89g/km with a combined fuel consumption of 74.2 mpg, 136 bhp and a 0-60 time of 10.4 seconds. The new car also falls into the £0 road tax bracket, and will be exempt from the London Congestion Charge.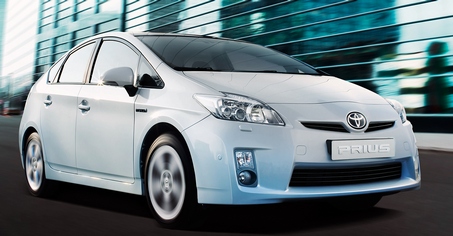 You'll be able to experience the third generation of Toyota's full-hybrid vehicle at Bullring from Monday 8 June to Sunday 14 June, after which it moves on to the Trafford Centre (15-28 June) and Bluewater (29 June-12 July).
Full schedule
The Trafford Centre
18-31 May – Urban Cruiser, iQ and Yaris
1-14 June – Verso, Avensis and Auris
15-28 June – New Prius, iQ and Yaris
Bluewater
1-14 June – Urban Cruiser, iQ and Yaris
15-28 June – Verso, Avensis and Auris
29 June-12 July – New Prius, iQ and Yaris
Bullring
8-14 June – New Prius
15-28 June – Urban Cruiser, iQ and Yaris
29 June-12 July – Verso, Avensis and Auris
13-26 July – New Prius, iQ and Yaris