In this instalment of Toyota Professionals, we chat to Stephen Prothero-Mann, who uses a fleet of Proace and Proace City electric vans to offer laundry services around Cornwall.
It's 08:15 on Saturday morning and the M5 and A30 are already clogged with traffic as the world and their dog descend on the West Country for a week of sun, sea, sand and surf.
Holiday cottage change-over day is a busy time for Star Linen Hire. And a military-style operation has just begun at their base in a small industrial estate in Cornwall. Giant ironing machines hiss and clank, banks of washing machines and tumble driers whir and churn. Through open roller-shutter doors, hundreds of purple canvas bags are tossed into a fleet of waiting vans as cottage names, "Sea and Sand?" "Surf's Up?" "Seascape?" are shouted out and checked-off.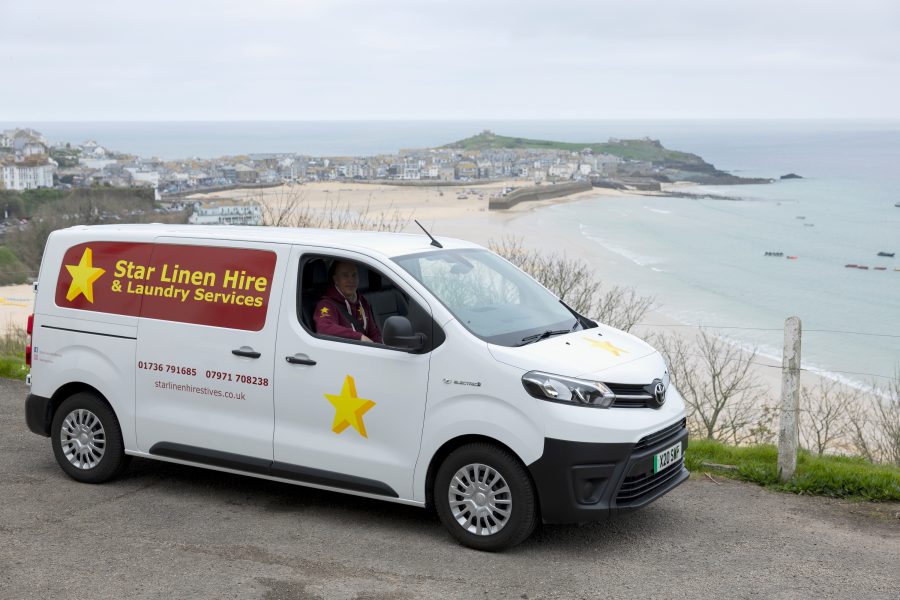 Once loaded, the vans, all-electric, silently head off to do battle with the traffic and holidaymakers in the narrow streets of St. Ives.
Stephen Prothero-Mann bought a small laundry ten years ago and has since developed it into a £1m-a-year success story. His team now service 500-holiday homes and cleans almost forty seaside cottages each week. "We supply people with the things they wouldn't bring on holiday – things which would take up space in their cars – like bed linen, towels, high-chairs, buggies and cots" explained Stephen.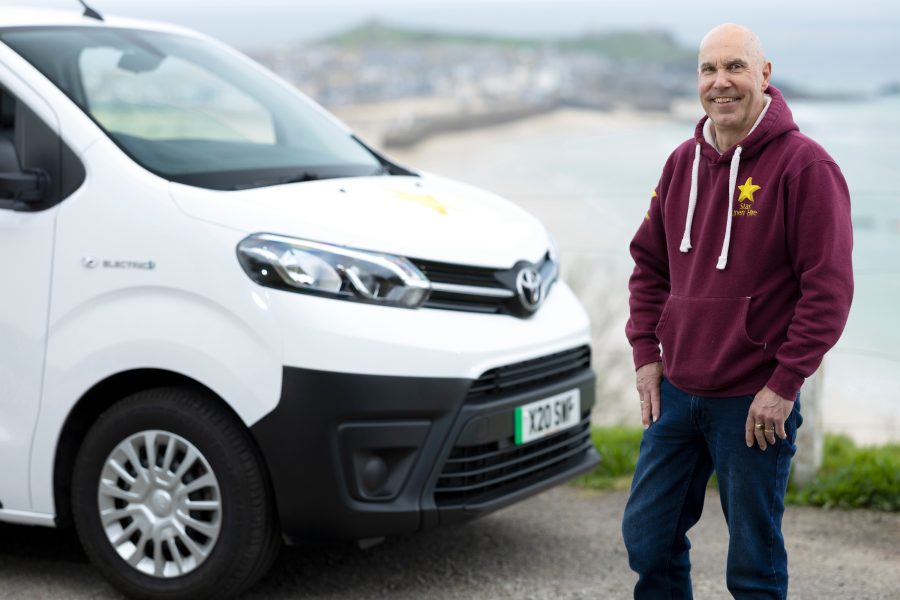 "We used to have a fleet of diesel vans but they weren't suited to the short, stop-start multi-drop deliveries. We often had to take them out for long blasts to clear their DPF filters. An AA man said they weren't compatible with the work we require them to do.
"So last year when I saw a Facebook ad for a Proace electric, I bought one to try out. The local dealer didn't have a demonstrator – I just took a punt. It arrived in January.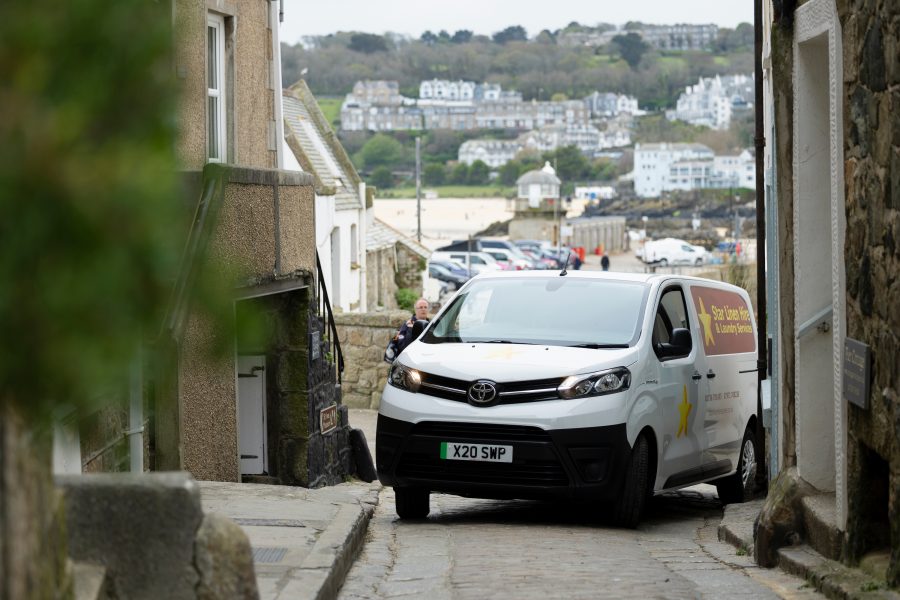 "Laundry weighs a tonne so I wanted to be sure an electric van could cope with all the steep hills here in St. Ives – to know it had the strength to do what the diesel vans had done. I quickly found they have the torque to climb hills with a full load, with flying colours. Our brand new electric Proace was just the ticket!
"All our delivery drivers raved about the electric Proace and as a result of their feedback and my personal experience of driving it, I was on the phone to Tom at Parklands and placed an order for three more Proace and a Proace City".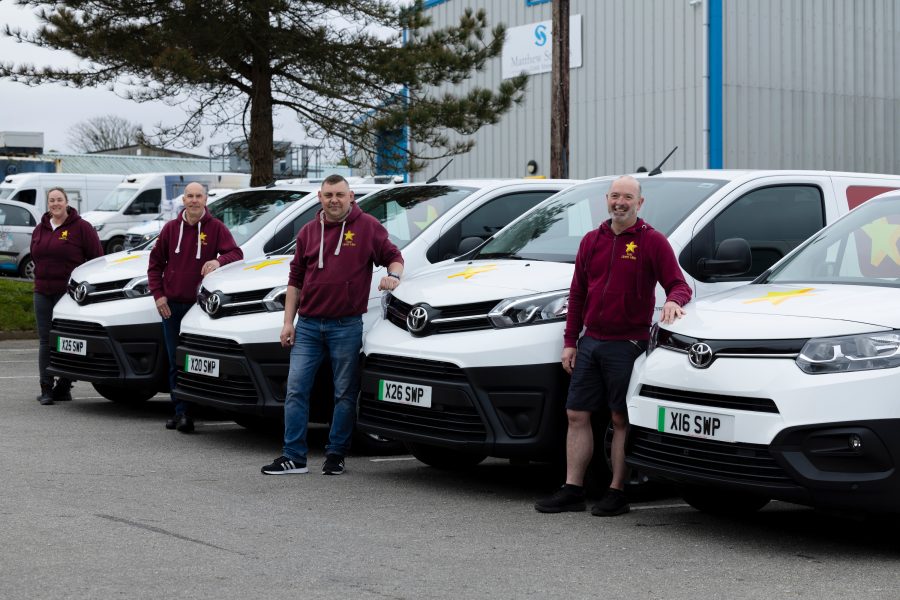 Since then Star Linen Hire has ordered their fifth electric Toyota van, another Proace, which will be pressed into service next month. The company has three fast chargers, two in St Ives and one at their second depot in Penzance. Low daily mileages and steep hills help maximise re-gen opportunities so a full charge lasts each van two or three days.
"We've always had automatic vans in the fleet and all our electric vans are automatic, making our drivers' lives easier and safer. The added bonus of an electric hand brake, parking sensors and rear camera on the Proace City work a treat for my guys. Our delivery drivers' work is hard enough but Star's investment in these five electric Proaces helps them and contributes to reducing our carbon footprint.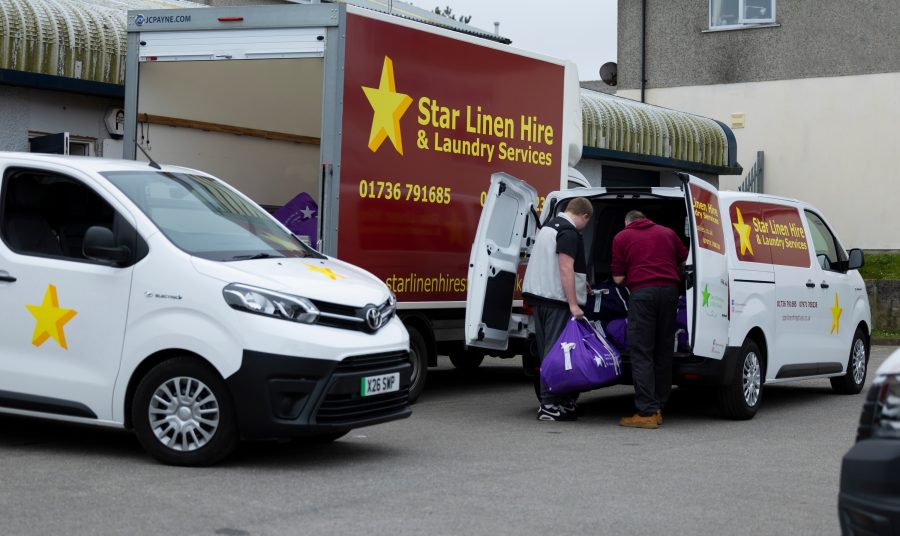 "We've let our customers have a drive and this has led to at least one making an order for the City with Tom, at Parklands Toyota. We've also made a point with our signwriting to emphasise the fact that our mini fleet is purely electric and zero emissions."
Since January the laundry has spent £247,000 on Toyotas. "I trust the Toyota brand" explained 64-year-old Stephen. "My sister had one in Australia and I've owned a Yaris Verso, a Corolla Verso and a little IQ which I bought years ago to nip into town with linen – I still use it – it's super manoeuvrable in the narrow streets. I've also just ordered a Hilux Invincible X – I've always wanted one. It'll have a tow-bar fitted and be used for waste collection and disposal. Toyota's ten-year warranty and the service you get at their dealerships is unbeatable too" he said.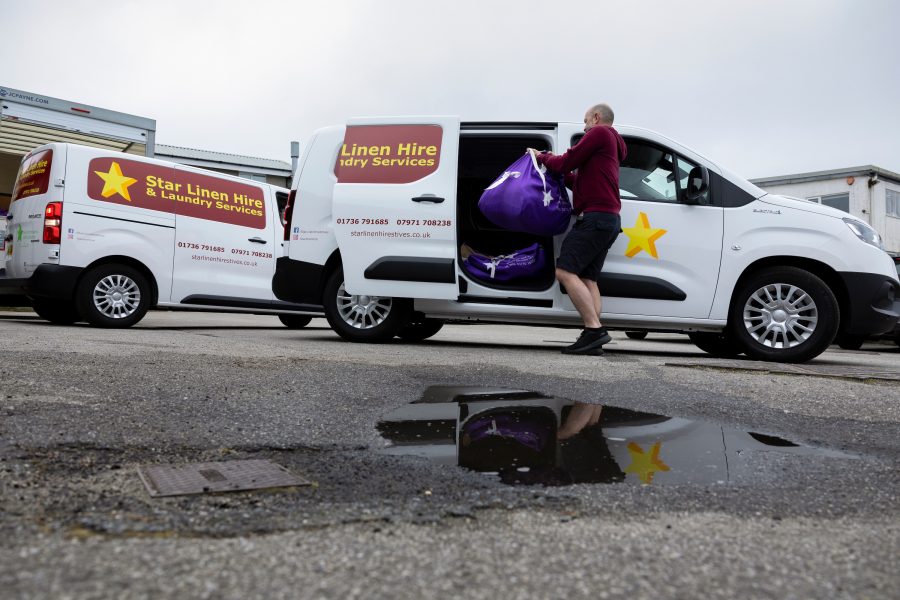 Star Linen Hire employs 25 permanent staff with numbers almost doubling in the high season. Standing for Stephen William Prothero, all of Star Linen's van's registration numbers end in SWP, look out for them next time you're heading to the West Country on holiday.