The eagle-eyed may have spotted Peter Wright, TV's The Yorkshire Vet, driving around the Yorkshire Dales in a new car – the Toyota Highlander hybrid electric SUV.
Peter recently switched from a Toyota Land Cruiser to the seven-seat Highlander, which he has been using for the past few months for his work visiting and treating animals across the North Yorkshire Moors and Dales National Parks. He has put the car through its paces on all types of roads and off-road terrain and in all weather conditions.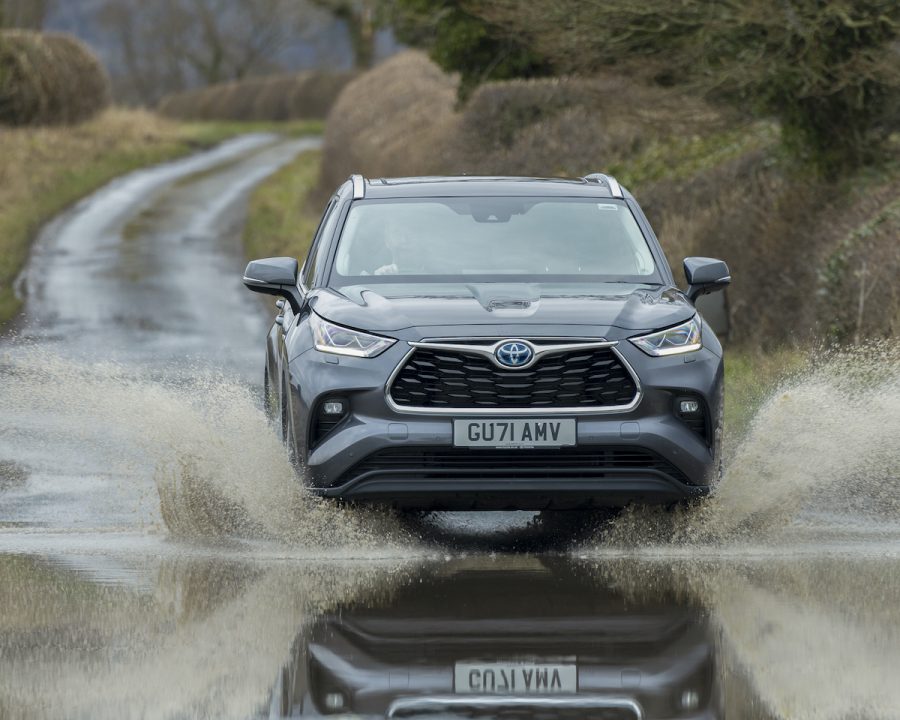 Toyota talked to Peter about his experiences driving a hybrid electric vehicle for the first time, and his views on climate change:
TGB: You recently changed your car from a Land Cruiser to a Toyota Highlander. What were your first impressions of the Highlander and why did you choose it?
My first impressions of the Highlander were extremely favourable. Its more streamlined shape was immediately apparent, as was the thoughtful and stylish interior layout, with plenty of storage space.
My life as a country vet means I need to have a reliable and robust vehicle that can "go anywhere," but I also need to consider its impact on the environment and, ultimately, other people. The Toyota Highlander fulfils my environmental criteria perfectly, as it has good mpg figures – up to 39.7 miles per gallon, and low CO2 emissions for a large SUV. Being a typical Yorkshireman concerned about value for money, the obvious increase in fuel economy has not gone unnoticed.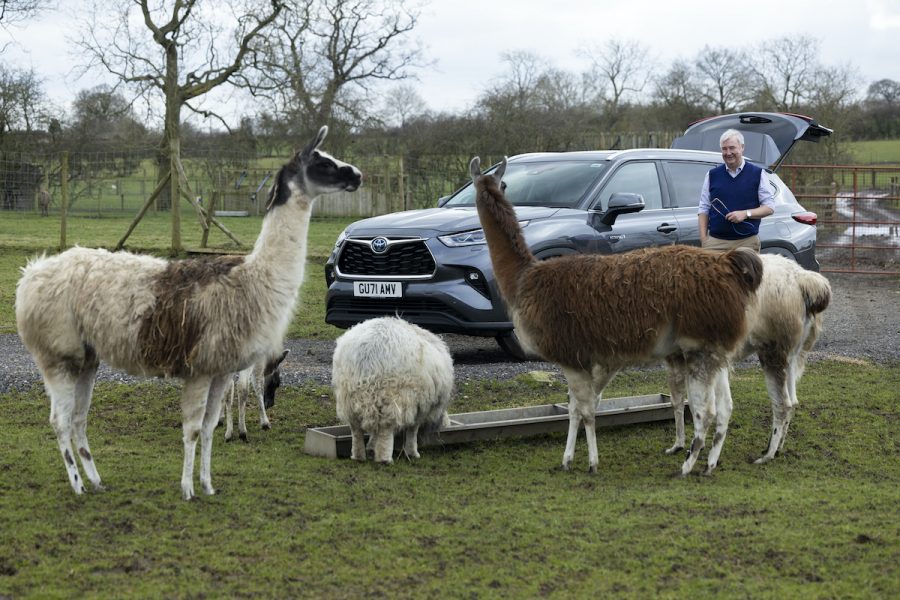 What is the Highlander like to drive? How does it compare to the Land Cruiser?
I had grown to enjoy the Land Cruiser's reliable, sure-handling, solid performance that would take me over the roughest terrain to attend to my farm patients. It was a hard act to follow, but the Highlander has lived up to its older brother, with the added benefit of being a self-charging hybrid. I have driven it over wet, muddy, rutted and slippery surfaces and it's great to discover that there's been no compromise in reliability and sure-footedness in the drive to achieve greater fuel efficiency and greener credentials.
The intelligent all-wheel drive system kicks in when required and the two-tonne towing capacity is important to me.
The heated seats and steering wheel are wonderful when you've been spending time in a cold barn.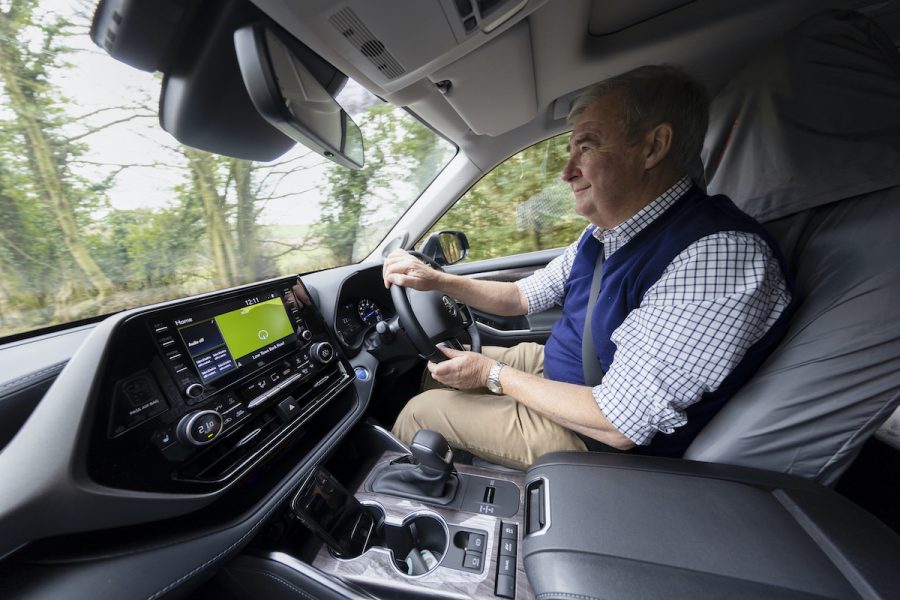 How suitable is Highlander for your work as a vet? Can you fit in all kit you need?
I carry a large variety of heavy and bulky equipment. When I transferred my kit from the Land Cruiser to the Highlander I stood and scratched my head as I still had space to spare in the cargo area. This is thanks to the clever interior design that maximises the cargo carrying capacity. It's a case of practicality through a clever and thoughtful layout. The Highlander is fitted out with seven seats, two of which pack away to provide superb boot capacity. The equipment I carry every day means I have not yet used the two rear seats but there's still lots of space to seat five people in great comfort, with plenty of leg room.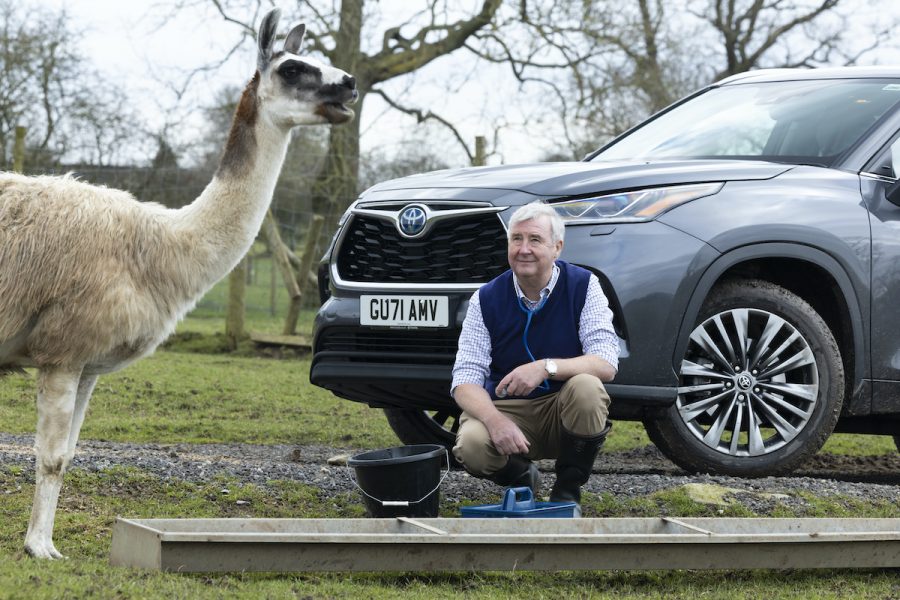 Have you tried the Highlander's different driving modes: Eco, Normal, Sport and Trail?
Driving in Eco mode makes me very conscious how driving technique can help maximise fuel efficiency, particularly on country lanes and farm visits, where stopping and starting is the norm. It goes without saying, on farm visits where rough terrain is involved, the Trail mode is ideal.
How do you use the sound system in the Highlander? What's your taste in music and radio programmes?
Between calls I love to listen to Radio 2 and Radio 4, as well as the sports channels using the DAB audio. I also enjoy Gold where they play all the hits from the last 50 years; it takes me back to when I was a teenager. I am usually by myself, so I join in singing way out of tune; at least with the fantastic audio system I can't hear my own voice!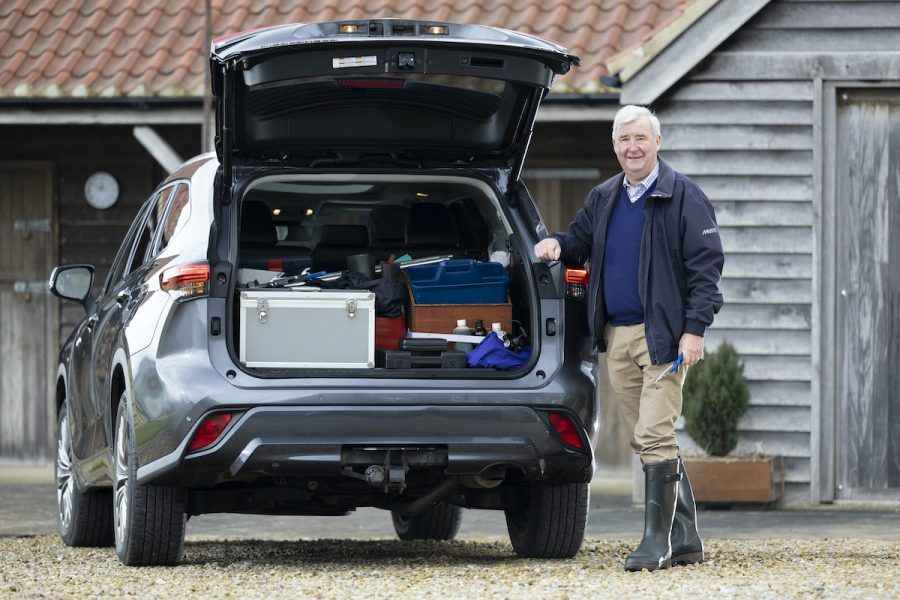 What are your favourite drives, in Yorkshire or elsewhere?
I never tire of driving around my beloved Yorkshire. I live close to Sutton Bank – a treacherous incline on the A170. This is the gateway to the North Yorkshire Moors National Park. I particularly enjoy driving through Farndale and Rosedale and on to the North Yorkshire coast, visiting so many beautiful towns and villages in the coastline between Scarborough and Whitby.
What are you enjoying about the current series of The Yorkshire Vet?
Leaving Skeldale Veterinary Centre in Thirsk after 40 years, initially working as a veterinary assistant to James Herriot and for the last 20 years as senior partner, I am now working part–time at Grace Lane Veterinary Practice in Kirbymoorside, a beautiful market town. My daily routine is very similar though, and I like the fact that I have retained some of the longstanding clients who have appeared on The Yorkshire Vet over the last seven years and have also been introduced to many new ones. I think it's obvious to viewers that the warmth, humour and resilience of Yorkshire people, particularly farmers, still shines through.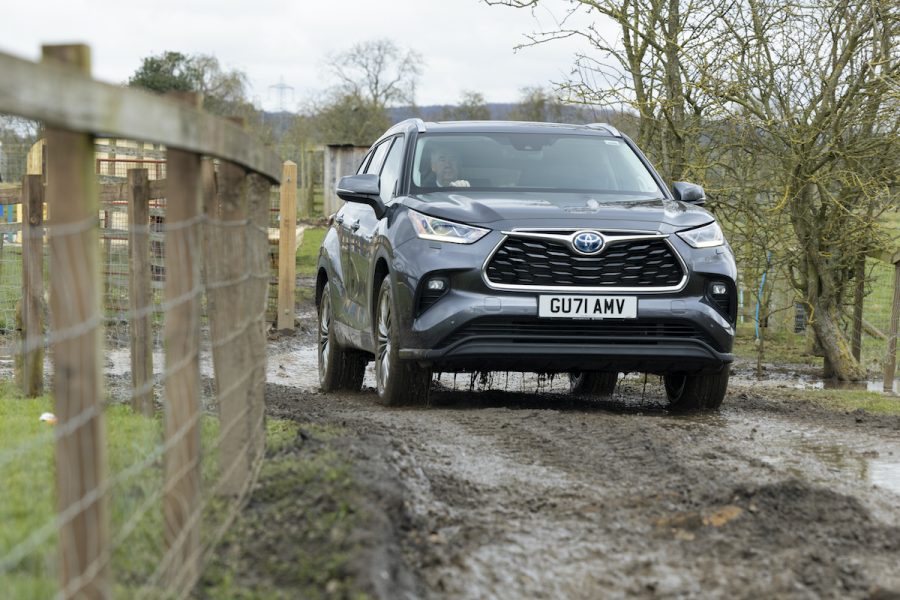 Are there any aspects of climate change or environmental damage that you are particularly concerned about?
Throughout my life as a country person I have been passionate about caring for the environment. Nowadays there are wide-ranging concerns about how humans are damaging the planet. I see first-hand how insect numbers have decreased around my garden and fields, how bee numbers have declined, and how several species of birds that were once common visitors to my home, now appear more rarely. I look at our picturesque coastline where rivers and streams carry tons of debris and plastics that are doing untold damage to our wildlife and sea life. I worry about unseen toxins such as micro-plastics which are in many of our modern clothes and products and are now found increasingly in the digestive tracts of our sea creatures. It is also widely recognised that our coastal seabirds are in alarming decline. Global warming and rising sea temperatures mean that these birds' staple diets such as sand eels can no longer thrive, so they are struggling to survive. We humans at the top of the food chain need to take far greater action to help repair nature's balanced ecosystem before it collapses with dire consequences for us all.
Read more: Yorkshire Vet on the Toyota Land Cruiser