Sales of Toyota's hybrid vehicles are rising exponentially as people discover the numerous environmental and emotional benefits of this dual-source powertrain.
In view of this, we thought it would be appropriate to demonstrate our own love for hybrid in a new and quirky way – by building a Toyota Racing Development (TRD) version of the ultra-low emission Prius Plug-in.
As far as we are aware, a project like this has never been tackled in Europe. So we thought we would share the experience through six build chapters, each of which will be published weekly in preparation for a special challenge revealed in July.
See also:
Toyota Prius Plug-in TRD project: Part 2 – Front suspension setup
Toyota Prius Plug-in TRD project: Part 3 – Rear suspension setup and wheel alignment
Toyota Prius Plug-in TRD project: Part 4 – TRD accessories
Toyota Prius Plug-in TRD project: Part 5 – Rear spoiler
Toyota Prius Plug-in TRD project: Part 6 – Front and rear bumper spoilers
Toyota Prius Plug-in TRD project Flickr album
Toyota Prius Plug-in TRD Nürburgring record Flickr album
Below is the first chapter, which concentrates on the dramatic new wheel and tyre package.
As the sole connection between ourselves and the road, we knew the choice of wheels and tyres for our TRD Prius Plug-in project had to continue to play its vital role in the safety and efficiency of the whole car.
Toyota carefully decides the specification of a car's rolling stock to balance grip, water dispersion, rolling resistance, weight and aerodynamics. In the case of the standard Toyota Prius Plug-in, this means 6×15″ alloy wheels with aerodynamic covers and 195/65 R15 low rolling resistance tyres.
Together the original wheels and tyres have a rolling circumference of 1,994mm, a figure that must be maintained in order to retain the accuracy of the speedometer. While there are online tools available to help people work out the overall circumference of any wheel and tyre package, TRD helpfully removes all doubt from the equation by recommending tyre sizes for the variety of approved wheel upgrades marketed for all current variations on the Prius platform.
The design we chose is the attractive, diamond-cut TRD 'TF6' wheel, a version of which is also found on the TRD GT86. It is supplied with significantly larger 7.5×18″ measurements and an offset (the distance between the centre of the wheel and its mounting face) that allows it to fill the bodywork more aggressively without running the risk of fouling the wheel arch returns.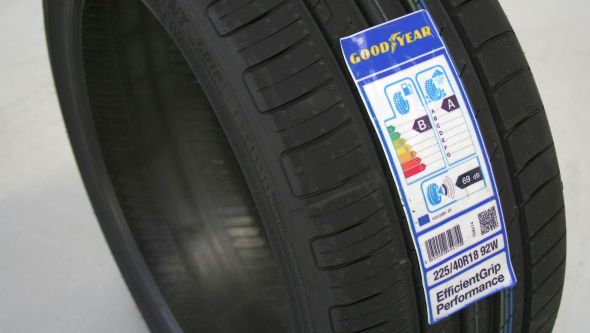 TRD specifies a 225/40 R18 tyre to accompany this particular TF6 but leaves the make and model to the end user. Our final plan for the TRD Prius Plug-in will involve some circuit work (more on that later) but we knew it would not be necessary to buy tyres with a super-sticky compound that would deliver a dramatic increase in grip at the expense of a decrease in fuel economy.
Instead, we studied the new coding regulations and bought a set of Goodyear EfficientGrip Performance tyres with the lowest possible rolling resistance, lowest noise production and most efficient water dispersion characteristics.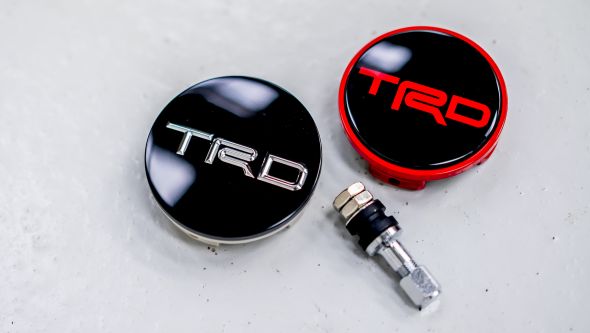 New centre caps and stainless steel valves were supplied by TRD to go along with the new wheels, the former featuring a bolt-in rather than pull-in design that uses less space within the shallower tyre profile.
One final item that had to be purchased separately was a new set of wheel nuts, so we pushed the boat out on slim TRD branded nuts with a unique hex pattern.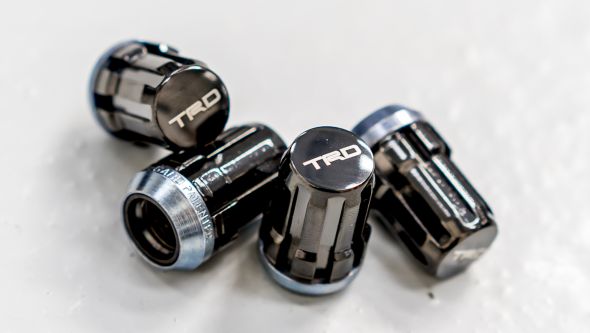 Installation and balancing of the tyres was handled by a technician at our top secret press fleet garage using high quality machinery. Indeed, so accurate is the balancing machine that imbalance is measured across the whole rolling assembly, indicating how much the tyre should be rotated around the wheel to minimise the need for additional weights. Two of the wheels needed no balancing whatsoever, so these were fitted to the front of the car to keep the steered end as pure as possible.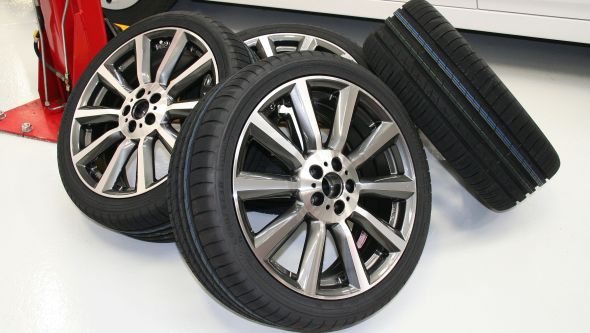 Look out for the second build chapter next week, when we tackle the front suspension.
See also:
Toyota Prius Plug-in TRD project: Part 2 – Front suspension setup
Toyota Prius Plug-in TRD project: Part 3 – Rear suspension setup and wheel alignment
Toyota Prius Plug-in TRD project: Part 4 – TRD accessories
Toyota Prius Plug-in TRD project: Part 5 – Rear spoiler
Toyota Prius Plug-in TRD project: Part 6 – Front and rear bumper spoilers
Toyota Prius Plug-in TRD project Flickr album
Toyota Prius Plug-in TRD Nürburgring record Flickr album