As soon as we set our YouTube video live, word of our fuel economy record around the speed-obsessed Nürburgring Nordschleife circuit spread like wildfire. The story of our record-setting Toyota Prius Plug-in TRD in action was viewed in every corner of the globe and reported on in countless languages.
But while it took minutes for the world to hear about the feat, behind the scenes this project had taken months to put together and should reap ongoing benefits for enthusiasts of the TRD brand. So we thought it would be worth revealing some of the work that went on behind the scenes to make this record attempt happen.
A key element of the project was the car itself, and we felt it was important to attack such an iconic circuit in a Prius Plug-in modified with motorsport-inspired Toyota Racing Developments products.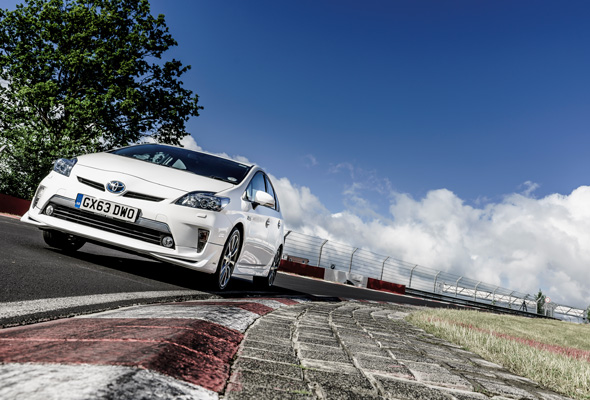 See more: Toyota Plug-in Prius TRD project
All components were imported specifically for this project and it is hoped that our forging of the necessary supply channel between Japan and the UK will soon open the way for a much larger range of TRD parts to become widely available for order directly through your local Toyota dealer.
It is not possible to simply jump on a Channel Tunnel train and arrive at the Nürburgring in the hope of gaining unique access to the track. Extensive licensing agreements were required beforehand for the photographer and two film crews, as well as another that gave us the right to use the low-level air space around the circuit for sequences involving the drone camera.
The day of the shoot also had to coincide with a period of essential maintenance to the circuit, which enabled us to use the course on our own but at restricted speeds and while being chaperoned by marshals hovering just out of shot.
All shooting had to be carried out in a brief three-hour window from 09:00 to midday. This was not a lot of time for three crews to capture all necessary content in strategic areas of a 13-mile circuit, so the additional worry of an early filming issue (eventually narrowed down to a wiring fault in one of the camera rig's universal joints) put everybody on the back foot.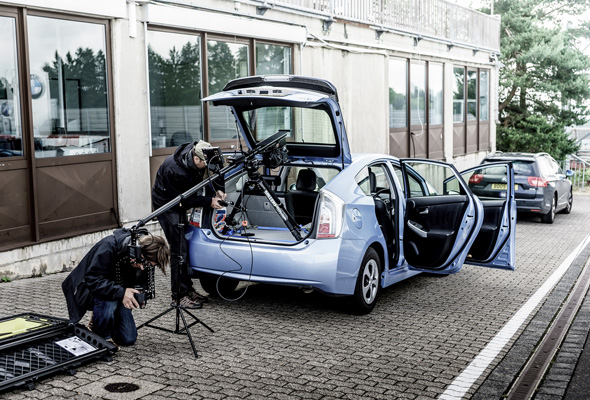 Nevertheless, by pulling together and making good use of photographer Phil Steinhardt's fluent German made our intentions plainly understandable to the marshals.
While for logistical and legal purposes it was necessary to hire the whole track for filming, the economy attempt itself was carried out on a regular public session. We had planned to lap the circuit four times in the latter part of the day, making full use of the Toyota Motorsport GmbH charging van to replenish the Prius Plug-in's battery off-grid directly opposite the entry barrier. A few practice sessions would give us the opportunity to set the best possible fuel economy figure.
However, unknown to us, a Chinese media company had hired the circuit for the period between midday and 17:00, leaving a short two-hour slot for public drives before the 19:00 closing time. This meant that with the battery's empty-to-full charging time of 90 minutes, it would not be possible for us to do more than one run.
The pressure was now on to generate a remarkable result with no practice session, no second takes, no fluffed in-car commentary and no option but to deliver first time. Everybody's nerves were jangling. However, the positive side to this change in circumstance was a greater amount of time to secure a relaxed piece-to-camera with the TMG representative.
Adding to the drama, hordes of cars and motorbikes had now filled the car park and there was a stampede for the barriers when the circuit was finally released to the public. Although time was not in our favour, we felt there was an advantage in waiting for the queues to subside. When we finally cruised up to the toll almost everybody had already been around the circuit once and busy checking fluids and tyre pressures ready for a second attempt. So although the circuit was by no means empty, at least it didn't feel like rush hour any more.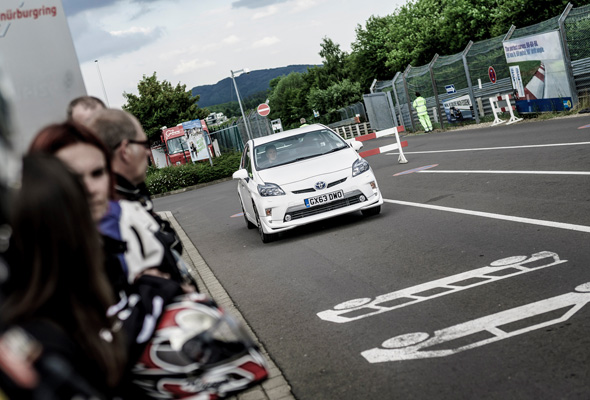 It takes just as much concentration to hypermile as it does to drive fast, and on a course as tortuous as the Nordschleife that means keeping a whole dinner service of plates spinning, so to speak. You have to carefully judge throttle input, keep a close eye on battery charge level, balance that level against the minimum average speed and kilometer markers around the course, plan ahead so that you don't get caught out going too slow up an incline, regenerate battery power at every opportunity, look out for other drivers and riders overtaking… and then finally, put all those thought processes and viewpoints into words as they happen. It was multi-tasking to the max, so no wonder the time flew.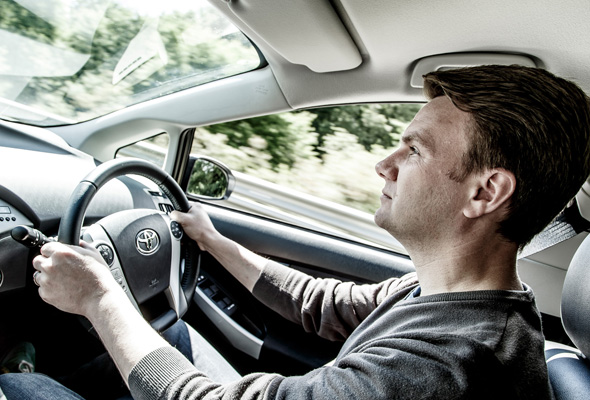 The result of 698 miles per gallon was more than we could have hoped for from just one attempt. But what Toyota wants to get across from this is that it is entirely repeatable by any Prius Plug-in owner on routes that will likely be less challenging than a race course which rises and falls by an elevation of 1,000 ft. Simply unplug the car from a home charging point and drive to a destination that is less than 15.5 miles away – the all-electric range of the Prius Plug-in – and wait for that delightful read-out to inform you how little fuel you've used.
If you manage to keep the Prius Plug-in in EV mode, it is possible to match or even better our fuel economy figure. And if you feel like challenging our result around the Nürburgring Nordschleife, we'd love to hear from you.
See also:
Toyota Prius Plug-in records a 698mpg lap of the Nürburgring
Toyota Prius Plug-in TRD project: Part 1 – Wheel and tyre package
Toyota Prius Plug-in TRD project: Part 2 – Front suspension setup
Toyota Prius Plug-in TRD project: Part 3 – Rear suspension setup and wheel alignment
Toyota Prius Plug-in TRD project: Part 4 – TRD accessories
Toyota Prius Plug-in TRD project: Part 5 – Rear spoiler
Toyota Prius Plug-in TRD project: Part 6 – Front and rear bumper spoilers
Toyota Prius Plug-in TRD project Flickr album
Toyota Prius Plug-in TRD Nürburgring record Flickr album