A special guest visited Toyota GB headquarters yesterday to hand over the first Prius Plug-in bought by a UK fleet customer. Dr Shoichiro Toyoda, Honorary Chairman of Toyota Motor Corporation, presented the keys to Electricity North West, the first fleet customer to order the plug-in hybrid car.
Susan Stockwell, Customer Service Director of the Warrington-based electricity company accepted the car.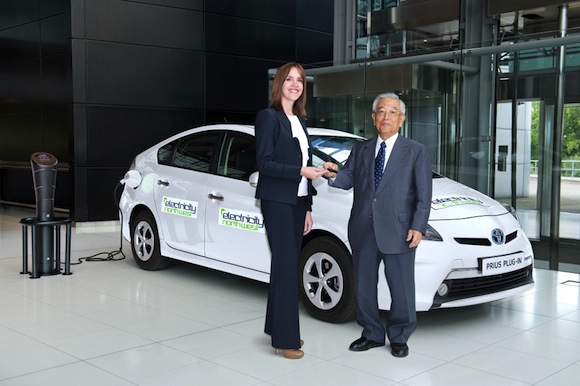 Dr Shoichiro Toyoda served as Toyota Motor Corporation's president from 1982 to 1992, and as chairman of the board from 1992 to 1999.
Ewan Shepherd, General Manager for Toyota Fleet Services said: "It was an honour for us to have Dr Toyoda here for the hand-over of a car that is such an exciting and innovative proposition for our fleet customers.
"Prius Plug-in Hybrid marks an important development of Toyota's advanced, but highly practical technology for cleaner, more efficient and cost-effective transport. With its offering of zero emissions, all-electric capability with an uncompromised hybrid vehicle driving range, it delivers 'best of both worlds' motoring – something that will be very attractive to our customers who want to reduce their emissions and crucially save costs."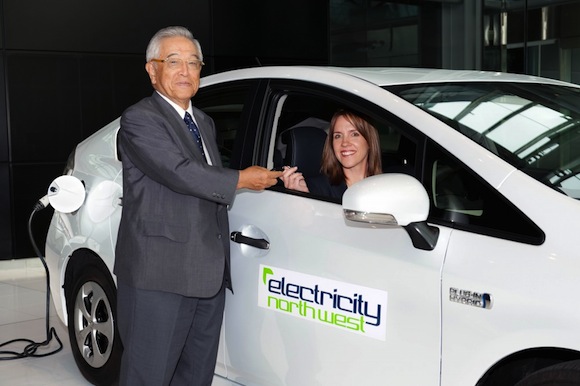 Susan Stockwell said: "As the North West's electricity network operator, we are delighted to be the UK's first owner of the Prius Plug-in Hybrid. We are working hard to ensure that our network can support electric car charging points to help the country reduce its carbon footprint, so it's only right that we have our own plug-in vehicle. The short charging time of the Prius was certainly a big selling point for us."
Electricity North West, a well-established Toyota fleet customer, operates and maintains the North West's electricity distribution network, connecting more than 2.4 million homes and five million people to the National Grid, covering a region that extends from rural Cumbria to Manchester.
If you want to find out more about the Toyota Prius Plug-in hybrid, we've just published a roundup of the reviews published so far, and answered questions asked here on the blog.
Alternatively, head to the Toyota GB website or book a test drive.