Building on the incredible success of the world's favourite hybrid, the Prius, the Toyota Prius Plug-in Hybrid is the flagship of the Prius family.
Using the latest lithium-ion battery technology, the Prius Plug-in Hybrid provides owners with over 15 miles of zero-emissions electric-only EV driving, with the car easily recharged in just 90 minutes from a domestic 230V power supply or on-street charging location. For longer journeys, the 1.8-litre petrol engine enables the car to act as a full hybrid just like the regular Prius.
Combined fuel economy in hybrid mode is 78.5mpg, but if you take full advantage of the Prius Plug-in Hybrid's EV capabilities, that figure shoots up to 134.5mpg – amazing results for a well-equipped, refined five-seat family car. If you need more space, then take a look at the seven-seat Toyota Prius+.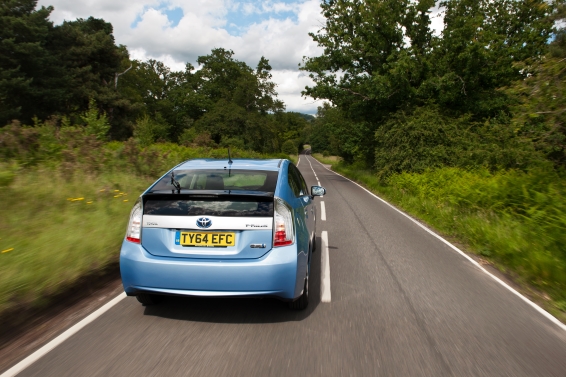 Driving
Unplug and away you go! Most urban journeys can be covered by the Prius Plug-in Hybrid's 15.5 mile range on electric power in EV mode.
Its fully automatic CVT gearbox means that the driving experience is smooth, quiet and incredibly economical, achieving 134.5mpg on an official test designed for plug-in hybrids. Once the on-board battery begins to run low, the Prius Plug-in Hybrid seamlessly shifts into full hybrid mode, with power provided by its compact 1.8-litre VVT-i petrol engine and electric motor.
In full hybrid mode, it's even more economical than the standard Prius – the Prius Plug-in Hybrid returns 78.5mpg as its lithium-ion battery recharges faster, meaning EV mode can be used more often. It also has three on-demand driving modes: HV for use as a full hybrid vehicle, EV for electric driving and EV-City which provides greater acceleration before the petrol engine kicks in, making it ideal for a fast-paced urban environment.
Comfort
Like the standard Prius, the Prius Plug-in Hybrid is stylish and aerodynamic on the outside, and spacious, comfortable and quiet inside. Excellent soundproofing keeps engine, wind and road noise to a minimum, especially noticeable when running in near-silent EV or EV-City modes.
The Prius Plug-in Hybrid is offered in just one trim level, which is packed with high-grade equipment including Toyota's latest Touch & Go Plus touchscreen multimedia and navigation system, eight-speaker JBL sound system, Touch Tracer dash display that literally puts vehicle information at the tip of your fingers, with steering wheel-mounted switches.
The keyless entry and start system, means you'll never have to search your bag for your keys, while the automatic air-conditioning with two-step heater keeps cabin temperatures constant while improving fuel economy. Heated front seats, rain-sensing wipers and cruise control further add to a cosseting, fuss-free driving experience.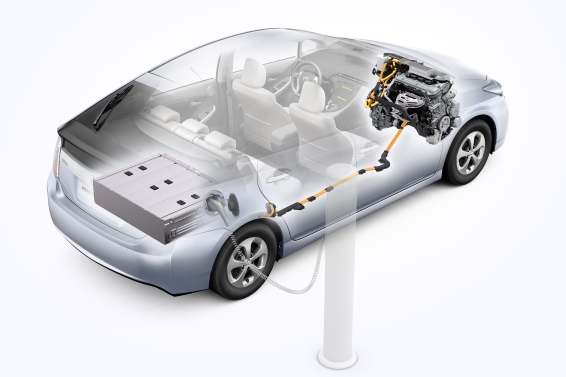 Practicality
The most practical aspect of the Prius Plug-in Hybrid is its fast recharge time – just 90 minutes at a charging point or connected to a 230V power supply will fully recharge the on-board battery ready for another 15 miles of EV driving. Yet even though the Prius Plug-in Hybrid has a greater EV range than the standard Prius, the compact design of its battery pack means that there's no compromise in interior or boot space. With the 60/40 split rear seats in place, you have 443 litres of boot space, which increases to 1,120 litres when the rear seats are folded completely flat.
Safety
The Prius Plug-in Hybrid is built strong and equipped with seven airbags and whiplash-reducing front seats to protect and minimise injury to passengers and pedestrians in the event of an accident. But Toyota knows it is better to avoid accidents in the first place, which is why the Prius Plug-in Hybrid is fitted with anti-lock brakes with brake assist technology, traction and stability control, as well as hill-start assist.
Running Costs*
The Prius Plug-in Hybrid has unrivalled running costs for a car of its size and type. Its extended EV range reduces carbon emissions to an unprecedented 49g/km, meaning it is exempt from annual road tax charges. Fuel economy is as high as 134.5mpg (dependent on use), giving the Prius Plug-in Hybrid an achievable range of over 700 miles per tank of fuel. Maintenance costs are kept to a minimum with the Prius requiring a service every 10,000 miles or once per year.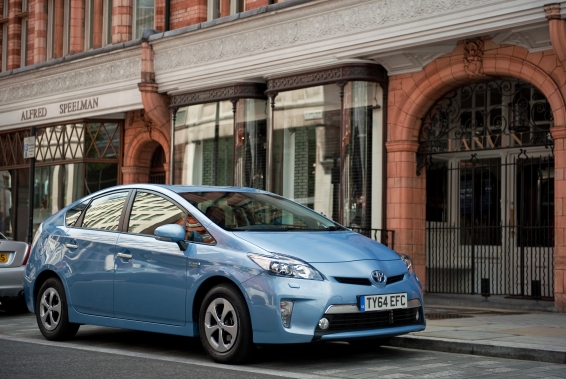 Quality
The Prius Plug-in Hybrid combines ecologically-friendly building methods and materials with Toyota's usual high standards of quality. That's why the Prius Plug-in Hybrid receives the same five-year/100,000 mile warranty as other Toyota cars, and the hybrid battery is covered by a separate eight-year/100,000 mile warranty as on the standard Prius. The exterior of the Prius Plug-in Hybrid is guaranteed against paint defects for three years and corrosion for 12 years, regardless of mileage.
Prices*
Buyers of the Prius Plug-in Hybrid can apply for a Government grant of up to £5,000 from the Office of Low Emissions Vehicles (OLEV), effectively reducing the on-the-road price of the Prius Plug-in Hybrid to £30,895 (£33,395 before the grant). Toyota has also partnered with British Gas and Scottish Gas (Scotland and Northern Ireland) to offer reduced rates on installation of a dedicated charging point at your home or business – prices start from as little as £375, and in some areas installation is completely free.
For further information about the Prius Plug-in Hybrid, and to arrange a test drive, visit the designated Prius Plug-in Hybrid section of the Toyota website.
*Prices correct as of 01/03/16