Last week, we took you behind the scenes at the press launch of the Toyota Prius+, and while we were there, we caught up with the car's chief engineer, Makoto Okabe. As well telling us all about his new car, he offered up his insight to where hybrid technology is heading.
How did you become Chief Engineer on the Prius+?
Before I transferred to this department I was working in the sales department. I made a concept of this vehicle for a project I worked on in 2004 and work on the Prius+ started in 2006.
I wanted to achieve three things: space for seven adults to sit comfortably within a compact exterior and in good safety, achieving efficiency with good styling and aerodynamics and using the first lithium-ion battery in a mainstream car.
Our other hybrids up to now have used Nickel-Metal Hydride batteries, but if we placed the third row seats on a Nickel-Metal Hydride battery under the deck, the vehicle would be tall. A lithium-ion battery is more compact, so we can place it between the front seats and it this way means we can achieve the fuel efficiency target, by considering packaging and safety issues.
The balance of styling, aerodynamics and space was most important – these three things decided each other.
Watch this video the find out how the Prius+ fits space for seven people into a compact package.
[youtube width="580″ height="425″]https://www.youtube.com/watch?v=PNsQlF_AMHY&feature=youtu.be[/youtube]Which part of Prius+ are you most proud of?
When I saw the first completed Prius+ I felt it was like my baby, I was very proud.
I am most pleased with the packaging, because my background is in body engineering, so I have a special interest in it.
When I first presented my concept vehicle in 2004 people said it wouldn't look like that when it made it through the production process, it would need to be taller and wider. But we worked very hard to give enough space inside while keeping the roofline low and retaining the look of the standard Prius.
Also, the fact that the car is lower than some competitors allows us to achieve better fuel efficiency.
What car do you drive every day?
I do actually drive a Prius+, or as we call it in Japan, a Prius Alpha. This is so I can use the car just like owners do.
My wife drives a Prius too, we're a real Prius family!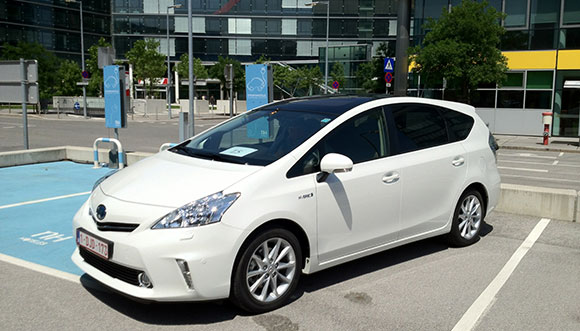 The Prius has been a huge success for Toyota. Did you feel pressure making the first addition to the Prius family?
Actually, I did not feel too much pressure. The compact MPV segment market is well developed in Japan and Europe, so if the car is acceptable to people and we do our jobs to the best level we can, then, hopefully, it can be successful.
One of the big challenges for me is introducing the car to the US, where people tend to buy either SUVs or larger MPVs. This kind of car does not really exist there, but in specification and size it mirrors an SUV. We think that if we make something like that with fuel efficiency, it might transfer to US customers.
How long have you worked at Toyota?
20 years. My job is very interesting!
When I was in the body engineering department, maybe I didn't think too much about vehicles after I finished for the day. Now I have this responsibility for Prius+, I have to think about it all the time!
I started in body engineering and stayed there for seven years. I then moved to the Toyota Technology Centre in the US, and when I returned to Japan I started in the all-aluminium body department. After that I moved to sales and in that job I made the concept car of a bigger Prius. That project went ahead and I transferred to concentrate on creating the car that became Prius+.
We now have Prius and Prius+, and the Prius Plug-in is coming soon. Will the Prius range increase further?
I can't say for now, I'm not sure what might happen in the future. I can say that the number of Toyota hybrids will increase.
Could we see a sporty Prius, or a luxury version in the future?
There are no plans at the moment. A sport version could be difficult to produce while balancing cost, technology and weight. We will continue to look at all possibilities, though.
How will hybrid technology change in the future?
By the year 2020 or 2030, we think that hybrid will have become a basic technology. Fuel cell vehicles are also a type of hybrid, as they are powered between the fuel cell and the battery. Maybe in the future hybrid will become completely normal for Toyota, all cars could have it. I think of Prius+ as a promise for the future.
For a long time, petrol cars have worked well because fuel is available everywhere. EVs are good, but at the moment charging them takes too much time and isn't possible everywhere. I think hybrid systems that can use two power sources are a good answer to the problem of reducing emissions and fuel use, as they are the most flexible option.