It's time to celebrate the brightest and best young talent, as we announce Toyota's Apprentice of the Year awards and welcome the new wave of Toyota technicians and service advisors across the UK.
The 28 strong group recently attended a graduation ceremony at Toyota's Burnaston factory in Derbyshire.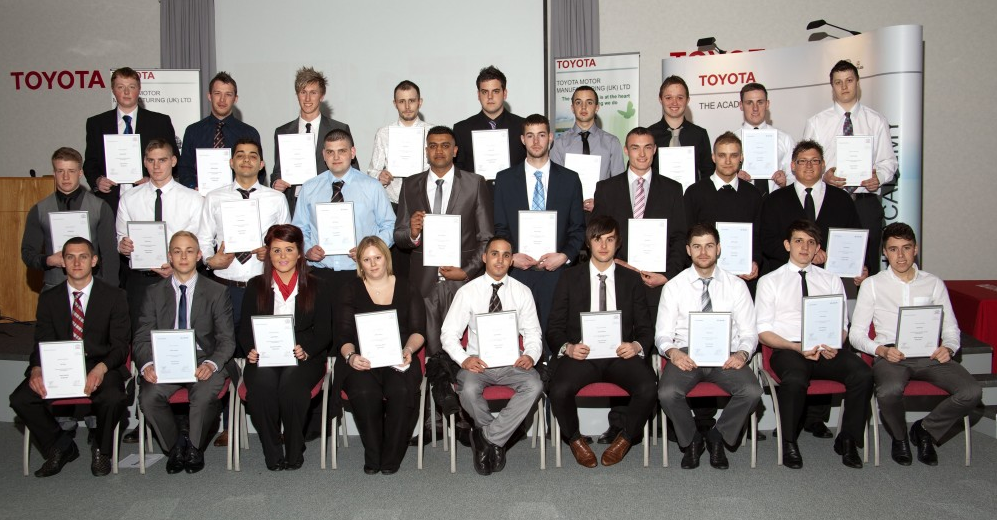 Francesco Mereu, Toyota HR Director, presented certificates to the graduating apprentices, formally confirming their status as fully qualified service technicians, body and paint technicians and parts and service advisors.
The day also included a fun driving challenge to test skill and accuracy at the wheel of a Toyota Aygo, with a benchmark score set by The Stig, a surprise guest at the occasion.
Congratulations to the 2011/12 Toyota and Lexus graduates: Daniel Aspinall, Vantage Knaresborough; Mark Baines, Lindop Bros Queensferry; Carl Banning, Sims Toyota Northampton; Anthony Blears, RRG Bury; Sam Burness, Octagon Bracknell; Matthew Crame, Lexus Swindon; Joseph Dalton, RRG Altrincham; Jack Dodsley, Lexus Leicester; Phillip Donaghey, Sims Toyota Northampton; David Freeman, Lookers Rayleigh; James Gascoigne, Ron Brooks Macclesfield; Daniel Goodson, Dingles Toyota Norfolk and Suffolk; Alex Hands, Charles Clark Wolverhampton; Daniel Hardy, Marshalls of Peterborough; Timothy Hart, Pentagon Doncaster; Karl Jones, Motorline Kent, Surrey and Sussex; Martin Jones, Lexus Milton Keynes; Sean Kennedy, Lexus Coventry; James Logue, Marshall of Peterborough; Rebecca Marsh, Gordon Lamb Chesterfield; Robert McNeill, Lexus Sidcup; Christian Medina, Curries Twickenham; Stuart Neary, H.W. Moon Wigan; Marshall Shipley, Pinkstones Stoke on Trent; Ruth Stafford, Farmer and Carlisle Lougborough; Mark Strong, Lexus Reading; Daniel Taylor, Lexus Newcastle; Naren Vajesang, Jemca Edgware Road.
The hard-fought Apprentice of the Year competition also recently took place, testing practical and theory skills to the limit. The finalists were required to complete intense testing sessions to prove their abilities, but then had the chance to prove their driving skills in an endurance karting competition.
The 2011/12 Service Technician Apprentices of the Year winners are Thomas Hurn, Dingles Toyota (Year 1); Ben Rollison, Listers Toyota Attleborough (Year 2); James Gearing, Octagon Toyota Reading (Year 3). The overall winner is James Gearing.
The 2011/12 Parts Advisor winners are Don Sabatino, RRG Salford Quays (Year 2) and Tom Roe, Lexus Hull (Year 3). The overall winner is Tom Roe.
The 2011/12 Body and Paint Technician winner is Andrew McPhie of RRG Bolton Accident and Repair Centre.
Our congratulations go to all the winners, each of whom received a trophy and digital camera. The three overall winners were also awarded with a Blackberry tablet and a personally engraved silver trophy.
To find out more about careers at Toyota and the apprentice scheme, visit Toyota.co.uk.