The legendary Toyota Land Cruiser V8 is the biggest and best Land Cruiser that Toyota has ever made. The Land Cruiser V8 is the pinnacle of Toyota's 60 years' experience building four-wheel drive off-roaders, making it the most capable, powerful and comfortable Land Cruiser to date. Built for the toughest conditions and powered by a 4.5-litre V8 turbodiesel, the Land Cruiser V8 is also fitted with the latest technology to tackle any terrain in safety and comfort. And on the road, the seven-seat 4×4 is refined and luxurious.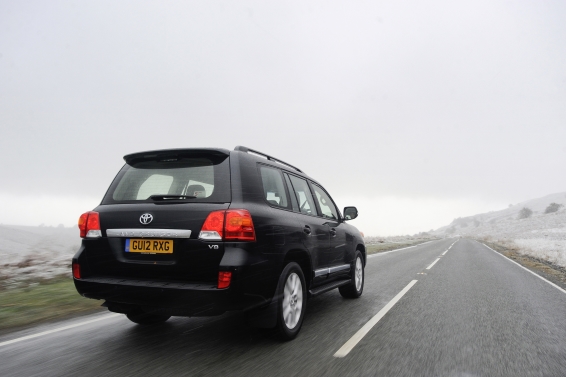 Driving
As its name suggests, the Land Cruiser V8's impressive on- and off-road performance stems from a powerful 268bhp 4.5-litre turbodiesel V8 delivering 650Nm of torque, the key ingredient in an off-road vehicle. Designed specifically to work with the V8 engine, a six-speed automatic gearbox is geared for excellent off-road performance, and is smooth and quiet in use. On-road, the V8 engine provides excellent acceleration for a vehicle of its size – 0-62mph takes just 8.9 seconds.
The Land Cruiser V8's active variable suspension gives the 4×4 a stable and comfortable ride and even though the suspension has a lot of travel to cope with rough, uneven surfaces, clever tuning by Toyota engineers improve both steering feel and ride comfort and reduce body roll. Further assisting the Land Cruiser V8's formidable cross-country ability are a number of technological innovations, including Crawl Control for steep climbs and descents, Turn Assist for very tight turns (when using Crawl Control), the Multi-terrain Select system which tailors the throttle, brakes and traction control to the particular surface type, and the Multi-terrain Monitor with four cameras to help you to see potential hazards – see them in action in the video below.
Comfort
As appropriate for a flagship model, the premium Land Cruiser V8 is more luxury car than rugged off-roader once you climb inside. A full leather interior seats up to seven people in comfort, and careful, considered design puts all the controls easily within reach of the driver and passengers.
No matter what conditions are like outside, the Land Cruiser V8's construction using sound-absorbing materials means that noise is kept to a minimum inside the cabin, where you can instead enjoy the creature comforts like its four-zone air-conditioning. For your entertainment, Toyota's Touch Pro multimedia and advanced navigation system is fitted along with a 14-speaker JBL audio system, and you can opt for a premium entertainment pack that adds two seatback-mounted 8″ monitors that can play a wide variety of media and formats.
Practicality
Greater interior space makes the Land Cruiser V8 even more practical and flexible than before. All of the second and third row seats can be collapsed – the third row folding to the side, the second row folding flat – making it possible to adapt the interior to your specific requirements and create a huge amount of luggage space (up to 1,267 litres) if needs be. The seat directly behind the front passenger seat has a one-touch tumble operation to allow easy entry and exit from the third row seats. And for those long days spent off the beaten track, the Land Cruiser V8 is fitted with a cool box and 12V accessory sockets to keep you going.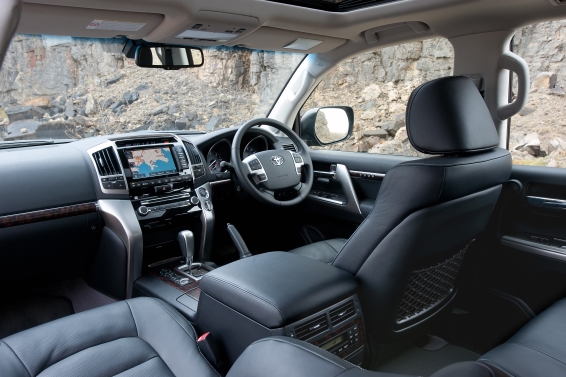 Safety
With the likelihood that the Land Cruiser V8 will find itself in all manner of locations and driving conditions, Toyota has ensured that occupants stay safe and out of trouble. As well as the high-tech off-road systems mentioned earlier, the Land Cruiser V8 is equipped with Multi Terrain anti-lock brakes with braking assist, stability control, active traction control and a pre-crash safety system that tensions seatbelts to restrain passengers. The 4×4's construction is tough to start with, but Toyota has further enhanced passenger safety with eight airbags.
Running Costs*
By updating that Land Cruiser V8's turbodiesel engine to meet the latest Euro 5 emissions standards, Toyota has reduced carbon emissions and improved fuel economy. The Land Cruiser V8 achieves an impressive 29.7mpg on the combined test cycle, and its new 250g/km emissions rating drops it into a lower road tax banding. And just like Toyota's less adventurous vehicles, the Land Cruiser V8 only needs servicing every 10,000 miles or once a year.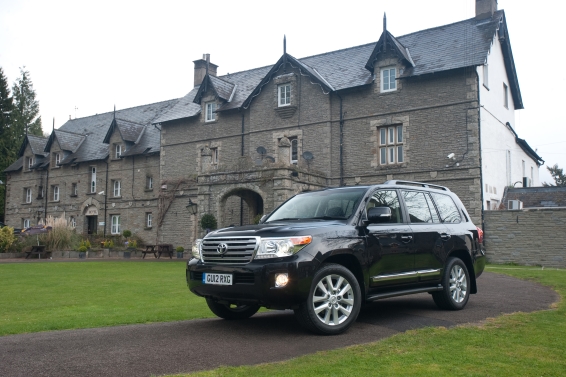 Quality
To withstand the toughest environments, the Land Cruiser V8 is built to the highest quality standards. Using strong materials in its construction and protecting the chassis and body with durable rust-resistant coatings, Toyota has built an off-roader that is equally at home in -30°C Arctic temperatures as it is in +50°C desert heat. That's why Toyota confidently covers the Land Cruiser V8 with the same five-year/100,000 mile warranty, 12 year corrosion cover, and three-year cover against rust and paint defects as every other Toyota vehicle.
Prices*
Toyota's flagship Land Cruiser V8 is a premium, high-specification off-roader, retailing at £65,990 on the road, and including Toyota's Tyre Pressure Monitoring System. Optional extras include metallic (£700) or pearlescent paint (£900) and the Entertainment pack at £1700.
For further information about the Land Cruiser V8, and to arrange a test drive, visit the designated section of the Toyota UK website.
*Prices correct as of 10/09/15