With a UNESCO World Heritage Site and no fewer than eight Areas of Outstanding Natural Beauty, Northern Ireland is a special place with a rich heritage, spectacular views and some fantastic driving roads. Its blend of urban cityscapes and rugged landscapes make it perfect for Toyota hybrids, so we've taken the Yaris, Auris and RAV4 hybrids to a selection of Northern Ireland's most famous landmarks and regions.
1. Giant's Causeway
Starring alongside the RAV4 Hybrid, the Giant's Causeway is arguably Northern Ireland's most famous natural landmark. Made up of 40,000 basalt columns formed millions of years ago as volcanic lava cooled, the Causeway is instantly recognisable and one of Northern Ireland's most popular tourist attractions. With the North Atlantic Ocean on one side and dramatic cliffs on the other, this rare natural beauty on the coast of Country Antrim was declared a UNESCO World Heritage Site in 1986 and is now conserved by the National Trust for future generations to explore and marvel at. It's the perfect setting for the rugged RAV4 Hybrid, wouldn't you agree?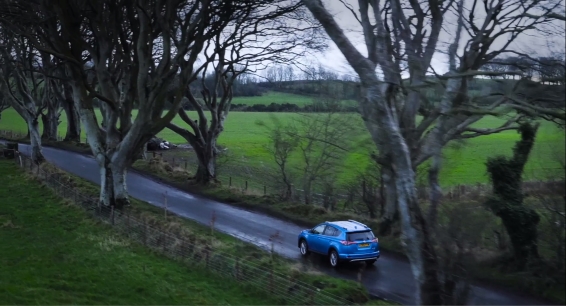 2. The Dark Hedges
We discovered that The Dark Hedges certainly lives up to its brooding, atmospheric name! Near Ballymoney in Co. Antrim, an avenue of intertwining beech trees creates a tunnel through which the road runs. Planted in the eighteenth century as an impressive entrance to the nearby Gracehill House, The Dark Hedges are one of Northern Ireland's most inspiring attractions for artists and photographers two hundred years later. It's also been included in a list of the 12 best road trips in the UK and Ireland, and featured in the HBO fantasy smash hit Game of Thrones. Of course, with the RAV4 Hybrid, fantasy meets fantastic!
3. Ballintoy Harbour
For a true sense of rural Irish life, there are few places better than Ballintoy Harbour, situated on the coast between Ballycastle and Bushmills. Threading the agile Yaris Hybrid down the steep, narrow, corkscrew-like Knocksaughey Hill brought us to this quaint fishing harbour, which is a popular tourist attraction along with the nearby Carrick-a-Rede Rope Bridge. With fewer than 200 residents now living in Ballintoy village, the area is a slice of Northern Ireland's heritage relatively untouched by modern development and definitely worth visiting!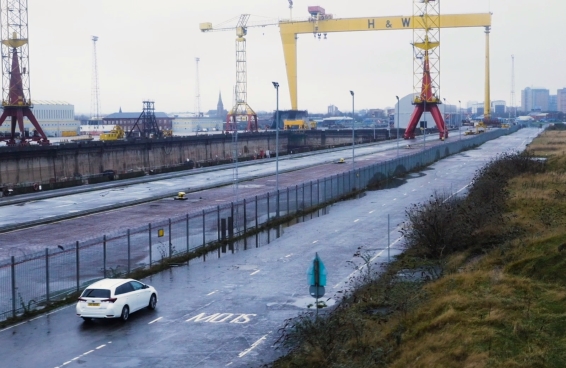 4. Harland and Wolff, Belfast
We're confident that many of you instantly spotted the Auris Hybrid driving past the iconic yellow cranes of Harland and Wolff in Belfast. The two massive cranes, named Samson and Goliath, stand out on Belfast's skyline as a constant reminder of the shipbuilding industry based at Harland & Wolff for over 150 years. Of course, Harland and Wolff is perhaps best known as the shipyard where Titanic was built, so as well as taking in the sight of a Belfast landmark, it's a great opportunity to visit Titanic Belfast a little further along Queens Road to learn more about the ill-fated cruise liner.
5. Portstewart Strand
What trip would be complete without a visit to the beach, in particular the two-mile stretch of golden sand at Portstewart Strand. Aided by the RAV4 Hybrid's E-Four electric all-wheel drive, a journey along the beach to find the perfect picnic spot is even easier, plus the RAV4 has plenty of space for whatever seaside leisure pursuit you choose. It was a little nippy when we were there, but the beach and dunes look beautiful whatever the weather!
6. Lough Neagh
Lough Neagh is the largest freshwater lake in the British Isles, creating the ideal habitat for a wide variety of wildlife and plant life. Bordering five of Northern Ireland's six counties, the 18-mile long lake and its waterways are also a brilliant place forgetting involved in water-based activities like kayaking and sailing, or heading out onto the Lough Shore Cycling Trail. And don't forget that a range of official Toyota accessories expand the versatility and load-carrying of Toyotas like the RAV4 Hybrid.
7. Mourne Mountains
Voted the UK's best view, the Mourne Mountains are more than simply one of Northern Ireland's most scenic destinations – they are an adventurer's paradise. Accompanied by the spacious Auris Hybrid Touring Sports, we took in the stunning panoramas of this Area of Outstanding Natural Beauty and instantly saw why it's such a hit with those who love the outdoors.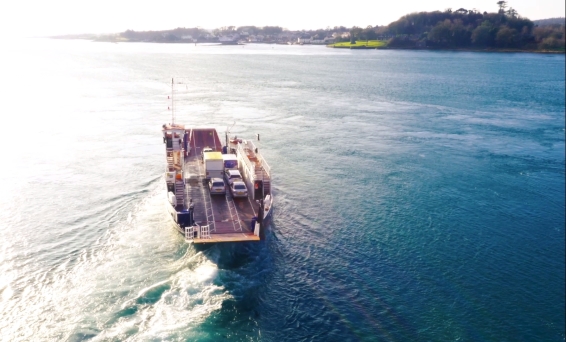 8. Strangford Lough
At 20 miles long, Strangford Lough is the largest inlet in the British Isles and one of only three designated Marine Nature Reserves in the UK. The delicate and diverse balance of wildlife in and around the lough makes it a place of great importance in nature conservation, and adds to the physical beauty of the geography. On the lough sails the Strangford Lough Ferry, a vital part of Northern Ireland's infrastructure that has become an attraction in its own right. The 8-minute, 0.69-mile crossing between Strangford and Portaferry saves drivers an alternative 47-mile road journey that would take over an hour and a half!
9. Antrim Coast
To soak in the sheer beauty of Northern Ireland, the Antrim Coast is a prime destination. It makes up a section of the Causeway Coastal Route that runs from Belfast to Derry-Londonderry, regularly cited as one of the best driving routes in the world. The dramatic coastline and constantly changing scenery make every mile of this journey a delight, and one well worth exploring over the course of a few days.
So those are our highlights of Northern Ireland with the help of Toyota hybrids – what are yours? Share your recommendations with us on social media or in the comments section below.