Want to know more about protecting the heart of your Toyota hybrid? Then read on for details of our free* Toyota Hybrid Health Check.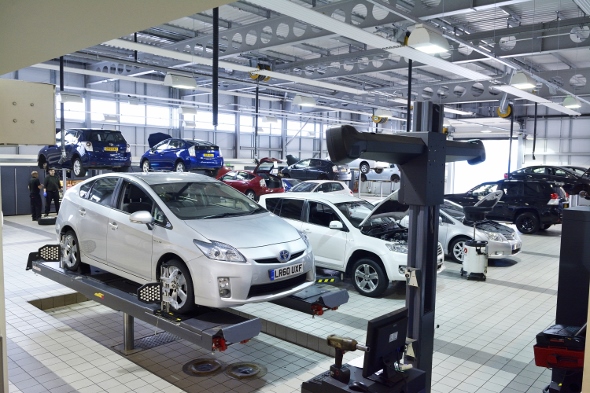 The Hybrid Synergy Drive powertrain in your Toyota combines the power of a petrol engine with two electric motors to give you exceptional fuel efficiency and smooth, near-silent driving.
Our owners tell us that as well as proving rewarding to drive, the hybrid system is simple to use, and hugely reliable – but even so, this innovative technology needs specialist expertise to keep it in top condition…
The Toyota Hybrid Health Check is the best way to ensure the optimal performance of your vehicle.
At its core, the health check includes a series of specialist inspections, including the following:
We investigate the status and condition of your Toyota 'traction' battery. This is the battery that powers your car's wheels, and is separate to the 12v starter battery that's used to start the engine.
The next step is to check and confirm the car's fuel consumption, to ensure that the petrol engine and electric motors are working in harmony.
Finally, we examine the car's Hybrid cooling systems, to ensure that the arrangement is working at optimal temperature.
The technicians that carry out these tests are respected as experts in all aspects of hybrid technology.
At the end of the test, our experts will explain the test results to you clearly and simply, to help you fully understand the condition of your Toyota hybrid.
You'll also be given an extensive and accessible written report that will provide you with the itemised information from your Hybrid Health Check, helping you make an informed decision about any further action you might feel is required.
See also: Hybrid driving – Toyota's top tips for best fuel economy
For more on Toyota servicing, please watch the video below.
* The Toyota Hybrid Health Check is free with your scheduled servicing. If you're not due a service, you can have the Check carried out, at a cost of £39.
As well as this is an extension to the warranty of your battery. With each Hybrid Health Check you will get up to 1 year or 10,000 miles extension (whichever comes soonest) on your hybrid battery cover which can be renewed up to the 10th anniversary of the car's registration with no limit on total mileage.