The Toyota GT86 has already been heralded as one of the best new sports cars for years, but it really proved its mettle when pitted against the cream of high-end motoring in the August issue of Top Gear Magazine.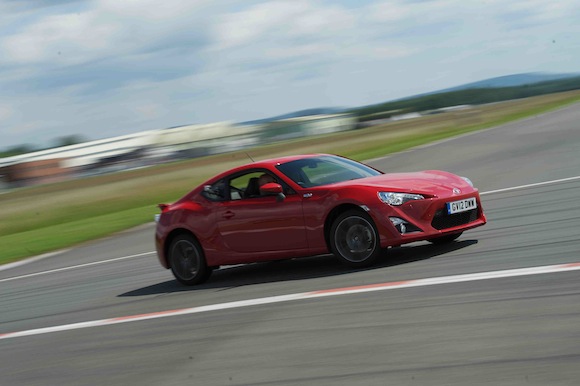 The GT86 was crowned winner of Top Gear Speed Week, ending up in first place among a eclectic range of 24 performance cars that included supercars, single-seat road racers, hot hatches, super saloons and even a three-wheeler. And a tuned-up Transit.
The test involved two days at the famous Top Gear track at Dunsfold Aerodrome, after which a selection was picked and taken on a three-day road test in Scotland, before two final days of assessment.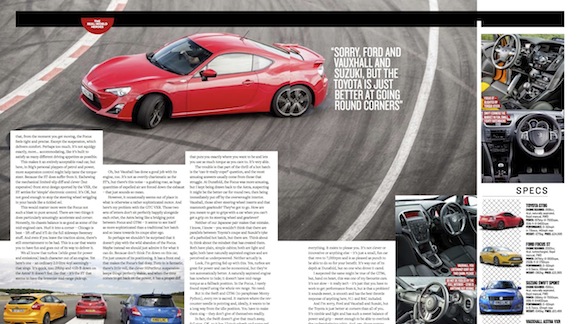 Here's what the magazine's Motoring Editor Ollie Marriage wrote about the Toyota GT86 when comparing it with the Ford Focus ST, Vauxhall Astra GTC VXR and the Suzuki Swift Sport:
'I'm sorry, Ford, Vauxhall and Suzuki, but the Toyota is just better at corners than all of you… It's a real-world hero.'
He added: '…hand on heart, this was one of my favourite cars. It's not slow – it really isn't – it's just that you have to work to get performance from it, but is that a problem? It sounds sweet, is smooth and has the best throttle response of anything here, 911 included.
Top Gear's lead presenter Jeremy Clarkson also enjoyed the GT86, saying:
'This is hysterical. It's so much more powerful than you'd think. At £25,000 it's extremely good value for money.'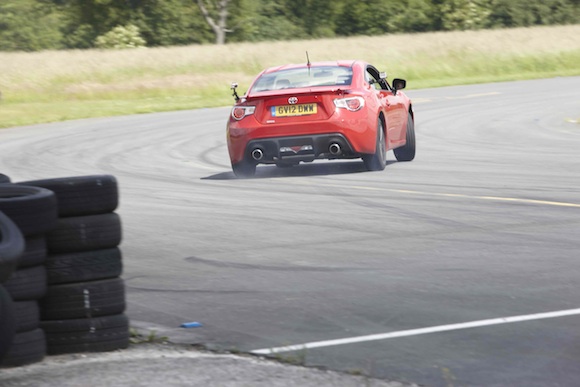 In the final Scottish showdown, the GT86 was up against the likes of the McLaren MP4-12C, the Porsche 911 and the Lotus Exige S and still came out on top for driver thrills.
That's a real vote of confidence in the GT86, as it costs half what the Lotus does, and less than one-sixth of the McLaren's £168,500 price tag. Marriage added:
'The Toyota is dainty and maximises the benefits of its layout and low centre of gravity. It's a car that asks why you need to go round a corner at a zillion miles an hour. You don't. Even pottering around, it's different and interesting.
'Acceleration is fun, but the noise is as important as the kick in the back, and I'd rather spend 30 seconds wringing the GT86 up to speed than three seconds being pummelled by the McLaren.
'Our seven testers had the McLaren, 911 and Exige in a photo finish for second place, with the GT86 out in front. The Toyota isn't big, it isn't especially clever, but it's fun.
'The Toyota was the car everyone kept jumping into for "one last quick go", and the one they got out of with the daftest smiles on their faces.'
The August 2012 issue of Top Gear magazine is on sale now.