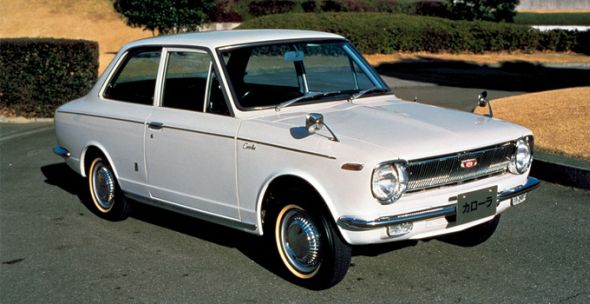 The Toyota Corolla is a world famous line-up of family cars. Launched in 1966 in Japan, the Corolla quickly established itself as the globe's top-selling passenger vehicle, and has since gone on to chalk up more than 45 million sales.
Corollas have been produced over twelve generations, including two generations of the Toyota Auris. However, to get a feel for the conditions that led to this car's launch, you have to look back to the development of Japan's infrastructure.
Unusually it was the hosting of the 1964 Olympic Games in Tokyo that provided a catalyst for innovation. To cope with the huge number of visitors the event was expected to attract, new roads were built and highways were expanded. It was a period of dramatic growth within the country.
The Japanese population had recently passed the 100 million mark, the economy was flourishing, and the term Three Cs was coined as a way of expressing the desire of many people to own (air) Conditioning, Colour televisions, and Cars.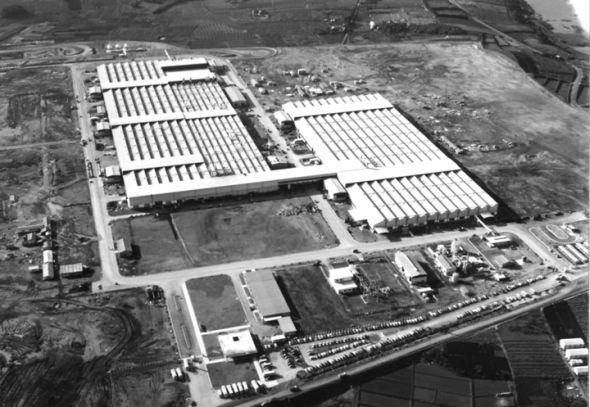 With new roads came new suburbs. And those living in the suburbs were beginning to require a family car to get around.
Toyota correctly predicted that a motorisation boom was approaching and reacted swiftly, building a sprawling new plant in Takaoka, Toyota City, to produce a newly developed compact family car that would fit between the 800cc Toyota Publica model and 1500cc Toyota Corona.
As the planned October 1966 launch approached it was revealed that the name of this forthcoming model was the Corolla ,while production set at 30,000 units per month — a huge number that sent shock waves through the media as Toyota's total monthly production volume at the time was 50,000 vehicles.
Corolla: superiority through technology and quality
As a vehicle for this more affluent age, the new car was developed using a philosophy of making the right car for the right place. It was therefore designed in a number of body styles, and adopted a number of new technologies, specifications and systems that were the first of their kind within the Japanese auto industry.
For example, three-speed column-shift transmissions were the norm at the time, but Toyota recognised that four-speed floor-shift transmissions were already common in Europe and would be necessary in the approaching highway age.
After a huge amount of research and testing, MacPherson strut suspension setups were adopted for the first time in domestic mass production. It was a move that increased usable space within the engine bay, while simultaneously reducing vehicle weight and manufacturing costs.
Other improvements such as increased seat comfort, rear passenger space and headroom were designed to give the new car an edge over the competition.
In addition, the seemingly simple inclusion of reversing lights as standard was a new feature which ensured that drivers could see where they were going when parking at night. It neatly demonstrated Toyota's strategy of identifying customer needs and responding to them.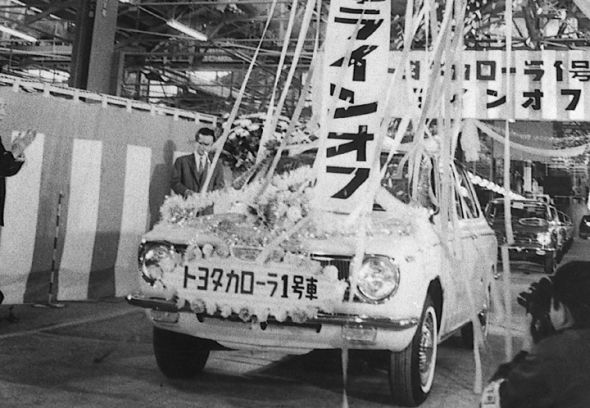 But it wasn't just in terms of specification that the new car was designed to advance the automotive market. Tatsuo Hasegawa, chief engineer of this project, implemented a new, extremely stringent scoring system for evaluating the quality of vehicles coming off the production line. It required each car to achieve an overall quality score that was higher than the combined average figure within each benchmark category. In other words, every single car had to be better than its maker's target quality level. Hasegawa knew that people simply would not accept an inferior product; he wanted to give them a car that engendered a sense of satisfaction and pride.
The 1.3 million people that attended the new Corolla's release exhibition symbolised the fact that it had accurately captured the needs of customers at the time.
Corolla: What's in a name?
Toyota's product planning division debated long and hard to come up with a name for the new vehicle. It had to be appropriate for a worldwide audience, so the team ploughed through English, Italian and French dictionaries, as well as the Collection of Ten Thousand Leaves (Japan's oldest book of poetry — see excerpt below), before alighting on the name Corolla. Originating from a Latin term for crown of flowers, Corolla was chosen in the hope that the vehicle would bloom in the automotive market.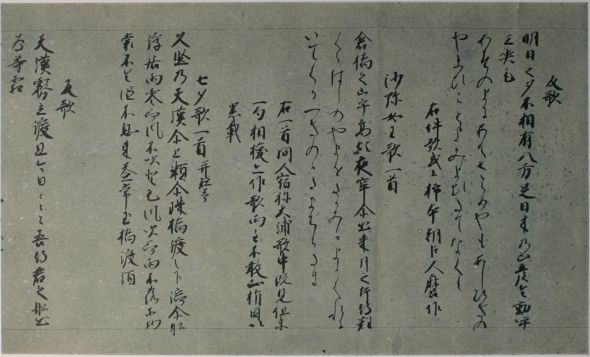 Coincidentally, Corolla was in harmony with an emerging but unwritten convention within Toyota of giving cars names beginning with the letter 'C'. The Crown luxury vehicle and mid-size Corona were already on the market, and Corolla was followed by Celica, Carina, Corsa, Camry and Cressida.
Father of the Corolla: chief engineer Tatsuo Hasegawa
Tatsuo Hasegawa was born February 1916 in Tottori City. After graduating from Tokyo University's Department of Aeronautics in 1939, Hasegawa started working for an aircraft manufacturer called Tachikawa Aircraft Company. In 1946, after World War II and the dismantling of Japan's aerospace industry, Hasegawa joined Toyota Motor Company Ltd.
As a chief engineer, Hasegawa oversaw development of the Publica, Sports 800, Corolla and Celica. Following this, he was promoted from the position of Deputy General Manager of the Product Planning Division to being General Manager of the division, where he oversaw the general development of Toyota vehicles. In 1982 he retired from Toyota as a Senior Managing Director, and in 2004 was inducted into the Japan Automotive Hall of Fame.
Corolla timeline










NB: This timeline is primarily focused on Japanese domestic market models and does not include every export or production derivation through the car's 40-year history.