The Toyota Corolla has hit UK TV screens in our latest advert campaign. Starring the all-new Corolla Hatchback Hybrid in Scarlet Flare Bi-Tone, in the film the Corolla leads the way with its self-charging hybrid technology and modern styling. Here's everything you need to know about the new ad.
What is the music in the new Corolla advert?
The music in the Toyota Corolla advert is 'Sing, Sing, Sing (With A Swing)'. The song was originally written in 1936 by Louis Prima, although is best-known from its performance by Benny Goodman. It's strongly identified with the bold style of the big band and swing eras – the perfect bombastic introduction to our new Corolla.
The version you hear on the Corolla advert was recorded at Studio 2, Abbey Road, where the likes of The Beatles, Pink Floyd and Oasis have recorded songs.
What's the storyline of the new Corolla advert?
In the ad, the Corolla drives along the road of mobility history, moving past a horse-drawn carriage, a racing car,  1950s hot rods and a sports car from the 1980s before gliding past a swarm of diesel cars from the noughties.
Where was the new Corolla advert filmed?
The new Toyota Corolla advert was filmed over five days in Teruel, Spain. It was directed by two multi award-winning directors, Sam Brown and Mark Jenkinson. The advert ends with the Corolla driving into the sunset, over the iconic Nelson Mandela bridge in the outskirts of Barcelona.
What is the red car featured?
The sleek, red car featured in the advert is the Toyota 2000GT. Originally built from 1967-1970, the 2000GT has more recently acted as a reference point for Toyota's team of designers for the new Toyota GR Supra.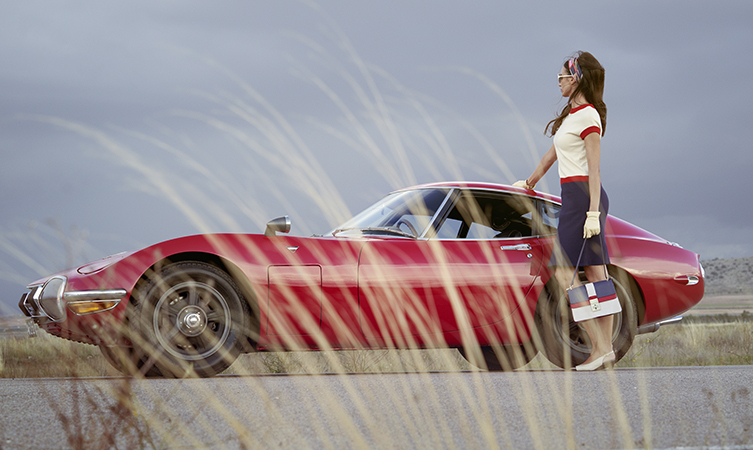 The 2000GT is known for being a certain James Bond's favourite 007 car, for having more than one life and inspiring the yellow/green design of one of our first GT86 Limited Edition Liveries. Want to know more? Discover the history of the 2000GT in full.
Where can I find out more about the new Toyota Corolla?
If you want to build your own Toyota Corolla, book a test drive or order a brochure, visit the Toyota retail website for more information. And remember, if you have a question that you can't find the answer for, we're available on Twitter and Facebook whenever you need us.