Toyota has released the sixth generation of its Total Human Model for Safety (THUMS) virtual crash test dummy software. Its technology includes sophisticated crash simulations that might take place in self-driving vehicles of the kind we could use in the future.

The new modelling software simulates the movement of muscles and internal organs in different postures, such as when a body is relaxed (above) or braced for impact (below). It can therefore anticipate the ways that people react when travelling in a moving vehicle.

In fact, as preventative safety features and automated driving becomes more common, Toyota predicts that vehicle occupants will assume a wider variety of postures at the point of a collision. In particular, driving support functions may result in drivers being less attentive to their surroundings. Therefore they will adopt a more relaxed posture.
Further reading: how THUMS replicates human reactions
Toyota intends to use its family of THUMS models to help research and develop new methods of protecting both drivers and vehicle passengers.
History of THUMS
Toyota has been researching and developing THUMS for more than 20 years, producing accurate computer simulations of body injuries caused by different vehicle collisions. The software has been widely used by Toyota and other parties to help develop new and more effective vehicle safety technologies.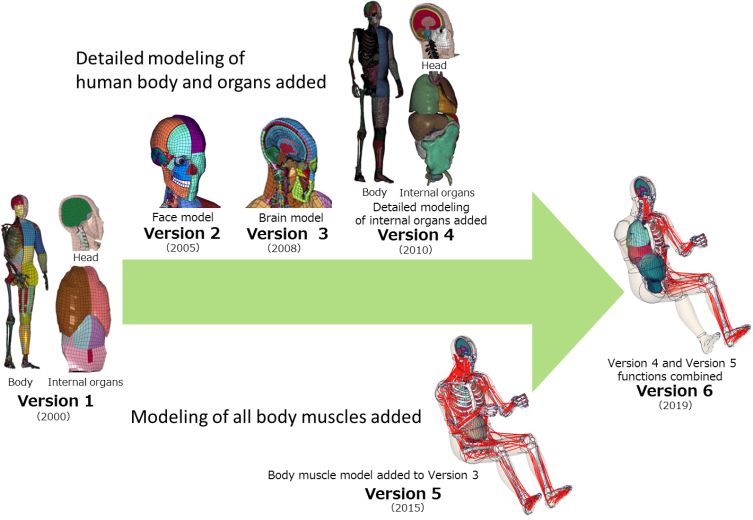 | | | |
| --- | --- | --- |
| YEAR | PROGRESS | DETAILS |
| 1997 | Toyota begins developing THUMS with Toyota Central R&D Labs | |
| 2000 | Version 1.0 released | Included detailed bone modelling |
| 2005 | Version 2.0 released | Detailed modelling of faces added |
| 2008 | Version 3.0 released | Detailed modelling of the brain added |
| 2010 | Version 4.0 released | Detailed modelling of internal organs added |
| 2011 | Version 4.1 released | Different physiques added: small female and large male models |
| 2015 | Version 5.0 released | Modelling of all body muscles added |
| 2016 | Version 4.2 released | Different physiques added: child models age three, six and ten |
| 2018 | Version 6.0 | Versions 4 and 5 combined |