The cabin air filter is the secret to cleaner air in your vehicle. With the focus firmly on improving the quality of the air we breathe, a cabin air filter can prevent a range of pollutants – including dust, dirt, pollen and exhaust fumes – from entering your car.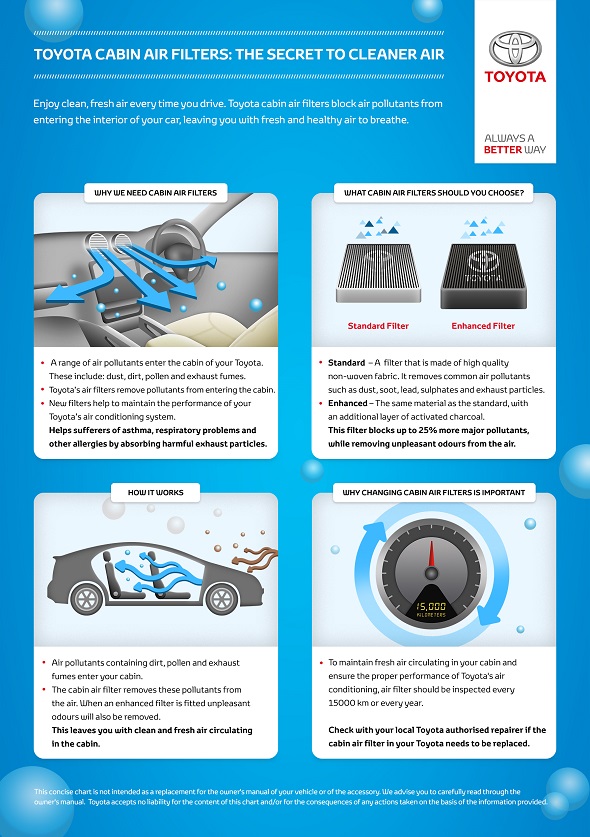 Toyota offers a cabin air filter to maintain fresh air circulation on your car. Available in 'Standard' and 'Enhanced' variants, the filter is made of high quality, non-woven fabric that captures unwanted materials, and prevents them from entering the cabin. With an additional layer of activated charcoal, the Enhanced filter removes up to 25 percent more pollutants, and neutralises unpleasant odours.
It's important to replace the cabin air filter regularly. It should be inspected every 10,000 miles to ensure that the performance of your car's air conditioning remains optimal. 
Your driving environment can increase the frequency of filter replacements. For instance, if you predominately drive in a congested city, the life-cycle of your filter may be reduced. Your Toyota dealer will be able to advise you on the filter's condition at service time.
Don't forget to maintain the additional filters in your Toyota too – carbon and engine air. The replacement times for these parts vary model to model, but your dealer will be able to advise.
You can find out more about air filters, and other Toyota parts on the designated section of the Toyota UK website, alternatively, visit your local Toyota dealer.