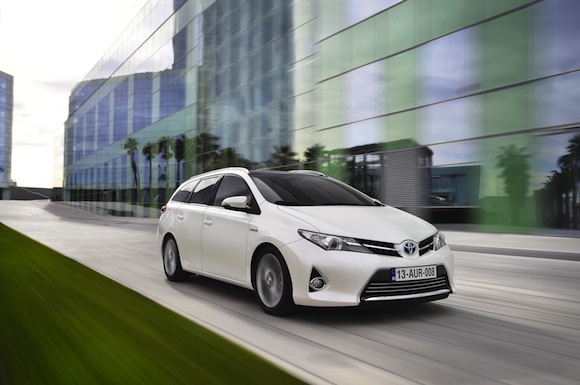 The Toyota Auris Touring Sports is a step closer to arriving on UK roads, with production starting today (6 June) in Burnaston, Derbyshire.
The first completed model, a white Auris Touring Sports Hybrid, rolled off the production line at 2pm in a ceremony attended by UK Secretary of State for Transport Patrick McLoughlin MP and President and CEO of Toyota Motor Europe, Didier Leroy.
TMUK is the sole production centre for Auris Touring Sports, a model developed exclusively for European customers.
It is a compact estate based on the Auris hatchback (also built at Burnaston), and will go on sale in some European markets from July, taking its place alongside the new Auris, Verso compact MPV and RAV4 SUV to compete at the heart of the family car market.
Auris Touring Sports is the only model in its market segment to offer the option of a full hybrid powertrain, demonstrating Toyota's commitment to make the high efficiency, low emissions and smooth driving experience of hybrid technology available to more customers. Hybrid is expected to account for 45 per cent of sales, adding to the momentum of the technology in Europe, where it now accounts for more than 20 per cent of Toyota's new car sales.
Find out more about the Auris Touring Sports in our pricing and specifications post.
Welcoming Toyota's continued investment in British jobs and manufacturing, the Secretary of State for Transport Patrick McLoughlin said: "Toyota's ongoing investment in Burnaston is a huge vote of confidence in our thriving car manufacturing industry, proving again Britain's ability to make world class cars that appeal to a global customer base. It is thanks to the support of manufacturers like Toyota that we are encouraging more young people to pursue an engineering career. This is an industry that is helping generate the jobs and wealth we need to secure the UK's place in the global economic race."
Didier Leroy added: "Auris Touring Sports marks a further stage in our programme for bringing more Toyota hybrid models to the market in Europe, cars that meet the needs of an even wider range of customers. It will be a unique proposition as the only model in the European family/compact estate car market to offer the choice of full hybrid, in addition to conventional petrol and diesel power."
Tony Walker, Deputy Managing Director TMUK, said: "The introduction of new Auris Touring Sports is great news for TMUK and the British motor industry. It confirms TMUK's status as a leading producer of core vehicles and engines for Toyota in Europe and is a testament to our members' commitment to achieving the highest quality and satisfaction that our customers demand.
"And with the full hybrid model we are again proud to be supporting Toyota's leadership in developing advanced technologies for cleaner and more sustainable transport."
TMUK has built strong expertise in hybrid vehicle manufacturing at its Deeside engine plant in North Wales and at Burnaston, since starting production of the first generation Auris Hybrid in 2010 – the first Toyota hybrid to be built in Europe.
The addition of Auris Touring Sports production at TMUK alongside the Auris and Avensis models reaffirms Toyota's commitment to building cars in the UK. Since 1992 it has invested more than £2.1 billion in its operations. Currently TMUK employs more than 3,800 people and supports an extensive supplier chain in the UK, from which Toyota Motor Europe typically purchases around £850 million worth of parts a year. Its manufacturing makes a significant contribution to the British overseas trade, with around 85 per cent of vehicle production being exported to Europe and other world markets.
Find out more about the Auris Touring Sports in our pricing and specifications post.