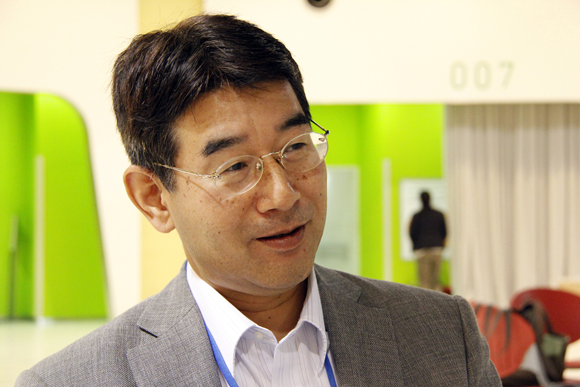 We caught up with the man behind the new Toyota Auris – Chief Engineer Hiroya Fujita – to get an inside line on the new car's development. He talked to us about Toyota's growing focus on style and performance, and his hopes for a sporty version of the car. Read the full interview, below.
Q. What does Auris say about Toyota and its future?
It's hard to speak for what the car means to Toyota, because Toyota is so large. But for the compact car market, Auris is very important – particularly for Europe and in Japan (where it is called Corolla). I would say it shows our increased focus on style and dynamic performance, which will continue across the whole Toyota range in the future.
It also shows that we are investing in new engine technologies like hybrid as well as in improving existing ones like petrol and diesel. We already introduced Auris Hybrid for the European market, but we don't know what part of the market will be most important in the future. That is why we now have a very good range of engines in petrol, hybrid and diesel. We will also have a FCV (fuel cell vehicle) in the future. We need to develop the whole range and have a good option for each kind of buyer. Obviously we think hybrid is important but we need to remember it is not everyone's choice yet.
Q. Where have you made the biggest improvement over the previous Auris?
The biggest improvement is the style and driving performance, which we achieved with a low roof height and lower centre of gravity. Although the previous Auris was good in terms of fuel consumption, the increases in fuel efficiency are also very important.
Q. What's your favourite part of the new Auris?
My favourite part of the car is the new Keen Look, which is the front-end design. It's the first Toyota to show our new face, and it looks very attractive.
Q. Is the European Auris any different to the Japanese Corolla?
The Corolla is quite different to other cars in Japan as other cars have very tight conditions in terms of width, and there it is one of the wider cars available. However, this is not such a problem in Europe so the Auris is a small amount wider.
Q. What do you drive everyday?
At the moment I am actually driving an Auris, one built in the UK, as I have to see what my car is like to live with! But I also have a Japanese-specification Corolla, and I am changing between them each week. Last year, I had an Estima, which is an MPV sold in Japan.
Q. Can we expect to see a sporty version of Auris soon?
I think this would be possible, because we have developed a good chassis for new Auris that could be suitable for a more powerful engine. It is good that Toyota has been praised for the good driving dynamics of GT86, but it might be hard to repeat that success with a C-segment hatchback. Personally, I would like to see this happen, but there are no firm plans at the moment.