The Toyota Auris petrol, diesel and hybrid powertrain line-up has been extended and extensively revised, reflecting changing trends in the C-segment which call for further reductions in fuel consumption, emissions and cost of ownership, without diminishing performance or driving pleasure.
Every engine in the range now meets Euro 6 emissions regulations.
See also
LIVE – Toyota at the 2015 Geneva Motor Show
New Toyota Auris 2015 revealed
Toyota Auris 2015: design explained
New Toyota 1.2T engine in detail
The 1.2T, an all-new direct injection turbocharged engine joins the established 1.33-litre VVT-i unit to give customers an expanded choice of petrol engines. There is also a new 1.6-litre D-4D diesel unit (which replaces a current 2.0-litre D-4D in some European markets outside the UK) and the 1.4-litre D-4D has been substantially upgraded.
The 1.8-litre hybrid powertrain completes one of the broadest ranges for any model in this part of the market. Toyota's full hybrid technology, which in Auris delivers a feel-good driving experience plus class-leading emissions from as low as 79g/km, accounted for more than half of all European Auris sales in 2014, confirming the fact it has become a mainstream proposition.
Every powertrain comes with the benefits of Toyota Optimal Drive, a combination of advanced technologies and internal improvements designed to optimise the balance of performance and driving enjoyment with fuel economy and low emissions.
Lower full hybrid system emissions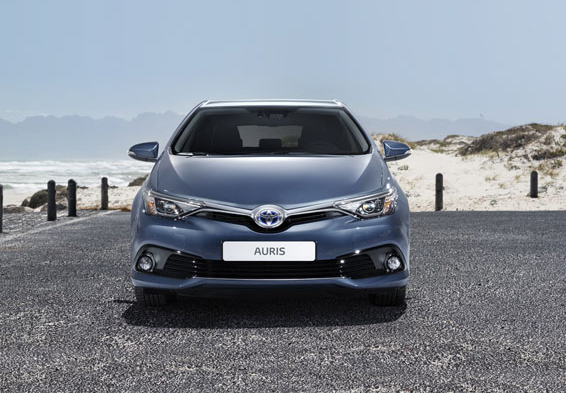 Auris Hybrid now returns class-leading, highly tax-efficient CO2 emissions from as low as 79g/km* (combined cycle).
The Hybrid Synergy Drive system's 1.8-litre VVT-i petrol engine and electric motor generate maximum power of 134bhp, giving the Auris Hybrid hatchback 0 – 62mph acceleration in 10.9 seconds and a top speed of 112mph.
Auris Hybrid generates virtually no NOx and particulate matter emissions. Moreover, when running in the selectable EV electric mode (a function not available in mild hybrids), Auris Hybrid can be driven for up to two kilometres at speeds of up to around 30mph, with zero CO2, NOx and particulate matter tailpipe emissions., according to the level of battery charge and driving conditions.
The powertrain is engineered to eliminate the need for the petrol engine to run as much as possible in city driving. Toyota's own data show the cumulative effect of full hybrid operation leads to high proportions of zero-emissions driving being achieved.
1.2T: an all-new, direct injection turbo petrol engine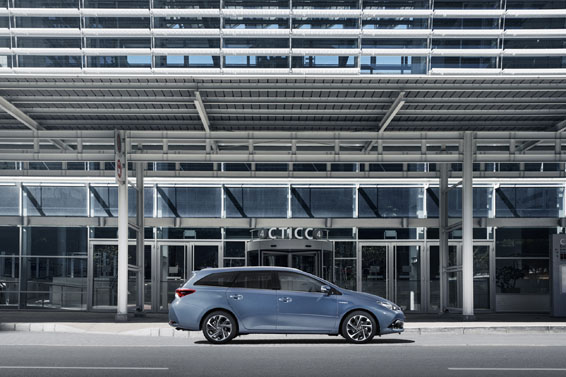 The all-new 1,197cc, 16-valve, four-cylinder, direct injection turbo petrol engine offers performance similar to that of a 1.6 engine, but with remarkably lower fuel consumption and CO2 emissions.
This lightweight, highly compact unit features a number of technologies, including direct injection, enhanced intelligent variable valve timing (Dual VVT-iW), a high tumble port cylinder head with an integrated exhaust manifold, a lightweight valvetrain, a variable control oil jet system and a resin intake manifold and intake pipes.
The turbo, the direct injection (which allows multiple injections) and the new VVT-iW work together to provide high torque at low revs, good performance and low fuel consumption.
Maximum power output is 114bhp and an impressive 185Nm of torque is generated from 1,500 to 4,000rpm. Driving through a six-speed manual transmission, the engine gives the new Auris 1.2T hatchback a competitive 0 – 62mph acceleration time of 10.1 seconds and a 104mph top speed.
At the same time, the new engine returns average fuel consumption of 60.1mpg* and 109g/km* CO2 emissions, attracting significant cost of ownership benefits for customers. Using Toyota's Multidrive S transmission further improves these benchmark figures, to 61.4mpg* and 106g/km*.
New 1.6-litre D-4D diesel
A new 1,598cc turbo diesel makes its first appearance in the Auris range, replacing a 2.0-litre D-4D that has been available in some European markets.
It develops 110bhp and maximum torque of 270Nm between 1,750 and 2,250rpm. This equips the Auris 1.6 D-4D hatch with class-competitive performance figures of 0 – 62mph in 10.5 seconds and a top speed of 118mph.
Conversely, CO2 emissions are markedly lower than those of the outgoing 2.0 D-4D, falling to 104g/km*. Average fuel consumption is 68.9mpg*. Cost of ownership is further reduced by new, extended servicing intervals.
Uprated 1.4-litre D-4D
The 1,364cc turbodiesel has been upgraded to comply with Euro 6 regulations, but the changes go significantly further than simply meeting the required emissions performance.
Many improvements have been made, both to improve performance and reduce emissions. A new turbocharger reduces friction in the turbine shaft by 20 per cent and improves efficiency to generate a higher boost pressure at low engine speeds.
The engine has a new solenoid fuel injection system with a larger supply pump and higher common rail injection pressure (180mpa). A NOx storage reduction (NSR) catalyst has been adopted within the exhaust system to meet the Euro 6 requirement for a 55 per cent reduction in Nox.
A new piston design with an open chamber combustion bowl improves fuel economy by 3.4 per cent. The new pistons feature a Diamond-like Carbon coating which reduces friction and thus supports lower fuel consumption.
A new plastic cylinder head cover reduces component weight by 40 per cent and offers improvements to both camshaft lubrication and oil capture performance.
The engine develops 89bhp. The breadth of torque generation has been expanded 400rpm lower down the rev range, with a maximum 205Nm now available from 1,400rpm to 2,800rpm. The Auris 1.4 D-4D hatchback will move from rest to 62mph in 12.5 seconds and reach a maximum speed of 112mph.
Equipped with a manual transmission and stop and start technology, the 1.4 D-4D now returns combined cycle fuel consumption of 83.1mpg and benefits from a substantial reduction in CO2 emissions to 89g/km.
Multidrive S continuously variable transmission
The 1.2T version of the 2015 Auris will be available with Multidrive S, a continuously variable transmission with two modes – fully automatic, seamless shifting or a sequential, stepped seven-speed Sport mode.
In Sport mode, the system is optimised for response and direct engine control; the transmission step position ca be selected using the gear lever or shift paddles mounted on the steering column. Sport mode also features precise cornering control. When it detects deceleration, it downshifts and applies engine braking to assist the braking force. On exiting a corner, predictive downshift logic ensures the optimum gear ration is selected for the required level of acceleration.
Improved driving dynamics and NVH
The new Auris range benefits from further suspension and steering revisions designed to improve ride comfort and handling. Numerous measure have also been introduced to reduce the transmission of noise, vibration and harshness into the cabin.
Components in the MacPherson strut front suspension have been revised, including the design of the coil springs, shock absorbers, upper insulators, bound stoppers and stabiliser bushes.
For its rear suspension, Auris uses either a double wishbone (1.2T, 1.6 D-4D and 1.8 Hybrid) or a torsion bar (1.3 VVT-i petrol, 1.4 D-4D) system.
In combination, the changes to the suspension improve initial roll damping, minimise friction and improve straight-line ride comfort.
In addition, the electric power steering system's mapping has been tuned to further build steering weight as vehicle speed rises, giving better feedback between 35 and 50mph.
Improvements to Auris's NVH measures ensure the new Toyota's more comfortable ride is complemented by a noticeably quieter cabin.
Soundproofing has been improved by adding additional sound-absorbing materials in strategic locations around the cowl, instrument panel and transmission tunnel. An outer tunnel silencer has been added to minimise transmission noise.
Additional sealing in the front wing, dashboard and door area further cuts the amount of engine, road and wind noise reaching the cabin.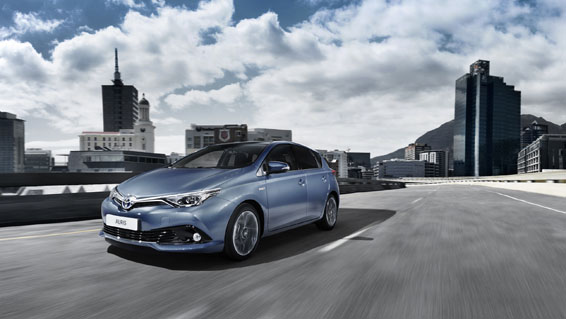 See also
LIVE – Toyota at the 2015 Geneva Motor Show
New Toyota Auris 2015 revealed
Toyota Auris 2015: design explained
New Toyota 1.2T engine in detail