For the third year in succession Toyota Gazoo Racing celebrated a World Rally Championship win – this time with French superstar Sébastien Ogier, who scored a sensational ACI Rally Monza victory to clinch his seventh title on Sunday.
Ogier, in his first season with Toyota Gazoo Racing, reclaims the crown taken by rival Ott Tänak aboard a Yaris WRC 12 months ago. His navigator Julien Ingrassia secured the co-driver's title.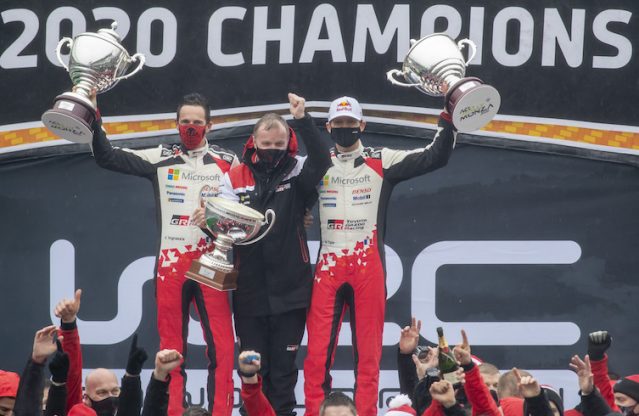 But what of British hero Elfyn Evans? Championship leader going into the event, Evans slipped up and off the road on a horribly snowy road north of Bergamo on Saturday afternoon. Until then, he'd driven beautifully to control proceedings.
We weren't expecting the snow.
"We weren't expecting the snow," said Evans. "It started to rain quite heavily in the stage and that then turned to snow. Despite the snow, I was able to keep the driving quite neat and tidy, but then I came to a short braking area from quite a high-speed section into a third-gear corner.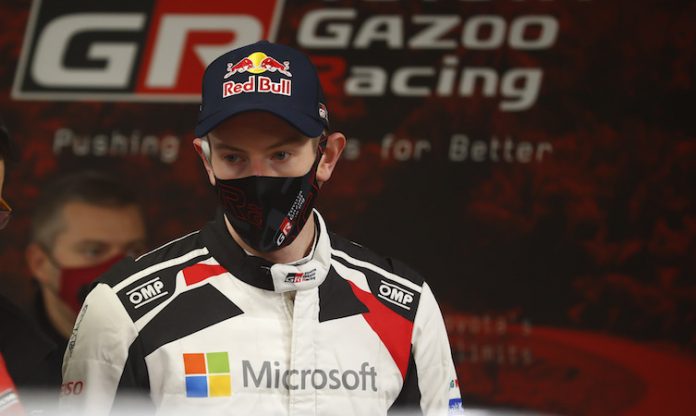 "The snow was lying on the surface and beneath the snow there was a grip change. I had that marked in my notes and, in the wet you brake a bit earlier. But that layer of fresh snow changed the surface from… sandpaper to glass. I had massively underestimated that grip change and there was no way I could stop.
"It's one of those things."
One of those things. Evans' pragmatism was astonishing, but it couldn't mask the disappointment in his eyes. He and co-driver Scott Martin had come close to topping the world and, what's more, he could be fairly confident that corner was going to catch out him or Ogier.
Unselfishly, Evans had jumped out of the car to slow his team-mate down. Ogier was more than grateful.
It could happen to anybody
"The grip was so tricky in that corner," said Ogier. "It was incredible. I had a feeling to come very slow as well and I was not far from losing it as well [even with Evans slowing him down]. Honestly, it could happen to anybody. You watch the onboard from Elfyn's car and you can see he's not pushing it, there's just nothing he could do."
Read more Elfyn Evans on driving GR Yaris
Genuinely saddened for his team-mate, the Frenchman was delighted with his title.
"Seven is a nice number," he said. "But numbers are numbers. Most important is the emotion that we managed to do this one more time. This was a new adventure with a new team and ending up on top feels great. It's been a special year, a shorter year than we planned, but it's still a good day for us."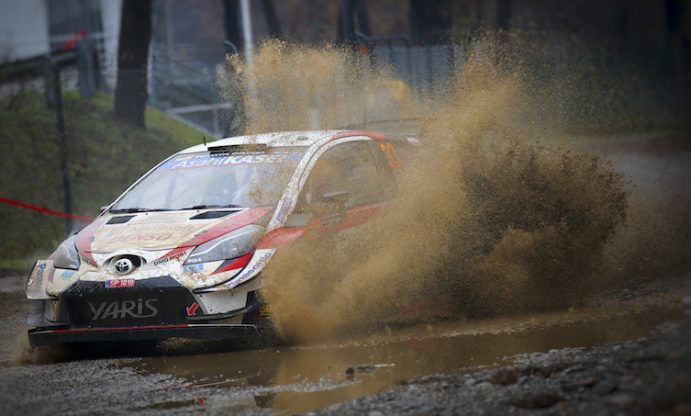 Toyota Gazoo Racing narrowly missed out on winning the manufacturers' crown.
"I feel a little bit for the team, it was looking good for us to do the double, but that didn't happen," said Sébastien Ogier, who earlier this year considering retiring from the sport at the end of 2020. "I have to say, I'm happy to stay for one more year with this team – I feel so comfortable with them and with the car."
And preparations for next year are already up and running, with the teams crossing the mountains to begin their preparations for the season-opening Rallye Monte-Carlo, which kicks off just over a month from now.
And when it does, it will start with a wiser and even more determined Evans ready to bring the challenge to his team-mate and friend Sébastien Ogier.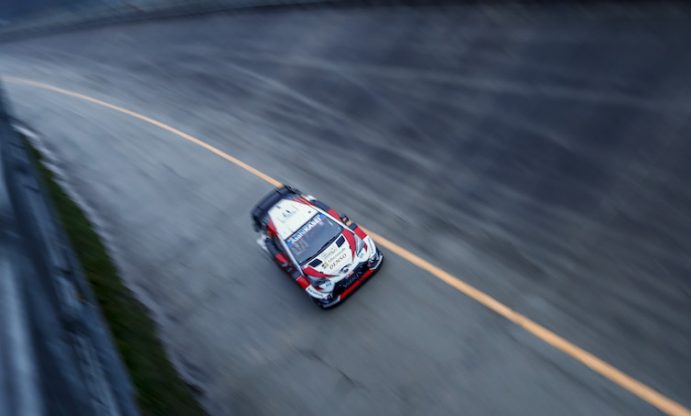 Completing a remarkable year for the team's all-new driver line-up were Kalle Rovanperä and Jonne Halttunen, who secured fifth in the championship with a sixth top-five finish in seven events in their rookie season at rallying's top level.
Takamoto Katsuta completed his five-round schedule in a Yaris WRC as part of the Toyota Gazoo Racing WRC Challenge Program in style with victory in the rally-ending Power Stage – his maiden WRC fastest time.
Tommi Mäkinen joined Sébastien Ogier and Julien Ingrassia on the Monza podium in his final event as Team Principal before he takes on a new role as Motorsport Advisor to Toyota from January 2021.
Reflections from Akio Toyoda (Toyota Gazoo Racing Team Chairman)
"Congratulations to Sébastien and Julien for their victory in Monza and the 2020 championship! One of the team members sent me a picture of Sébastien which was taken one minute before he left the service park. He was still checking the stage data until the very last minute he had to leave. I also received another picture of him between stages: even during the rally, he was answering Takamoto's questions thoroughly and politely.
"Of course, I'm very happy for his championship title, but when I saw these pictures I felt even happier. Thank you for choosing our team and fighting with us. Unfortunately, we were not able to achieve the manufacturers' title. I think that's because there is still something missing in our Yaris WRC, and also as a team."
I was moved to see Elfyn's team spirit
"Elfyn might be thinking that it was because of his retirement before the end of Saturday. But it was he himself who had the toughest moment due to the incident, as the possibility for him to become champion suddenly looked unlikely. However, the first thing he said when he was back in the service park was that he was very sorry for the team, that he couldn't contribute towards the title. It is quite disappointing that we missed it, but I was moved to see his team spirit.
"Kalle also showed us a great development this year and so did Takamoto, who won the Power Stage in Monza against the top drivers! I am really happy to have all the crews in our team and to see them fight together through this tough year. Thank you very much for drivers, co-drivers, mechanics, engineers, and all other team staff."
"This was the last rally for Tommi as the Team Principal. I am very grateful to work with him. When we decided to go back to the WRC, I asked him to help develop a car and to build a team. To be honest, I was thinking that my request was a bit too much of a challenge. But he did it with only a year of preparation, and the team already came in second place in its debut round and won the next round in Sweden.
"We experienced many difficulties after that, but every single experience had meaning and made our cars stronger. It is one of my best memories that we climbed up the roof of Yaris WRC together when we won Rally Finland in 2018."
"Thanks to Tommi, we were also able to develop the GR Yaris. He led us to change our way of making cars through participating in the WRC. As we already announced, his role from next year will be as our Motorsport Advisor. He will continue supporting Toyota to make ever-better cars."
"Last but not least, I would like to thank the rally organisers who made it possible to have seven rallies in this difficult situation, and our fans who continually supported us. I'm looking forward to have exciting battles with our competitors in 2021 on many different roads around the world!"
PROVISIONAL FINAL CLASSIFICATION, ACI RALLY MONZA
1 Sébastien Ogier/Julien Ingrassia (Toyota Yaris WRC) 2h15m51.0s
2 Ott Tänak/Martin Järveoja (Hyundai i20 Coupe WRC) +13.9s
3 Dani Sordo/Carlos del Barrio (Hyundai i20 Coupe WRC) +15.3s
4 Esapekka Lappi/Janne Ferm (Ford Fiesta WRC) +45.7s
5 Kalle Rovanperä/Jonne Halttunen (Toyota Yaris WRC) +1m11.1s
6 Andreas Mikkelsen/Anders Jaeger (Škoda Fabia Rally2 evo) +3m56.2s
7 Oliver Solberg/Aaron Johnston (Škoda Fabia Rally2 evo) +4m12.1s
8 Jari Huttunen/Mikka Lukka (Hyundai i20 R5) +5m15.4s
9 Mads Østberg/Torstein Eriksen (Citroën C3 R5) +5m27.4s
10 Pontus Tidemand/Patrik Barth (Škoda Fabia Rally2 evo) +5m53.0s
20 Takamoto Katsuta/Daniel Barritt (Toyota Yaris WRC) +11m50.3s
29 Elfyn Evans/Scott Martin (Toyota Yaris WRC) +20m12.6s