The first major update of the eighth-generation Toyota Hilux has arrived in the UK for the 2021 model year, bringing with it sharper styling, more generous equipment, dynamic enhancements and the option of a more powerful 2.8-litre engine. We anticipate that these changes will strengthen the model's appeal for both business and leisure users. But does the motoring media agree? Below is a selection of excerpts from the first 2021 Toyota Hilux reviews.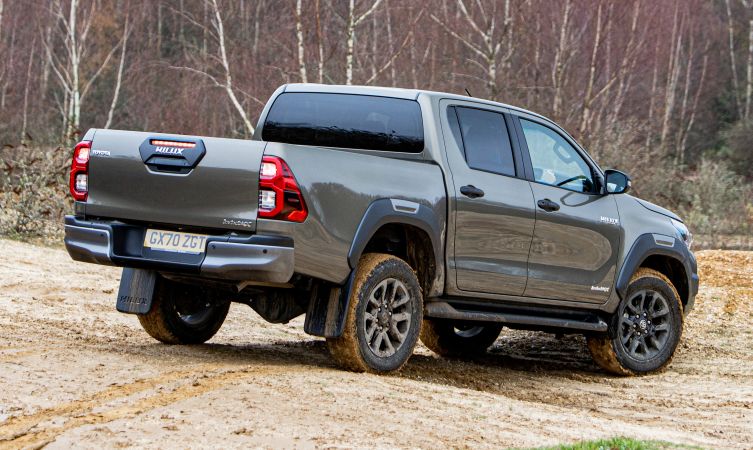 These initial assessments are of the top-spec Hilux Invincible X model with the new 2.8-litre engine. The reviews are listed in alphabetical order and include a numerical rating where applicable. To read the full online reports, click on the emboldened links.
2021 Toyota Hilux reviews
This vehicle remains a deeply tough cookie
"The new bigger engine seems a little less docile than the 2.4 at first, but that's a lot to do with the accelerator pedal's calibration, which is tuned to make towing and off-roading easy. The car's auto 'box shifts pretty smoothly… [and] it's pretty good at holding lower gears on the road and letting the motor slug it out through the mid-range.
"For ride and handling sophistication, the Hilux is certainly quite a lot smoother-riding in this facelifted spec… [and] is the first Hilux in history whose rear shocks and leaf springs haven't been tuned with a load in the bed. Underneath it all, this vehicle remains a deeply tough cookie."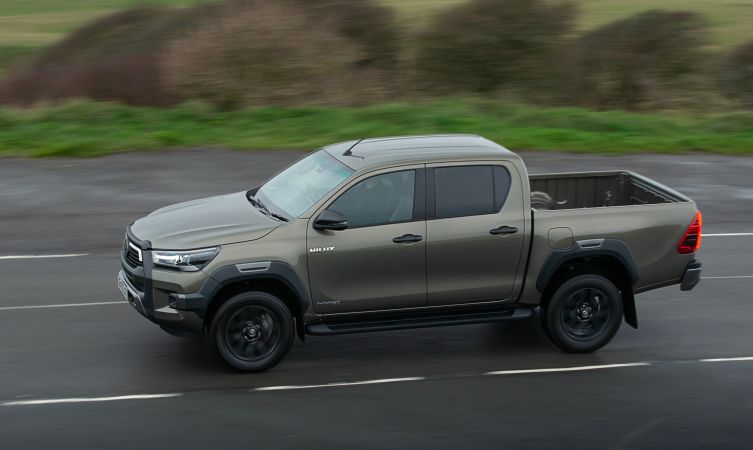 It should be on any premium pick-up buyer's shortlist
"The Toyota Hilux has always been seen as a practical, no-nonsense work vehicle, and the latest updates mean it should be on any premium pick-up truck buyer's shortlist. The new engine packs a punch without impacting running costs too severely, while the Invincible X model has the looks and kit to appeal to buyers that need an upmarket work vehicle that also can carry a family in comfort – all while offering more off-road ability than most buyers could possibly need."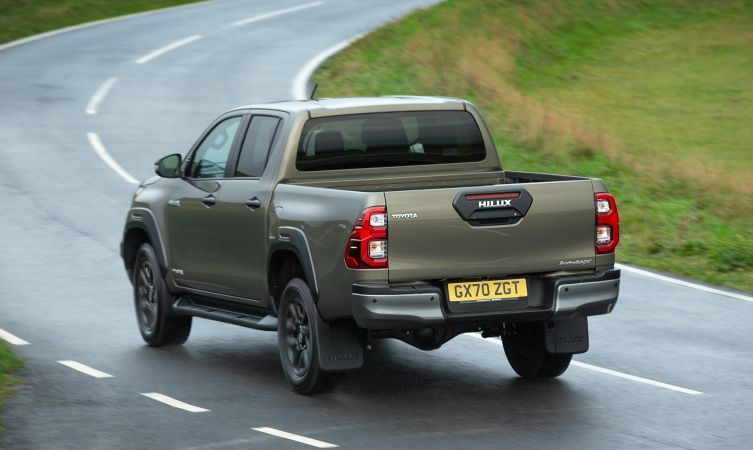 The Hilux does indeed feel Invincible by name and nature
"With 204 horsepower, [the new 2.8-litre engine] gives Toyota a foothold in the… market that accounts for nearly three-quarters of pick-up sales. Performance is obviously much improved with the new engine but its extra muscle also means it doesn't have to work so hard on the road, which has the added benefit of making it feel more refined. Certainly with the bigger engine the Hilux does indeed feel Invincible by name and invincible by nature."
It's a very, very convincing package
"The empire is striking back. Rounding out what has already been a somewhat extraordinary 2020 for Toyota, this heavily updated Hilux is better on-road, better off-road (where it was hardly shabby anyway) and better equipped, benefits from overhauled looks, and now offers the largest – if not quite the most powerful – engine of any new pick-up available in the UK.
"Over an hour of probably the most authentic UK off-roading we've ever experienced on a launch event, the Hilux calmly waded through rivers and bogs, navigated narrow forest tracks and descended slick slopes without once appearing to lose its footing – let alone anything else. It's a very, very convincing package."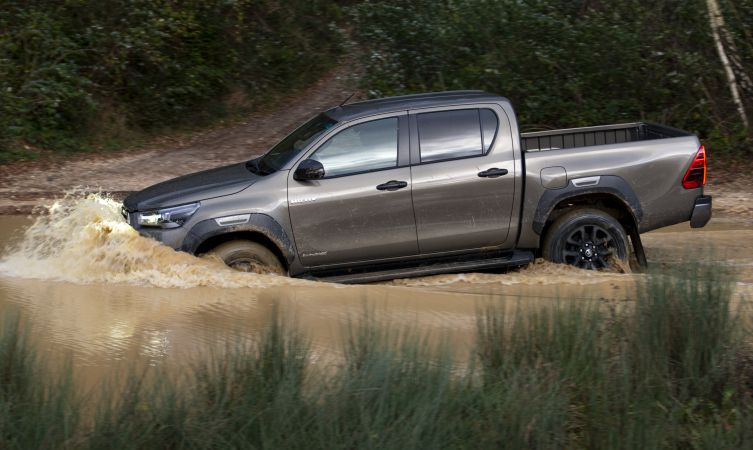 Hilux is the four-wheeled equivalent of a Swiss army knife
"With its jutting grille, squared-off wheel arches and chunky side steps, it makes ordinary cars look undernourished. This being the bells-and-whistles Invincible X, it also wears 18-inch black alloys and a beefier front bumper with a skid plate. It has serious rear-view-mirror presence.
"Toyota has made real progress with how the Hilux handles. Yes, there's still an old-school leaf spring at the rear (essential for durability in the world's toughest environments), but this time it was tuned with the load bed empty, rather than full. That means a more settled ride when all you have aboard is a couple of mountain bikes. It's calmer and more car-like, without the bouncy skittishness that afflicts many pick-ups. Lifestyle types will love it, while those who prefer builder's tea to superfood smoothies will be pleased that maximum payload is unaltered. The Hilux is the four-wheeled equivalent of a Swiss army knife."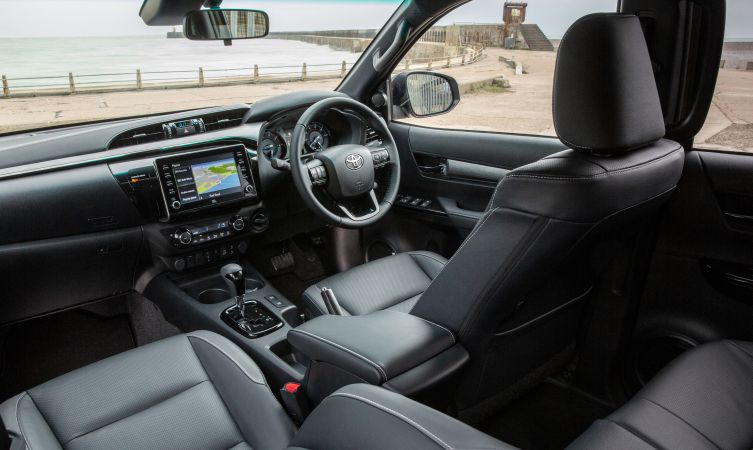 A tool, a faithful workhorse, and a dependable business partner
"Toyota's pick-up walks the tightrope between lifestyle cool and hard-as-nails utility. [It] is a predictably unpretentious machine, and its attempts to court lifestyle truck buyers have done little to alienate its core following while rounding off some of its rougher on-road manners. The most welcome upgrade is the new 2.8-litre engine.
"It's a tool, a faithful workhorse, and a dependable business partner. Residual values are strong given a Hilux is known to be tougher than any man-made object save for a Nokia 3310 (ask your parents)."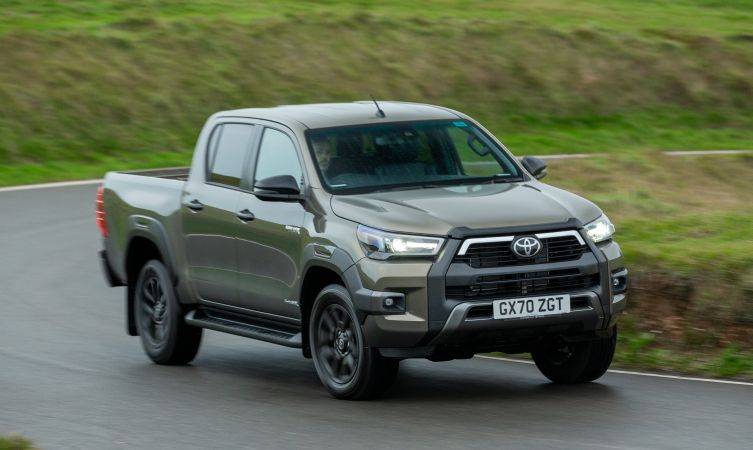 Learn more: Pricing of the new 2021 Toyota Hilux