After a successful 2019 during which key new models such as the Corolla, GR Supra and Toyota C-HR were honoured by car buyers and motoring critics alike, 2020 is proving to be equally fruitful.
We've collated the awards won so far below, but this article is being refreshed throughout the year as our cars and services collect new awards and our people are recognised for their achievements in the automotive industry and beyond.
Toyota Proace City wins Compact Van of the Year in the What Van? Awards
The Toyota Proace City has been awarded the Compact Van of the Year title in the coveted What Van? Awards, announced at a virtual event on 9 December.
Launched on the UK market in March this year and already on its third award, Proace City boasts a load volume of up to 4.4m3, payload capacity of up to one tonne and can tow braked loads of up to 1.5 tonnes. The optional Smart Cargo system creates even more load space and allows for longer items to be carried with ease.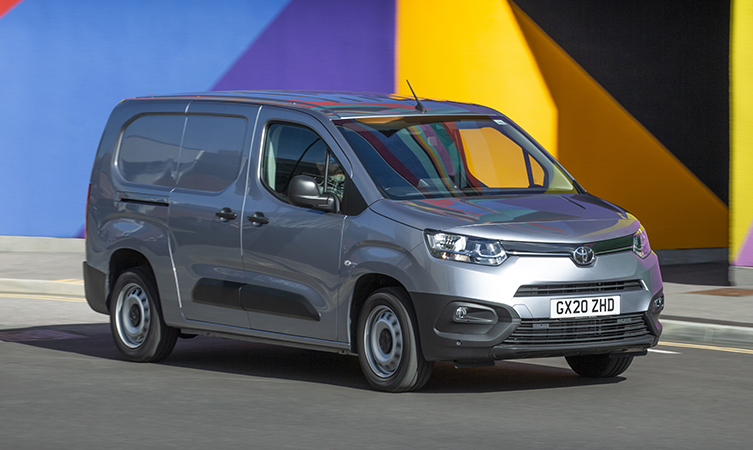 Proace City's 1.5-litre powertrains are highly efficient, in terms of both fuel economy and CO2 emissions – performance which contributes to a strong cost-of-ownership profile. Equipment specifications are tailored for practicality and convenience, with a cab that can also double as a mobile office when business needs to happen on the move.
Commenting on the win, James Dallas, What Van? Editor, said, "Having joined the proven PSA Group platform for the production of its debut compact van, Toyota has jumped straight to the top of the class with the Proace City. It comes with a five-year warranty and five-year roadside assistance and is set to command outstanding residual values."
Stuart Ferma, General Manager Toyota and Lexus Fleet Sales, said, "The addition of Proace City to our light commercial vehicle range has brought Toyota into the second largest segment of the UK LCV market and strengthened the Toyota Professional branding we gave to our LCV range earlier in the year. With more than two thirds of Toyota retailers already signed up to the Professional programme we can offer more customers higher levels of service and expertise across the country."
All Toyota Professional commercial vehicles come with a five-year/100,000 mile manufacturer warranty along with five-year's roadside assistance. In addition, a convenient servicing commitment guarantees an appointment within seven days or a reduction of 50 per cent off the labour charge if this timescale cannot be met.
Second double success for Toyota's self-charging hybrids in the DrivingElectric Awards
Toyota once again enjoyed double success in the DrivingElectric Awards, presented by the UK's leading consumer news, reviews and advice website for electrified motoring.
The British-built Corolla Touring Sports has been named the Best Family Hybrid Car (having previously won the Best Medium Hybrid award in 2019) and the current, fourth generation Prius has been declared the Best Used Hybrid Car for the second year in succession.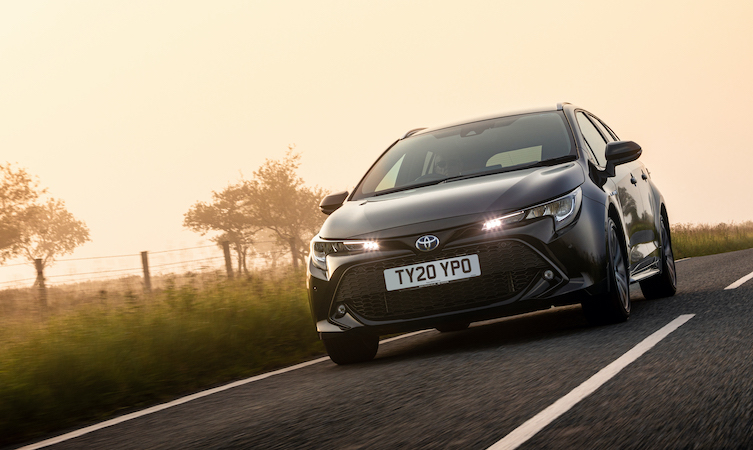 Commenting on Corolla's success, Richard Ingram, DrivingElectric Editor, said: "Mixing everything we love about the hatch, the Toyota Corolla Touring Sports adds a dose of practicality into the equation. A fantastic all-rounder, it is a great choice for those looking for an electrified family car without the need to plug in."
Introduced in spring 2019, the new generation Corolla Hatchback and Touring Sports have pioneered Toyota's new dual hybrid strategy, giving customers the choice of two different hybrid powertrains. The 1.8-litre Touring Sports has an output of 120bhp/90kW and returns official CO2 emissions from 103 to 116g/km with fuel economy from 55.42 to 62.77mpg (WLTP data). The 2.0-litre option raises the power to 181bhp/132kW, enabling acceleration from rest to 62mph in 8.1 seconds. Efficiency remains strong with 112-127g/km emissions and 50.45 to 56.50mpg (WLTP). Read their full review here.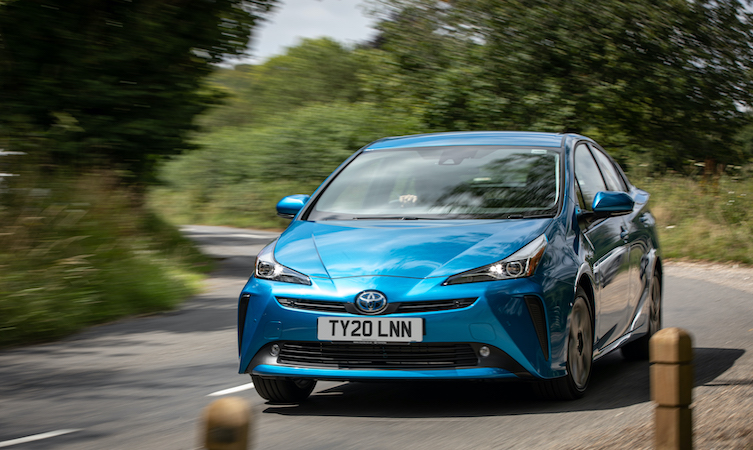 Prius retained its Best Used Hybrid title, reflecting the long-lasting quality and reliability of its powertrains, strengthening its appeal as a reliable and high value-for-money used car proposition.
"Toyota has long been a pioneer of hybrid technology, and the latest Prius shows the progress it has made over the last two decades. A great new car, it makes even more sense as a used buy," said Ingram. Read their full review here.
Toyota Corolla Touring Sports wins 'Best Hybrid Car' in Carbuyer Best Car Awards 2021
Toyota Corolla Touring Sports has won the Best Hybrid Car title in the Carbuyer Best Car Awards 2021.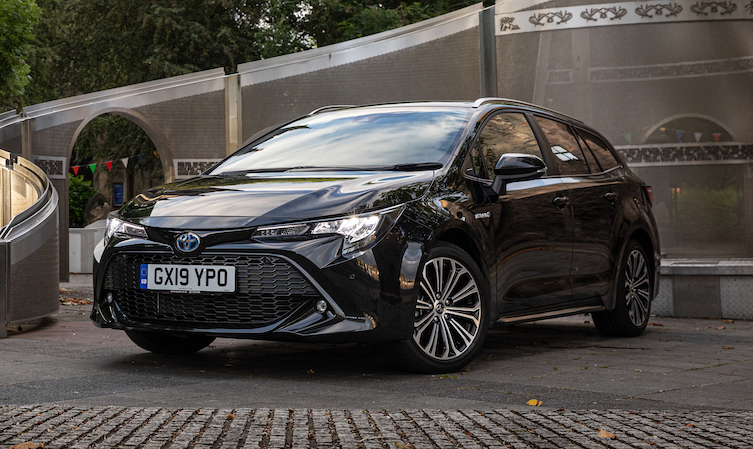 Announcing Corolla Touring Sports as the Best Hybrid Car, Carbuyer reports: "The Toyota Corolla Touring Sports uses the hybrid technology from the excellent Prius but it's more practical, better to drive and has lots of kit inside. It's not the most spacious estate around but it's certainly one of the most efficient, and it's such a good all-rounder that it scoops our Best Hybrid Car award this year."
Toyota Proace and Proace City take double honours in inaugural What Car? Van Awards
When it comes to all-round real-world usability, Toyota has the best small and medium vans on the market, according to What Car? which has named Proace and Proace City as "best for practicality" class winners its first van awards*.
It's a comprehensive success for the models, which cover the most competitive segments in the market. Going beyond a capacious load space and high payload, both offer an ingenious Smart Cargo system which extends carrying capacity for longer items through the bulkhead with a folding passenger seat mechanism. Smart Cargo is provided as standard on all new Proace vans and is available as an option or standard, according to equipment grade, on Proace City.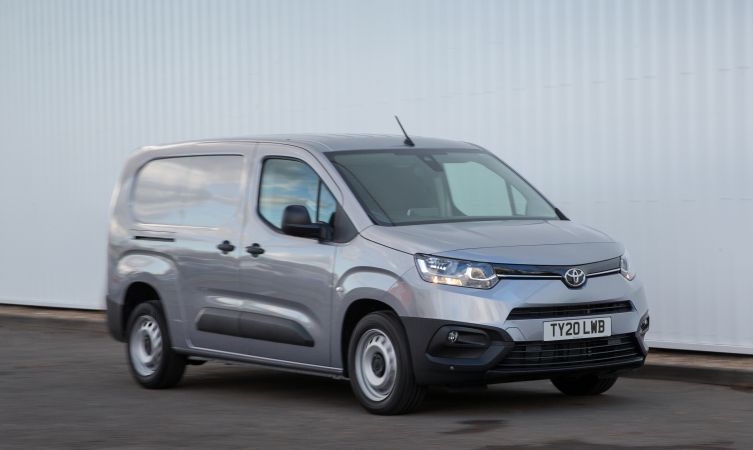 Commenting on the award for Proace, Steve Huntingford, What Car? Editor, said: "Our judges selected the Proace because the practical nature of a van extends beyond the vehicle's simple shell."
Turning to Proace City, Huntingford said: "This van can carry almost 4m3, with payloads up to 1,000kg… and it has the longest load length of any vehicle in its class. Further upticks follow because you can have your vehicle in a variety of sizes, with standard or long wheelbase options."
Stuart Ferma, General Manager Toyota and Lexus Fleet Sales, said: "Proace and Proace City are central to the scope and appeal of our Toyota Professional LCV range, so it is very rewarding to see their designed-in practicality being rewarded by What Car? Together these models cover a wide span of business customer needs, answering not just the requirements for carrying capability, but for being safe, efficient, comfortable and reliable, too."
Toyota Proace City named Parkers Best Small Van
It isn't just our cars that win awards, as the Toyota Proace City compact van has just won its first major UK award, the Best Small Van in the Parkers Awards, despite only being launched earlier this year.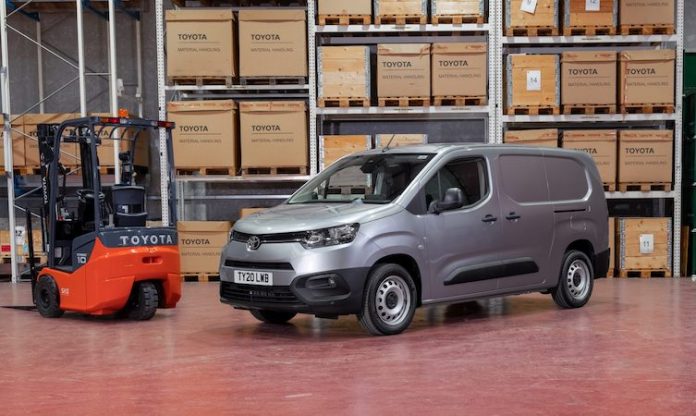 Keith Adams, editor of Parkers.co.uk said: "Toyota has offered some great commercial vehicles over the years and continues the tradition with the brilliant Proace City. It boasts innovation and practicality galore, an exceptional payload rating and a very car-like driving experience. Some of the technology available is truly impressive, while other plus points include a cab that's practical and full of oddments space, a comfortable ride, and lots of options to make this an exceptionally easy van to live with. The Proace City is a convincing award winner for 2021."
Stuart Ferma, General Manager Toyota and Lexus Fleet Sales said: "Proace City has increased the scope and attractiveness of our Toyota Professional LCV range, a compact van that's designed to provide maximum usability and practicality with highly cost-effective performance. The Parkers award is a big reward for a small van that we're very proud of."
Toyota wins Green Fleet Manufacturer of the Year in the Business Car Awards for the second time
Toyota and its sister brand Lexus have been awarded the Green Fleet Manufacturer of the Year in the Business Car Awards for a second consecutive year. The award category, which was only introduced in 2019, rewards car makers for their work in providing environmentally focused products and services for fleet and business customers.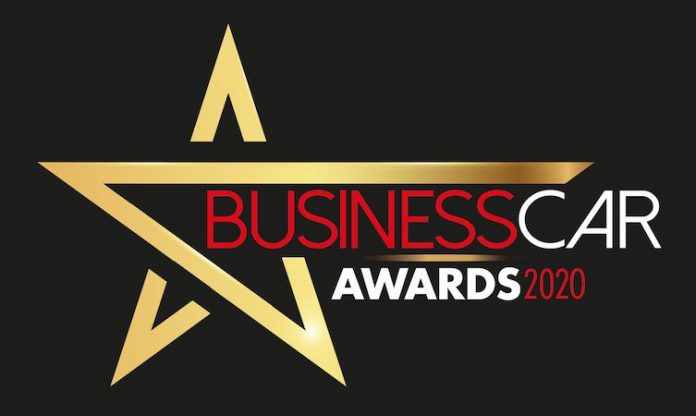 Simon Harris, Business Car Editor, said: "Toyota pioneered the full hybrid car in the Prius and is now pioneering hydrogen fuel cell vehicles. While almost its entire car range is now hybrid, the focus on the environment runs throughout the business, with zero waste to landfill and landscaping to support wildlife habits at its factories."
Stuart Ferma, General Manager Toyota and Lexus Fleet Sales, said: "Environmental issues are increasingly vital for our customers. Our commitment to environmental performance goes beyond offering the widest range of electrified vehicles on the market to operating our entire business in a way that respects the world around us – from our factories to our offices, showrooms and workshops. We're proud that once again Business Car has given us this award in recognition of our on-going commitment."
Double win for Toyota in Autocar's Britain's Best Cars Awards
It's a double win for Toyota in the inaugural Autocar Britain's Best Cars Awards 2020, as the Corolla scooped up the award for 'Britain's Best Hybrid Car' while Toyota took home the impressive 'Best Manufacturer'.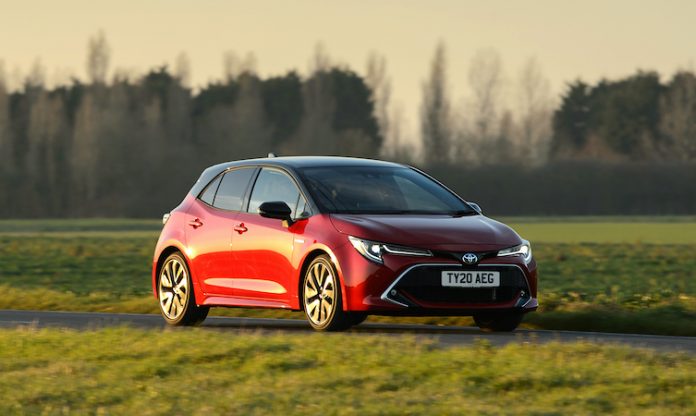 Announcing Corolla as Britain's Best Hybrid Car – the honour shared jointly between its Hatchback and Touring Sports versions – Autocar reports: "Responsive, keen-handling and frugal, it's a hybrid with as broad a spread of dynamic qualities as any conventional car."
The Autocar judges were also complimentary about Toyota as a brand too, saying: "Toyota has transformed itself into a maker of exciting enthusiast-focused cars as well as dynamic everyday models."
"The impressive progress made by Toyota over the past decade has reached the point where it can be considered not only the world's biggest car maker, but also the best."
Agustín Martín, Toyota (GB) President and Managing Director, said: "It is a proud moment for us to receive these awards, which acknowledge both the quality of the hybrid cars we're making here in Britain today and our greater ambitions for helping create a sustainable future mobility society."
Toyota Yaris wins 'Best Affordable Hybrid' in Auto Express New Car Awards.
The all-new Toyota Yaris collects its first major UK honour by winning the Affordable Hybrid Car of the Year title in the Auto Express New Car Awards 2020.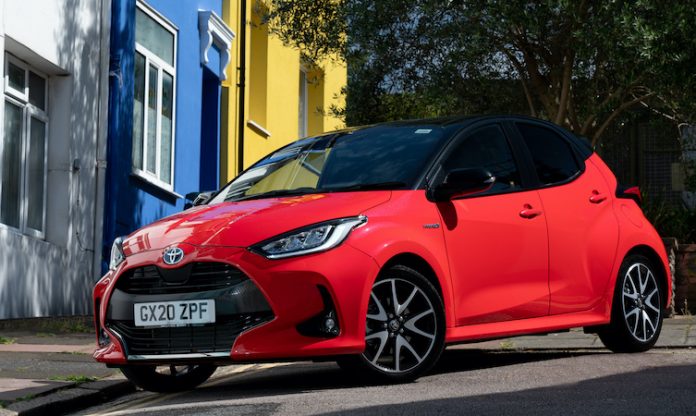 Steve Fowler, Auto Express Editor-in-Chief, said: "The Yaris has come of age, with hybrid power aligning perfectly with the political climate. But the latest Yaris shows that Toyota has continued its development; the twin-motor set-up offers performance, efficiency and refinement. Keen pricing and the car's ability to deliver exceptional real-world fuel economy are the icing on a very appealing cake."
Accepting the award, Agustín Martín, Toyota (GB) President and Managing Director, said: "Our thanks go to Auto Express for this award for the new Yaris. Yaris is our best-selling car, so it is very important to us and I am delighted that this award recognises the power and appeal our new model offers to our customers."
Toyota named Best Car Brand at Which? Awards
Toyota has been crowned the best car brand at the 2020 Which? Awards.
Announcing the result, Which? declared: "Toyota continues to dominate its rivals in terms of its ultimate reliability, enjoying the top spots in the 2020 Which? Car Survey.
"Elsewhere, it remains committed to hybrid technology, which has been deployed across nearly its entire range of family cars. Its continued development of hybrid drivetrains has seen the technology become a genuine alternative to diesel, even at motorway speeds – the traditional Achilles heel of petrol hybrid cars.
"Furthermore, despite their quality and dependability, Toyota cars remain relatively affordable, meaning they're likely to remain a firm favourite for years to come."
Earlier in the year, Toyota was awarded second place in the Which? car reliability study (see below).
Paula Cooper wins mobility and category in Autocar's Great Women in the British Car Industry 2020 Awards
Paula Cooper, Toyota (GB) ConsumerOne Director, has won the Mobility and Digital category in Autocar's Great Women in the British Car Industry 2020 Awards. Along with Paula, three other female Toyota employees had the honour of being selected in the Top 100 list of the most influential British women in the motoring industry in Autocar's Great British Women awards 2020.
Liz Mehdevy, General Counsel and General Manager, Legal and Corporate Operations, Toyota (GB)
Sophie Ogunbiyi, Manager, External Affairs, Toyota Motor Europe
Mairi Gordon, General Manager, Production Operations, Engine Division, Toyota Manufacturing UK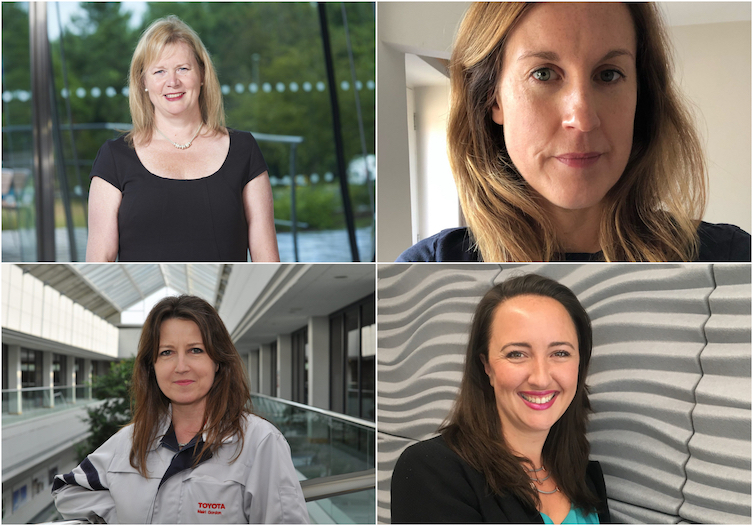 Chair of the judging panel and managing director of Autocar and Haymarket Automotive, Rachael Prasher, commented: "The phenomenal success of all our Top 100 Great Women demonstrates the scope of career opportunities in the automotive world and the achievements possible. Each year, the talent pool gets bigger, making our job as judges harder, but it's a fantastic sign of the breadth of talented women working in the industry."
Run in partnership with the SMMT, Autocar's Great British Women in the Car Industry initiative is supported by sponsors including Toyota (GB). The Great British Women awards recognise the most influential women in the British car industry today. The winners' achievements will be celebrated at a virtual live event taking place on 16 September. The full list of Autocar's Top 100 is available here.
Which? Reliability Survey
A reliability survey conducted by Which? found that Toyota is the leading mainstream automotive manufacturer in the UK, after studying ownership experiences of more than 47,000 UK motorists. Toyota came second in the survey, only being beaten by its premium sister brand Lexus.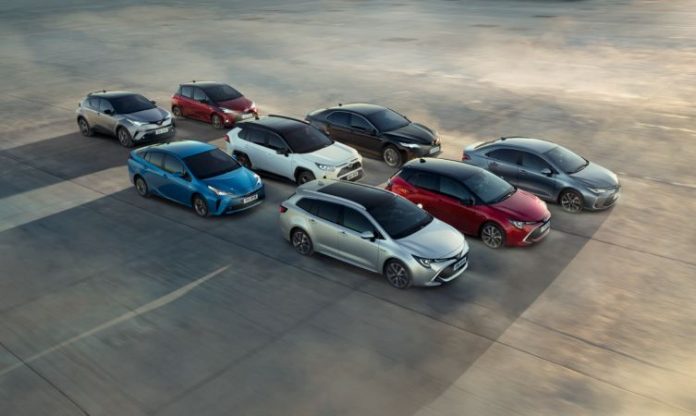 When answering the question "why are Toyota cars so good?" Which? says: "Toyota cars are not just reliable wonders. Its latest generation of hybrids has once again pushed the boundaries on fuel efficiency. This means you can expect both truly low amounts of climate-changing carbon dioxide and no wide-eyed glares at your card statements when you see how much you're doling out to your local petrol station."
Mark Roden, Toyota (GB) Operations Director, said: "The people who own and drive our cars are the best judges of quality and it's fantastic that, through the Which? survey, they have given such a positive verdict. Toyota is long-established as the global pioneer of hybrid electric technology and we continue to improve its performance – most recently taking efficiency to new heights in the system developed for the all-new Yaris. True to our commitment to building ever-better cars, we aim to deliver even better quality and reliability in the future."
Which? Car Survey: roadside assistance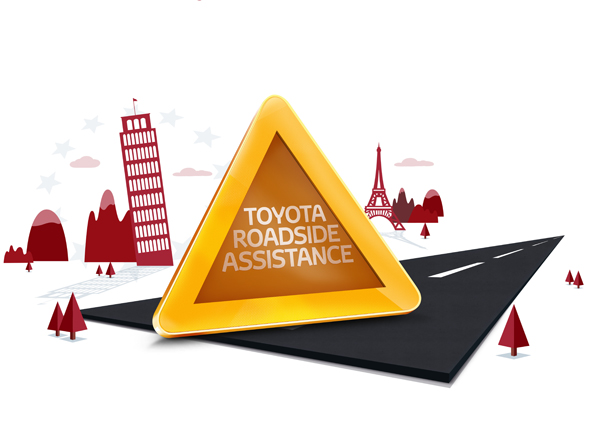 A survey by the consumer organisation Which? concluded that Toyota Roadside Assistance members receive the fastest and best service if they are ever left stranded by a breakdown. The assistance package is provided free for one year on all new Toyota passenger cars.

The results were calculated from the personal feedback of more than 7,500 respondents, all of whom had contacted one of the breakdown services offered by 12 manufacturers within the last 12 months. Toyota owners reported an average call-out response time of 39 minutes, which was unmatched by any other brand. They also gave the highest overall customer score of 89%, confirming they were the happiest with their service.
Auto Express Used Car Awards
The Toyota Prius claimed another award for Toyota when it was crowned the best-used hybrid car to buy in the 2020 Auto Express Used Car Awards.
The hybrid Prius was noted for its "fine reputation for environmentally-friendly motoring" plus reasonable finance offers available on used models. Strong residual values also went in favour of the Prius with some used models being as reasonable as just £247 per month on PCP deals.
The win for the Prius in the Used Car Awards also highlights that hybrid models still pose a good proposition for customers looking for a fuel-efficient vehicle in the second-hand car market.
Honest John Satisfaction Index
It was a 1-2 finish for Toyota in the 2020 Honest John Satisfaction Index awards, with the Toyota Prius being named the most reliable car in the UK, with the Yaris following closely behind in second place. This is the second time that the Prius has come out on top in this award too, proving how reliable the car is with its owners.
Dan Powell, Honest John Managing Editor, said: "The Toyota Prius is the most reliable car on sale in the UK, according to the results in our index for 2020. It came out on top with a near-flawless 9.88 average rating out of 10. Combine that with its low running costs and refined hybrid powertrain and it's easy to see why the Prius is such a popular car with drivers in the UK."
Auto Express Driver Power survey
It was a double whammy for Corolla in this year's Driver Power survey as the model made an emphatic first appearance in the annual awards ceremony. Owners and Auto Express readers not only voted it the Best Compact Family Car but judged it to possess the best ride and handling characteristics in its category.
Steve Fowler, Auto Express editor-in-chief, commented: "A win in a debut year is mightily impressive, and that is precisely what the new Toyota Corolla has achieved.
"On its way to taking the Best Compact Family Car win, the Corolla recorded an excellent set of scores across the board; in fact, no car scored higher for ride and handling. Owners love the smooth ride and the responsiveness of steering and brakes. The Corolla remains cheap to run, especially when it comes to fuel economy, plus overall build quality inside and out is rated highly."
Fleet News awards
Toyota has been honoured as the Fleet News Green Fleet Manufacturer of the Year, the first vehicle manufacturer to achieve this award three years in succession.
The judges commented: "Toyota's holistic approach to the environment sets it apart from other manufacturers. Yes, it's committed to hybrid, electric and hydrogen technology, but it is Toyota's other activities, including zero-landfill, utilisation of renewable energy, fleet localisation plan and pledge to recycle waste water at its production plants that make it a truly green company, not simply a manufacturer of green cars."
Its success – in fact the fourth award in five years – was announced at a prize ceremony in London this week, along with a Best Mid-size SUV award for the all-hybrid RAV4.
The judges remarked: "The new hybrid-only Toyota RAV4 impressed with its balance of running costs, practicality and efficiency. Compared to its predecessor, it has greater driver appeal thanks to improved comfort and refinement levels, plus the new hybrid powertrain is more responsive, making the car better to drive.
Stuart Ferma, General Manager Toyota and Lexus Fleet said: "We're proud to once again be recognised by Fleet News for our green leadership in our fleet business. We remain committed to giving our customers products and services that reflect today's important environmental issues, and which also deliver the quality and reliability they require."
What Car? Car of the Year Awards
The Toyota Corolla took the title of Best Hybrid Car in the 2020 What Car? Awards, leading a haul of three honours for the brand.
Steve Huntingford, What Car? Editor, said: "The Toyota Corolla comfortably beats the fuel economy of pure petrol-powered rivals and betters a fair few diesels in its 1.8-litre form that we recommend. Better still, it manages this while delivering more performance than most people will need. Plus, in stop-start traffic, near-silence descends when you use electric power alone."
Announced at a ceremony in London in mid-January, the awards also saw the Toyota Yaris Hybrid taking the title for Best Hybrid Car for less than £20,000 and the Toyota Aygo being named the Best Value Car (priced between £10,000 to £12,000).
Company Car Today
The Toyota C-HR opened its 2020 honours account with the Best Crossover title in the Company Car Today 100 (CCT100) listing. The Toyota C-HR achieved its winning status thanks to its combination of tax-friendly low emissions from its self-charging hybrid powertrains, low day-to-day running costs, good looks and lasting value.
Paul Barker, Company Car Today Editor, said: "Toyota's [Toyota] C-HR deploys hybrid technology to deliver low running costs and excellent emissions figures, which combine with good residual values to tick the boxes that make for an excellent company car. It also enjoys cutting edge design and has recently been revised to make it an even better proposition, and well worthy of the CCT100 Best Crossover title."
4×4 Magazine
When it comes to 'sustainable' vehicles, the familiar points of reference are qualities such as fuel economy, low emissions and recyclability. But there's another aspect to the issue that has helped earn Toyota's mighty Land Cruiser the Sustainability Award in 4×4 Magazine's 4×4 of the Year Awards.
Where the judges were concerned, Land Cruiser has no equal when it comes putting in year after year of reliable service, delivering the kind of longevity that other models cannot match. And that's the key to making it a winner as a 'sustainable' vehicle.
4×4 Magazine Editor Alan Kidd explained: "Not everyone will be able to understand why the Land Cruiser has won our Sustainability Award, but it's very simple. You can buy one and, if you so choose, never need to return to the car market for the rest of your life."
The Toyota RAV4 Hybrid also triumphed in 4×4 Magazine's 4×4 of the Year Awards, named Best Medium SUV.
Car of the Year award
The Corolla is among the finalists for the prestigious Car of the Year 2020 award, one of only seven cars to make the shortlist after a first vote of the 60 jurors. The organisation comprises judges from several European automotive publications: Auto, Autocar, Autopista, Autovisie, L'Automobile Magazine, Stern and Vibilagare.