Driving is a great way to be independent, enabling us to connect with other people, take part in social events, or travel to work. But for people with mobility issues there can be times when it is a challenge to get into, or out of, a car. As part of Toyota's mission to achieve better mobility for all, the company has teamed up with the Royal College of Occupational Therapists (RCOT) to put together some tips* to help.
Toyota spent a day with two occupational therapists, Natasha May Powell, an Advance Occupational Therapist Practitioner, and Charan Chana, a Senior Occupational Therapist with Central and North West London NHS Trust, and with John Healy, from Virginia Water, who uses a walking stick, a walker or a mobility scooter. Natasha May and Charan demonstrated ways of helping John to get into and out of two different size cars: a Toyota Aygo X, and a Corolla Touring Sports.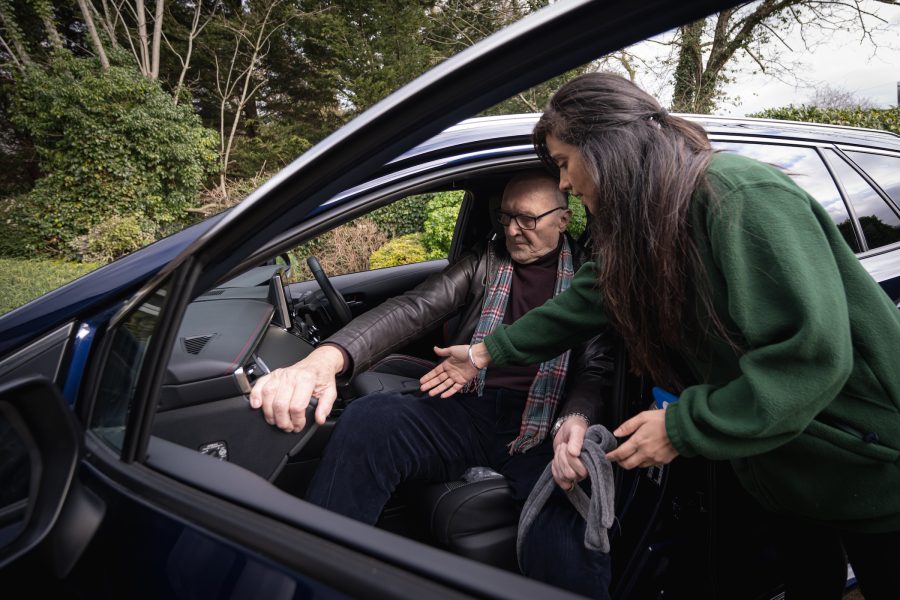 Making adjustments
Modern cars like the Toyota Aygo X and Corolla Touring Sports are simple to adjust to make access easier and safer for passengers and driver, and ensure a comfortable and safe car journey, especially for someone with restricted mobility.
Move the seat back as far as it will go to create more space. This is particularly useful for people with knee issues, or with prosthetic limbs.
Adjust the seat belts so they are in the best position for comfort and safety.
Drivers can also adjust the steering column to an optimum position.
Transporting equipment
Natasha May advises: "Before a journey it helps to identify how to transport mobility equipment, thinking about where it might fit in the car or boot, to make access easier and safer. See if you can fold the equipment down or take it apart; that way it won't be so heavy to lift and will be easier to store."
If you're using the boot, put a blanket down first; it'll create a smoother surface and make it easier to slide equipment in and out.
Before you get in the car, store your walking stick in the back, so it doesn't interfere with the pedals.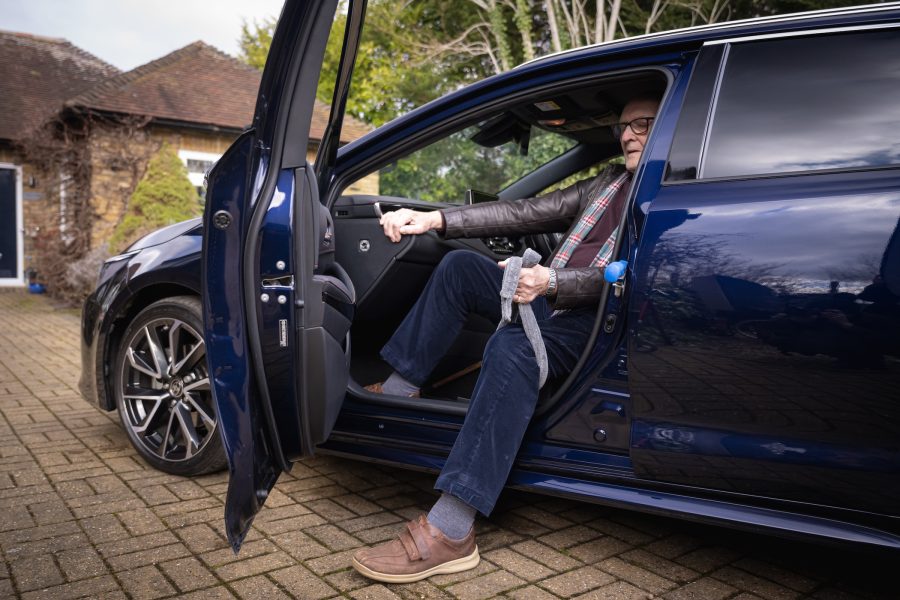 Getting in and out of vehicles
When getting into a car, work out the safest place to put your hands to provide support. Instead of balancing on a walking frame, you could use the frame of the car, or roof-mounted grab handles. Alternatively, you might want to consider getting a portable door handle (sometimes known as a bunny handle). This provides a secure hand hold and when not in use fits neatly into the glove compartment or door pocket.
Get into a car bottom first. This helps keep both feet on the floor until you're sitting down and means you're less likely to stumble or fall.
Once sitting down, you can use a swivel cushion to help you get into the right position – but if you don't have one, a plastic bag works well too.
A leg lifter can help get legs over the sill of the car. If you don't have one, a dressing gown cord, or something like a yoga strap, is just as good.
Cars come in different shapes and sizes and the height, whether it's low or high, can cause problems. If a car is too high, using a step could help – but make sure it's on a flat surface and be mindful of weather conditions. If a car is low, park the car on a flat surface; don't park by a kerb as it will make the situation worse, and use the 'bottom first' technique.
Try not to use a frame to get into and out of the car as the surface may be unstable.
Parking
Charan comments: "When choosing a suitable parking spot, identify potential hazards to avoid difficulties when getting in or out of the car. Make sure there is enough room to open the door fully so that the driver and passenger can both get out easily, and safely retrieve any mobility aids."
Try to park on a level surface, as uneven surfaces, like grass, can make getting in and out more difficult and potentially dangerous.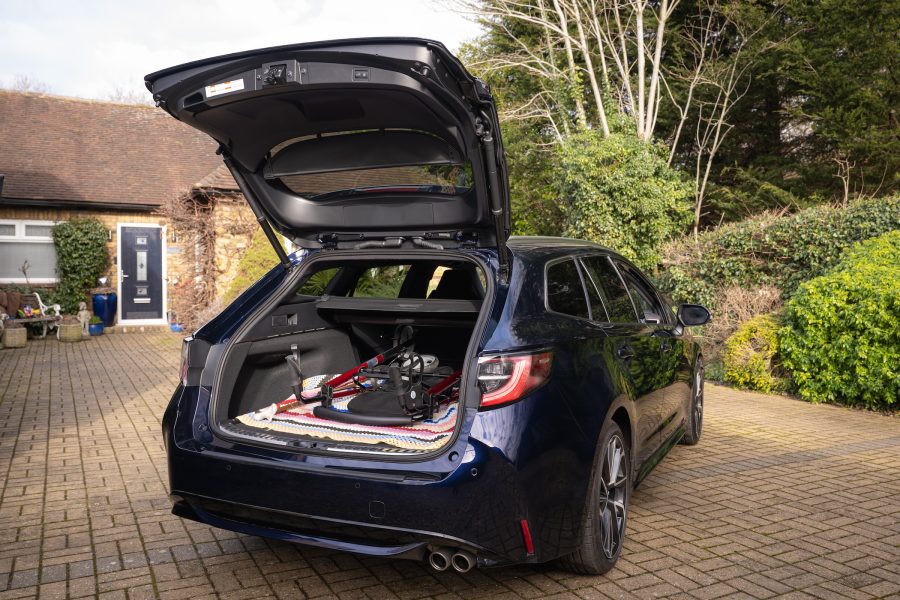 Preparing for long journeys
If you're going on a long journey, think about how you can break it down into more manageable chunks – both for the driver and the passenger.
Plan breaks where you can have a rest and rehydrate. This is particularly important for someone with a health condition where they become tired.
About the Royal College of Occupational Therapists
The Royal College of Occupational Therapists (RCOT) is the professional body for occupational therapy. It is there to help achieve life-changing breakthroughs for its members, for the people it supports and for society as a whole.
Occupational therapists help you live your best life at home, at work – and anywhere else. It's about doing the things you love and need to do. Find out more about RCOT and about how occupational therapy can help you.
Do you need a little help to do the things you love or need to do every day?
Check out OTHacks, they are bite-sized advice from occupational therapists, giving you expert tips and tricks to help you do the things you want – and have – to do. There are OT Life Hacks to help you at home, work, school and play.
*The tips were put together by some of RCOT's members, including those working at West London NHS Trust, Central and North West London NHS Foundation Trust and the William Merritt Centre in Leeds.