Meet the new Toyota Aygo X, a crossover unique in the A-segment that has been designed and produced in Europe to meet the tough demands of European urban and suburban life.
Click here to find out more about the all-new Toyota Aygo X.
Built on the successful Toyota Global New Architecture (TNGA) GA-B platform, first introduced with the new Yaris – the current European Car of the Year 2021 – and more recently with Yaris Cross, the Aygo X is the latest compact model to join Toyota's line-up.
How much will the all-new Aygo X cost?
The on-the-road prices for the all-new Toyota Aygo X are shown below. All Aygo X models come with up to 10 years' Toyota Warranty cover. After an initial three years/60,000 miles, owners can extend their car's warranty by a further one year/10,000 miles each time they have their vehicle serviced at an authorised Toyota centre, in line with its service schedule. The warranty is provided at no extra cost, up to a limit of 10 years/100,000 miles. Terms and conditions apply; full details are available here.
| | | |
| --- | --- | --- |
| MODEL | TRANSMISSION | OTR PRICE |
| Aygo X Pure | Manual | £14,795 |
| Aygo X Pure | Automatic | £15,895 |
| Aygo X Edge | Manual | £16,495 |
| Aygo X Edge | Automatic | £17,595 |
| Aygo X Exclusive | Manual | £17,715 |
| Aygo X Exclusive | Automatic | £18,815 |
| Aygo X Limited Edition | Manual | £19,640 |
| Aygo X Limited Edition | Automatic | £20,740 |
Does it come with a warranty?
All Aygo X models come with up to 10 years' Toyota Warranty cover. After an initial three years/60,000 miles, owners can extend their car's warranty by a further one year/10,000 miles each time they have their vehicle serviced at an authorised Toyota centre, in line with its service schedule. The warranty is provided at no extra cost, up to a limit of 10 years/100,000 miles.
What trims levels are available on the all-new Aygo X?
The line-up will feature three Aygo X versions – Pure, Edge and Exclusive – plus a special Limited Edition model.
Across the board, Agyo X offers higher specifications that its predecessor, focusing on comfort, multimedia connectivity and a significantly enhanced Toyota Safety Sense package of active safety and driver assistance features.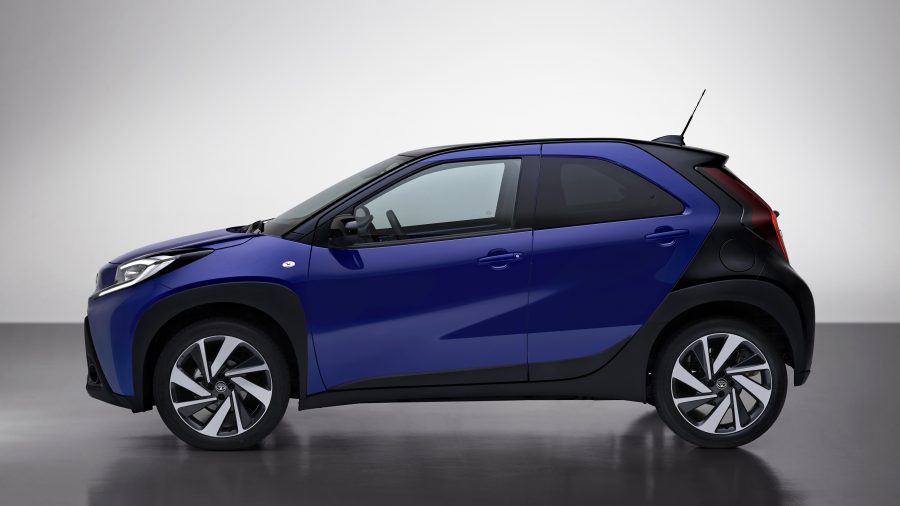 The Aygo X Pure, the entry point to the range, comes equipped as standard with 17-inch alloy wheels, automatic headlights, air conditioning, multimedia system with seven-inch touchscreen, power front windows and leather steering wheel trim. The Toyota Safety Sense features include a Pre-Collision System with added range and functionality to detect more potential accident risks, including pedestrians, cyclists (in daytime driving) and hazards when making a turn at an intersection. It also provides full-range Adaptive Cruise Control, Road Sign Assist, Lane Trace Assist and Automatic High Beam. Smartphone integration is made simple using Apple CarPlay or Android Auto.
The Edge grade adds 18-inch alloys, automatic air conditioning, automatic wipers, rear privacy glass, front fog lights and an eight-in multimedia display. It also gains extra exterior styling details and a bi-tone/metallic paint finish that extends the contrast black finish from the roof to cover the hatch and rear quarters. Owners will also be able to specify Aygo X's large, power-operated canvas roof and a parking pack with front and rear intelligent clearance sonars with automatic braking function.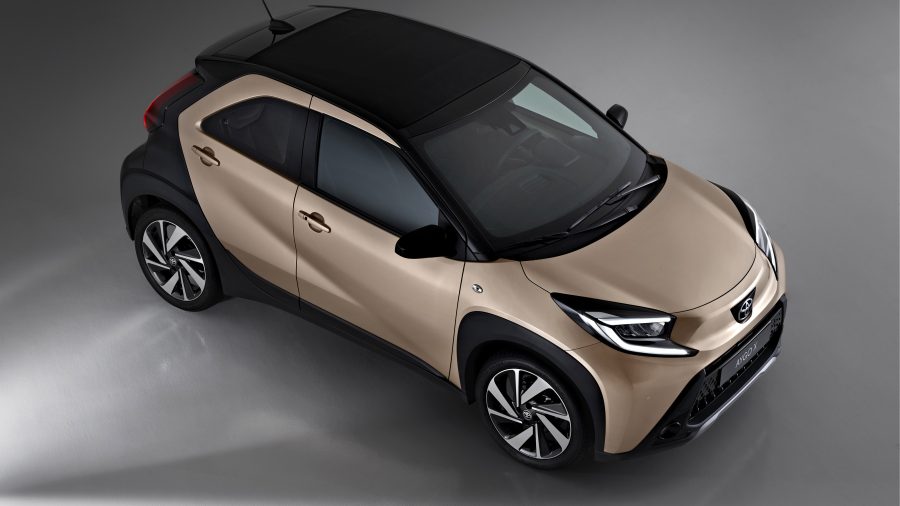 Top of the core range is the Exclusive model. This comes with combination cloth and high-quality synthetic leather upholstery, a wireless phone charger, LED headlights, smart entry and start and the intelligent clearance sonars with auto brake. It also adopts the new Toyota Smart Connect multimedia system with nine-inch display, giving access to cloud-based navigation, up-to-the-moment road event information, access to useful connected services and over-the-air updates for no-fuss software updates and fixes. Options for the Aygo X Exclusive are the canvas roof and a five-speaker JBL sound system with 300W amplifier.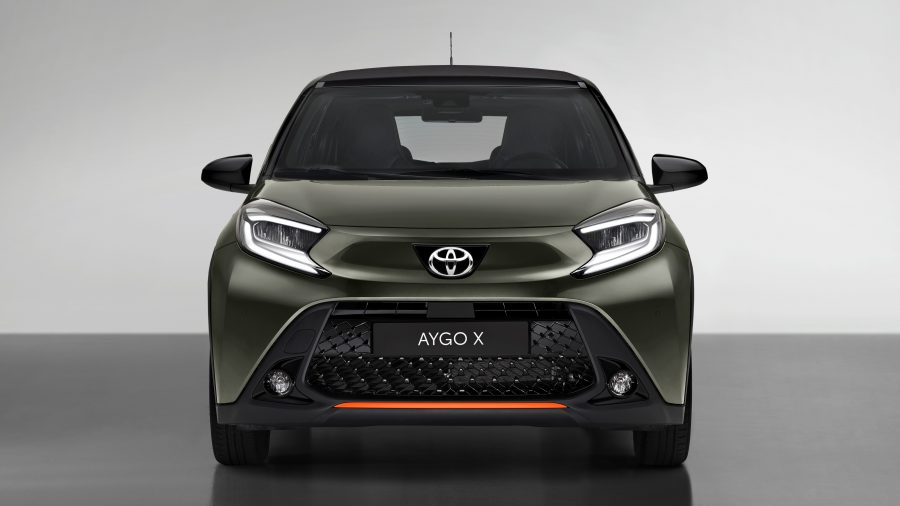 The Limited Edition model takes specification to an even higher level, with 18-inch matt black alloys, bright Mandarina orange highlights on the wheels, sills and front and rear bumpers, special interior design features and the retracting canvas roof. The front seats are heated and have part-leather upholstery. The bi-tone finish will feature Aygo X's new Cardamom Green metallic paint.
Will it still be as stylish?
Starting with the Aygo X prologue concept car, which was developed at Toyota's European Design and Development centre (ED2) in the South of France, Toyota's designers wanted to bring a sense of daring and spice to Europe's compact car market.
Since it was first launched in 2005, Aygo has been Toyota's most accessible car in Europe and has delighted customers with its youthful and fun character. These qualities have attracted many new style-conscious European buyers to the Toyota brand.

Following the successful reveal and positive reception of the eye-catching "Sparkling Chilli Red" Aygo X prologue, the Aygo X project was transferred to the styling section at Toyota Motor Europe in Belgium, where the design teams worked closely with product planning and R&D to turn the new A-segment car from concept to reality.
A bold bi-tone execution, coupled with a new spice colour concept, creates a profile that grabs the attention, emphasising the car's readiness to leap forward into action.

The new wedged roofline also increases the dynamic feeling and sportier image. In the front, high-tech lamps hug the upper bonnet to form a wing-like shape, while, set lower to the ground, the large grille, fog lamps and skid plate all build on the double trapezoid theme that is part of Aygo's identity, giving it a "ready to go, anywhere" attitude.
The new colour concept is inspired by different spices, producing a unique range of colours that capture the car's flavours and personalities.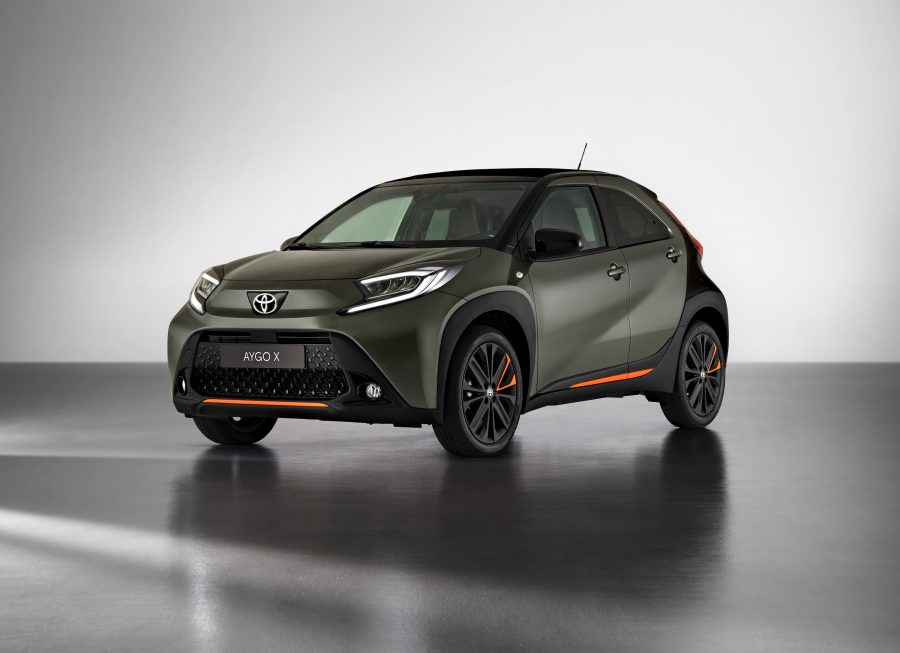 Cardamom conjures an impression of style and elegance, delivering a refined and understated aesthetic with a green low saturation effect.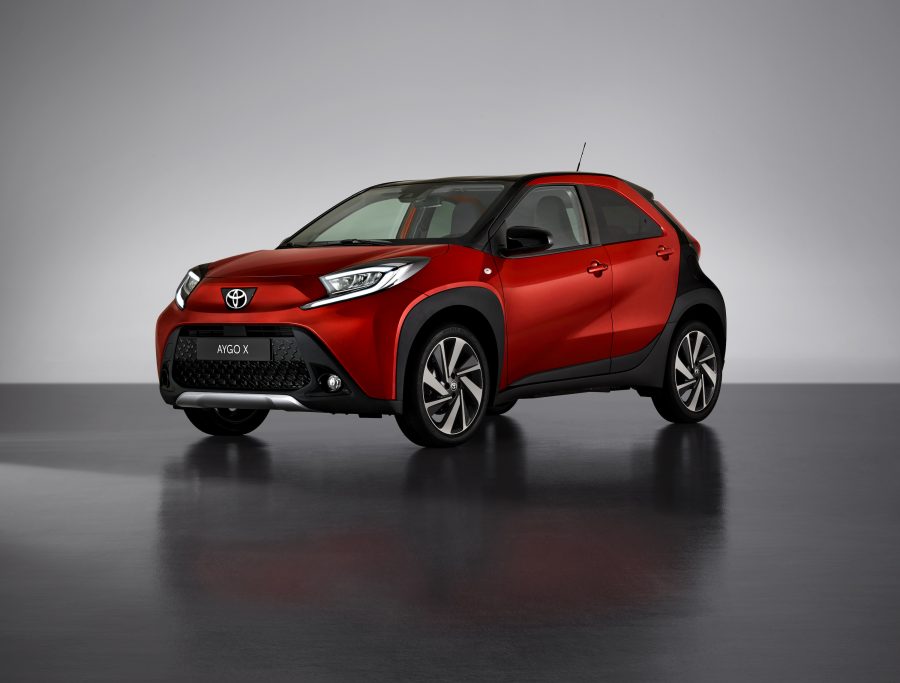 Chilli is a fiery premium colour that catches the eye with a warm and deep colour reflection, thanks to the inclusion of a fine sprinkling of blue metallic flakes in the red paint.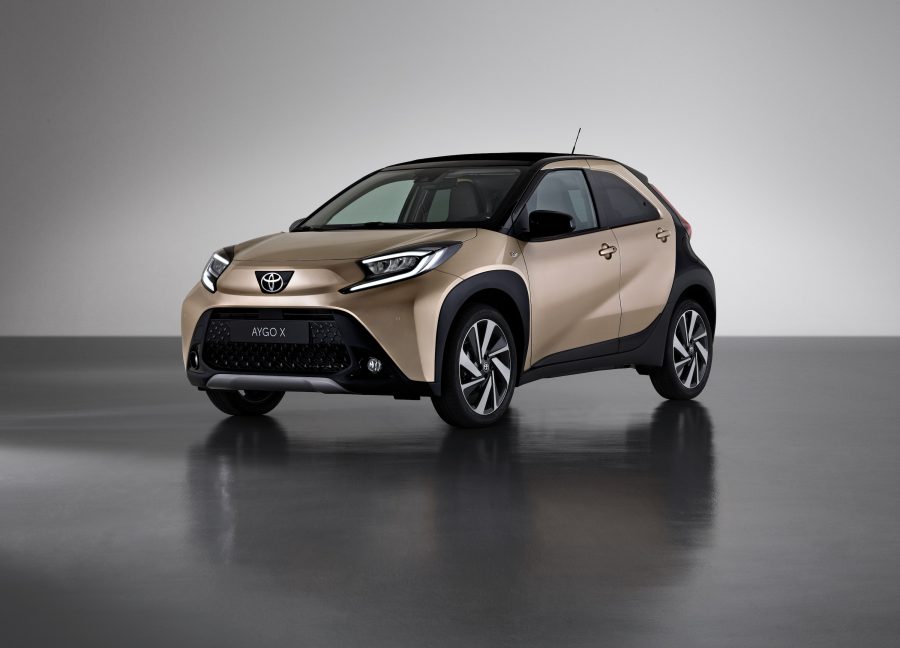 Ginger is a sophisticated and enduring shade that hints at a spirit of adventure and warm complexity in its neutral hue.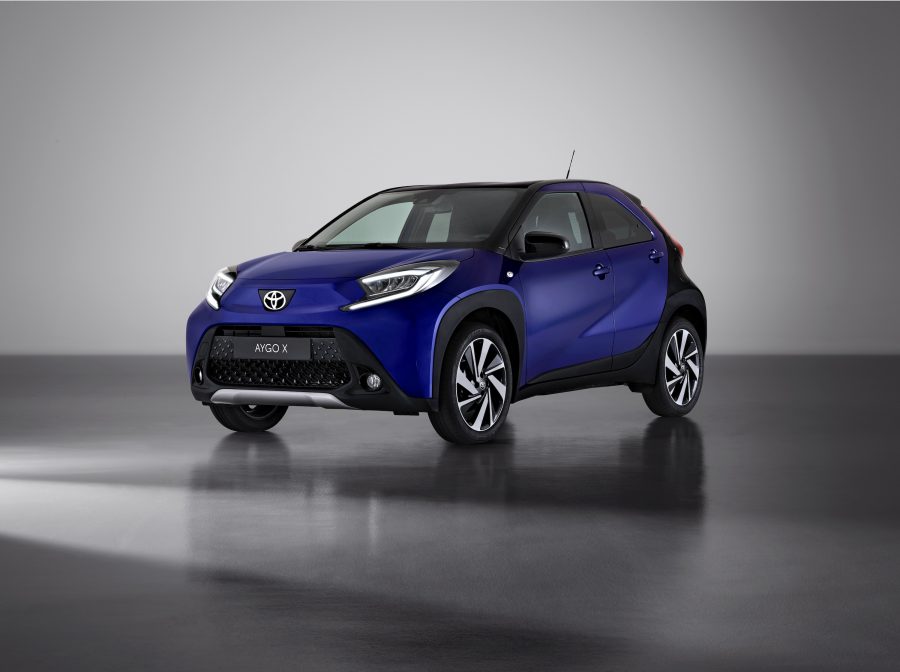 Juniper is youthful with a touch of masculinity; a blue created specifically for the model to give it an icy coolness with subtle reddish undertones.
Each of these powerful spice colours contrasts with the bi-tone black of the roof and rear that makes Aygo X instantly recognisable.
This spice theme is not just skin deep. Interior highlights match the exterior spice colours to give the cockpit a distinctive look, including the dashboard and centre consoles. Close inspection of the seats reveals the "X" symbol discreetly stitched into the fabric. The Aygo X model name is also subtly echoed in the keen-look headlamps, adding to the car's strong and coherent identity.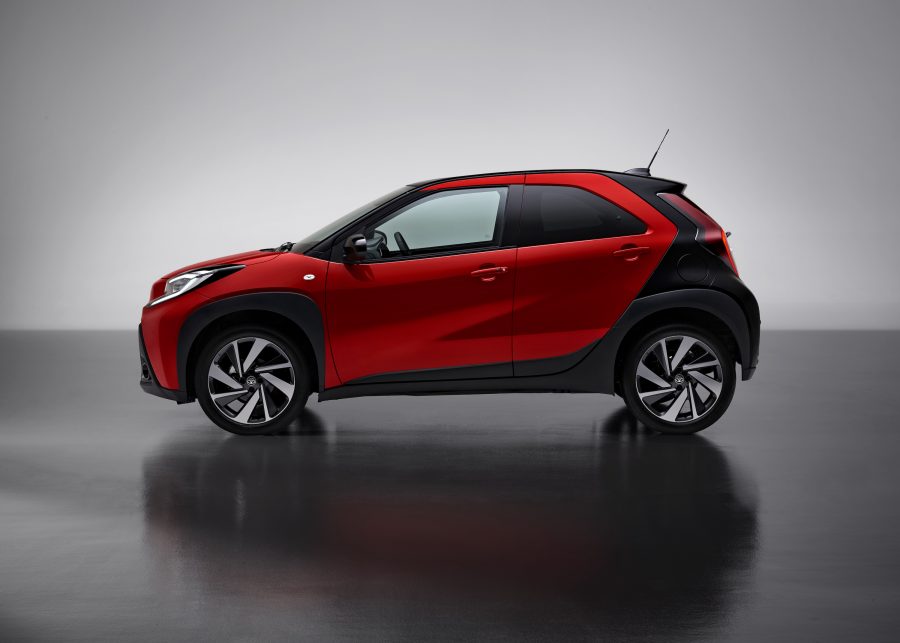 A spicier limited edition Aygo X in Cardamom will be available for the first six months of sales, featuring additional matt orange Mandarina accents throughout the car, including decal stripes on the exterior and detailing on the bespoke 18-inch matt black alloy wheels. The Mandarina theme is also carried through to the interior panels and seat fabric design.
What are the dimensions of the all-new Toyota Aygo X?
At 3,700mm long, Aygo X is 235mm longer than its predecessor, although the wheelbase has been increased by just 90mm. The front overhang is 72mm shorter than the Yaris hatchback, while the maximum wheel size is larger, at 18 inches.
Designed for the narrowest city streets, Aygo X has an exceptionally small turning circle of just 4.7m, one of the tightest in the segment.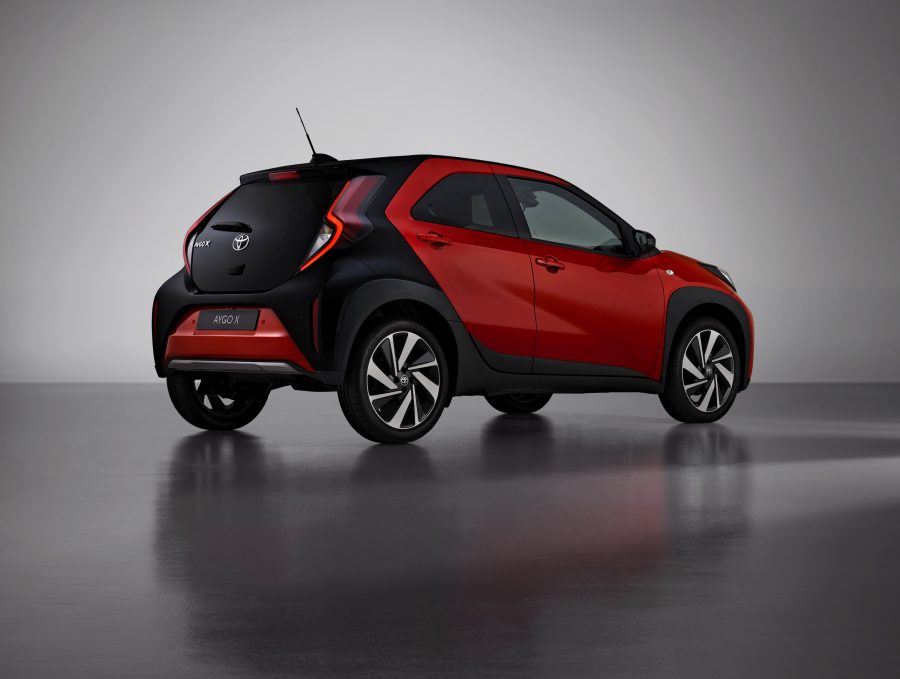 Total body width has increased by 125mm to 1,740mm. As a result, the front seats are set 20mm further apart, increasing shoulder space by 45mm. Luggage space is also segment-leading with 125mm more load space length and a smart space design behind the rear seats, increasing cargo capacity by more than 60 litres to 231 litres.
Furthermore, the pagoda roof design maintains compact overall dimensions, while providing a comfortable, spacious cabin. Vehicle height has been increased by 50mm to 1,525mm.
What will the all-new Toyota Aygo X be like to drive?
Whether going through city traffic or cruising on highways, every driver wants to feel confident, and Aygo X is engineered to deliver this quality.
As a compact high-riding crossover, the car's ground clearance has been increased by 11mm, giving the driver more presence and assurance on the road.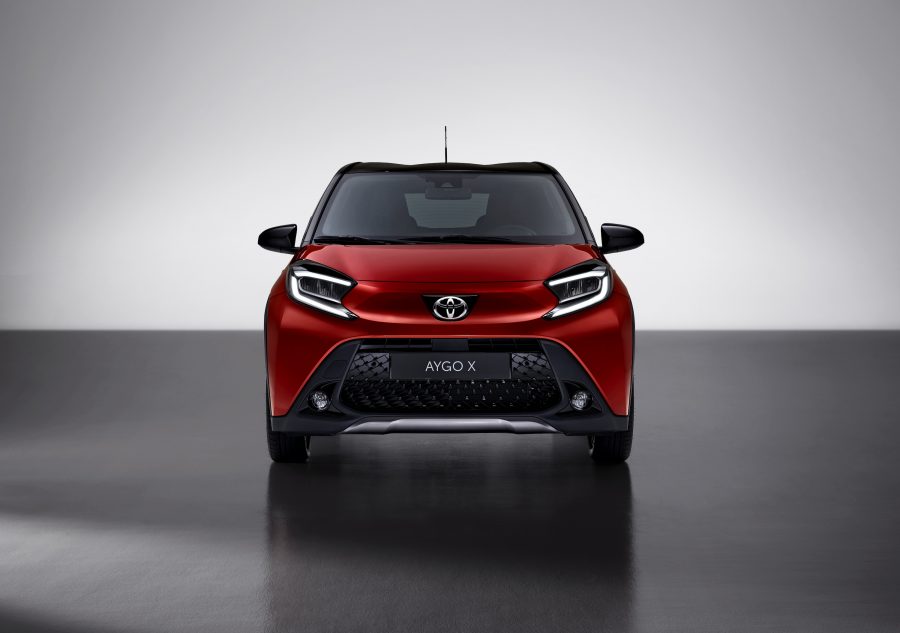 The seating position has been raised by 55mm, giving the driver a better view of other road users, particularly cyclists and pedestrians, and the A-pillar angle has been increased by 10 per cent to 24º for improved visibility.
Larger wheels and tyres, the proven TNGA suspension, improved roll stiffness and lower roll angles all combine to provide exceptional ride comfort and control.
What will the infotainment be like in the Aygo X?
Customers of the all-new Toyota Aygo X will be able to stay connected with their Aygo X via Toyota Smart Connect and MyT smartphone app. Toyota Smart Connect's core features are a nine-inch high-definition touchscreen display, ambient lighting and wireless charging, offering a seamless user experience with the accompanying MyT smartphone app. With the MyT app, customers can keep track of various vehicle data and information, such as driving analytics, fuel levels, warning alerts and a vehicle tracker.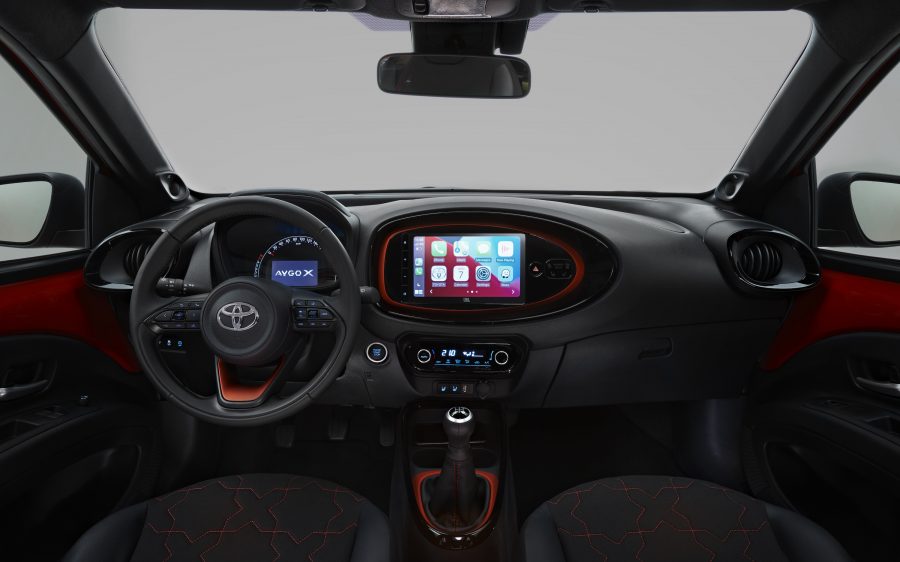 In higher-grade models, Toyota's latest multimedia system offers cloud-based navigation to provide live route information via always-connected services. New software updates and connected services will subsequently be automatically added via over-the-air updates. Toyota Smart Connect also provides wired and wireless smartphone connectivity via Android Auto and Apple CarPlay.
Toyota and JBL collaborated to deliver a premium audio system featuring a sound profile tailored to the car's characteristics. The audio system consists of a four-speaker set-up coupled with a 300W amplifier and a large 200mm subwoofer located in the boot to deliver powerful bass, dynamic speaker response and clear and wide sound stage.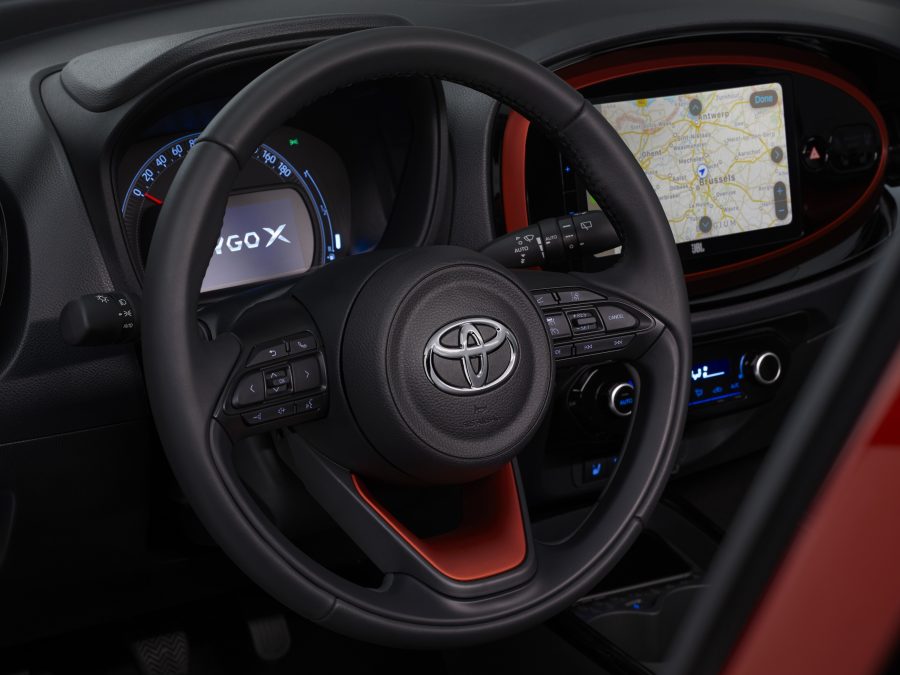 The Aygo X also features an optional retractable canvas top, a first for an A-segment crossover which has been designed to maximise the driving experience, with an opening enlarged by 40mm with a 20 per cent increase in the viewing angle. By using high-quality materials normally found on premium models, the canvas top offers improved water and dust protection. A new wind deflector structure also improves durability and robustness.
The latest Toyota Safety Sense will be standard across all grades of the Aygo X and includes features such as Pre-Collision System (PCS) with vehicle detection, which now operates at higher speeds, PCS's day and night Pedestrian Detection, daytime Cyclist Detection, Collision Mitigation Support functions, Intelligent Adaptive Cruise Control, Lane Trace Assist and Emergency Steering Assist.
How economical is the Aygo X?
The all-new Toyota Aygo X has been designed to maximise economical performance from the ground up. For example, it has the lowest body-in-white weight of any A or B-segment car. Front bumper and wheel arch mouldings serve to improve fuel economy by guiding airflow slightly out from the tyres, reducing turbulence around the front and sides of the car. The rear wheel arch mouldings also guide the airflow, directing it to a convergence point at the rear of the car.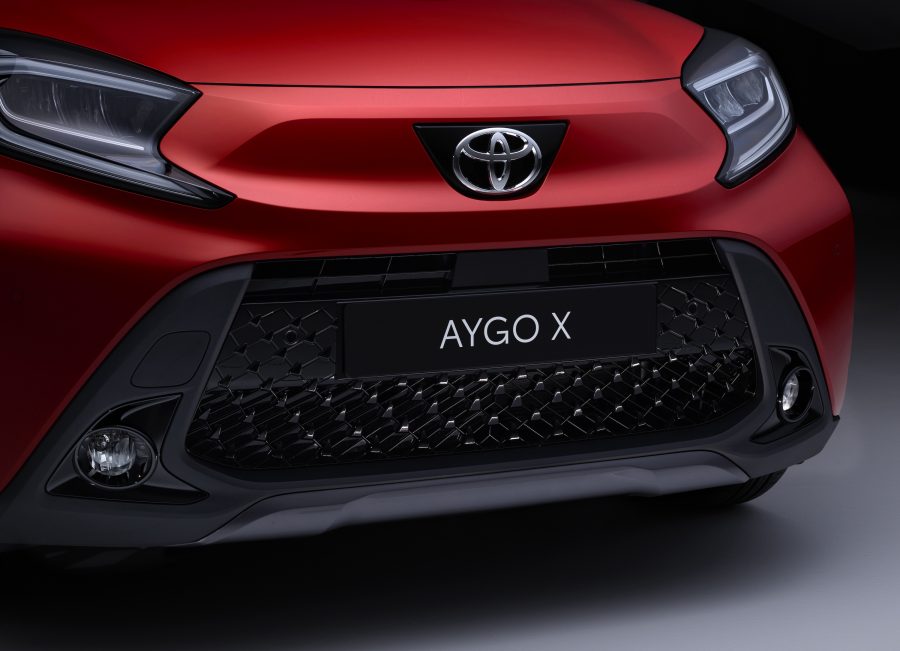 The all-new Toyota Aygo X is powered by Toyota's multi-award winning one-litre, three-cylinder engine. This has been improved to meet the latest European standards while offering high levels of reliability and performance, with targeted fuel consumption of 60mpg with 107g/km of CO2 (with manual transmission).
Technical Specifications
POWERTRAIN
Type
1KR-FE 3-cylinder, in-line
Valve mechanism
12-valve DOHC, chain drive with VVT-i
Fuel system
Electronic fuel injection
Displacement (cc)
998
Bore x stroke (mm)
71 x 84
Compression ratio
11.8:1
Max. power (bhp/DIN hp/kW @ rpm)
71/72/53 @ 6,000
Max. torque (Nm @ rpm)
93 @ 4,400
PERFORMANCE
S-CVT
MT
Max. speed (mph)
94
98
Acceleration 0-62mph (sec)
15.5
15.6
Drag coefficient (Cd)
0.319
0.319
CHASSIS
Front suspension
MacPherson strut
Front anti-roll bar diameter and thickness (mm)
23.6/2.6
Rear suspension
Torsion beam
STEERING
Type
Rack and pinions
Overall ratio
13.4:1
Turns lock-to-lock
2.88
Min. turning circle – tyre (m)
4.7
BRAKES
Front
Ventilated discs
Rear
Drums
WHEELS & TYRES
Wheel sizes
17 or 18in
Tyre sizes
175/65R17 or 175/60R18
EXTERIOR DIMENSIONS
Overall length (mm)
3,700
Overall width (mm)
1,740
Overall height (mm)
1,525
Front track (mm)
1,540
Rear track (mm)
1,520
Wheelbase (mm)
2,430
Front overhang (mm)
730
Rear overhang (mm)
540
LOAD CAPACITY
Capacity, including beneath deck board, loaded to tonneau cover (l, VDA)
231
Capacity, including beneath deck board, loaded to roof (l, VDA)
269
Capacity, rear seats down, loaded to roof (l, VDA)
829
WEIGHT
Kerb weight, min. – max. (kg
940-1,015
Gross vehicle weight )kg)
1,360
All specifications are subject to official homologation and will be confirmed at the time of launch.
All information in this article was correct at the time of publishing.