Why settle for just one 2023 Toyota Corolla review when we have collected all of the UK motoring publications reviews into one handy place? Among many other changes, the new Corolla debuts the fifth generation of our world-leading, full hybrid petrol-electric powertrain. Members of the national motoring press were recently invited to test full-production models on UK roads. What did they think of this thoroughly refreshed model?
Below is a selection of excerpts from their first-drive reviews, which include a numerical rating where applicable. To read the full online reports, click on the emboldened links.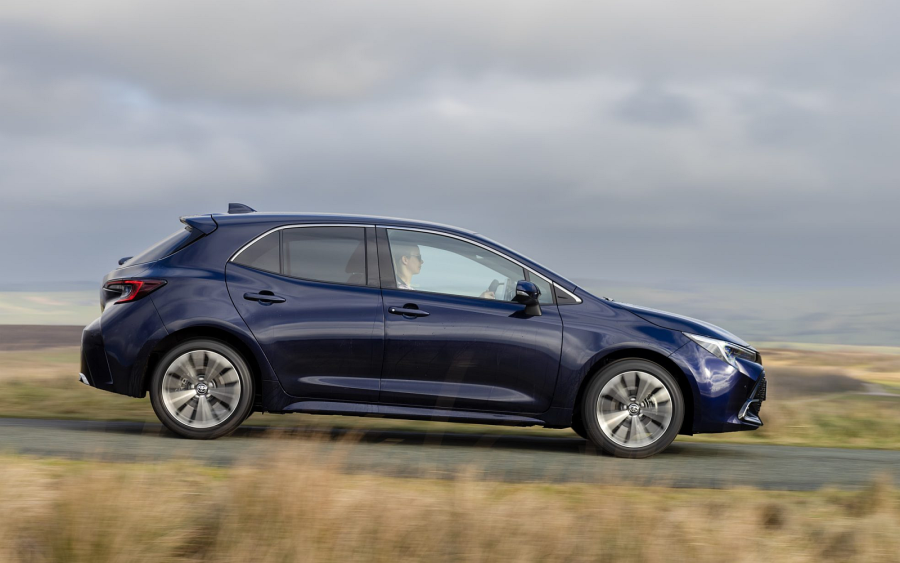 2023 Toyota Corolla review:
"The Toyota Corolla could be the answer for family car buyers who don't want a diesel, find petrol cars too inefficient and are not ready to switch to an electric vehicle.
"[It's] a fine handling car. The steering is precise and its weight builds in a progressive manner, starting light for city driving and ending up with a heft that's reassuring. There's even a reasonable amount of feedback streaming to your fingertips… [and] a decent feeling of composure at faster speeds.
"The Toyota Corolla is a brilliant family car. It's comfortable, well made, well equipped and remarkably frugal in real-world driving."

What Car?
"The Toyota Corolla makes plenty of sense as a private buy… [and] makes lots of sense for company car drivers paying benefit in kind (BIK) tax, too. You can't argue with the Corolla's fuel economy. Efficiency is particularly impressive around town, so if that's where you spend most of your time, you might get even more miles to the gallon."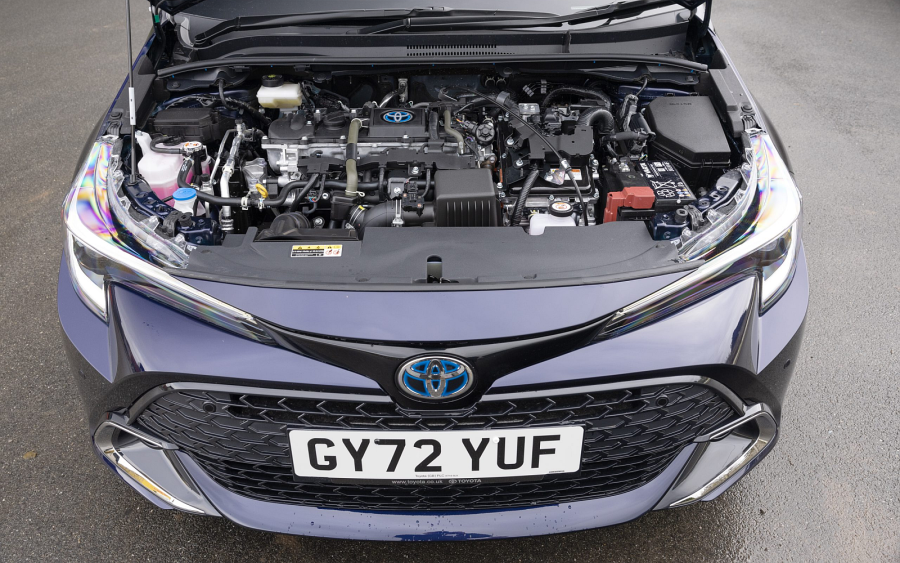 "The Corolla has a pleasing sense of no-nonsense functionality about it, while the refinement of the hybrid system and the emphasis on ride comfort rather than supposedly sporty handling helps keep you relaxed. Which isn't to say it's dull to drive, the steering is actually very positive while the low-slung hatchback stance is more comfortable than many high-riding SUVs or crossovers.
"The Corolla's hybrid system puts it midway in cost terms between regular petrol and diesel hatchbacks and plug-in hybrids"

Auto Trader
"Where previously we'd have said the 1.8 was a little on the underpowered side it now feels to have more get-up-and-go, with a more obvious electrified boost on acceleration and seamless ability to switch between this and the petrol engine as required.
"It's a more stylish and sharper handling car these days… and British buyers can take pride in the fact it's built here in the UK to such seemingly high standards. The latest version is also faster and more efficient than before, thanks to significant upgrades to the signature hybrid system at the Corolla's heart. [That] system is tried and tested, a lot cheaper upfront than PHEV equivalents and saves faff for those who don't have the facility to charge at home. Improved on-board technology and driver assistance systems also help the Corolla stay competitive."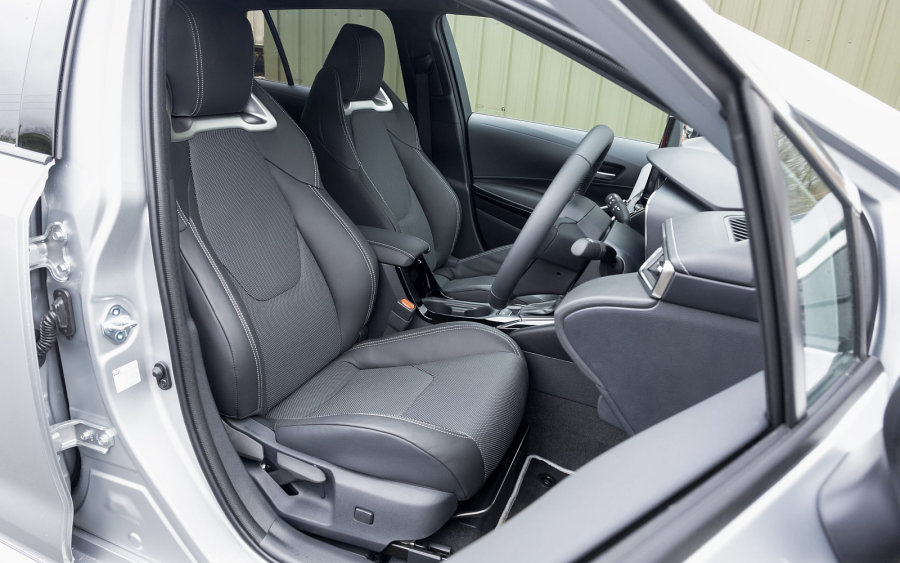 "Toyota's updates are very much worthwhile. Firstly, the electric side of the powertrain has been reviewed, with the old battery replaced by a redesigned, lighter lithium-ion unit that's more energy dense. It supplies an electric motor that offers more torque, while the hybrid transaxle gearbox is also lighter.
"The result is a new fifth-generation hybrid powertrain that produces a combined 138bhp, resulting in a 1.7-second reduction in the 0-62mph time, down to 9.2 seconds. Despite the boost in performance, there's no change to CO2 emissions, while fuel economy is a claimed 61.4mpg for this Design model.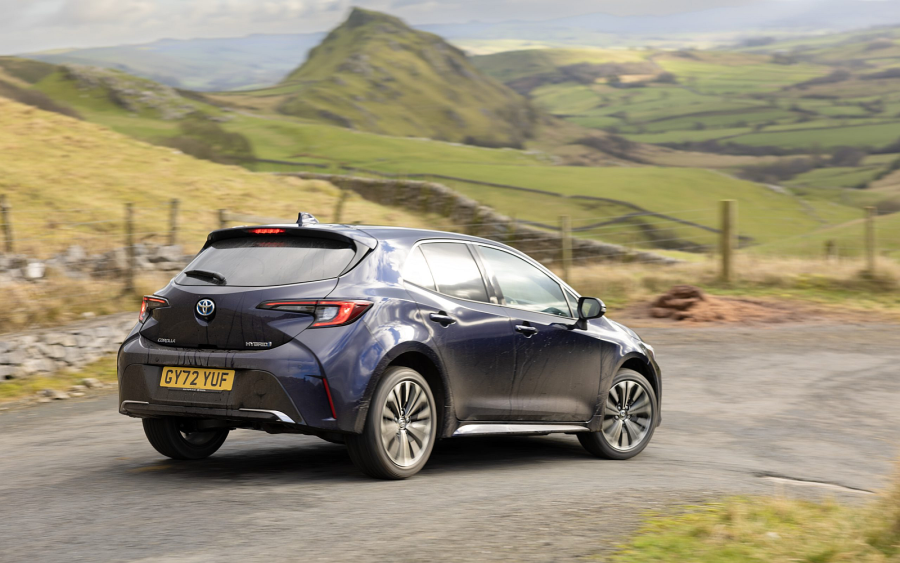 "Toyota claims that up to 80% of trips can be completed on electric power alone, and we can well believe this if your routes are mostly in and around town. Even on our mixed test route, which took in more B-roads and some dual carriageways, the average was still more than 65% per cent, which is a strong performance.
"It's a more extensive change than it might look, with a big shift in the battery tech… as well as to the infotainment."

Auto Express
"On the move, the car rides and handles as well as it ever has. It's fluid and comfortable, [and] rarely short of control. The steering is precise and a great weight… turning into corners well and providing reassuring grip. Despite its hybrid powertrain and CVT automatic gearbox, it's much sportier than you might think.
"It's also more refined. Tweaks to the powertrain calibration mean throttle response is much more direct. It gives a better connection to the car, and while it's not fast, acceleration is brisk enough. However the biggest benefit is the quieter cruising.
"The infotainment is a step on as well. The new system is more responsive, offers a higher resolution, and the menus are much simpler to navigate than with the set-up in the previous Corolla."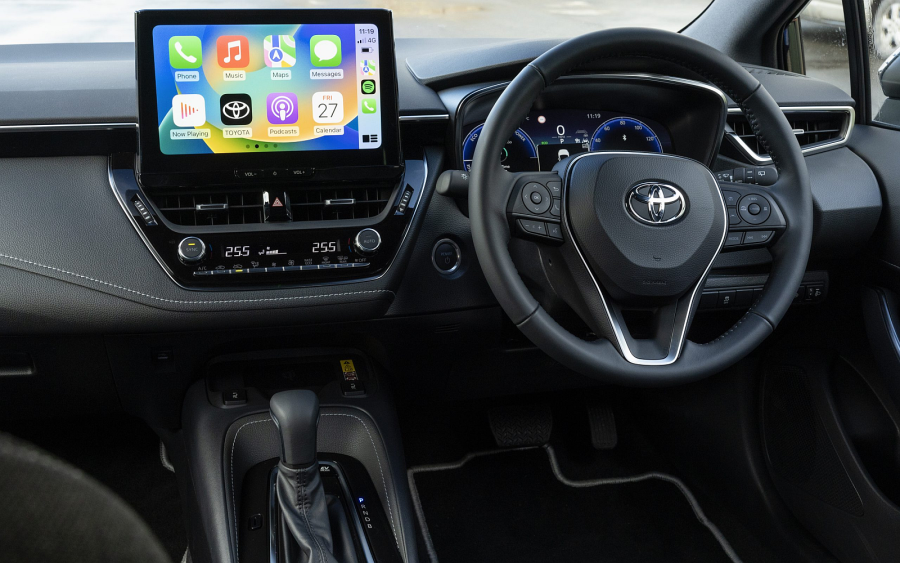 "Inside, the new combination of a 10.5-inch central screen and a highly configurable 12.3-inch 'combimeter' moves the Corolla close to the top of the class, especially now there are knobs for most-used functions.
"Closer examination of the powertrain's minutiae shows why Toyota labels the new Corolla's set-up as a fifth generation: the control unit is new, there's a smaller and more powerful battery, the transaxle motor is redesigned to save 16-18kg depending on version and the whole motor-transaxle unit is more compact.
"Toyota integrity is present in spades, but also the Corolla is more of a driver's car than before."

Autocar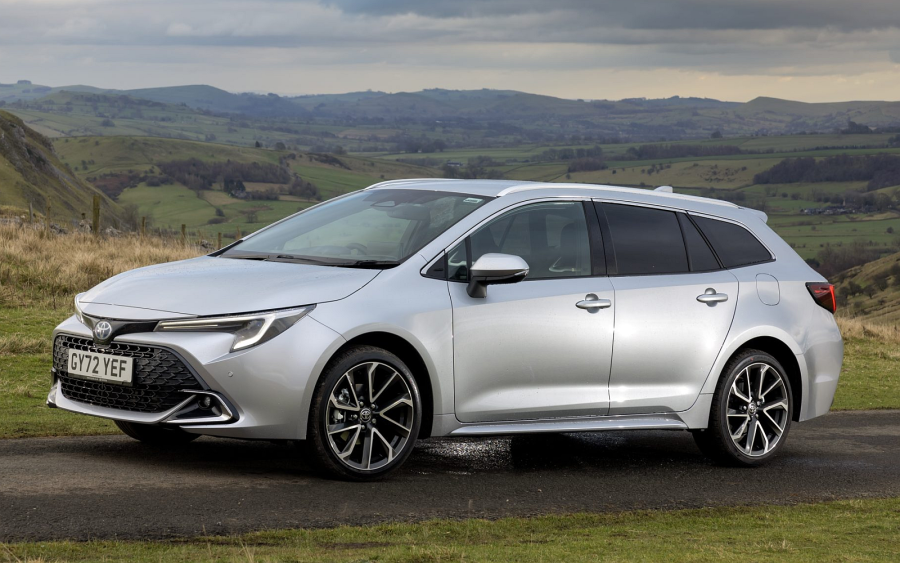 "Our 1.8 Design test car has the familiar Corolla demeanour: a quiet power delivery and a supple suspension that's quiet over bumps yet keeps a nice degree of body control just the same. The steering is light and accurate, tightening pleasantly in the most sporting driving mode. Cornering grip is dependable and plentiful, with a neutral stance that tends towards understeer near the limit.
"What's different, as promised, is the accelerator response. The feeling of disconnection between engine and progress is much reduced… although it will still rev pretty high (but smoothly) when pressed hard. At that stage, performance feels impressively strong."
2023 Toyota Corolla review: video review
Learn more: 2023 Toyota Corolla – your questions answered