Our Toyota Prius Plug-in set London's Bedford Square aglow this week, powering an array of twinkling lights as part of Camden's countdown to Christmas.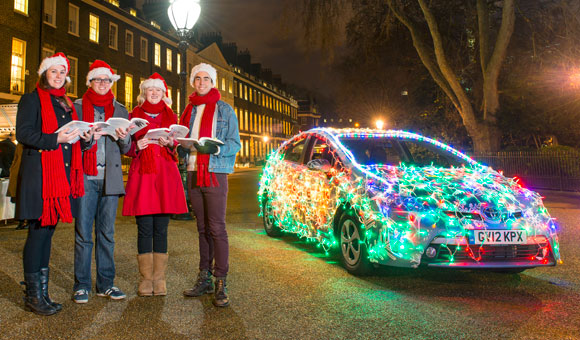 The petrol electric plug-in hybrid was making its debut as part of the borough's Cleaner Air for London Businesses project.
This gives local businesses the chance to try out the latest electric vehicles, demonstrate the benefits of low and zero-emissions transport and dispel some of the common myths and preconceptions associated with the technology. The Toyota– and other electric vehicles – is being offered for two-week test drives, free of charge. Details of the scheme can be found at www.camden.gov.uk/vt.
There is a serious health message attached to the event: studies by the Mayor of London's office report that more than 5,000 deaths a year in the capital are related to emissions such as diesel particulates and NOx, which can also cause asthma. In city centre traffic, where pollution levels are densest, Prius Plug-in can be driven in EV all-electric mode, producing zero tailpipe emissions.
Decked out in a seasonal snowflake livery, the Prius Plug-in was able to create the seasonal display using power from its hybrid system's lithium-ion battery pack, with no emissions to cloud the occasion.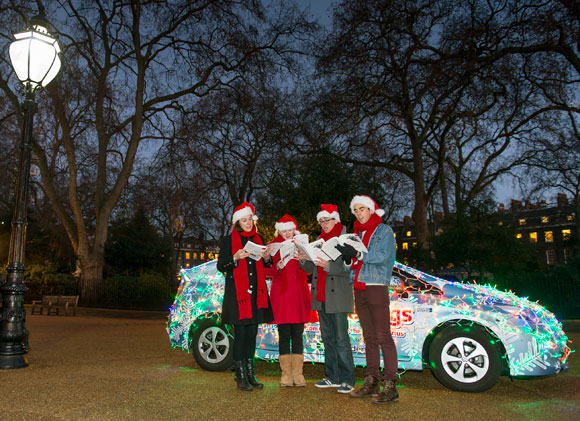 The festive fun included carols from the Trinity Laban Choir and a refreshment van, also provided by Toyota, serving free hot drinks and mince pies.
Of course a Prius Plug-in is not just for Christmas, the benefits of its advanced plug-in petrol-electric hybrid system can be enjoyed all-year round. Thanks to its light, compact but powerful lithium-ion battery, it can be driven for more than 14 miles on electric power alone, with zero tailpipe emissions.
Unlike all-electric vehicles, once battery charge is depleted, the car switches automatically and seamlessly to its hybrid powertrain, with a 1.8-litre petrol engine. This means drivers need never suffer "range anxiety" about whether their vehicle has sufficient power to get them to their destination. In EV format Prius Plug-in produces no particulates or NOx and has official CO2 emissions of 49g/km and 134.5mpg combined cycle fuel consumption.