Every year, the Company Car in Action show brings car makers together with the managers of some of the country's largest company car fleets. The show has evolved to reflect the increasing need for more efficient, greener cars, and this year focused its efforts on a major environmental initiative.
With this in mind, I went along to see exactly what the market has to offer company car drivers, and to see how well the Prius – with its class-leading emissions and efficiency – was received. Aside from the sheer unadulterated fun of some high-speed laps and the chance to compare the latest high-spec gadgetry, it was good to get an idea of which cars were affordable, without comprising on performance and the environment.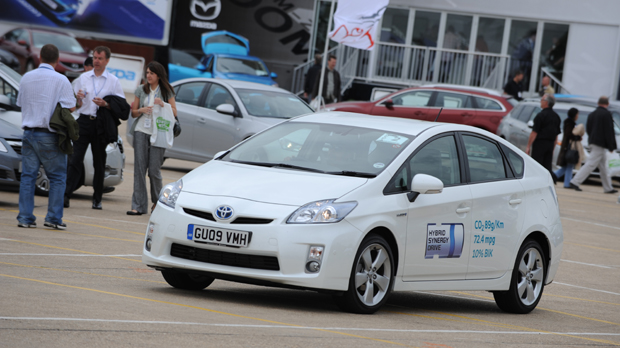 Company Car in Action certainly lived up to my expectations – Toyota, Lexus, BMW, Citroen, Chevrolet, Ford, Honda, KIA, Mazda, Mini, Peugeot and Vauxhall were all there to highlight the very best they had to offer. All the manufacturers were showcasing vehicles that could offer the most favourable Benefit in Kind (BIK) and the best fuel economy, but there were also some highly-equipped models and some great driver's cars. The best combined them all, of course.
Hybrid cars created a big buzz at the event, and it became apparent pretty early on in the day that Toyota's Next Prius and the Lexus RX450h were gaining a lot of interest. Lexus were all booked up from about 10am – the lure of the RX450h's 14% BIK, congestion charge exemption and excellent fuel economy proving strong. The drive qualities didn't leave drivers disappointed, either.
The Toyota Prius was the next most prominent vehicle on the track, and had sparked a lot of interest from its recent appearances and tour around the UK. The Next Prius has the lowest CO2 at the show (only 89g/km) which means no road tax to pay and 100% write-down in the first year, coupled with 10% BIK. Its Hybrid Synergy Drive helps it eke an impressive 72.4 miles from every gallon of petrol!
The Prius' new head up display (HUD) definitely won my vote for the gadget of the day. Even in the brightest sun, little blue numbers on the windscreen show just how fast you are going – and with HUD standard on all new Prius models you just can't speed without knowing it! Depending on the mode you can also view the car's eco display – helping you drive for economy – and on T Spirit cars you can even see directions from the sat-nav without taking your eyes off the road.
All-in-all I found the event hugely enjoyable and interesting, and came away feeling impressed by the advance of hybrid technology. I'm keen to explore it further.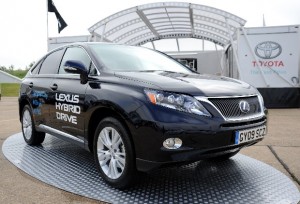 Were you at the event? Let us know what you thought!
Click here to see how Toyota's range compares to other manufacturers'.