The environmental spotlight is being shone on motoring more brightly than ever, so all car makers have been striving to make their vehicles cleaner and more efficient to meet increasingly stringent CO2 emission targets. Toyota has for a long time long led the way in the field of more sustainable motoring, with groundbreaking models such as the Prius self-charging hybrid and the fuel cell-powered Mirai. In modern times, however, we have terms such as PHEV, BEV, FCEV and HEV to understand.
However, the growing number of technological solutions to the problems of pollution and climate change mean the automotive landscape is becoming confusing. There are now several different types of hybrid vehicle alone, along with electric cars that need recharging via a plug and those that generate their own on-board electricity supply.
Toyota doesn't currently have an example of every available powertrain in its line-up (you can read more about our long-term philosophy by clicking here) but in this article we explain what the different main options are across the industry, with explanations of PHEV, BEV, FCEV and HEV technology.
What is a mild hybrid vehicle?
The term 'mild hybrid' is a relatively new addition to the powertrain lexicon but it's becoming increasingly commonplace.
A mild hybrid uses an electric motor, which is powered by a small battery, to provide assistance to the petrol or diesel engine. Unlike a self-charging or plug-in hybrid (see below), a mild hybrid can't run on electric power alone. Instead, the electric motor plays a supporting role to the conventional petrol or diesel engine, providing extra power when required, particularly under acceleration, to ensure smooth progress. This helps to make the powertrain more efficient overall, which improves fuel economy and reduces CO2 emissions.
The electric motor is also used to restart the engine and makes for smoother operation during stop-start running in heavy traffic. The motor's battery is recharged via a system called regenerative braking, which takes energy from the wheels and uses it to power the generator. This both slows the car down and produces electricity, which is stored for later use.
A mild hybrid car is perhaps closest to a conventional petrol- or diesel-engined car both in terms of its technology and how it feels to drive. They tend to be cheaper than the more complex self-charging and plug-in hybrids, but they offer limited efficiency gains over a regular petrol or diesel engine.
What is a hybrid vehicle or HEV?
Full (or self-charging) hybrids use a conventional petrol engine and an electric motor which can work independently of each other or together to provide the most efficient method of propulsion depending on the circumstances.
The battery that powers the electric motor is charged both by the petrol engine and a process called regenerative braking, so a self-charging hybrid never needs to be plugged in. Toyota's range of self-charging hybrid models includes the Yaris, Corolla, Toyota C-HR, RAV4 and, of course, the Prius.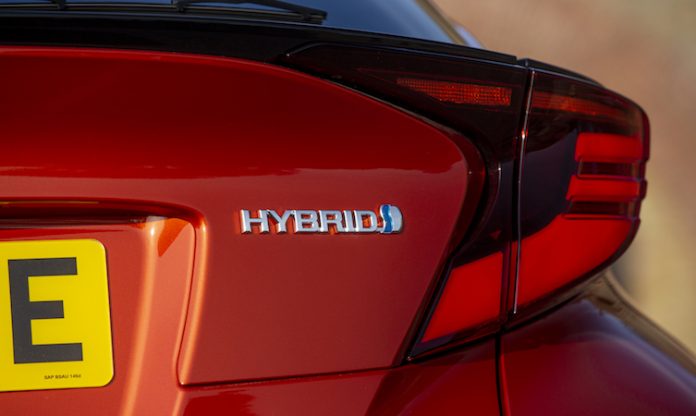 When pulling away from a stop and when travelling at low speeds around town, the electric motor powers the car. This is what makes self-charging hybrids so efficient: getting a heavy car moving is very energy-intensive, so using electricity rather than petrol saves a lot of fuel.
The petrol engine takes over once cruising, at which point it is able to operate most efficiently. While cruising the engine can also power the generator, which produces electricity for the electric motor to use later.
PHEV, BEV, FCEV: Discover the Toyota Hybrid Range
If you want to accelerate quickly, then both the engine and electric motor work together to provide increased power to the wheels. At the same time the petrol engine powers the generator and the electric motor uses electricity from the battery as required.
In many Toyota hybrids, electricity is also produced via regenerative braking when you brake or you take your foot off the accelerator.
PHEV, BEV, FCEV: Toyota hybrid: how does it work?
While all that might sound complicated, Toyota's self-charging hybrids switch seamlessly between power sources and require little to no involvement from the driver to be at their most efficient. Toyota's hybrid models are all equipped with automatic transmissions, a simple two-pedal driving arrangement and are very smooth and quiet in operation.
What is a plug-in hybrid or PHEV?
The plug-in hybrid electric vehicle, or PHEV, takes the concept of the self-charging hybrid a step further. Like a self-charging hybrid, a PHEV has an electric motor and a conventional petrol engine which can work independently of each other or together.
However, a PHEV, such as the Toyota Prius Plug-in and the imminent RAV4 Plug-in, has a larger battery which allows for extended electric-only running at higher speeds – in excess of 30 miles under certain conditions. For many drivers this means shopping trips or commutes can be entirely emission-free, with the petrol engine only being used for longer trips, either in tandem with the electric motor or on its own.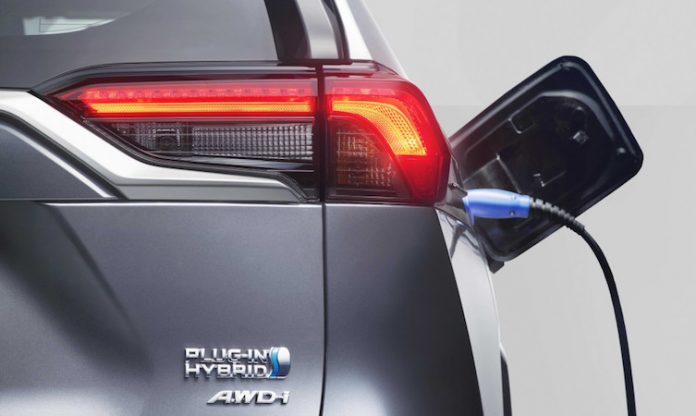 Plug-in hybrids often have switchable driving modes which allow the driver to choose between power sources. For example, the car can be driven on the petrol engine alone in order to conserve the battery for later emission-free running in a built-up area. This means plug-in hybrids could offer an ideal solution to some drivers, although their more complex technology means they can be more expensive to buy than mild and self-charging hybrids.
The increased battery capacity of a PHEV means it can't be recharged by the engine and regenerative braking alone, as is the case with a self-charging hybrid. Instead, it needs to be plugged in to a dedicated charger or the mains supply in order to fully recharge.
What is a battery electric vehicle or BEV?
A battery electric vehicle, or BEV, runs on battery power alone. You may have heard the term electric vehicle (EV), pure electric, fully electric, pure-EV or simply 'electric car', but they all mean the same thing: a car with no conventional petrol or diesel engine and which instead uses an electric motor, or motors, powered by a large battery pack, which in turn is recharged via a dedicated charging point or the domestic mains supply.
BEVs are quiet, smooth and easy to drive. They are also cheap to run, especially if you can recharge at home or at work, and they produce no harmful pollutants and no damaging greenhouse gases – although the overall environmental impact does depend on the 'cleanliness' of the electricity supply used to charge it.
BEVs can be more expensive to buy than equivalent petrol or hybrid cars, although prices are coming down. Charging could also be an issue for some users, depending on the availability of charging points either at home, at work or during longer journeys. Recharging times and so-called 'range anxiety' can be a concern, too, although the real-world ranges of many BEVs are now well in excess of 200 miles.
Pure-electric Toyotas are on the horizon. As part of the Toyota Environmental Challenge 2050, a roll-out of BEVs is scheduled to begin in the next few years.
What is a fuel cell electric vehicle or FCEV?
A fuel cell electric vehicle, or FCEV, is a fully electric car that generates its own electricity supply to provide power to its motor. Instead of plugging the car into an electricity supply to recharge a large battery pack, an FCEV use oxygen from the air and hydrogen from an on-board storage tank to create electricity in a device called a fuel cell.
Like a BEV, an FCEV is classed as a zero-emission vehicle, or ZEV – the only waste product from the FCEV's exhaust is water. The vehicle needs to be refilled with hydrogen every few hundred miles, but in every other respect an FCEV is just like a BEV to drive.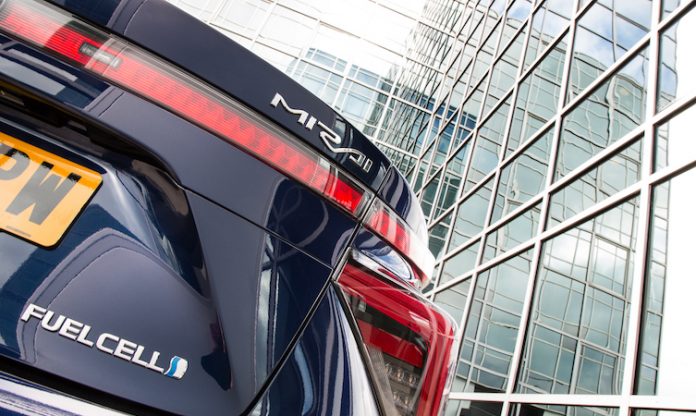 Toyota has been a pioneer of FCEV technology and the Mirai is one of the few FCEVs currently available to buy. FCEVs have taken a back seat to hybrids, PHEVs and BEVs in recent years and for now the technology is expensive to buy and the hydrogen refueling network is in its infancy.
Read more How do fuel cell vehicles work?
Despite this, Toyota firmly believes FCEVs have a key role to play in the future automotive landscape. Click here to read more about Toyota's future vision for powertrain technology.
Has our guide to PHEV, BEV, FCEV and HEV technology helped you? If you have any further questions, please let us know in the comments below.
By Tim Dickson, motoring journalist and eco-driving specialist