Is hydrogen a safe fuel for a car? Put simply, yes.
All Toyota cars have to meet very exacting safety specifications, and the hydrogen-powered Toyota Mirai is no exception. Over the last decade, hundreds of Mirai test cars have been thoroughly road tested, crash tested and safety tested. They have racked up millions of miles of driving over all sorts of demanding terrain – from cold northern Finland and the heat of southern Spain. Their hydrogen fuel tanks have even been shot at with high-velocity weapons.
The result? Mirai has passed all the tests with flying colours. It's as safe as any Toyota vehicle. The fact it's powered by hydrogen has no effect on its inherent safety.
Read on to learn more about how Toyota has ensured safety is central to the Mirai hydrogen fuel cell vehicle.
Toyota Mirai fuel tanks and safety sensors
The hydrogen that powers Mirai is stored in two compact, lightweight tanks. Toyota engineers have been working on the tanks' design since 2000, continually improving them so they meet high standards of strength and safety.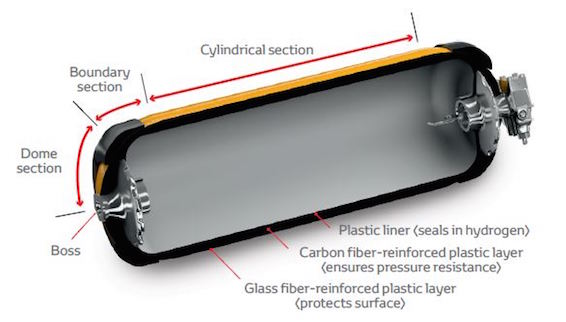 This strength is derived from the carbon fibre shell, which is surrounded by a glass fibre layer. If a Mirai were involved in an accident, any resulting damage would be easily visible on the glass fibre, and tests could be carried out to see if the carbon fibre shell was also compromised.
The tanks are lined with plastic to seal in the hydrogen, and they are designed to withstand up to 225 per cent of their normal operating pressure – a comfortable safety margin.
It is extremely unlikely that the Mirai's tanks could leak, but in order to address all eventualities, there are further safety measures to protect against this occurring. Sensors that can detect traces of hydrogen are placed strategically around the tanks, and if a leak is detected, they will shut the safety valves and turn off the car itself.
As a third layer of safety, the cabin is separated from the hydrogen compartment. If any leak were to occur, hydrogen would disperse into the atmosphere and not the car's interior.

Toyota Mirai refuelling
Refuelling a Toyota Mirai is slightly different to a petrol or diesel car, by virtue of it running on hydrogen. Toyota recognises the importance of safety during the refuelling process as a person's actions could lead to an unsafe scenario, so a number of safety precautions have been put in place.
Firstly, the nozzle at the end of the hydrogen dispenser's flexible hose contains a mechanical lock to ensure a perfect connection with the Mirai's filling inlet. If this lock does not click into place securely, filling will not be possible.
Secondly, a pressure impulse senses any leakage between the filling system and the car. If a leak is detected, refuelling is aborted.
Thirdly, the rate of filling is carefully regulated, to avoid overheating. Temperature sensors in the car's hydrogen tanks, the nozzle and the pump communicate with each other by infrared to control the rate of flow so that any temperature rise is not excessive.
The international standards SAE J2601, SAE J2799 and ISO 17268 set out safety requirements for hydrogen gas dispensers. These criteria mandate maximum fuel temperature at the dispenser nozzle, the maximum fuel flow rate and the maximum rate of pressure increase.
Driving off in a Mirai while the fuel nozzle is attached is not possible thanks to two safety features. The car's ignition is disconnected until you have replaced the nozzle in the holster and closed the car's fuel cap. The dispenser pump is also locked if the fuelling hose is pulled too hard.

Toyota Mirai: about hydrogen gas
Using the lightest element in the universe has its benefits. Hydrogen gas is 14 times lighter than air, and quickly disperses in air (or any other gas). So in the unlikely event of a leak occurring in a Mirai, the hydrogen will rise into the atmosphere.
Finally, the Mirai's tanks have a pressure relief device that releases the hydrogen gradually in case the temperature rises abnormally.
In summary, hydrogen is as safe as any other fuel used in a car. It's been used as an energy carrier for decades, and there is a vast amount of cumulative know-how and experience within Toyota about how to handle it safely.
Better yet, it's a carbon-free energy source that can be produced from many renewable resources and emits no gases or particulates when used as a fuel – no wonder that 'mirai' is the Japanese word for 'future'.
Find out more and see the latest Toyota Mirai news here.