Deep in a Shropshire woodland two bright yellow leviathans chug slowly around in the mud. Each has six wheels fitted with colossal moon-buggy-type tyres. To help it claw its way through the mix of primordial slime, vegetation and sawdust, one of the machines has chains fitted to a pair of its wheels – the sort of chains Brunel would have been proud of. These go-anywhere 'forwarder' and 'harvester' machines are owned by 58-year-old forestry contractor Karl Eaves.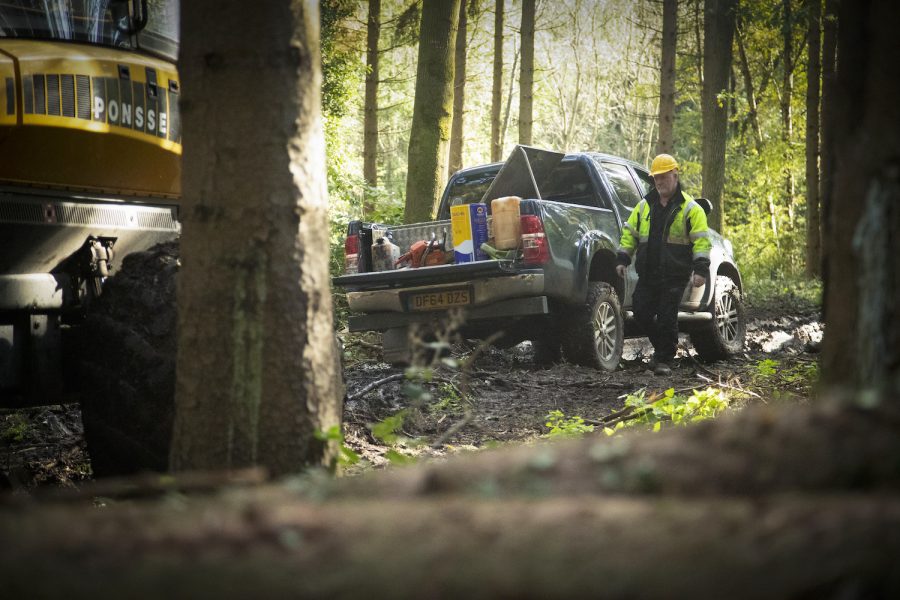 He began working in Nant Climbers wood – a 100-acre conifer plantation on the Welsh border, near Ellesmere in 2006. Specialising in 'continuous cover forestry' his mission is to slowly convert the woodland from the single-species Norway Spruce planted in the 1960s by the Forestry Commission, into a multi-species conifer and deciduous wood. He plants more trees than he fells and uses his heavy machinery to continuously thin out the trees, selling the timber to shed, decking and fencing companies.
But with the site inaccessible to all but the toughest heavyweight off-road machines, Karl faces a daily challenge – he needs to transport chainsaws, fuel and heavy tools out to where his tree clearing machines are working. For Karl, there's only one vehicle suited to this job – a Toyota Hilux.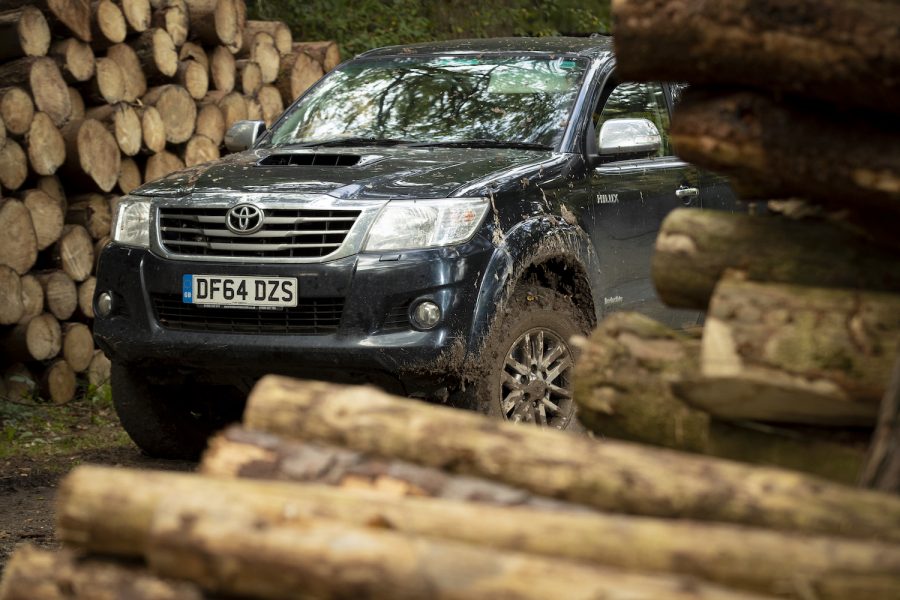 He bought his first, a 2.4 diesel 20 years ago when he ran a landscaping business. "It's the obvious vehicle for the job. I'm on my third now and nothing has ever gone wrong with any of them. Nothing.
"Back then they were one of the only pickups to have an auto gearbox. I have a bad left knee so I always drive an automatic. In conditions like this, I need a controllable strong four-wheel-drive system with a diff-lock" Explained Karl.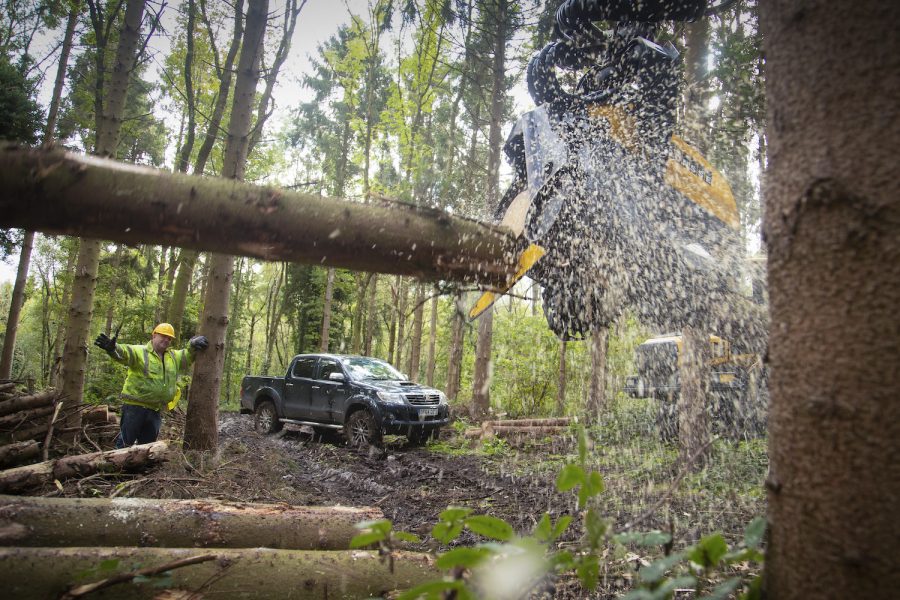 He bought his latest Hilux, a 2014 3-litre double-cab Invincible, in 2017. It is fitted with off-road tyres, a bash plate and 40mm higher suspension to cope with the extremes of the rutted woodland.
"They are good for going long distances too. One minute I can be in the woods, the next on my way to a job on an estate in Wales or off to Scotland to collect a machine part. They're comfortable too – they need to be – I do about twenty-thousand miles a year.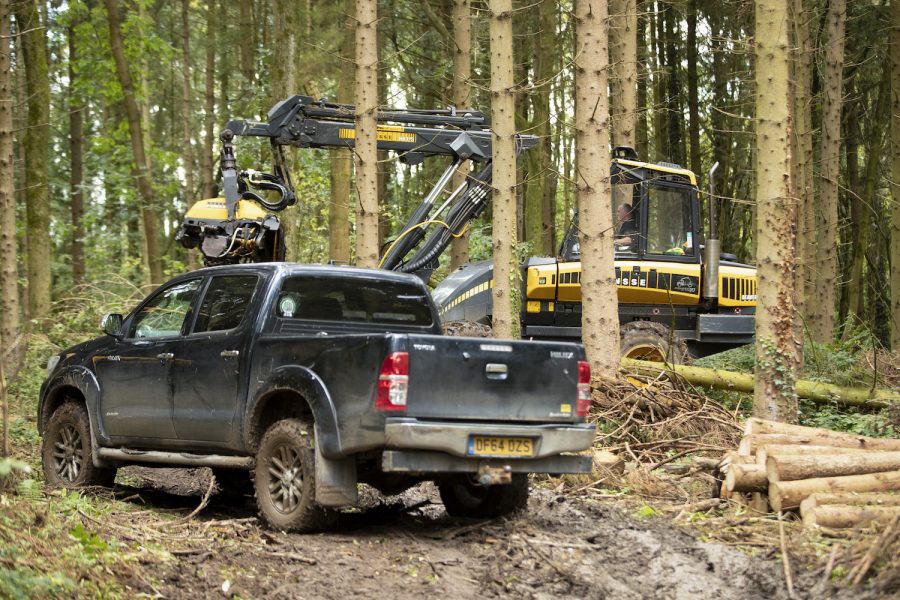 "The dealerships are good, they're easy to deal with, and the back-up service is great. I can go in wearing my scruffy work gear without feeling embarrassed", he added.
Karl also owns a 2006 Toyota Land Cruiser. "That's my personal car – it's too nice to bring into the woods and get muddy", he laughed.
Like countless other plantations once owned by the Forestry Commission across the UK, this woodland was only planted with Norway Spruce. "I'm gradually introducing a mix of conifer varieties including Larch, Western hemlock, and Douglas fir. It's likely they'll all be used for timber one day.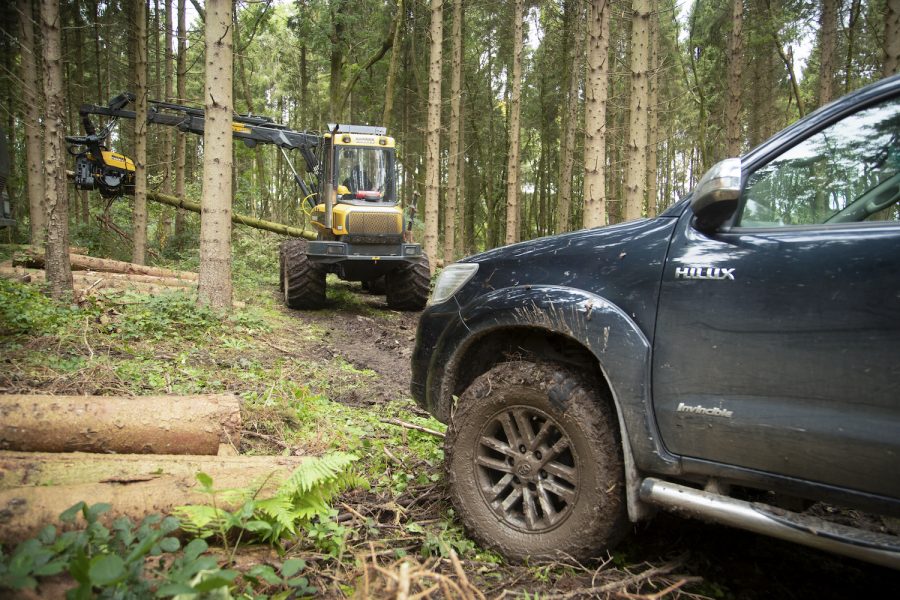 "I'm reverting the outskirts of the wood to a traditional mix. This diversity will help wildlife and birds. The constant thinning out of the woodland lets light in for the new trees, just as it would naturally – woods grow, and trees fall down. I'm just speeding up Mother Nature.
"About five years ago I even planted some Redwoods. They'll be a good size in about twenty years – some of the ones in America are thousands of years old. It'll be many years after I'm gone before they'll be big enough to be harvested. But you never know, my Hilux may still be knocking around!?" laughed Karl.