Just as the Toyota Prius Plug-in works most efficiently after its high-voltage battery has been charged from a domestic power outlet, we knew that a crucial element in the success of our recent Nürburgring fuel economy attempt was the ability to fully charge our Prius Plug-in TRD directly outside the public entrance to the Nordschleife circuit. Enter the off-grid EV charging van.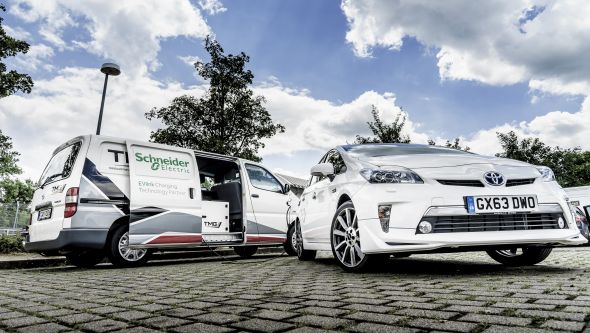 Rather than worrying about how and where to plug in an extension lead, we decided to remove all doubt by bringing our own power source – the Toyota Motorsport GmbH (TMG) DC Quick Charger concept. This unique, off-grid charging van is one of the latest projects from the company's EV Technology Development Centre in Cologne, Germany.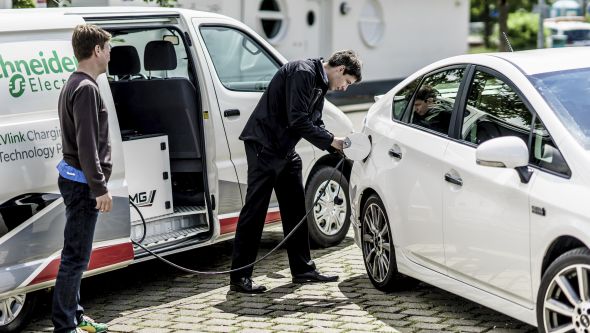 The centre was initially set up to develop a battery-based Kinetic Energy Recovery System (KERS) for Toyota's Formula 1 campaign in the late Noughties, but was later expanded to develop electric powertrains for motorsport and road-going vehicles.
Among the first public manifestations of this refocusing on electric vehicle technology was in 2011, when Toyota set a new electric vehicle lap record around the Nürburgring Nordschleife in its TMG EV P001 race car (below).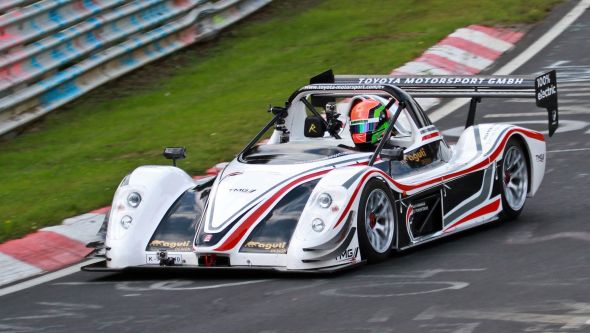 Just one year later, TMG broke its own 'Ring record when the improved EV P002 wiped a significant 25 seconds off the lap time thanks to its new lithium ceramic battery technology. It was the second record-breaker of the year for TMG's electric powertrain as the team also set a new electric record at Pikes Peak International Hill Climb in Colorado, USA, in August 2012 using this same vehicle (below).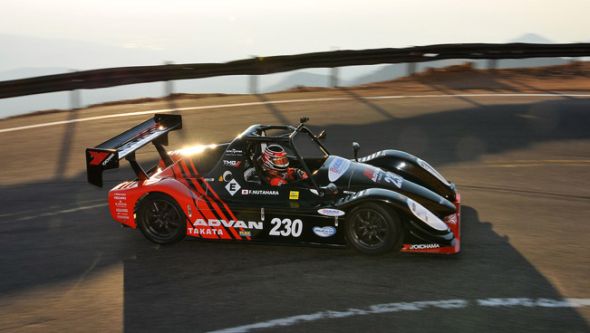 It was the team's planning for the remote location in Colorado that actually triggered development of the DC Quick Charger concept, for charging infrastructure is non-existent up a mountain.
Thinking laterally, the engineers installed the EV P001's lithium ion battery packs, new DC charging technology and various protection measures into the back of a Toyota Hiace Powervan (how appropriate) to make a completely mobile energy storage solution. Indeed, this Hiace accompanied TMG to Colorado as an essential part of its record-breaking assault on Pikes Peak.
While the linked batteries in the Hiace receive a full charge from the grid in about seven hours at a nominal input power of 6.6 kW, it is designed to transmit DC power at an accelerated rate of up to 25 kW through CHAdeMO quick-charging protocols. This meant the EV P002's 40 kW battery capacity could be fully charged in about 90 minutes.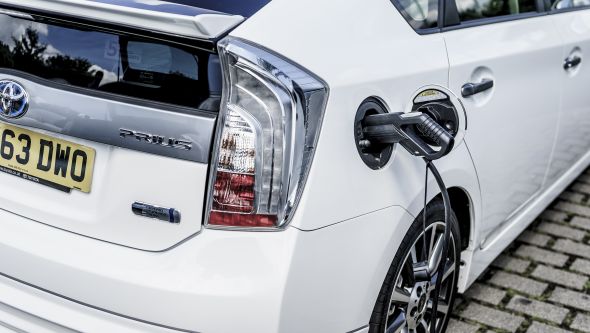 A much slower rate was applied to our Prius Plug-in through the normal multi-pin coupler in the offside rear quarter panel, but in a little under 90 minutes our high-voltage battery confirmed that it was fully charged and showed a maximum range of 15.5 miles.
Details in this article were correct at the time of publication.