Here's what an 18-year-old 50 Cent's first car was – an 80 series Toyota Land Cruiser! 50 Cent, real name Curtis Jackson, revealed last week to his 39 million Facebook and 2.5 million Instagram fans, that the iconic 4×4 was his first car.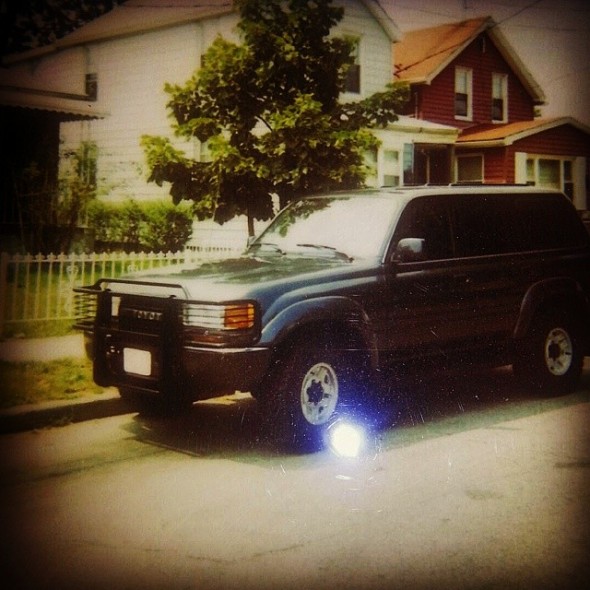 Far from being papped 'In da Club', 50 Cent said that the car, which is finished in Dark Emerald Pearl, is: "…in front of my grandmother's house in Queens". And it seems as though the rapper regrets swapping his 80 series for a newer piece of technology, as he wrote: "BOO BOO" when uploading the image to the two social channels.
The car in the grainy image appears to be stock, with the only official option being a set of nudge bars. It seems as though 50 Cent avoided raiding his piggy bank and splurging on expensive modifications, save for the windows, which appear to have been tastefully tinted.
On sale in the UK from 1990, the fifth-generation 80 series Land Cruiser was the first one to marry workmanlike utility with luxury. It was new from the ground-up, and elbowed the leaf spring suspension set-up of the previous 60 series, in favour of more sophisticated coil springs.
The engine line-up consisted of a 4.2-litre 24v direct injection turbo diesel with 170bhp and, from 1992, a 4.5-litre six-cylinder petrol engine was introduced. Transmission choices were either a five-speed manual or four-speed automatic. 
By the time production ended in 1997, global 80 series Land Cruiser sales were at 550,000, bringing total accumulated Land Cruiser sales to 3.4 million. We hope 50 Cent's first car proved capable; he didn't say what happened to his, but we'd like to think that he went straight to the bank and bought a 100 series!
If you've got '21 questions' about the Toyota Land Cruiser, you can probably find the answer to all of them by reading our detailed history of the Land Cruiser.
You can find out about the current-generation Land Cruiser on the dedicated section of the Toyota UK website, and if you'd like to arrange a test drive, leave a comment below, and we'll be in touch shortly.