There's a joke in the motor trade that in the event of any apocalyptic-style event, the only thing that will be left standing will be the cockroaches and the Toyota Hilux. Since 1968, this dependable commercial has transported just about anything, just about anywhere. Whether your destination is a ploughed field, a battlefield, or just Somerfields, the Hilux, off-road and on, has always been the tool for the job, somehow.
I was recently invited to look at the rather splendid new incarnation of the world's favourite pick-up. It's been blessed with a new, bigger engine. Now packing 2.8 litres, it boasts more than 200bhp and an incredible 500Nm of torque. If we're playing towing top trumps, this is the card you want.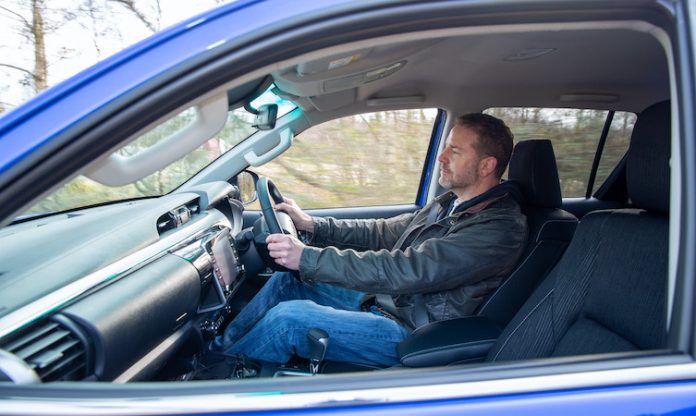 It's also been lavished with the luxury stick. Clearly, nobody in the interior team got the memo that they were doing a commercial vehicle, and somebody seems to have stuck a top-end SUV interior inside. Well, at least in the higher-spec Invincible and Invincible X models anyway, and I was driving the former. Those looking to treat their Hilux more like a Wellington boot can get something a little more hoseable, I'm told.
All of this translates into a wonderful, wafty drive on the road. Bucketloads of torque, a superb driving position – and a surprisingly compliant ride from an unladen, leaf-sprung vehicle shows that Toyota has realised just how many private buyers are buying this handsome truck for its lifestyle credentials. If this is to be your daily driver, expect a pretty lovely drive to work…
New Hilux off-road: time to get dirty
Now, I bet you're thinking the same as I was: "Luxury, compliance, features… are these not mutually exclusive to the legendary Hilux off-road performance upon which this truck built its name?". I had to wonder as I effortlessly consumed B-roads and dual carriageways: can this new softer sell still be tough when it matters?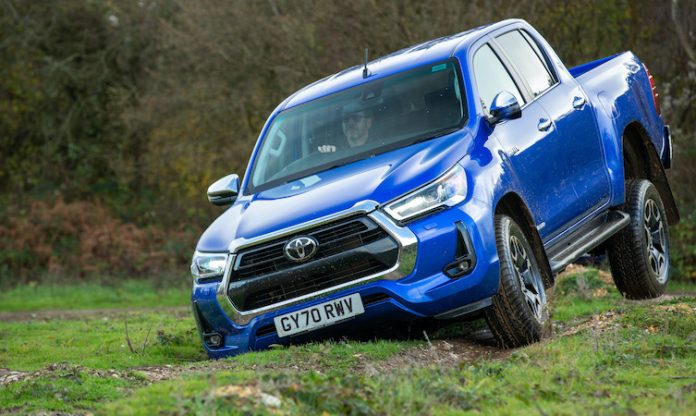 Clearly, on the same page, Toyota told me to meet them at their off-road torture centre, to prove that, just because someone had dressed up the Hilux in a nice suit, it didn't mean that it didn't still have its waders on underneath.
What followed was the kind of terrain – deep mud, water and inclines – that would make a Sherman tank weep. Keen to prove a point, my truck was on street tyres at their recommended workshop pressures. It had also been raining for the previous two days. A lot.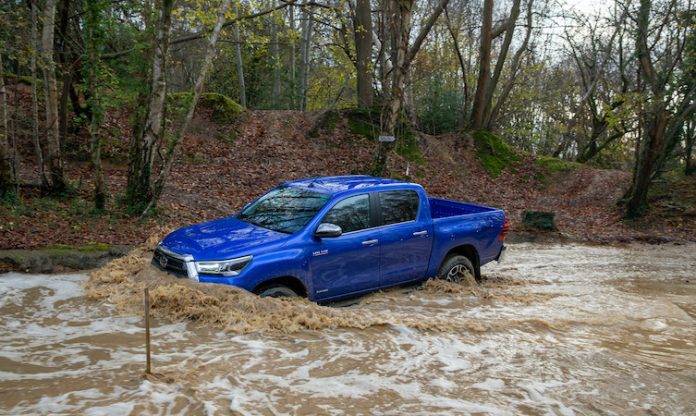 Despite this, the Hilux off-road showed the same ease on this course as it had the road that took me there. Steep declines were sorted with the Descent Control, the lockable diffs meant that even glutinous mud was merely a slight inconvenience and as for water, the latest Hilux seems to have some serious maritime credentials. I *may* have even exceeded the recommended wading depth on a couple of occasions, but the resulting unmarked carpet and dry shoes prove the door seals are as sea-faring as the rest of it.
I think, then, that the Hilux's enviable reputation as the world's carry-all in any terrain is safe for a few years yet. Expect farmers, peace-keepers and tradesman to still get everything, everywhere in this four-wheeled fortress. It's just they'll get there slightly faster, and in greater comfort, that's all…
Words by Paul Cowland
Toyota Hilux technical specification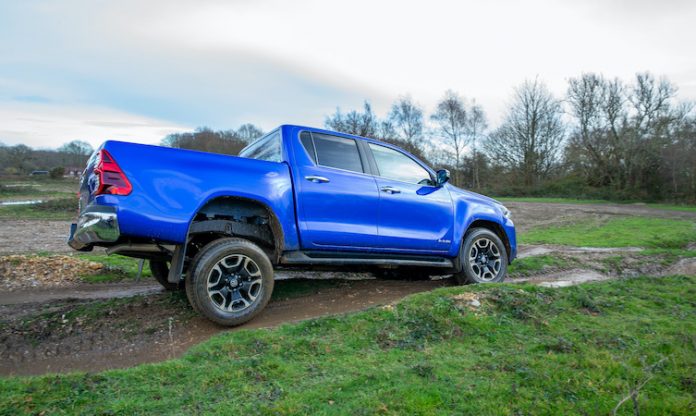 Vehicle tested: Toyota Hilux Invincible 2.8 Auto; Colour: Nebula Blue; CV on-the-road price: £30,803.33; Engine: 2755cc, four-cylinder inline; Power: 201bhp at 3000-3400rpm; Torque: 500Nm at 1600-2800rpm; Transmission: six-speed automatic; Fuel consumption (combined WLTP): 28.5-30.0mpg; Top speed: 109mph; 0-62mph: 10.7sec; CO2 emissions (combined WLTP): 246-259 g/km; Insurance group: 42D; VED cost (first year): £265. Specification correct at the time of publication.