UPDATE (04/11/20): Last weekend Nathan Freke smashed his own quarter-mile record in his modified Toyota MR2, with an astounding 8.317 second pass at a terminal speed of 173mph. Watch the in-car footage here and the spectator footage here.
It is a result that has inspired the MR2 community as it represents an enormous, four-tenths leap over Nathan's existing record. Enthusiasm has therefore been reignited for achieving a seven-second run, which experts had previously thought was not possible for a modified Toyota MR2 with an original steel body and Toyota S-series engine.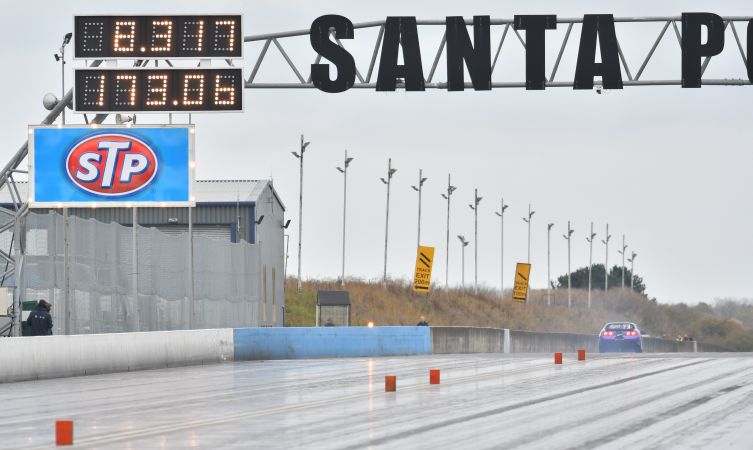 ———————————————
Nathan Freke is the owner, builder and hold-on-tight driver of the world's fastest all-Toyota MR2, which recently clinched the quarter-mile record after setting a blistering 8.718 second pass at a terminal speed of 162.47 miles per hour. What's all the more remarkable about this record is that it was achieved in a production class MR2 with its original steel body, 3S-GTE engine block and midship architecture still as Toyota intended.
What's the story behind this remarkable modified Toyota MR2? We caught up with Nathan, proprietor of the international race team Century Motorsport, to hear the inside story.
How did this modified Toyota MR2 project begin?
Nathan: "I've always considered myself to be a Toyota man. Every road car I've ever owned has been a Toyota and I've completed a number of tuning projects on everything from an AE92 Corolla GTi-16 to a couple of SW20 MR2 Turbos, the first of which actually became the world's fastest back in 2009. Unfortunately, that MR2 (below) met an untimely end on the way back from an event, so it was a rather nostalgic move on my part to embark on another drag project.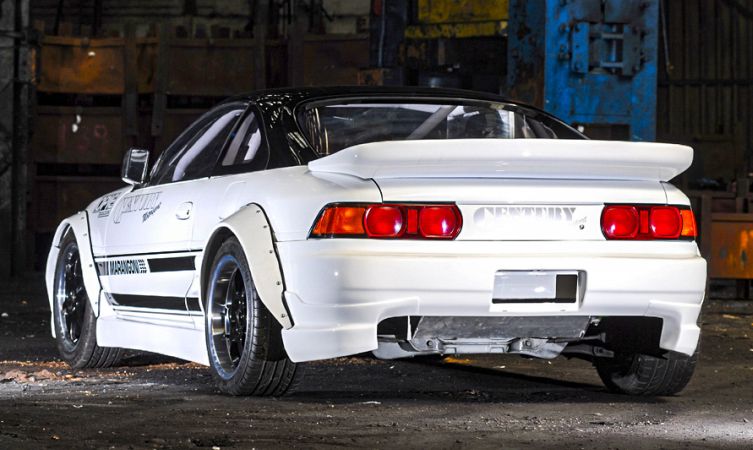 "Ironically, I already owned the base MR2. I'd bought this particular example years ago and had converted it into an MR2 Championship car as it was the perfect machine and series to get our Century drivers up to the right level in order pass their National A competition race licence. But once that had been done, I guess the MR2 lost its purpose. It was relegated to a corner of the workshop and almost forgotten about. Until this bright idea to reclaim the world's fastest crown came into my head."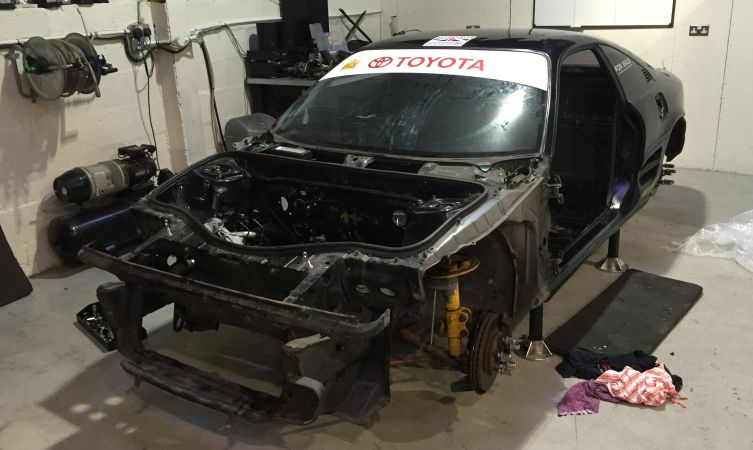 Was the previous MR2 drag project helpful in beginning again?
Nathan: "Absolutely. It gave me a good head start and an understanding of what worked and what didn't. It also helped me create a plan for the build. But even so, the project skyrocketed in terms of time, price and development work. And in all honesty, we're still just scratching the surface.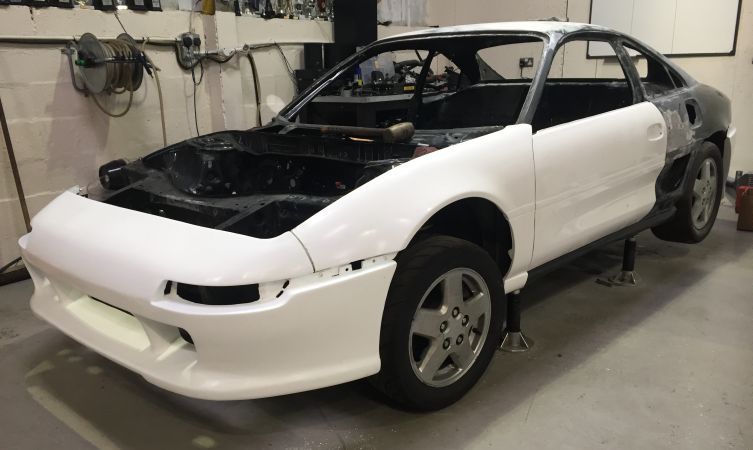 "The build itself took about two years, which wasn't too bad considering the 24/7 nature of running Century Motorsport. I've been involved in every single aspect, from stripping and painting it to designing the new wiring loom and building the engine. And then there were all sorts of teething issues with ECU mapping, clutches breaking and such like. So it seemed to take forever before I could get it to Santa Pod and start dialling in the set-up. Even then it took time before I felt comfortable enough to launch the car down the strip in a fully committed fashion and start laying down some decent times."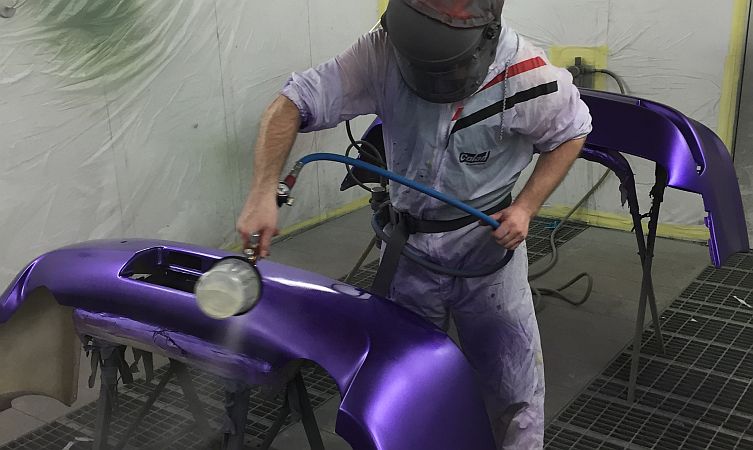 How do you start planning a 1,000bhp MR2?
Nathan: "A key thing for me was the decision to change the rod ratio of the motor. I wanted to use a 2.2-litre crankshaft and rev the engine as high as possible, yet remove some of that additional stress on the motor by increasing the length of the con rods. I began by researching custom con rods for 3S-GTE engines and stumbled across a company called DP Engine Parts in Greece. The owner was a huge help and supplied the parts I needed, which in turn eventually led to me becoming the company's UK distributor.
"The other thing we had to be aware of was the architecture of the car itself. To a point, the modified Toyota MR2 is a great basis for a drag car because the engine is over the rear wheels. But when you get to where we are, it becomes an inherently bad layout because all it wants to do is pull a wheelie. So during the planning process I wanted to try and avoid placing anything behind the rear axle, which then had implications on the type of fuelling, engine cooling and charge cooling systems the car ran, as well as their locations.
"I also wanted to protect the investment I'd sunk into the engine and plumb in a dry sump oil system. It caused a few headaches working out where to put the reservoir but it was worth it to ensure the internals received an uninterrupted supply of lubrication, especially during full-bore launches."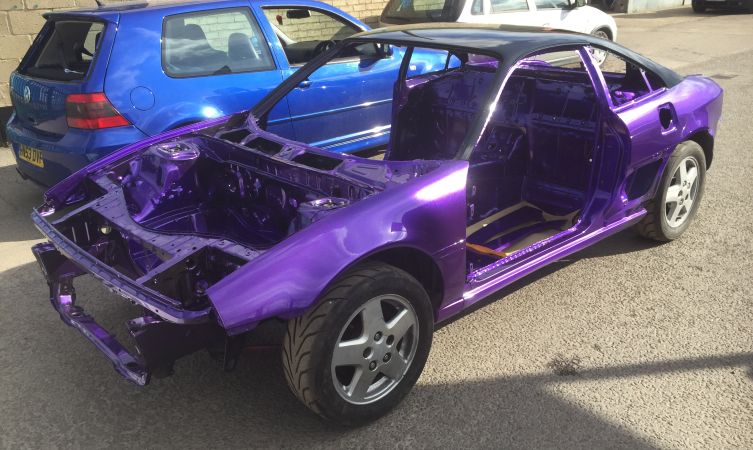 Regarding the turbo, was it a case of buying the biggest one available?
Nathan: "It might have been easier to fly out of the gates with a huge turbo; the engine and ancillaries are all built to survive more than a thousand horsepower. But as my first objective was to run an eight-second quarter-mile pass, I initially went for a smaller turbo because I didn't want to break the modified Toyota MR2 straight away. It made life much easier on the gearbox, drive shafts and engine as everything got dialled in. In fact, it was on the smaller turbo that we achieved the record 8.718 second pass, but it still had a little more to give."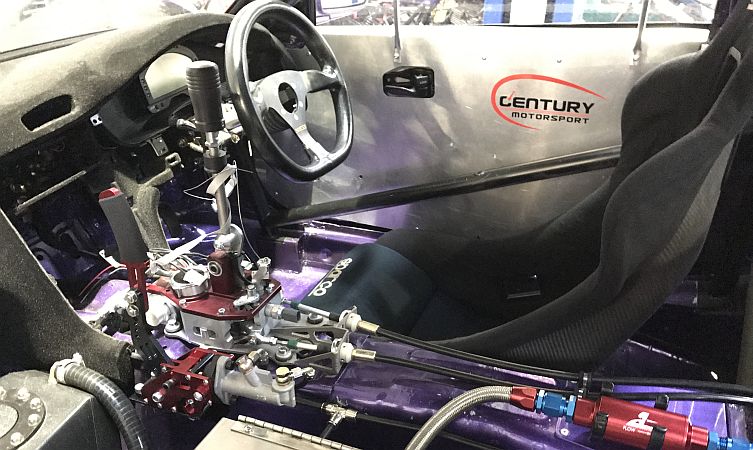 What is it like to be a world record-holder in the modified Toyota MR2?
Nathan: "From something that started as a nostalgia trip, the modified Toyota MR2 project has not only been thoroughly enjoyable but it's become a business case too. I've brought a lot of tuning parts to market that weren't available before, such as straight-cut dog box kits and unique DP tuning parts.
"The competition is really intense, though, and there are a lot of people out there shooting for this record. As a Toyota purist I'm particularly pleased to capture the world's fastest title with a stock-bodied car that still has the original engine block in its original position."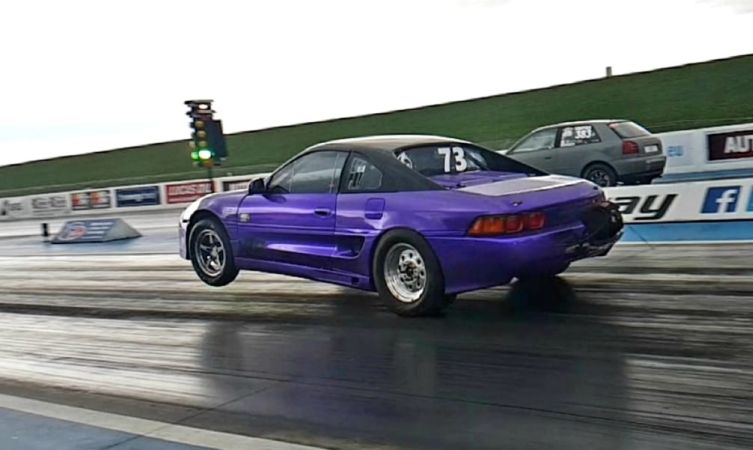 What are you doing to ensure you retain the title?
Nathan: "Over the winter I modified the suspension, geometry and weight distribution, and also fitted the larger turbo. I've never been one to brag about power; after all, it's just a figure. I can't tell you how many people have claimed that they've got a thousand horsepower but when it came to proving it they were much slower than they should be down the strip.
"Nevertheless, I have been drawn into the power debate , so I posted a video on social media of my modified Toyota MR2 on the dyno (see below). It set a figure of 1,046bhp at the wheels – probably around 1,200bhp at the flywheel – running on methanol fuel.
"I reckon we could still gain another 100 horsepower and we're only limited by the injector size. Just to give you an idea of the quantity of fuel the engine is already running, at peak draw each cylinder is consuming 4.4 litres of methanol a minute. That's more than 17 litres a minute in total. Fortunately, there are a lot of quarter-miles in a minute, so the consumption doesn't look quite so bad when you're filling up. Each 200-litre drum of methanol probably lasts me about a year."
What will this extra power translate into in terms of time?
Nathan: "A realistic target is around 8.3sec, assuming I can get the power to the ground without the car being too lively. The car has a laser ride height sensor, which kills the ignition if the front end rises to a certain height. That's all well and good but it's removing power from the car, so I need to find a way to keep the power coming while keeping the front end from lifting. The easiest option would be a wheelie bar, but then the car would be reclassified as an Outlaw. The record would be lost.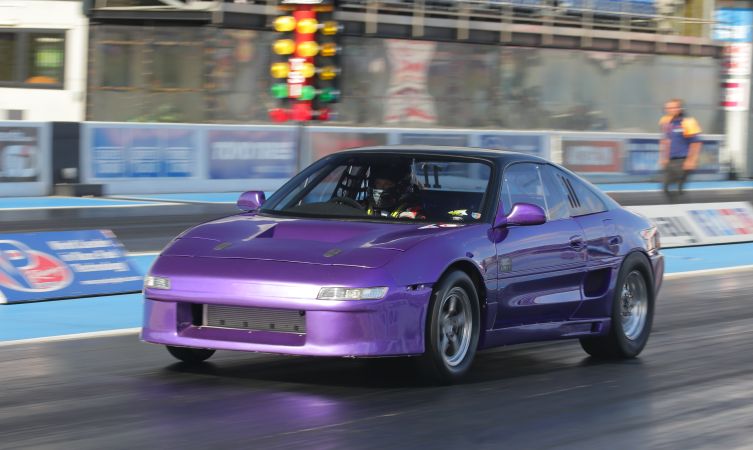 "Everything relies on the launch. I can give you an idea of where time comes from on the quarter-mile. The general rule is that for every tenth of a second you're quicker in the first 60ft, you'll be two to three tenths faster at the finish. The quickest I've ever despatched the first 60ft is 1.39 seconds. If I can get that into the 1.2 second area that's going to make me seriously quick at the end."
Thanks for talking with us, Nathan. We really look forward to seeing how much faster the modified Toyota MR2 can go.
Toyota People… is a series that celebrates individuals with a special enthusiasm for Toyota, its vehicles, philosophies or manufacturing processes. Read more Toyota People articles here.
NB: Nathan Freke's car is the fastest all-Toyota MR2. However, his quarter-mile record was recently broken by the BoostedBoiz in an MR2 powered by a highly tuned Honda K-series motor.