We've already shown you Toyota's official show cars for the annual SEMA Show, which this year took place online as SEMA360. But the virtual format didn't stop some of the world's best customisers, modifiers and restorers from showcasing their latest and greatest creations, including unique Toyotas for life on and off the road. Here's a roundup of some of the best!
2020 Toyota Land Cruiser LC79 6×6
Patriot Campers in Australia created the incredible 'Megatourer' 6×6 Land Cruiser conversion. There's extra power from a GSL-tuned engine that boasts a bigger turbo and twin-stack 4in exhaust while Airbag Man air suspension provides 4in, 6in or 8in of lift. Marks 4WD portal axles deliver the necessary diff clearance and reduction gears to run the huge, 35in Mickey Thompson MTZ tyres. The custom interior features black leather and suede with yellow stitching, and a Polaris ATV sits on the deck of the China Grey-painted behemoth.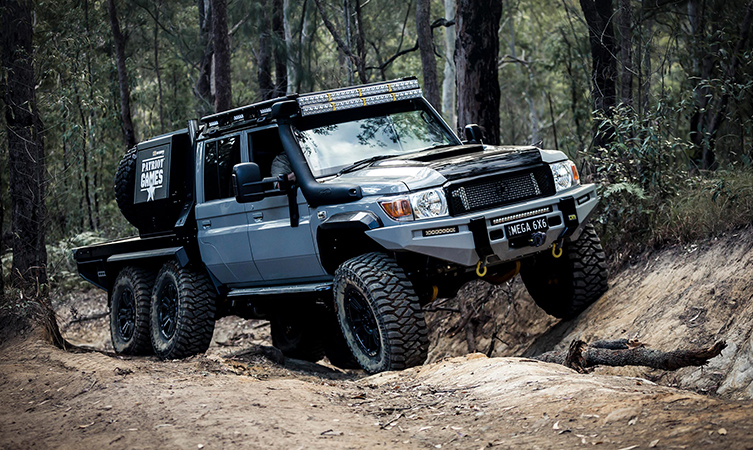 (pic credits Patriot Campers)
2000 Toyota MR2
Andrei Taraburca from Massachusetts has made extensive modifications to this W30 MR2. He swapped the regular 1.8-litre four-cylinder for a V6 from a Toyota Sienna minivan, and mated it to the gearbox from a 1999 Celica GT. He created his own adjustable suspension and made custom flared arches to house the Drag DR66 15×8 wheels and Hankook tyres. The car is finished in an Audi colour, Nardo Grey.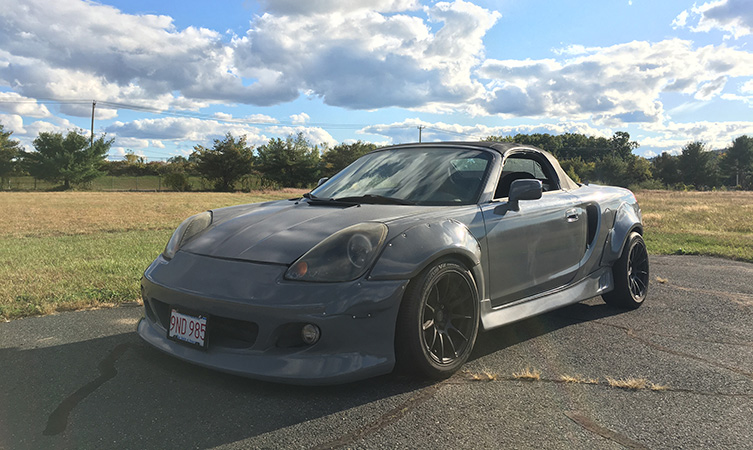 (pic credits Andrei Taraburca)
2020 Toyota Tacoma
Brad DeBerti's wild Tacoma was a finalist in the Truck/Off-Road category at SEMA360's prestigious Battle of the Builders contest. Only the doors and roof remain from a production Tacoma – Toyota's mid-size pickup in North America – with DeBerti having created a full custom body and chassis. TRD consulted on the aerodynamics and supplied the 900bhp NASCAR V8 engine. The truck is adaptable to road racing or drifting, with up to 74° of steering angle available!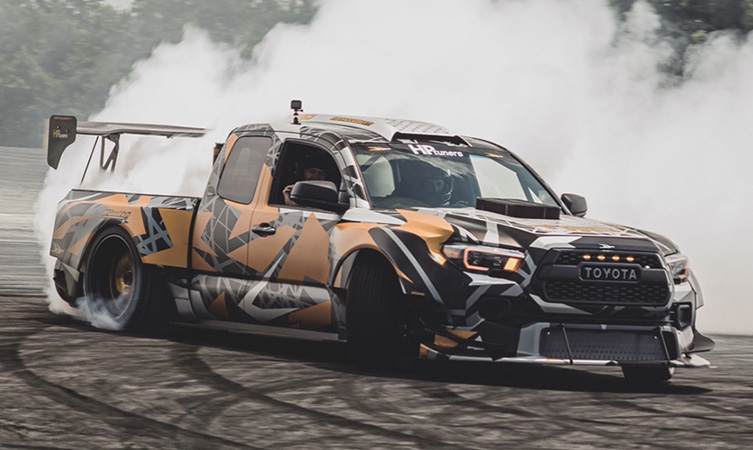 (pic credits Brad DeBerti)
2018 Toyota Tundra 6×6 'Hercules'
This amazing Tundra 6×6 is believed to be the first of its kind. It was built by LINE-X MSK of Moscow and fulfils the company's long-held dream of exhibiting a vehicle at SEMA. Known as 'Hercules', the supersized pickup features rear air suspension, a TRD supercharger and low-resistance air filter, composite body panels and an almost 3m-long pickup bed with 1,200 liters of closed storage. The finished truck was sprayed with a LINE-X protective coating.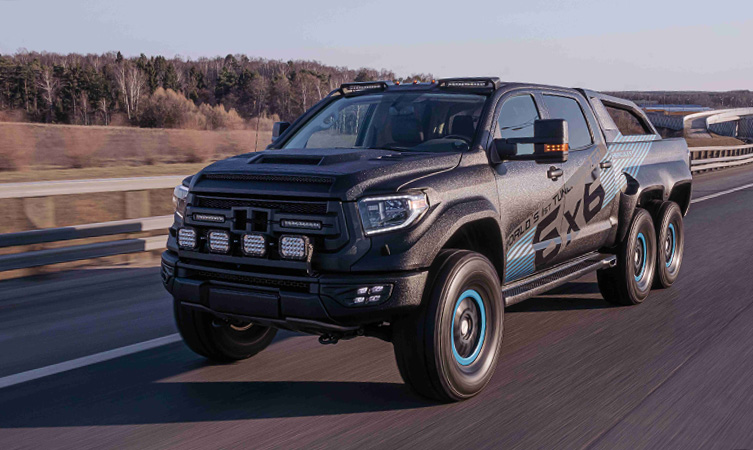 (pic credits LINE-X)
2018 Toyota Camry LE
This Camry looks modest from the outside but features a huge audio installation by Ground Zero. Owned by Tommy Spears of Ground Zero USA, the Camry features Plutonium 3-way speakers up front and 10in subwoofers in the boot along with two Uranium six-channel amps. The installation was completed by Audio Source in Columbus, Indiana.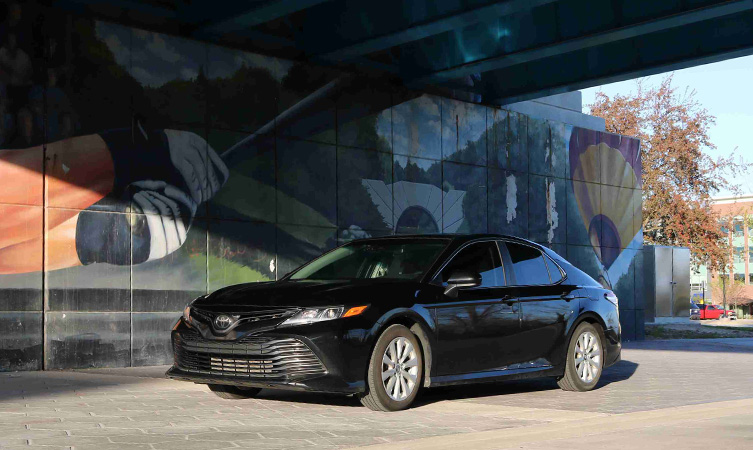 (pic credits Ground Zero USA)
1973 Toyota Land Cruiser FJ40
Proffitt's Resurrection Land Cruisers of Colorado completed a body-off restoration of this 1973 FJ40. The powertrain has been updated to a Toyota 3FE straight-six from an FJ62 Land Cruiser, with the wheelbase extended to accommodate that same vehicle's A440 automatic transmission. Inside there's a six-point roll cage, leather trim, air conditioning and a retro audio system. The ambulance doors from a later FJ40 make it easier for rear passengers to get in and out.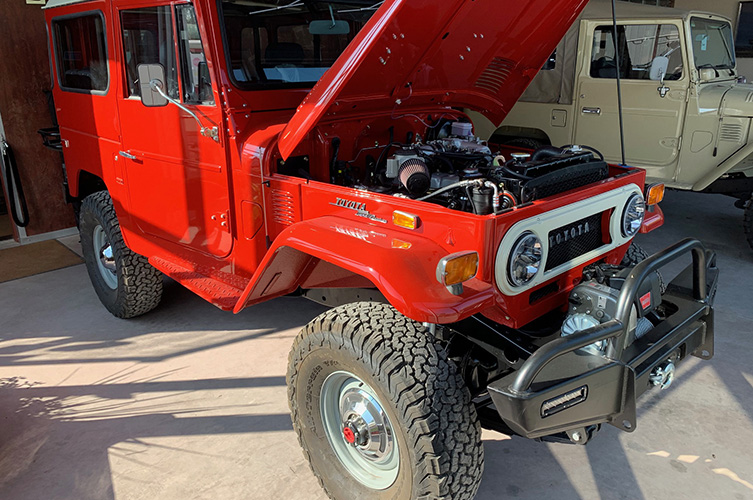 (pic credits Jeremiah Proffitt)
2016 Toyota Land Cruiser 'Skooby'
'Skooby' has been modified almost constantly since it was purchased by Steve Handbury in late-2016. Steve is director of product development at Saber Offroad in Victoria, Australia, and a keen off-roader, so he's made numerous upgrades to the stock 79-series Land Cruiser to meet his needs. The changes include a Marks 4WD portal axle package so that he can run 35in Maxxis Razr tyres, engine work to boost torque and provide better cooling, a 300mm chassis extension and Dynamat sound deadening for the interior. One of the latest additions is a Boss Aluminium clamshell rooftop tent!
(pic credits Steve Handbury)
Read more: Modified GR Supras and a pickup: Toyota's 2020 SEMA Show stars
By Graham Heeps