From thousand-horsepower dragsters to lifted off-roaders, the Toyota enthusiast community is a broad one, and changing trends among new models are making it even more diverse. Bristol-based Beth O'Donoghue reckons there's no reason why the Toyota C-HR hybrid can't share the limelight with the usual suspects. Proving that point with her modified Toyota C-HR has found her worldwide notoriety.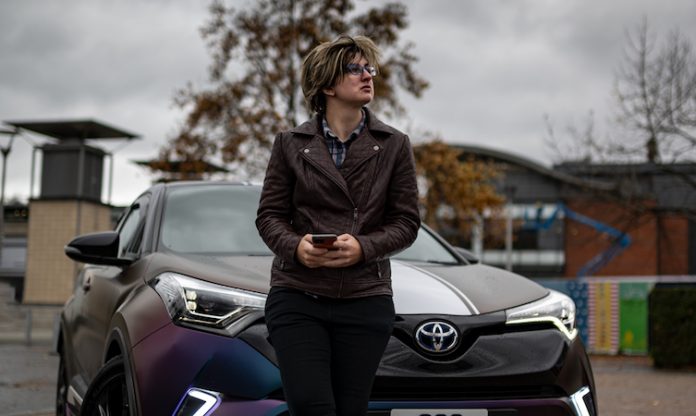 TGB: Where did your love of Toyotas come from?
Beth O'Donoghue: "I've always liked cars, but my main love for Toyota came from the brand-new Avensis my Dad had as a work car in 2009. I've loved them ever since. My best mate Shaun is probably another reason – he's always had Toyotas, and bought an Mk5 Supra at the beginning of the year. With Toyota, you can add your own flair, but they already look smart as standard."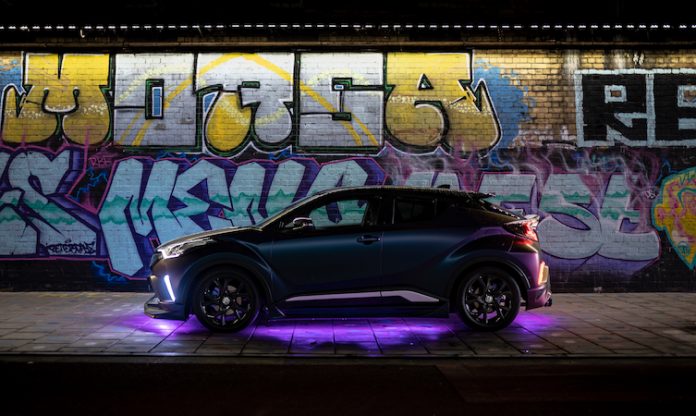 TGB: What was it about the Toyota C-HR that caught your attention?
Beth: "It was a tweet. Toyota announced the Toyota C-HR on 3 March 2016, and it was so futuristic looking – a sporty SUV, and practical as well. I've always gone for SUVs as the main thing is making sure my Nan can get in and out of it. As much as I'd love a Supra, she can't get out of a coupe. So I replied saying I'd get one.
"Two years later I found this car at Toyota Bristol North. I'd had my heart set on one, but I fell in love with it after the test drive and bought it on the spot. So I went back to that thread on Twitter, and commented saying I'd bought myself a Toyota C-HR."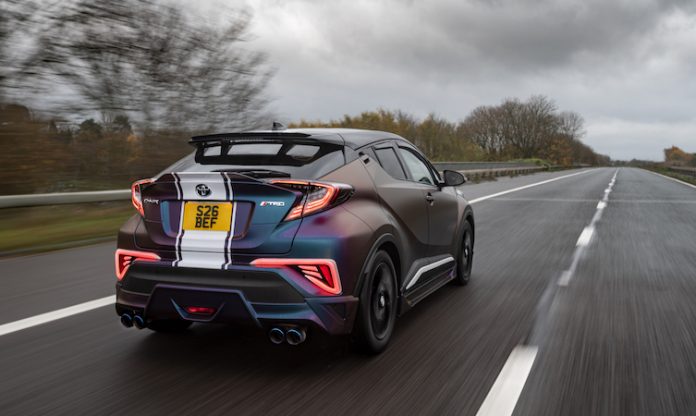 TGB: How have enthusiasts taken to the Toyota C-HR – is it easy to get aftermarket parts for them?
Beth: "I'm part of two clubs on Facebook; Toyota C-HR Club UK, and a worldwide one. The car scene in Thailand is insane, what they've done to their modified Toyota C-HR cars is incredible, so I get some of my inspiration from there, and Fensport has got quite a lot of parts in stock."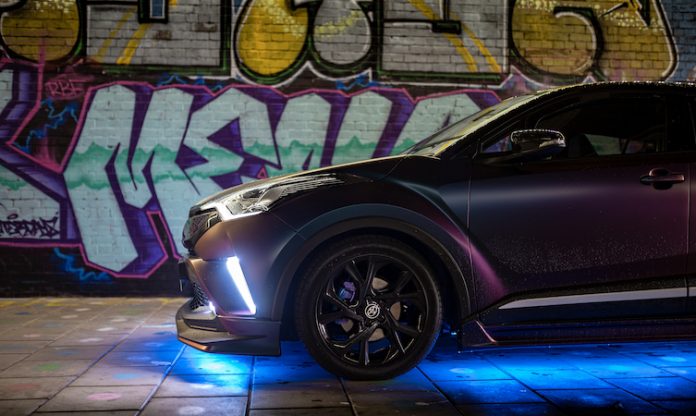 TGB: What modifications did you have in mind when you bought it?
Beth: "My vision from the start was to make hybrids cool. I added the lime green accent pack first, then Fensport had some of the TRD parts in stock, so I drove 300 miles there and back to talk to them about the Aggressive body kit. Unfortunately, it was only available in black, white or unpainted, which meant I would have had to get it painted blue. So I put it on the back burner for two years.
"Then I got bored during the lockdown and started looking again. Two years ago I didn't know wrapping was a thing, but it's bigger now. There's a company near me called Shades Wraps, so I asked them [about the body kit] and they said black would be best. Fensport ordered the kit from Japan, it arrived two weeks later. As far as I know, it's one of the only Toyota C-HR Hybrids with the full Aggressive kit. The wrap is an Avery Dennison colour flip, which has been ceramic coated to protect it and make it easier to clean."
TGB: Were the lighting upgrades inspired by your job?
Beth: "Yes, definitely. I was selling lighting and sound equipment, so RGB has been my life for 11 years, and I had to have something I could play around with. I've got Autobeam grille lights, and fog halos and I've just fitted neons underneath.
"There are three separate boxes, all individually controllable by an app on my phone, and there are thousands of variations. It can do multi-coloured, you can have blue chasing around the car, or the halos acting as daytime running lights or indicators. It's gone full Fast and Furious, but not in a Fast and Furious car."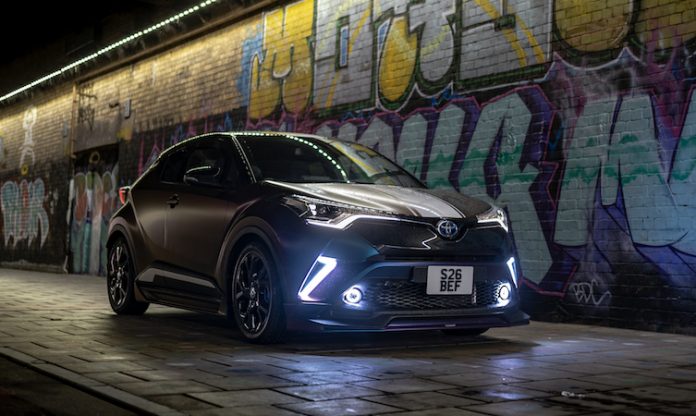 TGB: Those exhausts suggest it's not mechanically standard either – how have you improved the performance?
Beth: "The exhaust was custom-made by Infinity Exhausts, it's a full system and I wanted quad tailpipes with the Japanese-style burnt tips. I had a massive smile on my face when I picked it up because of the noise it was making. Even though it's a hybrid, it does go 'vroom' now.
"It's also got Tein suspension from Fensport, which my neighbour Danny, who's great with cars, kindly fitted. It's only lowered by 20-30mm, but it makes a big difference. It's got more grip on the road, but it's not bumpy – I'm not rattling my brains out.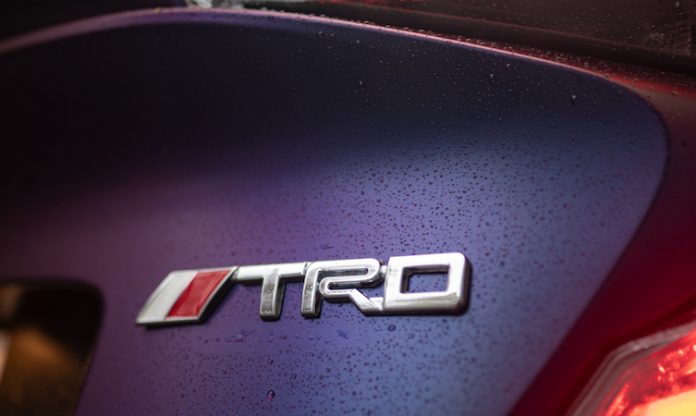 "In America, you can buy a TRD filter at the dealer, so I might look into that, but at the moment I'm happy with it. It's nippy – Sport mode really helps – and the economy is incredible. I'm getting more than 60mpg out of it."
TGB: How have other enthusiasts responded to your modified Toyota C-HR?
Beth: "It's been a bit of a whirlwind. I had the deadline for an event at Castle Combe on 31st October for the wrap. The car has an Instagram page and, when it was standard, I had about 100 followers. In the last few weeks, I've got nearly 400 and one of the photos on track at Castle Combe has more than 200 likes. From the response I've been getting, everyone loves it. The comments are more than I could ever have imagined."
TGB: What's next for the modified Toyota C-HR – any further plans?
Beth: "The interior is my main focus; I'd like the TRD start button and leather seat covers, they completely change the inside of the car."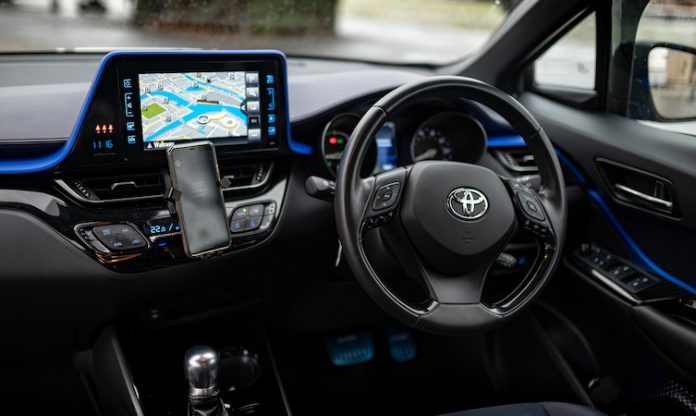 "Any show I can get to in 2021 I'm going to be going, I think. I'm hoping to take it to Daikoku Nights at Caffeine & Machine, I should be at pretty much all of the Castle Combe events, and Japfest at Donington Park and Silverstone. Hopefully, it will make people think 'Actually, I could get a nice hybrid car' because they can go fast, they can make a 'vroom' sound and they can look cool too."
Words: Alex Grant
Photos: Untypical Media
All information is correct at the time of publishing