Thanks very much to everyone who followed and supported us – we had a great time!
UPDATE: 16.15 Wednesday 28 January 09
The boys finally had to call it a day on a lay-by just outside Oxford a couple of minutes ago. They've managed to get 504.2 miles out of their single tank of fuel, and tagged 18 cities along the way. Official figures for the fuel efficiency – 65.7mpg – said they'd only make 462 miles. But apparently, 72mpg is not too much to ask of iQ. Simon and Mark will be blogging in more detail about the hypermile challenge soon.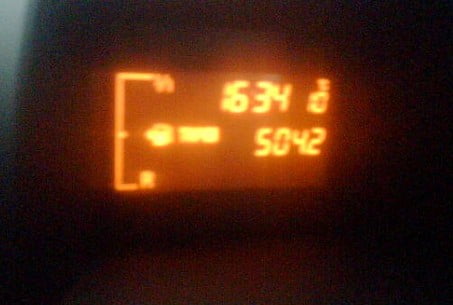 UPDATE: 15.00 Wednesday 28 January 09
Simon and Mark have just reported that they've passed the 462 mile mark . . . so every mile they now do is beating the official fuel efficiency stats for iQ. They've got 20 miles to go to Oxford and their 18th city. Keep going boys!
11.30am Wendesday 28 January 09
Simon and Mark set off bright and early this morning from Gloucester, heading (hopefully) to Hereford, Worcester, Wolverhampton, Birmingham, Coventry, Oxford and . . . just maybe . . . London.
Twitters from the car this morning report that although they've just tagged Worcester, they're now down to their last bar and the iQ's six-bar fuel gauge (the second to last one disappeared at 360 miles). It's looking tight!
The main obstacles in their path? "Hills, corners, other drivers, red lights, rough roads, standing water, human physiology," says Simon.
Follow the challenge – will we reach 18, sorry 19, cities on one tank of fuel?
You can keep up to speed with the progress of Simon and Mark on the iQ Hypermile challenge by checking back here – we'll update regularly – or by following the This is iQ Twitter feed.
Simon and Mark will be updating GPS data regularly here.
And there are plenty of pictures to enjoy in the This is iQ Flickr feed.