Toyota has been an integral element of every Tokyo Motor Show from its inauguration in 1954, and will continue that record when the 45th edition opens to the public at the end of the month.
To build anticipation for that event, we have started publishing decade-sized posts that explain which important new models, ideas and concept vehicles Toyota revealed at each show. This second post examines the years from 1964 to 1973.
Read more: History of Toyota at the Tokyo Motor Show – 1954 to 1963
1964: 11th Tokyo Motor Show
This year the show's Japanese name changed from the All-Japan Motor Show to the Tokyo Motor Show, harmonising with what it had always been known as in English. Foreign visitors were now able to participate, and the emphasis of the show shifted from exhibition to business. Within the Toyota line-up, a production-ready version of the Publica Sports concept (first seen in 1962) made its debut, and visitors had the opportunity to name the car for its official launch the following year. It went on to be called the Toyota Sports 800.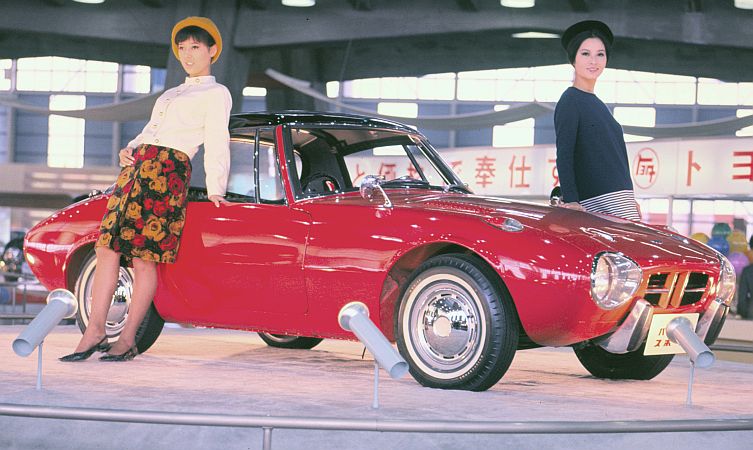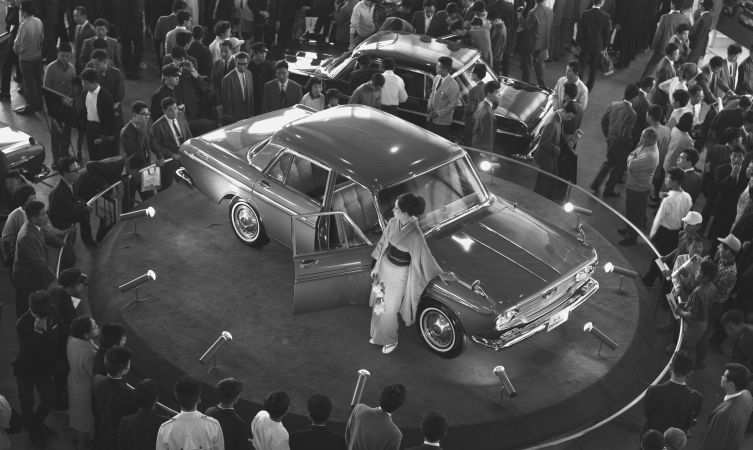 | | |
| --- | --- |
| Venue | Harumi Fairgrounds |
| Date | 26 September – 9 October 1964 |
| Visitors | 1,161,000 |
| Vehicles exhibited | 274 |
| Toyota exhibits | Crown Eight, Crown Custom, Publica Deluxe, Corona Deluxe, Publica Convertible, Publica Sports prototype, Corona cross-section model, Corona Van, Publica Light Van |
1965: 12th Tokyo Motor Show
The 1965 show took place immediately after the deregulation of passenger car import rules, thereby providing a suitable automotive celebration. Exhibitors sought to win customers by setting up sales desks at the venue. Among Toyota's exhibits, most notable was the first prototype of what would go on to become the Toyota 2000GT. The potential of Japan's first supercar garnered plenty of attention, from showgoers and the media alike.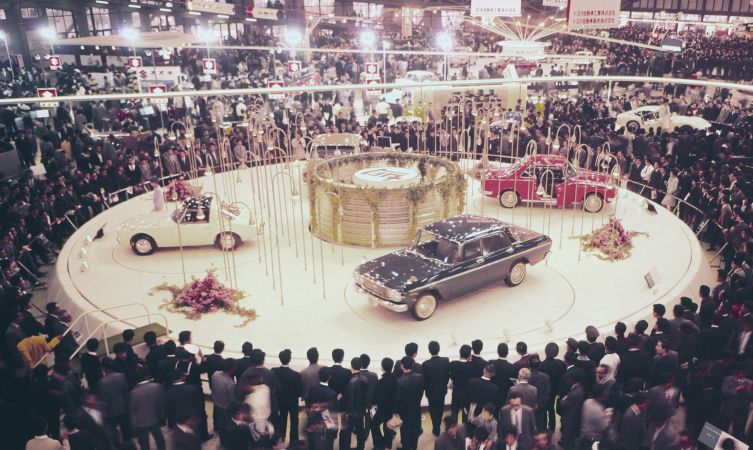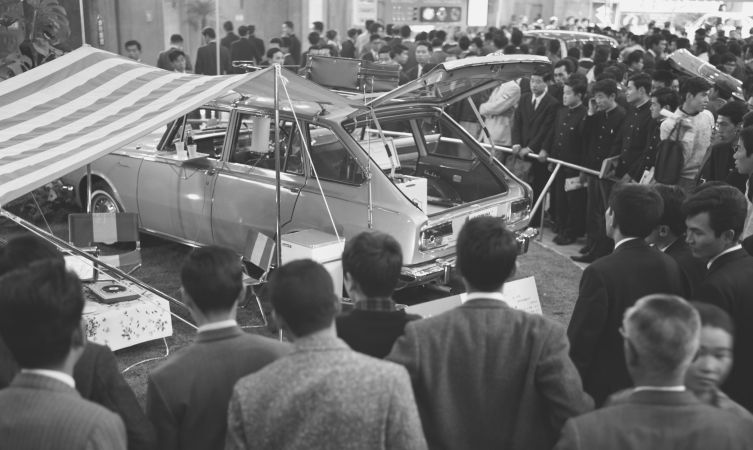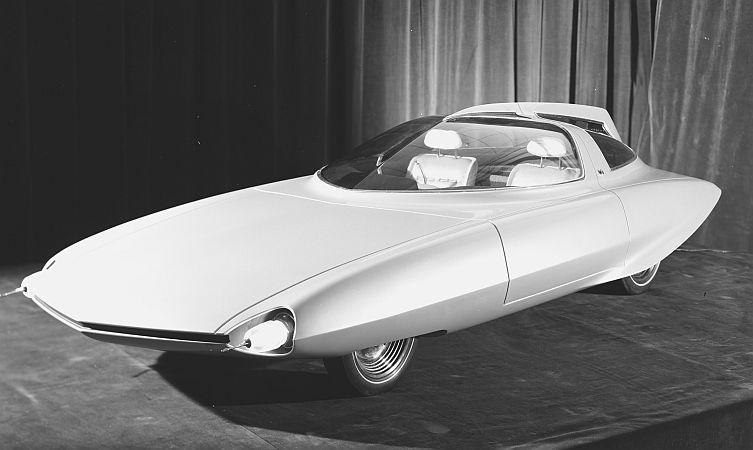 Venue
Harumi Fairgrounds
Date
29 October – 11 November 1965
Visitors
1,465,800
Vehicles exhibited
243
Toyota exhibits
Toyota 2000GT prototype,

Toyota Sports 800,

Crown Type M engine,

Dream Car concept,

Corona saloon,

Kindergarten Bus
1966: 13th Tokyo Motor Show
In Japan, 1966 was known as year one of the private car age – a fact reflected in the show's focus on boosting sales. The Toyota display was lit with T-shaped lighting panels, which offered a subliminally themed yet classy ambience. The line-up of cars, including the new first-generation Corolla and the second prototype version of the Toyota 2000GT, enhanced the image of Toyota as a world-class car-maker.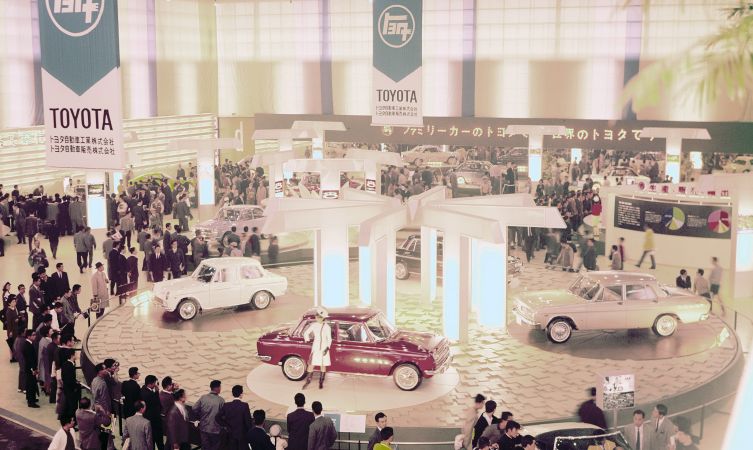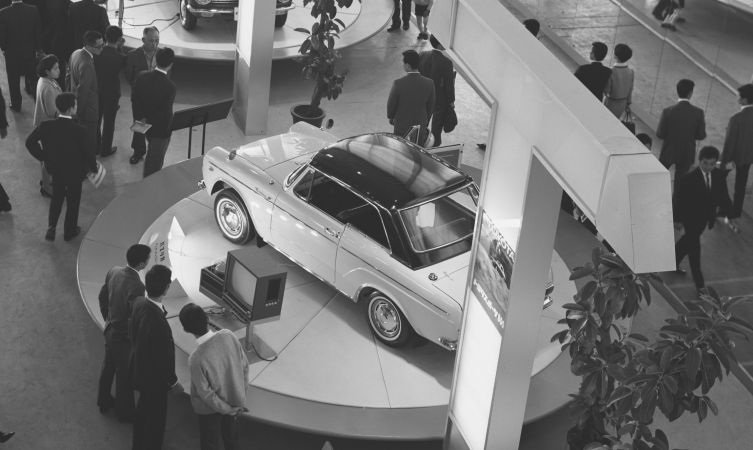 Venue
Harumi Fairgrounds
Date
26 October – 8 November 1966
Visitors
1,502,300
Vehicles exhibited
254
Toyota exhibits
Corolla 1100 Deluxe,

Toyota 2000GT prototype and Bond car
1967: 14th Tokyo Motor Show
The primary exhibits this year came from car-makers presenting new 1,500cc class cars that emphasised their speed and durability for the dawning age of expressways. With speed came the potential for greater accidents, so a traffic safety booth was also arranged to offer safety tips for visitors. The first true production 2000GT was displayed, a special gold version presented by British model Twiggy.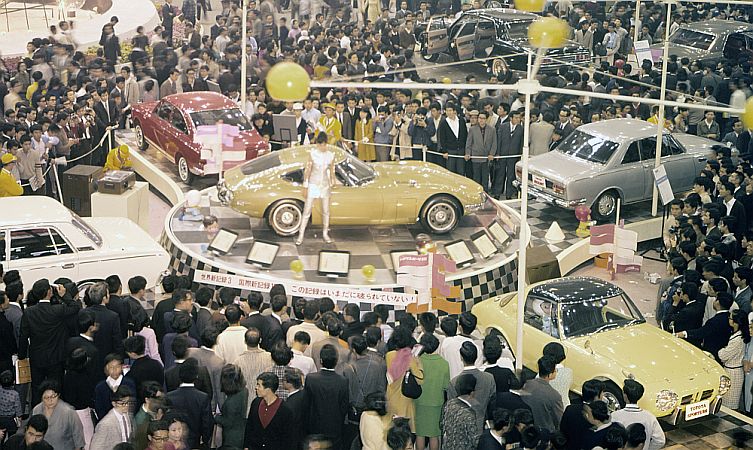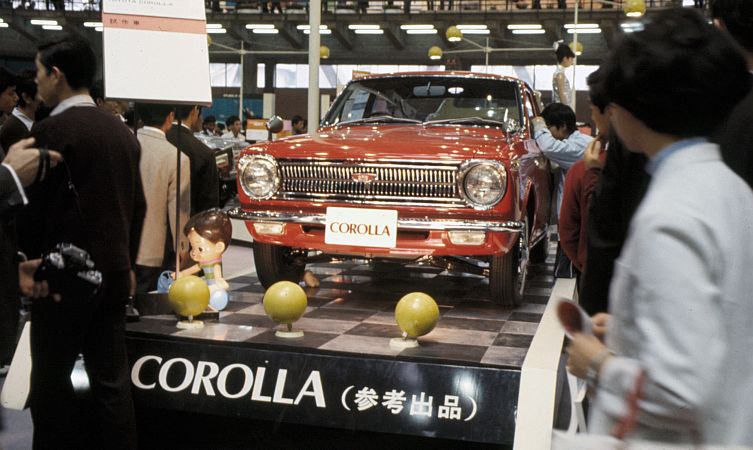 Venue
Harumi Fairgrounds
Date
26 October – 8 November 1967
Visitors
1,402,500
Vehicles exhibited
235
Toyota exhibits
Century,

Crown S,

Crown cross-section model,

Hiace,

Miniace,

Corolla Coupe,

Crown Double Pickup

Toyota theme
For Wonderful Tomorrow
1968: 15th Tokyo Motor Show
The imminent deregulation of foreign capital investment in Japan led to the reorganisation of the domestic car industry, accelerating the desire expressed by many manufacturers to form company groups or alliances. Toyota, however, was keen to display its extensive range of products – 94 of which were brought to the show to illustrate the theme The World of Toyota. The family-friendly design of the stand also demonstrated Toyota's technology development and thorough attention to safety.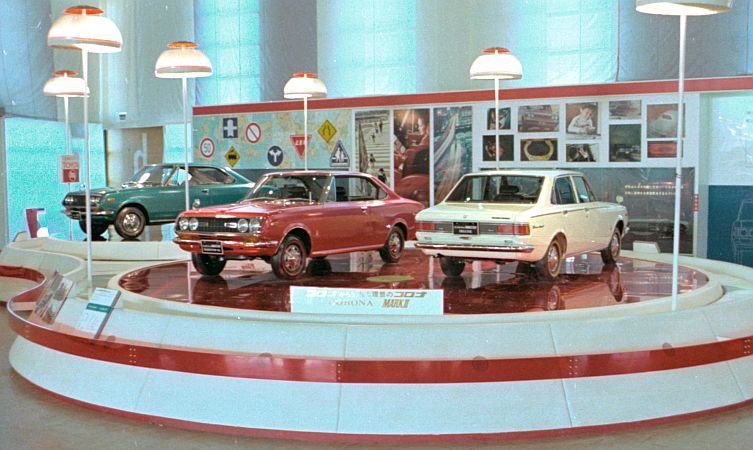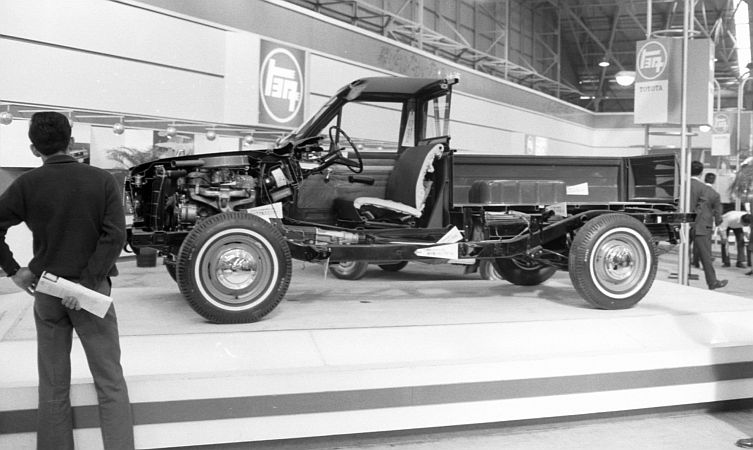 Venue
Harumi Fairgrounds
Date
26 October – 11 November 1968
Visitors
1,511,600
Vehicles exhibited
246
Toyota exhibits
Toyota 7,

Corona Mark II,

Corona Mark II cross-section model,

Crown Hardtop SL,

Hiace Wagon

Toyota theme
The World of Toyota
1969: 16th Tokyo Motor Show
This year's show illustrated the rising power of the Japanese auto industry as it approached the 1970s and harnessed people's imagination for what the future might hold. The number of concept vehicles visibly increased; Toyota was no exception, displaying a grand total of five futuristic EX-badged machines among a full line-up of vehicle of production models.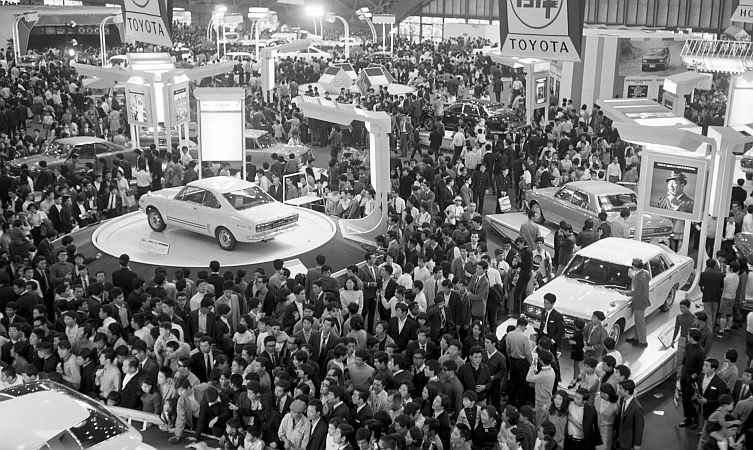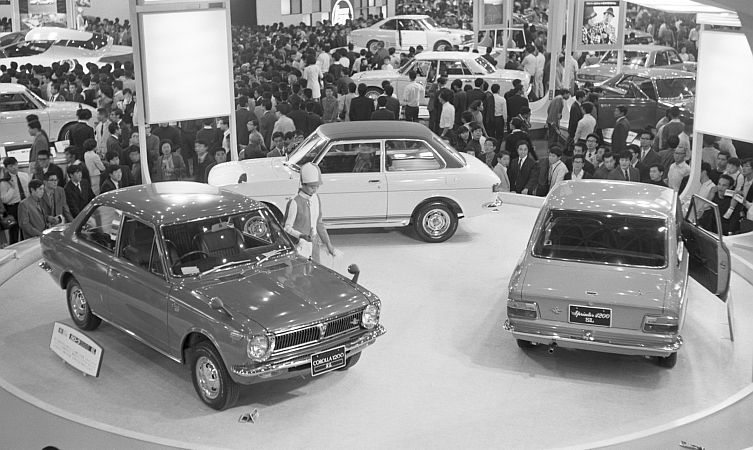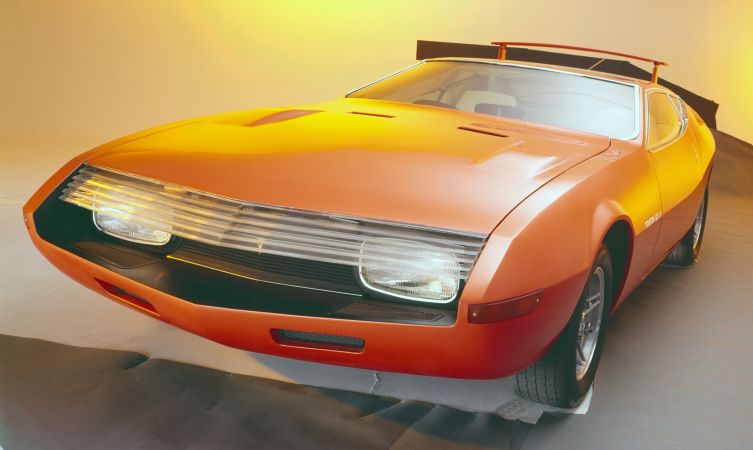 Venue
Harumi Fairgrounds
Date
24 October – 6 November 1969
Visitors
1,523,500
Vehicles exhibited
256
Toyota exhibits
EX-I fastback coupe concept,

EX-II Type A shopping/commuting concept,

EX-II Type B luggage carrying concept,

EX-II Type C leisure concept,

EX-III gran turismo concept
1970: 17th Tokyo Motor Show
Foreign exhibits increased this year in anticipation of the deregulation of foreign capitals, while display stands focussing on safety and pollution-prevention were also included. Exhibits by Toyota included the newly announced Celica and Carina (lead image) models, as well as advanced cars such as the high-speed EX-7 (essentially a de-tuned Toyota 7 racecar), and the Commuter and Electronics Car for urban use.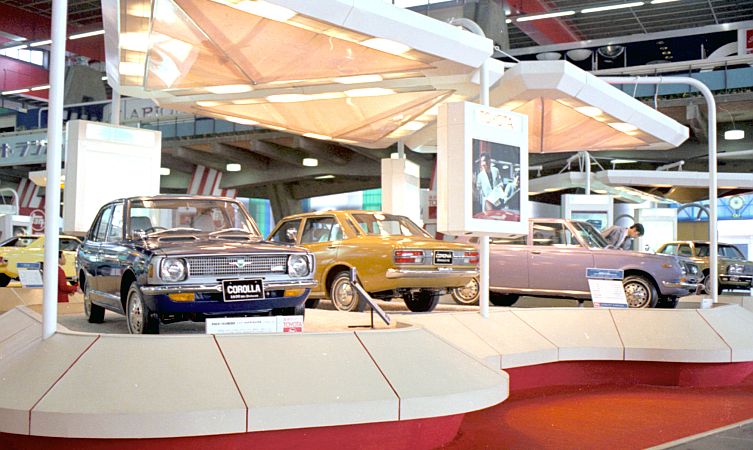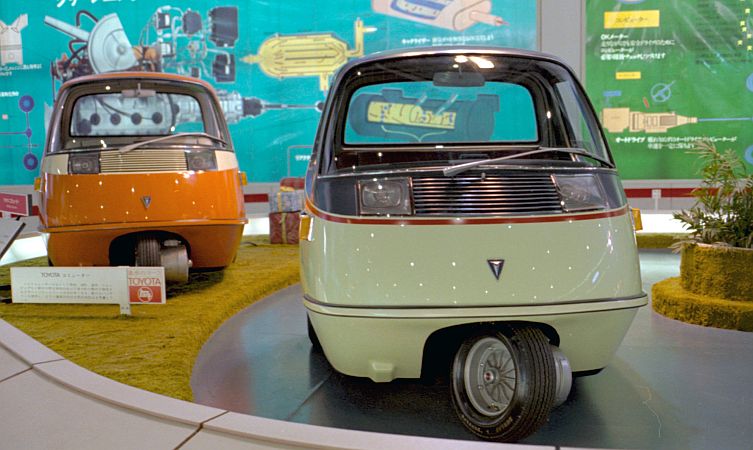 Venue
Harumi Fairgrounds
Date
30 October – 12 November 1970
Visitors
1,452,900
Vehicles exhibited
274
Toyota exhibits
Commuter three-wheel EV concept,

EX-7 high-speed touring concept,

Carina,

Celica,

Electronics Car concept,

safety dummies
1971: 18th Tokyo Motor Show
A new public transit system called CVS (Computer-controlled Vehicle System) was featured at this year's show, along with more futuristic cars. And as foreign capital investments in the Japanese auto industry were now deregulated, the show added to its international flavour. Toyota pointed to its future direction through three special exhibition zones.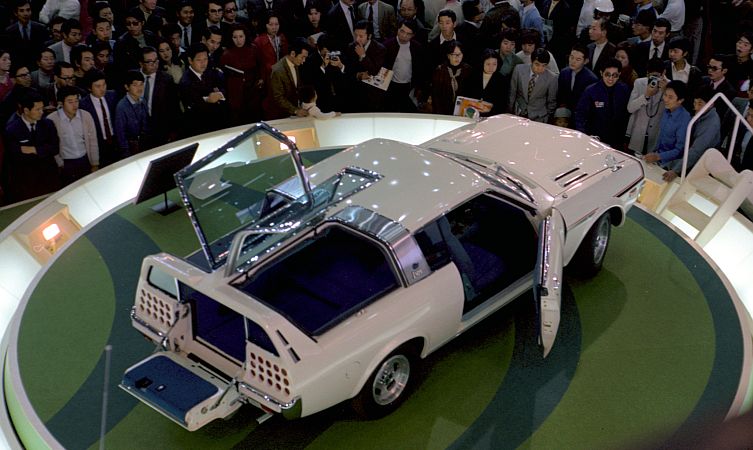 Venue
Harumi Fairgrounds
Date
29 October – 11 November 1971
Visitors
1,351,500
Vehicles exhibited
267
Toyota exhibits
SV-1 high-performance sports coupe concept, Celica LB prototype,

RV-1 recreational wagon concept
1972: 19th Tokyo Motor Show
Passenger cars returned to being the primary focus of the annual show. While foreign car-makers continued to contribute to the event's international flavour, a new section dedicated to safety and pollution measures was set up by an auto industry coalition, attracting the attention of visitors. Toyota presented the results of its own research into urgent issues facing the auto industry, including pollution, safety, and urban traffic. The company also exhibited a multi-purpose recreational vehicle that pointed to future motorisation trends.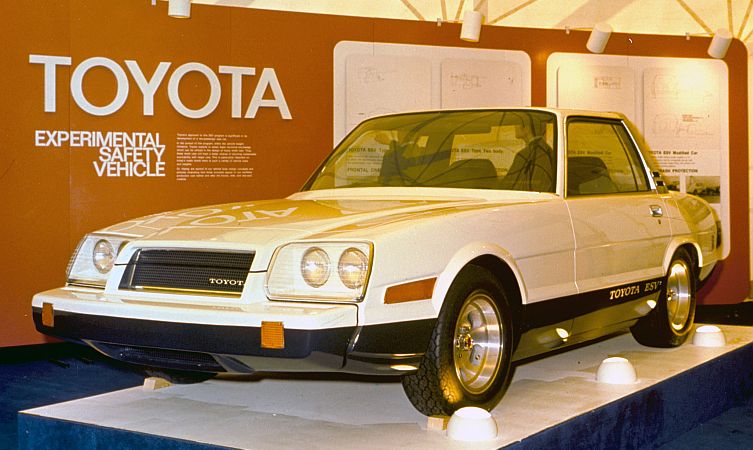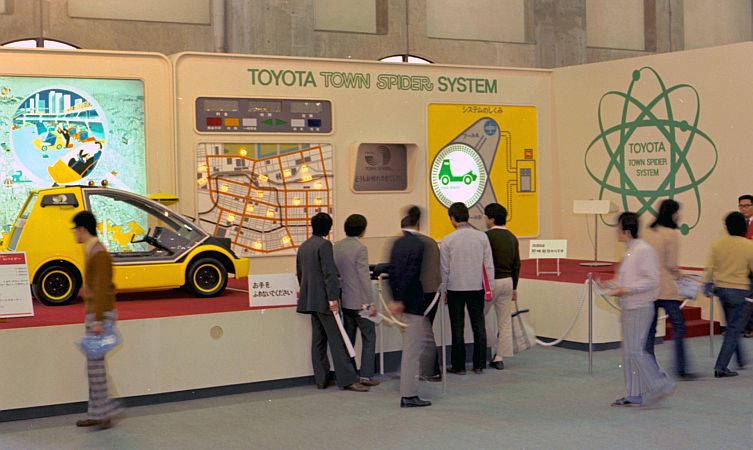 Venue
Harumi Fairgrounds
Date
23 October – 5 November 1972
Visitors
1,261,400
Vehicles exhibited
218
Toyota exhibits
RV-2 recreational vehicle concept,

ESV-2 experimental safety vehicle,

Town Spider electric commuter concept,

Motor Home MH20 bus,

Multi-purpose MP20 bus),

Marinetta 10 camping trailer concept

Toyota theme
Making Cherished Cars: Toyota's Challenge for Tomorrow
1973: 20th Tokyo Motor Show
This year the show became more international and comprehensive than ever before, with exhibitors eagerly demonstrating their anti-pollution, pro-safety stance. Demonstrating its alliance with the public sector, Toyota exhibited the ESV, which conformed to the specifications of experimental safety vehicle set by the U.S. Department of Transportation. This was joined by the EV2 small electric vehicle developed as part of the large-scale project led by the Agency of Industrial Science and Technology.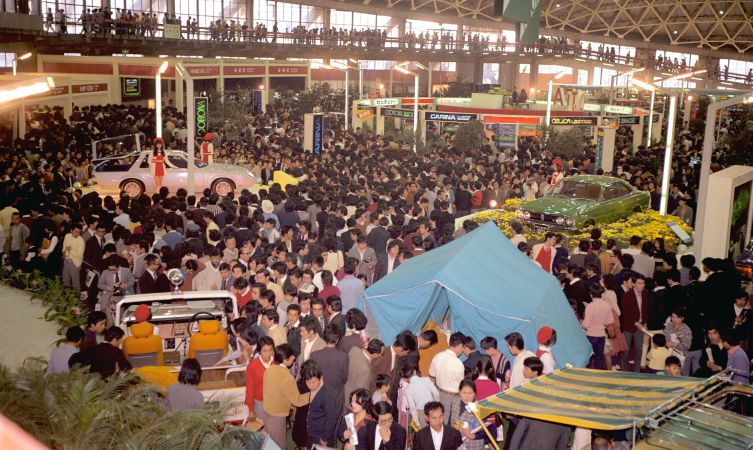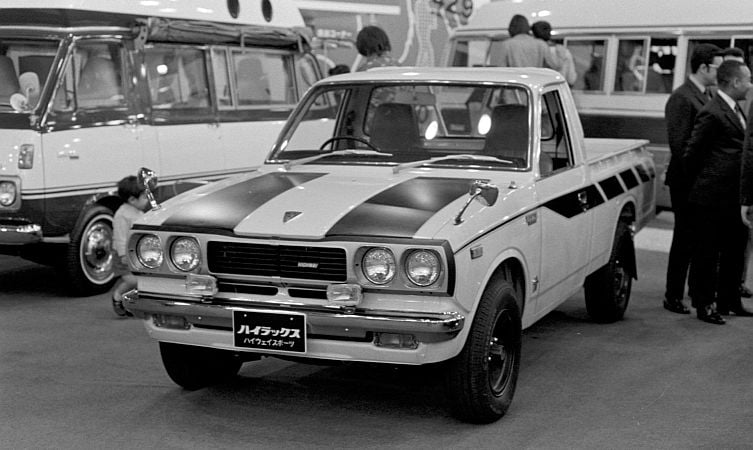 Show theme
Man and Automobiles
Venue
Harumi Fairgrounds
Date
30 October – 12 November 1973
Visitors
1,223,000
Vehicles exhibited
215
Toyota exhibits
ESV experimental safety vehicle concept,

F101 wagon concept,

EV2 small EV concept,

Land Cruiser Special,

Toyota Model AB Phaeton

Toyota theme
Making Cars Cherished By All