Here it is – we've finally tracked down one of the oldest British-built Toyota Carina E models still on the road in the UK!
Our search for the earliest running example of the first model made at the Toyota Motor Manufacturing UK factory in Derbyshire gained huge exposure – and after chasing down leads, we've located the one of the earliest Carina Es still on the road.
Mike Hoyland's Toyota Carina E was registered in July 1993, and was built during our Burnaston factory's early months.
It's testament to the quality and reliability of Toyota's UK manufacturing effort that the oldest Toyota Carina E (that we can locate) has remained on the road ever since.
December 16, 1992 was a groundbreaking day for Toyota. It marked the first day of Carina E production in the company's state-of-the-art factory in Burnaston, near Derby. Not bad, considering the decision to build here was taken just three years before, with Toyota Manufacturing UK (TMUK) being set-up in December 1989.
It's an ongoing success story more than 20 years on, with TMUK's investment now topping £1.4 billion. In 2012, 109,502 Avensis and Auris models were built there by a dedicated and expert workforce.
The Carina E was launched in the UK and Europe in March 1992, but for the first nine months, cars sold here were actually imported in from Japan. Despite that, Toyota called it the 'E' to denote that it had been tuned to appeal to European tastes, and to reflect its eventual UK production.
Once on sale, the Carina E soon started selling strongly – both on the back of the memorable advertising campaign (that featured Enya's Book of Days), and the brilliant strapline, 'the car in front is a Toyota.' 20 years on, people still say that.
It's possible that Mike Hoyland was humming that Enya song when he walked into his local Toyota dealership with a view to buying one. It was July 1993, and he decided that he wanted a new car to replace his trusty Honda Accord.
He'd worked hard for it, too: 'I had taught chemistry for 30 odd years, and decided to buy one using my redundancy money,' he says.
The car Mike went for was a Carina E GL four-door saloon, which came up to the princely sum of £13,175.00. 'I still have the original invoice, and I let a friend adopt the Honda, so there was no trade-in against the Carina.,' Mike smiles. Needless to say, Mike took delivery on 1 August – L-registration day – in order to maximise that new car experience.
And coming up to 20 years on, Mike still has that Carina E. And he loves it. 'It has been absolutely reliable, he says. 'It runs almost silently, and the exhaust has only been replaced once. At 32,000 miles, the Lambda sensor packed up, but I was advised to contact Toyota GB headquarters in Redhill, which I did. And without any query, they agreed to stand the cost.' Other consumables have included one starter motor, a shock absorber, and a couple of radiators.
'But that's all not bad for 20 years and 153,000 miles, eh,' Mike smiles.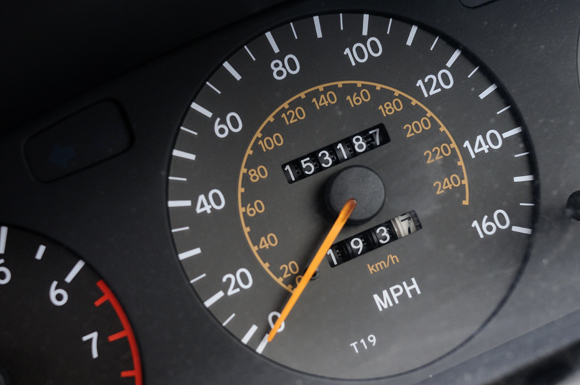 Other than that, the oldest Toyota Carina E has run like clockwork, proving that the Toyota's British workers can build a car to the same exacting quality standards as their Japanese counterparts. There was one other issue, but that's hardly the car's fault: 'The remote locking has failed partly due to someone taking a screwdriver to the lock,' Mike says. 'They didn't get in, but the lock had to be changed.'
Mike's Carina E is your typical family hack, and gets used properly – it's no cossetted museum piece. 'There's a bit of rust on the front wings,' he adds. But it is has been perfect. 'It has taken the family all over without a blip; we have carried my son's bicycle and goods to and from Nottingham University when he was a student, and it is easy to carry 5m lengths of timber through the sunroof – and that was standard fit in 1993.'
Did Mike buy the car because it was made in the UK, or because it was a Toyota? 'I hadn't realised it was one of the earliest of the cars made here, although there was a small label to that effect somewhere at the top of the windscreen,' he confirms.
And is Mike a car fan? 'Oh yes, I like cars, and I take an interest in what's on the road,' he smiles. 'I read reports, but don't think that they are as unbiased as they would like to appear. The Carina "wasn't inspiring" they said, but how many cars can compare with mine without special treatment?'
He's also a Toyota fan. 'The company is supportive of its cars and the customers. My favourite cars are the final-shape MR2, the old Celica and the new GT86. Back to reality, the Yaris Trend looks great, and what I've heard concerning the Auris is also good. But if money is object, then a Lexus GS would fit the bill perfectly,' Mike says.
And would he have another Toyota? 'Certainly! But the Carina E looks like it's going on forever, and you can't just walk away from a best pal can you?'