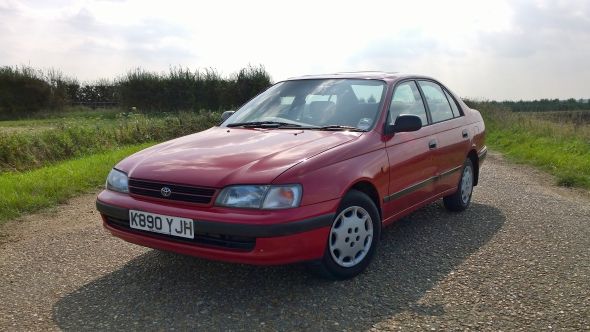 Almost three years ago we put out the word that we were looking for the UK's oldest, British-built Toyota Carina E to take part in our celebration of 20 years of manufacturing at Burnaston, Derbyshire.
According to DVLA records gathered in October 2012, there were around 17,000 examples of this generation Carina still in regular use on the road. But at that time the earliest we could track down was Mike Hoyland's car registered in July 1993. Follow the following link to read the story about his 'best pal'.
Since then, however, two earlier examples have materialised – a Carina E XLi registered at the end of May 1993 and this one, a Carina E GLi registered at the beginning of May 1993. Admittedly, both cars were produced after the start of UK production but as our search remains active we are getting closer to finding a car from December 1992.
Cambridgeshire-based Liz Christenssen has been the fifth owner of this Solar Red Carina E saloon for almost 12 years, yet admits that her decision to buy it was not so much motivated by the heart but by a fragile back. Her daughter was already a Carina E driver and loved the relative positions of the driving seat and pedals, so recommended that she try one for herself.
While other vehicles that Liz test-drove rendered her somewhat incapacitated after as little as five minutes behind the wheel, the Carina's seat lived up to her daughter's endorsement and was found to be so supportive that she could drive for hours without so much as a twinge.
Liz also discovered that comfort was just one of the many benefits of owning this car, as she explains: "It is reliable, goes a treat, is an easy drive, and has never let me down; it gives me confidence in it."
Now showing 119,000 miles – 50,000 of which travelled in her care – the Carina still feels tight, rattle-free and ready for another trip around the odometer. Since Liz's retirement, however, the car accumulates numbers at the slower rate of around 2,000 miles a year, yet there is no thought of it being pensioned off.
This Carina may not be in showroom condition any more but the strength and resilience built into it at the Burnaston factory means it remains structurally and mechanically sound 21 years later; a fact attested by thousands of other Carina E drivers.
Indeed, Liz continues to be delighted with her Toyota. She concludes: "Having owned my car for nearly 12 years, I can truly say that it's brilliant, and I will continue to use it, feel safe in it, and do my best to make sure it's well looked after."
Our search is now over and the oldest Carina E has been found. Thank you for all your contributions.