Rallying remains one of the toughest tests in motorsport, which is why Toyota takes such pride in the World Rally Championship success it has enjoyed over the decades. Along the way it has won all over the world, not least with two consecutive WRC titles in recent years and wins this year for Sébastien Ogier, Welshman Elfyn Evans and young star Kalle Rovanperä. Ogier's recent victory in the Safari Rally in Kenya maintains a proud tradition in the event for Toyota but you don't need to travel to the African savannah and dodge lions and elephants to get a taste of rally history or appreciate how challenging the sport can be. Indeed, you don't even need to leave British soil.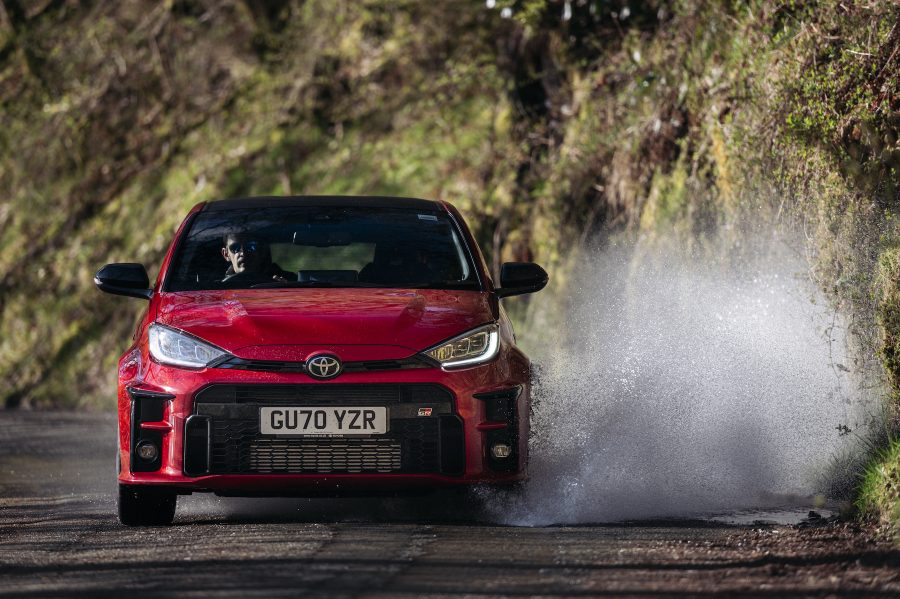 While Wales Rally GB has suffered Covid cancellations of late its traditional late-season slot has hosted some epic championship deciders, while the combined challenges of the Welsh terrain and winter weather have always made it a favourite of drivers and spectators alike. Ott Tänak won the event – and championship – for Toyota at the 2019 Wales Rally GB but inspiration for this particular GR Yaris road trip comes from the brand's last victory previous to that in a British WRC round in 1993 for Juha Kankkunen and Nicky Grist.
Roadtrip back in time
Back then the Network Q RAC Rally was the biggest spectator event in the country, with as many as two million hardy spectators braving the winter weather to line stages from country estates in the Midlands, through Wales, into the Lake District and the Scottish borders, before the long trip back to the start at Birmingham's Centenary Square via Northumberland and Yorkshire. Retracing that route in Toyota's latest rally hero – and following the path of its esteemed Celica forebear – seems a worthy tribute.
The route is relatively easy to find online, with detailed stage-by-stage maps and schedules all a click away. Even so, translating this into a viable three-day GR Yaris road trip takes detailed planning, a lot of time on Google Maps and some careful scheduling for overnight stops and other logistics. This is nothing compared to what the team had to do back in the day, though.
A diversion via Nicky Grist Motorsport after from our own Birmingham start (via Sutton Park on the outskirts where the first stages took place) reveals just what it took back then to marshal a team of three drivers and around 80 personnel for a 1,600-mile winter tour of England, Wales and Scotland as the event was back then.
One ring-binder to rule them all
Nicky greets us carrying a Network Q carrier bag from back in the day, out of which emerges a thick, ring-bound service book prepared by Toyota Team Europe ahead of the event. It lists everything from radio call signs to hotel bookings, service schedules, timesheets and, on page after page, exquisitely detailed and often hand-drawn maps for every last fuel stop, lay-by and service park, recce'd by some lucky soul who got to drive the route in a Celica ahead of the event and made sure it was parked in nearly every photo. From darkest Wales to bleakest Northumberland, there are photos of farmyards, filling stations and pub car parks where the team could meet for fuelling, emergency repairs or whatever else might have been required. It's an amazing insight into the levels of organisation and background work required to win the Network Q, and rather puts my three sheets of printed out directions and waypoints saved on my phone into context!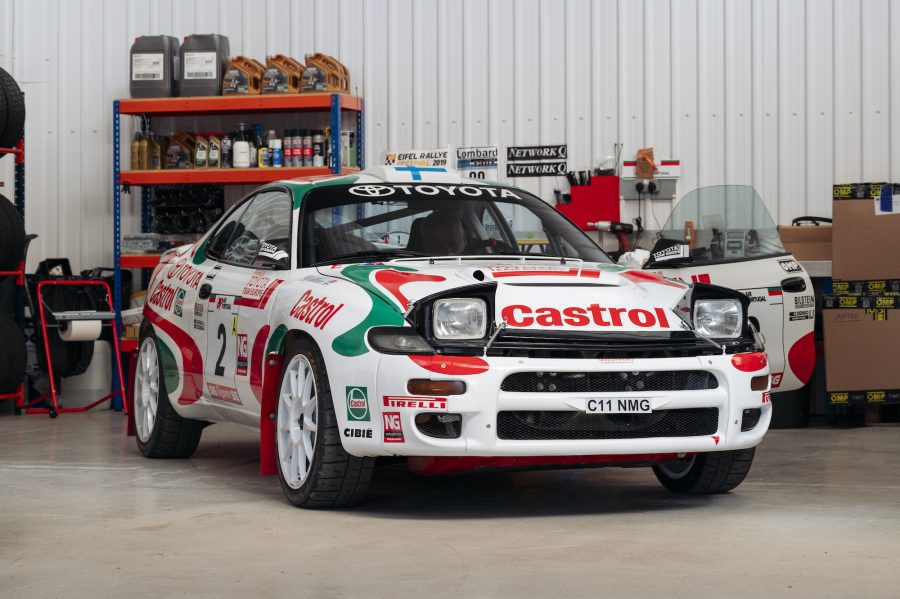 In honour of our visit, Nicky has got his own Celica WRC out for a flavour of what the event would have been like from his seat. Swapping into it from the GR Yaris is a curious mix of the alien and the familiar, the nearly three decades separating these two Toyota rally stars brought closer by their shared spirit.
An actual rally car for the road
For all its stripped out, works rally car vibe I'm surprised at how fundamentally similar the Celica feels. Group A cars of that era were – relative to modern WRC machines – not so far removed from the road versions they had been homologated from and you could buy from your Toyota dealership. So there's an H-pattern manual and three pedals in the footwell, the engine sounds fierce and has quite a bit of lag but still feels relatively normal and, once I've got over the snappy clutch, it's actually pretty easy to drive, if also wildly exciting. The GR Yaris might have a few more creature comforts, CarPlay and the rest but the way it goes down the road isn't a million miles removed, and swapping from one to the other isn't the leap you might expect. The only thing it's really missing is a flame-spitting 'stage' mode with crackling anti-lag as Nicky's car has. One for the wishlist, perhaps.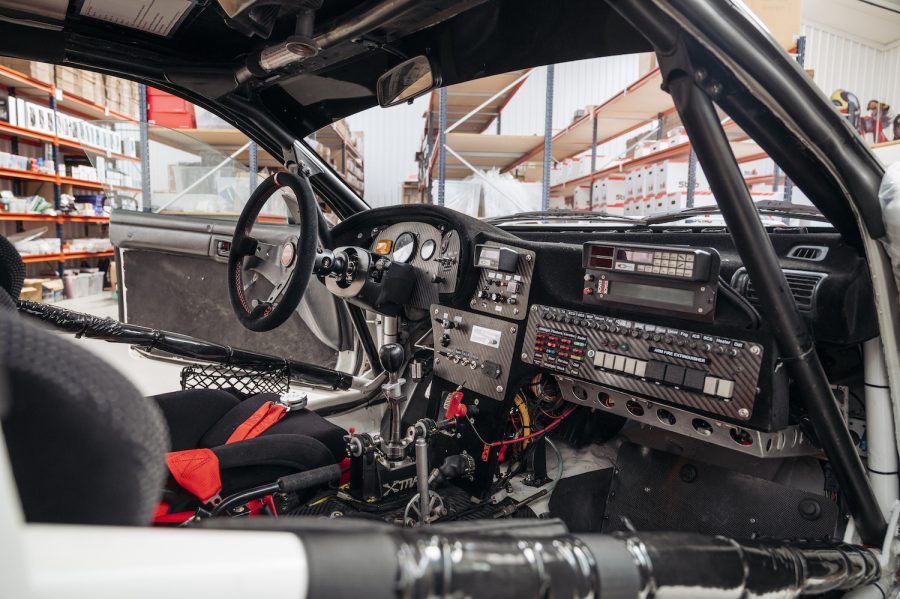 While Grist and Kankkunen had a rally to do back in 1993 they, of course, also had to drive their Celica for the 1,300 miles between the special stages, a side to rallying that's often forgotten amid the action on the special stages. While this of course meant many long hours at the wheel the work didn't stop for the co-driver, Grist remembering he'd be constantly on the radio with the team, planning stops for fuel and servicing, making sure they were on time for the stages and the million and one other admin jobs required before the car even gets to the startline. And all set out in that mighty folder!
For all the modern conveniences photographer Sim and I have at our disposal it's not a million miles away from our experience, either. Even with a sat-nav, a route this long and complex requires an engaged co-driver staying on top of the various twists and turns, but the reward is a truly epic drive through breathtaking scenery, dripping with rally history.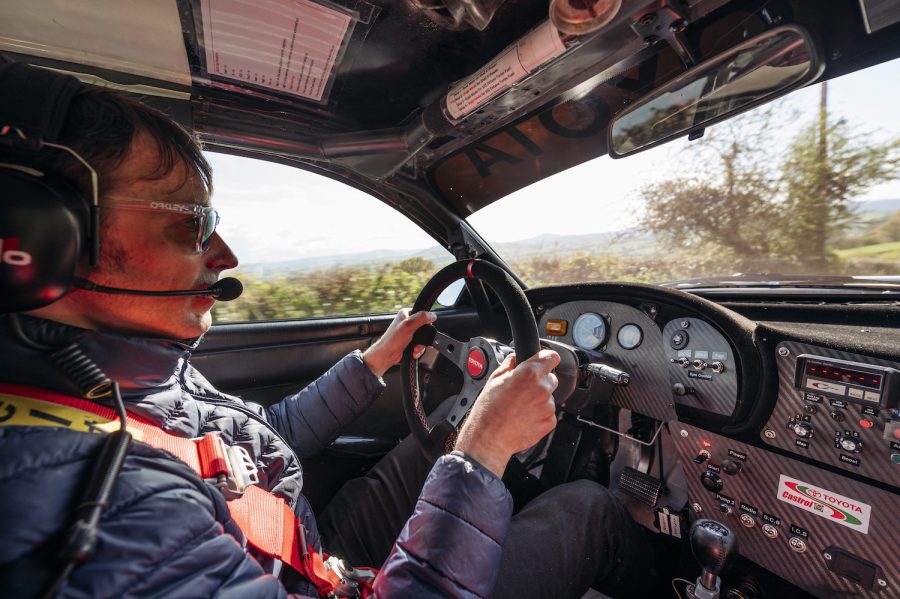 Central Birmingham may not seem a dream location on this enjoying this GR Yaris road trip and, fair to say, with a good deal of the city apparently being dug up it's a navigational nightmare to make Nicky Grist's job co-driving Juha Kankkunen through dark, snowy forests look easy. But it was here back in 1993 that the two started an event that would seal the Finn's fourth WRC title and Grist's first championship win on home soil.
We've looked a little at what went into that, and how the Celica Kankkunen and Grist drove back then compares to the GR Yaris we'll be doing it in. But now it's time to hit the road for our GR Yaris road trip to begin.
"70, keep right over crest, bump, 50, turn 90 left, tightens, narrow gate…"
After rolling down the ramp at the ceremonial start at Centenary Square the teams had an evening to prepare before a relatively leisurely (by Rally GB standards) 8 am start at the nearby Sutton Park. This green space on the edge of Birmingham offers a welcome respite from the urban sprawl and, these days, is more geared up for dog walkers, cyclists and golfers than rally cars but we find one corner recognisable from an onboard video of Kankkunen and Grist back in '93 and pose for a static photo before moving on.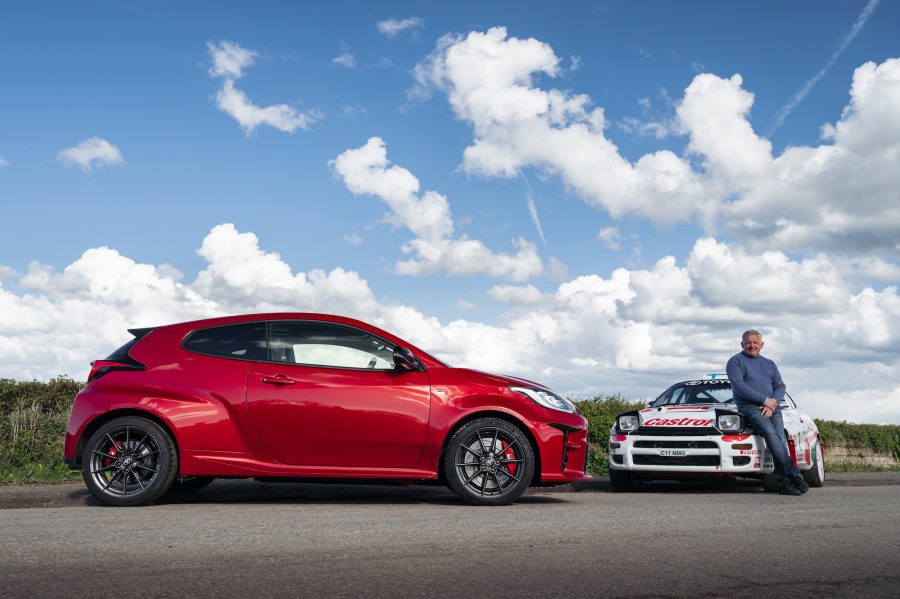 Having opted to skip the tour of midlands country estates we start the next day in Dyfnant, the first of the Welsh stages back in the day. Thankfully not in the ice and snow they met, these early stages claiming plenty of victims before the sun had even risen.
Rolling mid-Wales B-roads are perfect for enjoying the GR Yaris's combination of agility and punchy acceleration, our path bringing to life names like Myherin, Hafren, Pantperhog and many more I remember from rally coverage back in the day. I've enjoyed many memorable miles driving around Wales but this route is opening up stunning roads I've never experienced before, the plunge from the tops and down into Machynlleth especially breathtaking.
Local heroes
Past Elfyn Evans' hometown of Dolgellau and into Snowdonia the scenery gets even more rugged, a diversion off the main A470 at Ffestiniog delivering a stunning run over the tops to Penmachno (host of two stages in '93), the GR Yaris's appetite for bumps and choppy surfaces proving how a rally-bred road car can open up terrain you'd never consider in a more conventional hot hatch.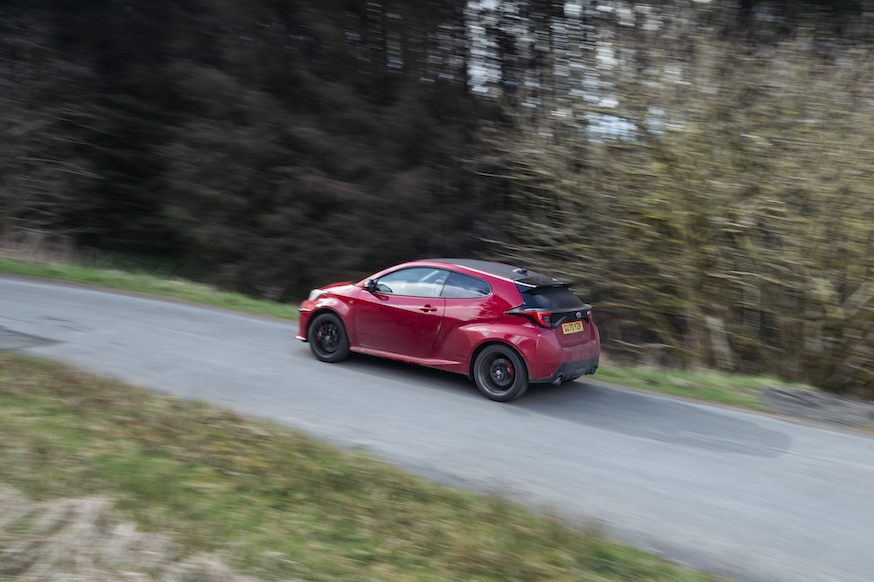 Those of us who loved the 90s era Japanese rally replicas like the Celica GT-Four, Subaru Impreza Mitsubishi Evo already knew this of course. That this little GR Yaris is schooling a whole new generation of enthusiasts makes it all the more satisfying.
Much as I enjoyed my quick blast with Nicky Grist's WRC-spec Celica I'm glad to be in the GR Yaris for the long haul up the M6 from the final Welsh stages at Brenig and towards Cumbria, a brooding Grizedale opening out into a stunning run down into Ambleside with a snow-topped Helvellyn filling the windscreen.
Change of scene
From Carlisle, we roll across rich, rolling agricultural land into Scotland, back into England via Kielder forest before returning through Northumberland and Yorkshire via legendary rally forests like Hamsterley, Dalby and Cropton.
Again, the route delivers stunning roads less travelled, the singletrack through Kershope as close to a rally stage as you'll find with its twists, turns and loose gravel surfaces. Suffice to say, the GR Yaris's four-wheel drive inspires total confidence, the turbocharged three-cylinder motor singing as I flick the shifter to and fro, feet dancing about on the pedals.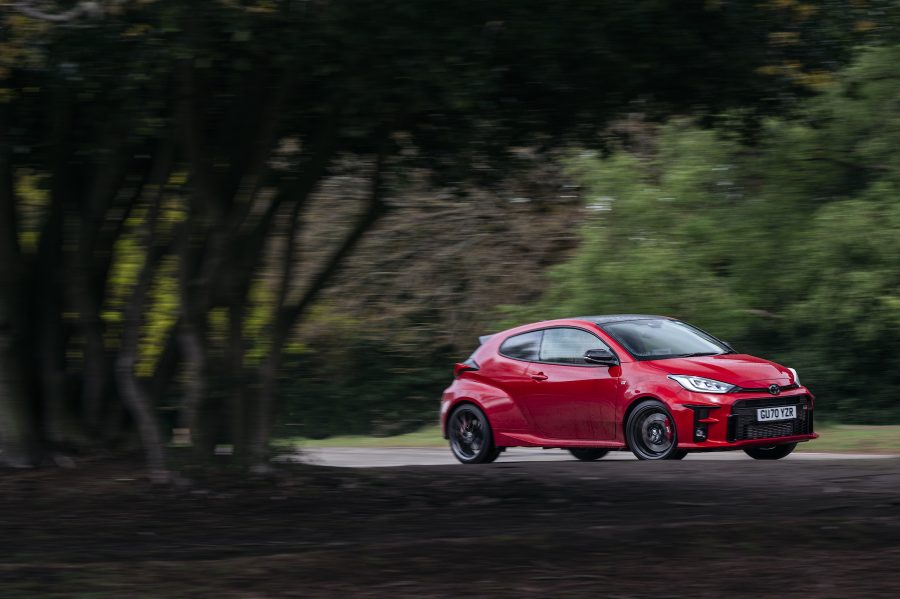 The terrain takes a turn for the tougher as the route dips over the border into Scotland, tussocky valley floors opening up into open moorland and forest on stunning – and utterly deserted – roads. The run through Kielder on a smooth, wide road is a breeze, and a very different experience from the tough, high-speed stages like Pundershaw that lurk somewhere within the forest.
The final fling
With McRae's challenge ending back in the Borders, Kankkunen and Grist were now – in Grist's words – cruising to the finish of our GR Yaris road trip, all things relative. We take in Hamsterley's forest drive toll road for a low-speed taste of the terrain there before another thrilling rollercoaster of back roads across County Durham and to the A1 south.
I'm on home soil as we head into the Yorkshire forests of Cropton and Dalby, the trees dripping after a heavy downpour and the light barely penetrating to the road through them. This opens out into another singletrack moorland blast along an old Roman road, through cobbled fords and over the grouse moors. I grew up just a few miles from here but this is all new to me, the voyage of rally discovery even shining its light on what I thought was familiar terrain.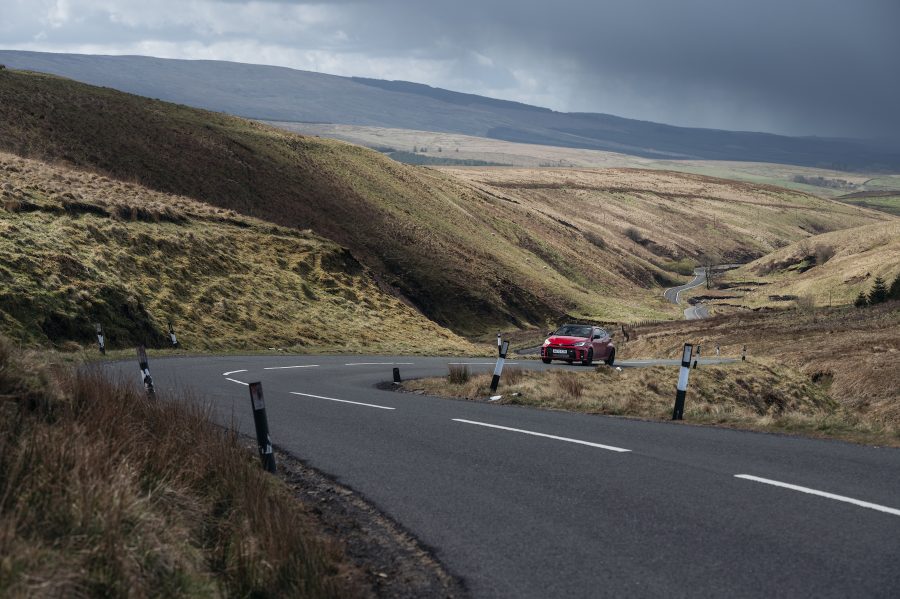 Dalby has another forest drive toll road, which I remember being gravel back in the day but has since gained a smooth tarmac surface. Which is probably for the best, given the temptations a loose surface might have brought.
On this final forest stage and just three miles from the finish Grist remembers Kankkunen asking him how far they had to go. "Why, what's wrong?" asked a panicked Grist, fearing the worst. "Nothing, that's good, now I can push!" replied the Finn, confident he'd built enough of a comfort margin over second-placed Kenneth Eriksson to cut loose and enjoy himself.
Dust to dust
From here the 1993 rally called by the old steelworks in Scunthorpe for what Grist remembers as a fun blast over coal dust before a final stage at Donington and triumphant return to Birmingham. Tempting as it is to complete the route the fact the steelworks is now a landfill and home is just a few miles away mean I call it a day.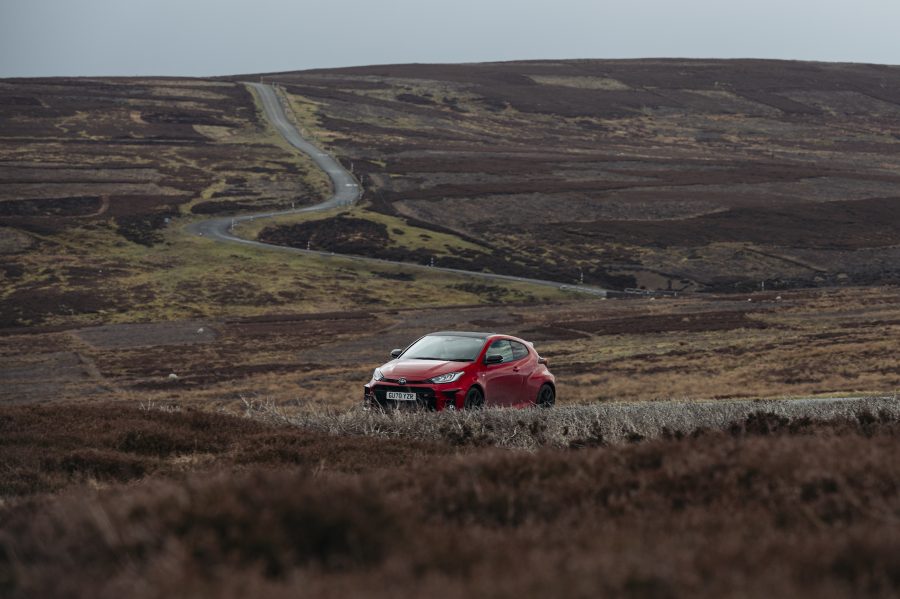 As the final miles roll by I reflect on what an utter joy it has been to honour Toyota's rallying heritage in a car built to celebrate the team's latest successes. Hopefully, it won't be too long before Wales Rally GB is back and we get to see Elfyn Evans win on home soil again but, whenever that comes, I feel sorry the crews no longer get to experience the sheer variety of terrain we've just enjoyed.
A rally-inspired car on rally-inspired roads, though? This GR Yaris road trip has shown that anyone lucky enough to taking delivery of this incredible vehicle should be picking this up at the earliest opportunity!