Toyota Gazoo Racing is delighted to announce that cumulative production of the factory race-prepared GR Supra GT4 has reached the milestone of 100 units. Customer orders of this homologation special have been strong since its launch in March 2020, and even stronger since the upgraded GR Supra GT4 Evo was revealed late last year.
By the end of 2022, GR Supra GT4 models had taken part in 317 races worldwide, and demonstrated the inherent potential of this platform by earning 79 class wins, 20 outright victories, and 207 podium finishes in GT4 championships. It is a pace that has continued through the 2023 season as almost 60 examples are currently competing in various races in Europe, North America and Asia, including Japan.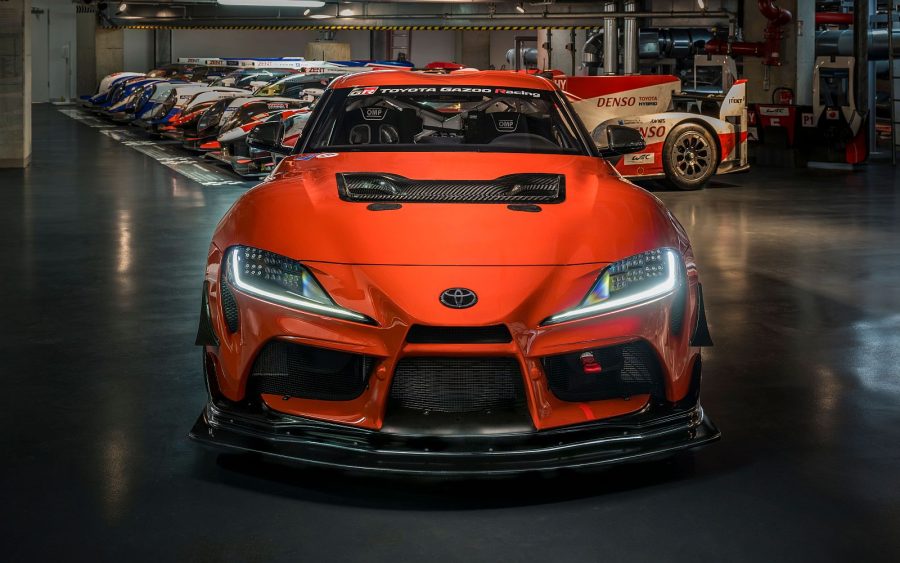 To celebrate the production of 100 units, TGR has launched the limited-edition, commemorative GR Supra GT4 '100 Edition' (see above) track day special, which features an exclusive Plasma Orange exterior colour, unique front bodywork, and a badge with a serial number. Only three units will be produced – one car for Europe, North America and Asia – which makes it twice as exclusive as the previous special, the GR Supra GT4 '50 Edition'.
GR Supra GT4 Evo: our turnkey racer upgraded
Competition within the popular 'customer racing' GT4 category is intense, and Toyota Gazoo Racing (TGR) wished to ensure that the GR Supra remained a class favourite. Therefore, in addition to providing track support to customers and teams where possible, Toyota Gazoo Racing engineers actively sought feedback – the sort of development insights that are only possible to fully understand through the pressure of live competition.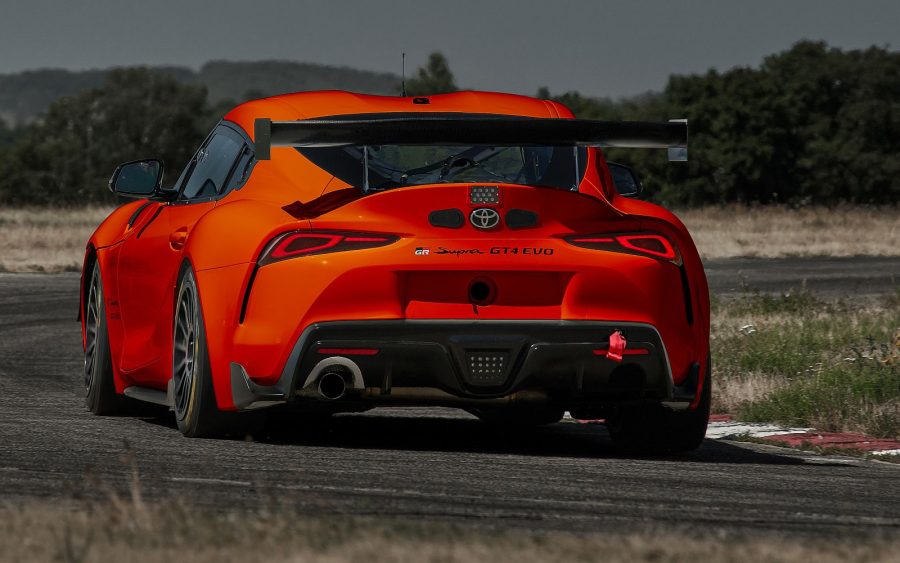 Such insights and constructive requests directly contributed to the development of the Evo model, leading to targeted improvements in the key areas of brake, handling and engine performance.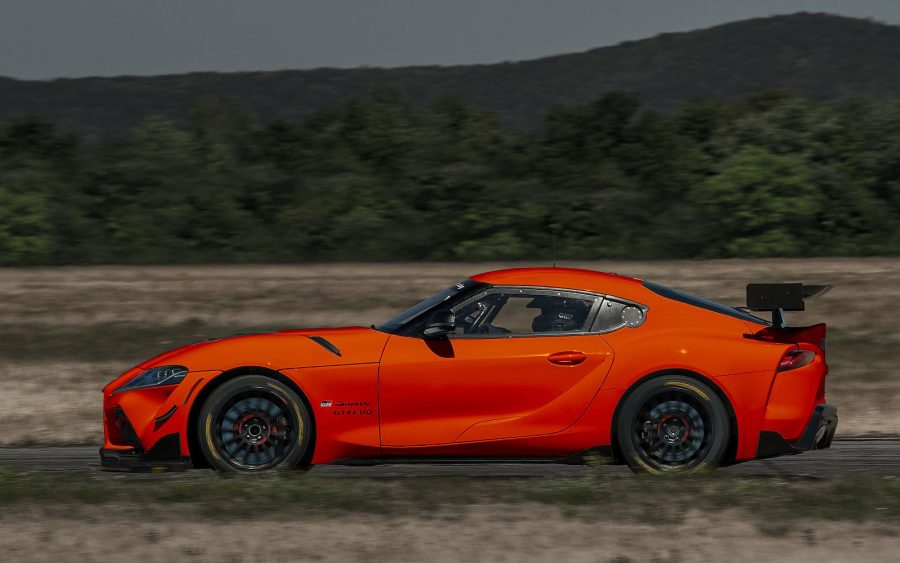 Thanks to an improved brake system design, new ABS settings, latest KW damper technology and updated anti-roll bar specification, the GR Supra GT4 Evo delivers improved handling and higher cornering speeds. Drivers are able to push for faster lap times due to increased power and an optimised torque curve of the 3.0-litre, six-cylinder, turbocharged engine, which also benefits from more effective cooling.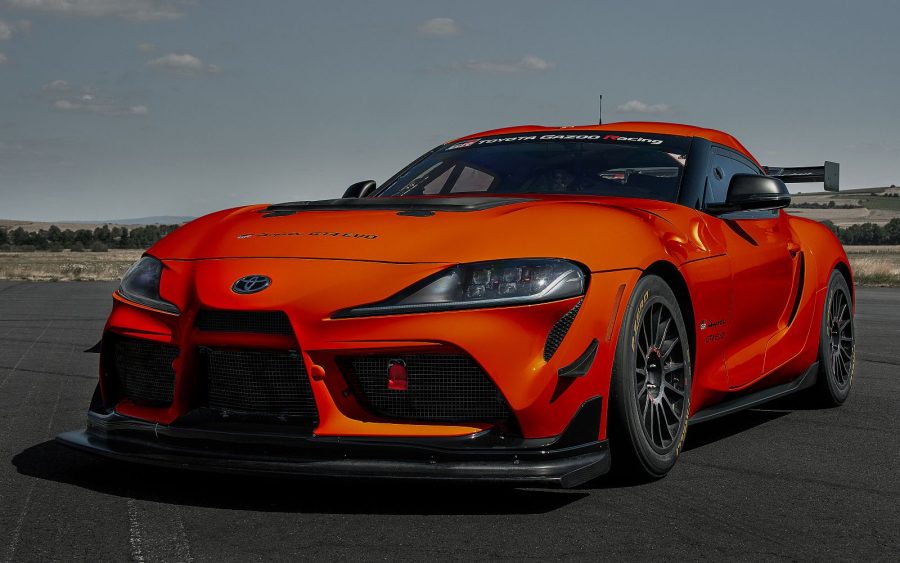 The GR Supra GT4 Evo made its competitive debut in January 2023 at the 24 Hours of Daytona, the first round of the IMSA Michelin Pilot Challenge season. Brand new cars cost €186,000 euros plus taxes, customs and logistics fees, and orders should be placed through regional TGR centres. Existing GR Supra GT4 owners can order an upgrade kit to elevate their race car to Evo specification.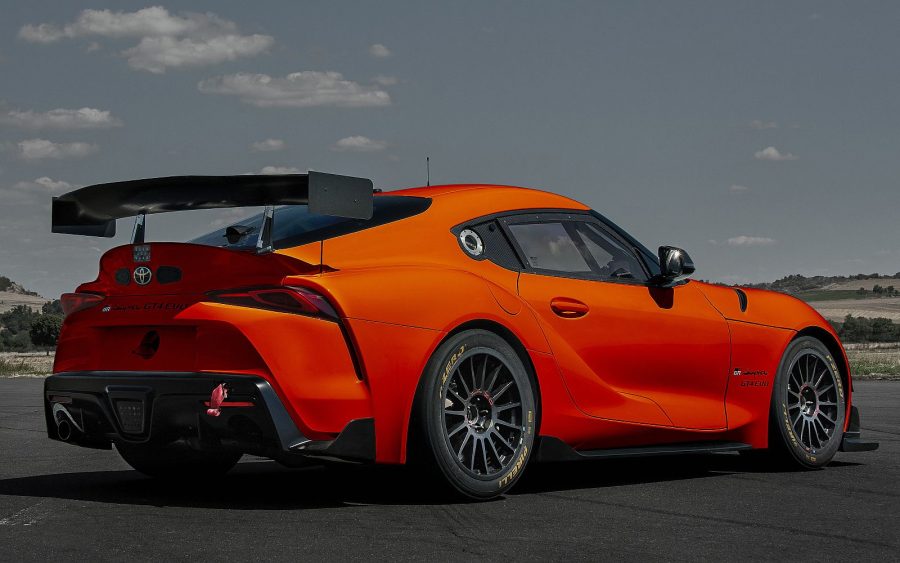 GR Supra GT4 Evo specifications
| | |
| --- | --- |
| CHASSIS | Steel/aluminium body with high-strength FIA-specification roll-cage, natural fibre composite front splitter and rear wing, 120-litre ATL FT3 safety fuel cell with fast refuelling system, OMP race seat with six-point safety harness |
| DIMENSIONS | 4,460mm long, 1,855mm wide, 1,360kg (dependent on balance of performance) |
| ENGINE | 2,998cc straight six with single twin-scroll turbocharger, Ravenol lubricants, Marelli ECU, Akrapovic racing exhaust system with catalytic converter. Power and torque dependent on balance of performance |
| TRANSMISSION | Modified ZF torque converter automatic transmission with paddle shifter, Drexler Motorsport limited-slip differential, GKN Motorsport high-torque drive shaft |
| SUSPENSION | MacPherson strut front and multi-link rear, adjustable KW racing dampers |
| STEERING | Rack and pinion with electric assistance |
| WHEELS | 11×18" OZ with 305/660-18 Pirelli race tyres |
| BRAKES | 390mm front discs with Brembo six-piston calipers, 355mm rear discs with Brembo four-piston calipers |
| ELECTRONICS | Standard: traction control, ABS, digital display unit, data logger. Optional: rear view camera, tyre pressure monitoring system, suspension travel sensors |
| EQUIPMENT | Standard: fire extinguishing system, air jack system. Optional: driver drinking system, homologated endurance package |
European sales and customer support: Toyota Gazoo Racing Europe GmbH (tgrcms@tgr-europe.com)