This week marks the start of the inaugural Goodwood SpeedWeek, an online motorsport extravaganza that Toyota will be supporting with a host of cars and drivers, not least a dynamic demonstration of the new GR Yaris by Toyota Gazoo Racing rally star Elfyn Evans.
Many new memories will be forged over the course of the three-day event at the Goodwood Motor Circuit in West Sussex, which got us thinking about other unforgettable Toyota-tastic moments from the Festival of Speed in years past. Here are nine that stand out in our minds.
1. What an entrance!
Rod Millen's first appearance at the Festival of Speed in 2002 set a phenomenally high bar in terms of performance. Behind the wheel of a Toyota Celica specially prepared for the Pikes Peak hill climb in the Rocky Mountains, the Kiwi not only set the fastest time of the year (47.40 seconds) but brought a new kind of turbocharged spectacle to the event.
2. Tacoma in the all-time top ten
Rod Millen's awesome follow-up to the Celica (see above) was the Tacoma pick-up, once again originally prepared to tackle Pikes Peak. In its regular visits to the Festival of Speed it has been among the fastest and most dramatic machines up the hill. The best of these times was set in 2003, when its 45.08sec pass put it in Goodwood's all-time top ten fastest, a position it still holds.
3. Allan McNish's 'untimed' time
Modern Formula One cars may not be allowed to set official timed runs on the 1.16-mile hill climb but according to our unofficial stopwatches, Allan McNish's blast in the Toyota TF102 in 2002 got pretty close to the official record of 41.60sec. Just listen to that V10 sing…
4. Battle of the Celicas
In 2011 two highly charged four-wheel drive Celica models using similar underpinnings – Johnny Milner's sixth-generation and Adrian Smith's seventh-generation – battled for the fastest time up the hill. Smith's earlier time of 50.05sec was significantly faster than the competition (see video above)… until Milner's orange car eclipsed it with a ballistic 48.07sec run that put everybody bar the single-seater drivers in the shade.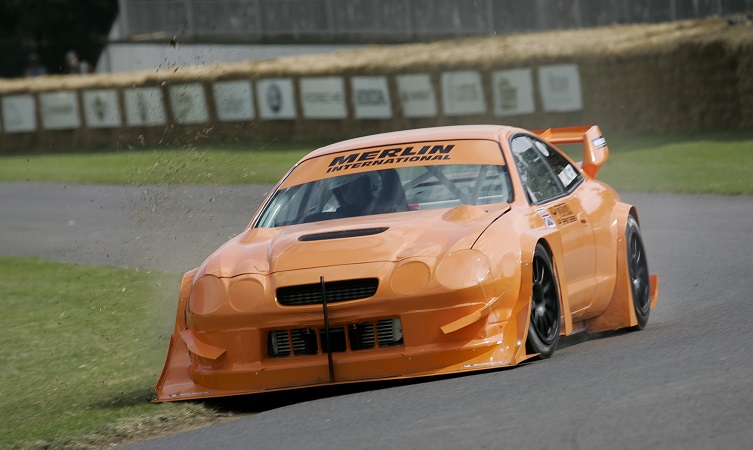 5. Toyota's central display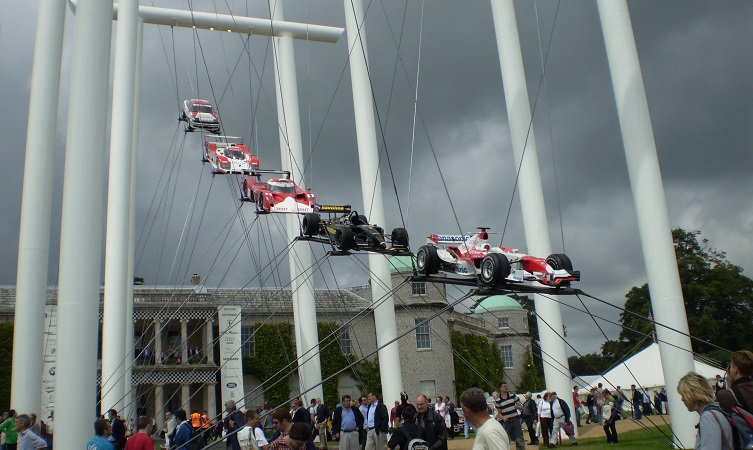 For the 2007 Festival of Speed, renowned sculptor Gerry Judah created the central display in honour of Toyota's 75th anniversary and our 50th anniversary of involvement in international motorsport. The sculpture was inspired by traditional Japanese torii gates, upon which hung five key models from various motorsport disciplines: a TS010 and GT-One Le Mans cars, a Toyota-powered Indycar, the TF107 Formula 1 car and a Celica GT-Four rally machine.
6. On-board and off-road
In 2013, off-road racing ace Giniel de Villiers won Goodwood's Best Driver Award for his phenomenal skills in the Dakar Hilux through the event's Forest Rally Stage. This on-board footage shows his skills to good effect as he threads the Hilux along the tight, tree-lined route.
7. A NASCAR racer that really handles
Although a Goodwood FoS regular, US racing driver Mike Skinner (aka 'The American' in the first series of Amazon's The Grand Tour) showed an incredible, winning commitment during this 2016 shoot-out. Firing up the narrow hill climb at speeds of up to 132mph, the NASCAR Tundra pick-up was regularly slithering around beyond the limits of adhesion. Spectacular!
8. That… was… FAST!
Leaving the crowds in no doubt about how fast the 2014 World Endurance Championship winning Toyota TS040 Hybrid race car was, British driver Anthony Davidson put on a blisteringly quick – but officially untimed – display during the 2015 event. However, we reckon he completed the course somewhere in the low 40s. See what you think…
9. Sideways smiles
Last year, Formula Drift star Ryan Tuerck put on one of the most spectacular performances ever seen at Goodwood when he careered his Ferrari-engined Toyota 'GT4586' up the hill climb in an utterly committed, rubber vaporising display of precision driving. In particular, check out the eruption of straw as he grazes the bales at 0:55.
We could include so many more great memories from Goodwood events, and we look forward to this year's SpeedWeek as it combines the best elements of the Festival of Speed, Goodwood Revival, and Goodwood Members' Meetings. But we also want to know what your favourite Toyota moments have been. Leave us a comment below!