The all-new GR Yaris made its dynamic debut in Britain at Goodwood SpeedWeek during the weekend of 16-18 October 2020, with some illustrious motorsport figures behind the wheel.
World Rally Championship points leader Elfyn Evans drove our new rally inspired road car for two days – and as you can read below, he came away eager to join the queue to acquire one!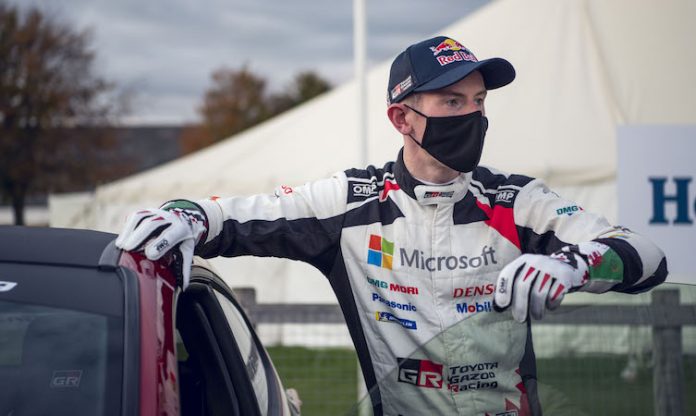 Two other drivers from the Toyota Gazoo Racing stable, Jari-Matti Latvala and Kris Meeke, also took turns to hurl the 257bhp, four-wheel-drive hot hatch around Goodwood's race circuit and rally stage.
We'll be asking each driver in turn for their thoughts on the GR Yaris, starting with the views from Evans himself.
Toyota GB: You've driven the Toyota GR Yaris at Goodwood's SpeedWeek event for the first time. What do you think?
Elfyn Evans: "It's great. Firstly, it's a whole load of fun! It really does feel like a rally car in miniature. I've driven some hot hatches in my time, but not a rally-inspired car like this and I can tell you I am very, very impressed."
TGB: What gives it that rally car feel?
Elfyn Evans: "It's kind a raw driving experience, if you like. The great thing about this GR Yaris is that you can use it on a day-to-day basis, but then play with the settings a little bit and it's like a proper rally car."
TGB: Is there much adjustment in the settings?
Elfyn Evans: "There's loads you can do to set the car up for yourself – that's one of the things that surprised me and really impressed me about it. Toyota has really tried to bring lots of elements from the rally car over to this car and it's worked. And on top of that, the power is very, very impressive from such a small engine."
TGB: You looked like you were enjoying yourself on the Goodwood rally stage…
Elfyn Evans: "I was. It would have been nice if we'd had a twistier stage to really have a good go in the car, but event from what I drove, it was fantastic. There's one section where you have to come in and make a donut, you have to drift the car around in a 360. I came into it the first time and I wasn't sure what to expect. I yanked on the handbrake and it drifted perfectly and was so happy in the drift, I could probably have still been there doing it now. It's pretty rare to find a road car that's as composed and capable as this one.
"The GR Yaris is definitely not your average road car!"
TGB: Do you have one?
Elfyn Evans: "I don't, but, funnily enough, I'm about to go and talk to somebody about that!"