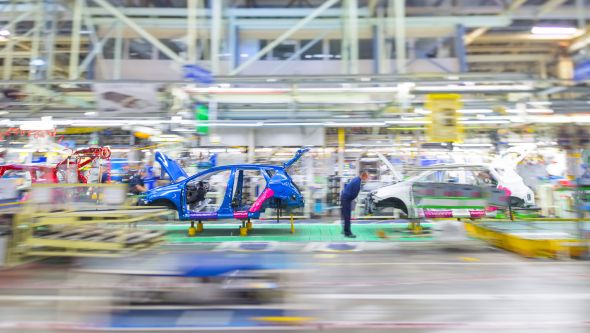 Join us as we take to Twitter with a step-by-step guide to building a new Auris Hybrid at our UK factory. We've had unprecedented access to the production lines at our facility in Burnaston, Derby, and with the help of a dedicated, expert workforce, we'll show you what makes Toyota a World leader in manufacturing.
The story will begin on at 6.00am Wednesday, 19 June. We will deliver a unique insight into the Toyota Production System – delivered by the people who use it every day.
Scott Brownlee, Head of Social Media for ToyotaGB, said: "This project does more than simply show what we do inside the walls of our factory. It presents it in the context of the commitment to quality that forms the guiding principles of the way Toyota works worldwide and the first priority of everyone who works here."
We'll be broadcasting from @ToyotaFactory, using video, photography and detailed descriptions to follow the production of a new Toyota Auris Hybrid. We'll be covering the journey from the moment our car arrives as a coil of raw steel and is then transformed into a vehicle ready for delivery to a customer.
Minute-by-minute, Factory to Forecourt will chart panel stamping, welding, painting, plastics, assembly and quality control. As well as explaining the different activities involved — there are 325 separate processes in the assembly line alone — it will demonstrate how the principles of the Toyota Production System are fundamental to the way people work in the factory and ensure the best built-in quality for owners.
Throughout the day, followers will be able to interact with the Toyota team, adding their comments and asking questions.
The Toyota Production System is a world-renowned philosophy that has been adopted by thousands of businesses, and not just within automotive and manufacturing fields. For instance, in the UK the National Health Service has used it to increase efficiency in the providing of healthcare. In addition, it is hoped that the Factory to Forecourt project will serve as a valuable educational resource, for school and further education students alike, across a wide range of disciplines.
The @ToyotaFactory Twitter feed will include links to images and more detailed information resources, including specially commissioned film footage from inside the Burnaston plant. The videos include contributions from members of the workforce, giving personal insights into how the Toyota Production System gives every worker on the line responsibility for quality, at every stage.
HOW TO ACCESS 'FACTORY TO FORECOURT':
Twitter – follow @ToyotaFactory and #f2f from 06:00am BST, Wednesday 19 June
Facebook – visit www.facebook.com/toyotauk